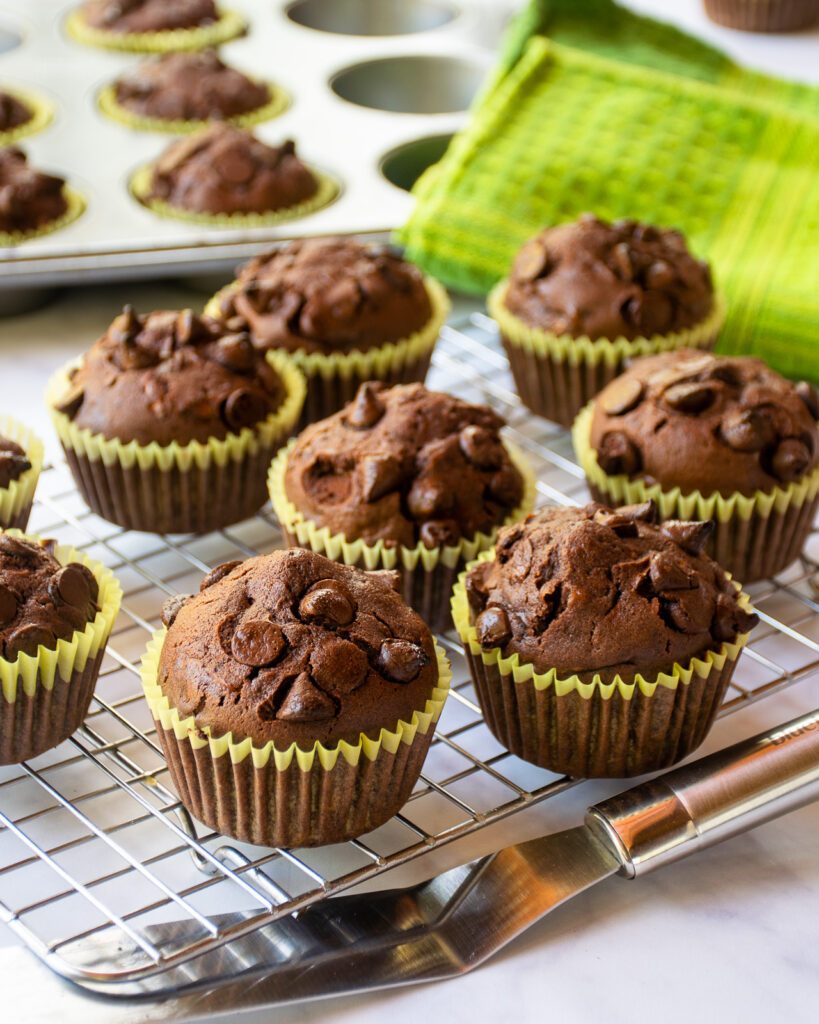 What are Double Chocolate Zucchini Muffins?
First and foremost, Double Chocolate Zucchini Muffins are a delicious snack in the mid-morning or mid-afternoon with a cup of tea or coffee or a decadent dessert after lunch. Secondly, they are muffins that incorporate chocolate in two different ways – with dark chocolate chips as well as with Dutch-processed cocoa powder. Oh… and they have zucchini in them too, but the only way you'll notice is because they are incredibly moist – you won't taste zucchini at all.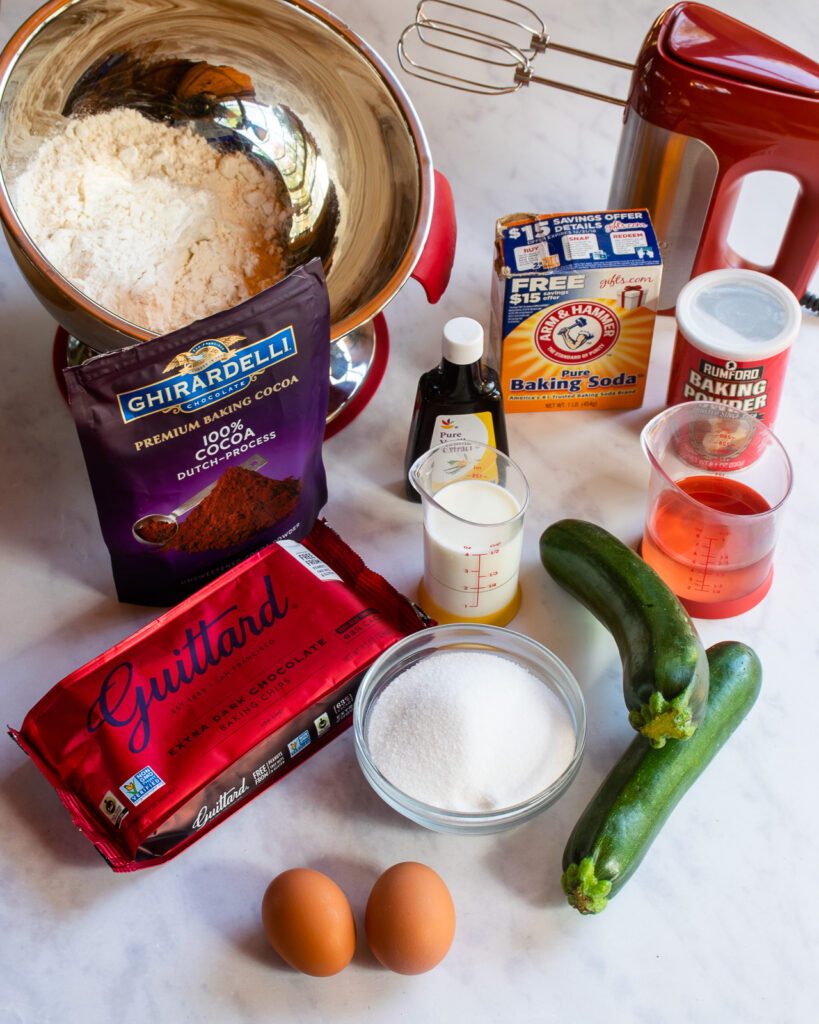 Two Chocolates
The two chocolates in these muffins are dark chocolate chips and Dutch-processed cocoa powder. Any semi-sweet chocolate will do, but I do like chips with about 70% cocoa. Dutch-processed cocoa powder is the ground powder of roasted cocoa beans that have been washed with an alkaline solution, making them neutral rather than acidic like regular natural cocoa powder. Dutch-processed cocoa powder gives baked goods a dark color and has a more mellow (less bitter) flavor than natural cocoa powder. It also dissolves in liquid more easily. Together these two forms of chocolate give this muffin a deep brown color and intensely chocolate flavor.

What Zucchini Adds to Muffins
Just like adding zucchini to a quick bread (as in this Double Chocolate Zucchini Bread), zucchini is added to these muffins for a number of reasons. First, it adds a nutritional volume boost to the muffins, but it also adds texture and moisture. The flavor of zucchini is so mild that it doesn't add a noticeable flavor to the muffins – at least none that can overpower the intense chocolate.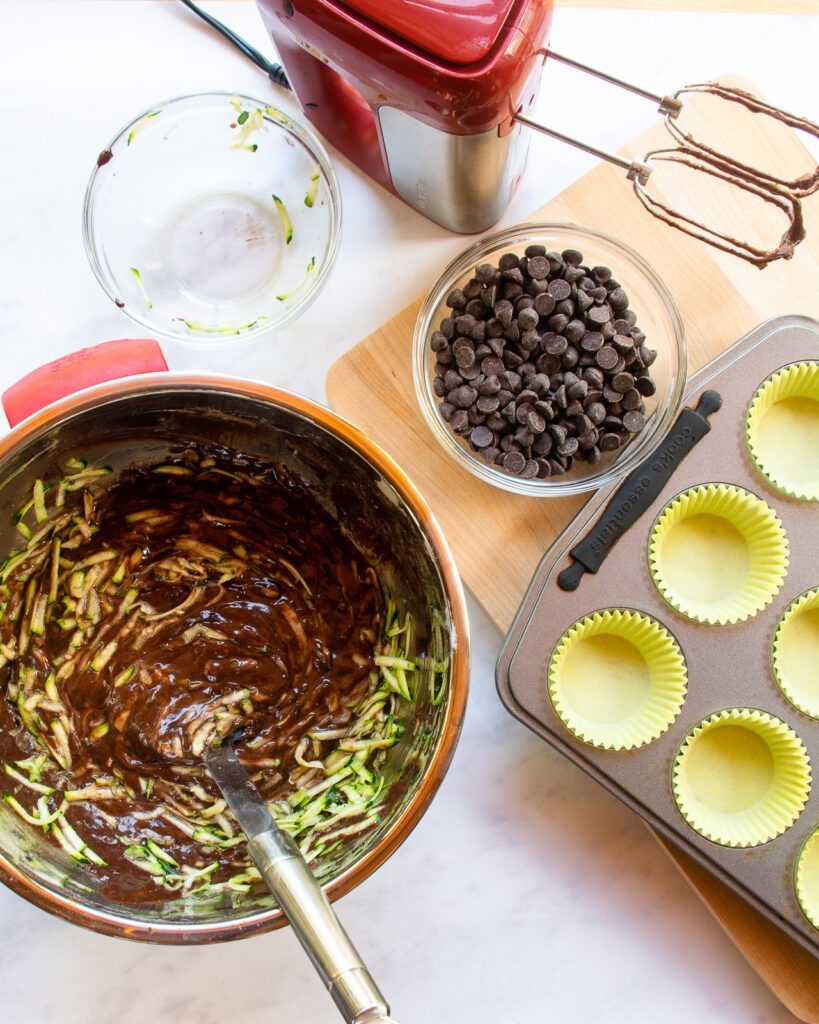 How to Mix Muffin Batter
The main key to making muffins is to not over-mix the batter. We ultimately want our muffins to be tender, rather than tough or chewy. To ensure that result, we want to activate as little gluten in the flour as possible and the way to do that is to mix the batter as little as possible. Beat the oil and sugar with an electric hand mixer until light and fluffy, but lower the speed once you have added the eggs. Combine the dry ingredients and then stir the wet and dry ingredients together as little as possible – just until you no longer see streaks of white flour. Fold the zucchini in at the end very gently and stop stirring.

Tips for Muffin Making
Aside from paying attention to not over-mix the batter, here are a few more tips on making the best muffins:
Don't beat the wet ingredients too much once you have added the eggs. Eggs can hold air and we don't want any air in the muffin batter because it can cause "tunneling" in the muffin (a large hole through the muffins).
Use an ice cream scoop to transfer the batter to the muffin pan. That will help keep your muffins the same size.
Pre-heat the oven and let it reach 425˚F for 10 minutes before adding the muffins.
Chill your muffin batter in the refrigerator for 30 – 60 minutes before baking if you have time. This helps relax the gluten.
Bake at a high temperature for the first part of baking and then lower the temperature without opening the door for the second part of baking. This helps to ensure a high crown on your muffins.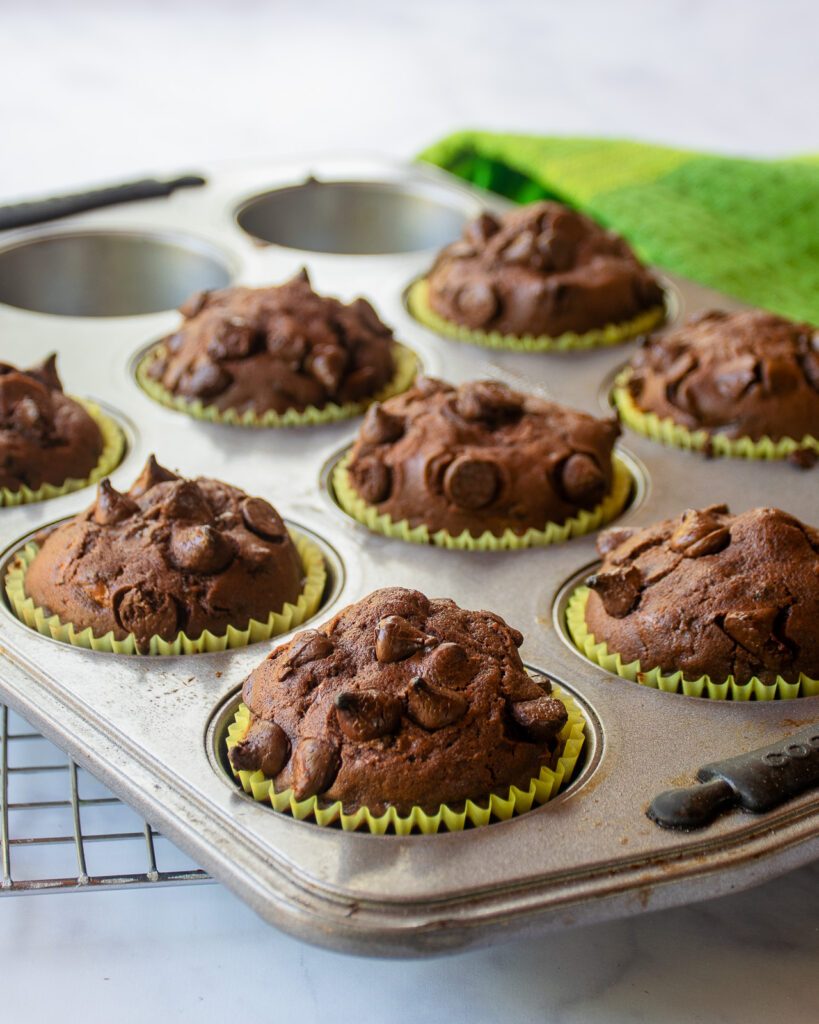 How to Store and Freeze Muffins
Once you have your beautiful muffins and you haven't eaten them all straight out of the oven, you'll need to store them. Put them in an airtight container or zipper sealable plastic bag and store them at room temperature for 3 to 5 days. You can also freeze the muffins with as little air as possible in the bag for up to three months, but as with most baked goods, they are better fresh.