The History of this Blueberry Coffee Cake
This recipe started out as a quick, simple blueberry crumb coffee cake, paired with a simple lemon glaze – one of my favorite flavor combinations. I baked it in a pretty ceramic dish that could go straight to the table, which meant that it would stay warm for longer as I served it to guests, plus I didn't have to wash any extra pans for baking, serving or storing. Perfect, except for one thing… I heard from several of you that you found the cake dry. Hmm.. It was anything but dry when I made it, but you talk and I listen! So, back to the drawing board, making it again and I now understand the issues and have amended the recipe so that you will all have success. If you're one of those folks who reached out, first of all, thank you. Secondly, I hope you try again because this cake is really worth it and your success means a lot to me.

The Right Pan for the Job
The biggest issue with the original version of this cake was the pan it was baked in. While it worked perfectly in ceramic and stayed moist, it did take longer to bake. If you made the original recipe in a metal cake pan, the timing was too long and the cake became dry. The updated recipe is designed for a 9-inch square cake pan, metal or ceramic (ceramic will take the longer suggested time). Don't try to substitute an 8-inch pan because this coffee cake rises high and fills a 9-inch square. If you don't have a 9-inch square pan, move up to a 9-inch by 13-inch baking pan and check the cake at 40 minutes because it will cook a little faster.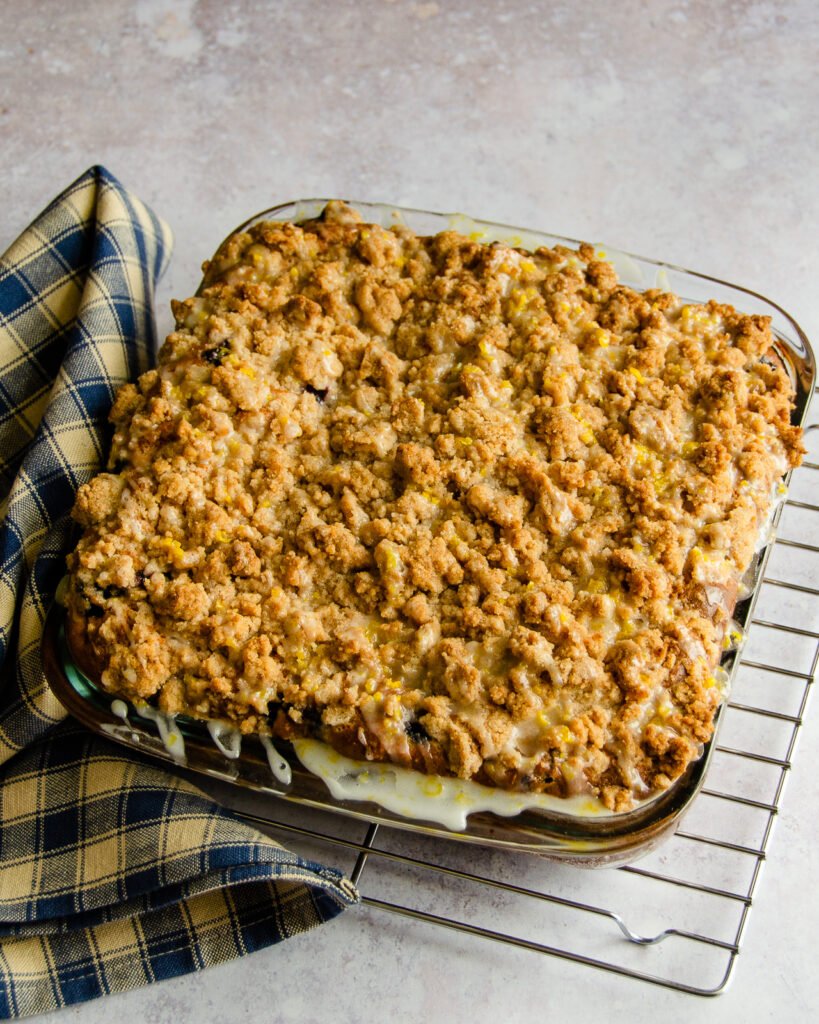 Lemon Glaze
The lemon glaze that goes on top after baking couldn't be simpler. Mix the powdered sugar and lemon zest with just 2 tablespoons of lemon juice (about one lemon) for a nice pourable consistency. If you want a really thick glaze, add another teaspoon or two of powdered sugar to the mix. It may seem like you don't have enough liquid for this glaze, but it just takes the lemon juice a minute or two to dissolve the sugar. Give it a good beating and it turns into a lovely glaze that you can drizzle over the top.

Recipe Updated!
So, the the icing on the cake, so to speak, is that this recipe has updated and amended to guarantee success, thanks to your feedback. Give it a try (or a second try).