Cream of Mushroom Soup from Scratch
If you've only ever had cream of mushroom soup from a can, you really don't know what you've been missing all these years. This recipe for cream of mushroom soup with wild rice gives you a much bigger depth of flavor because when you make it from scratch you get to add your own ingredients. That doesn't mean that it is hard to make though, because it's honestly a very simple recipe. I mean, it's more challenging than heating up the contents of a can, but you love cooking, right? This recipe is made in a pressure cooker and if you're familiar with pressure cooking at all, you know that it really just involves adding ingredients to a pot, stirring and pressing some buttons. That's it and then you're left with a delicious hearty one pot meal that is worlds better than anything you will buy. (If you're new to pressure cooking, click here for all you need to know!)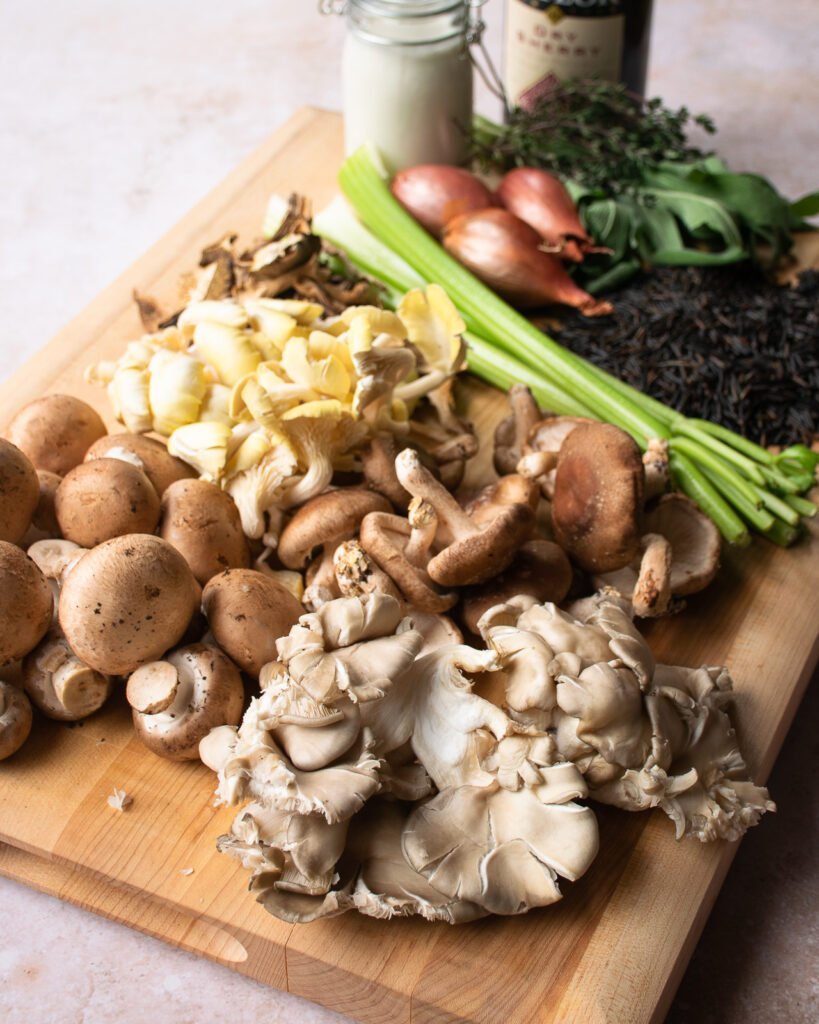 What's in Cream of Mushroom Soup?
It really is what's inside that counts, at least that's true for almost every recipe and this one is no exception. The ingredients for this soup are pretty simple and very versatile. Aside from the mushrooms (which we'll talk about in a minute), the ingredients are common: shallots (or onions if you don't happen to have shallots on hand), celery, oregano, thyme, butter, cream, wild rice, dry sherry (which you can leave out if you don't have any, but it does add really nice flavor), and some chicken (or vegetable) stock. Nothing crazy.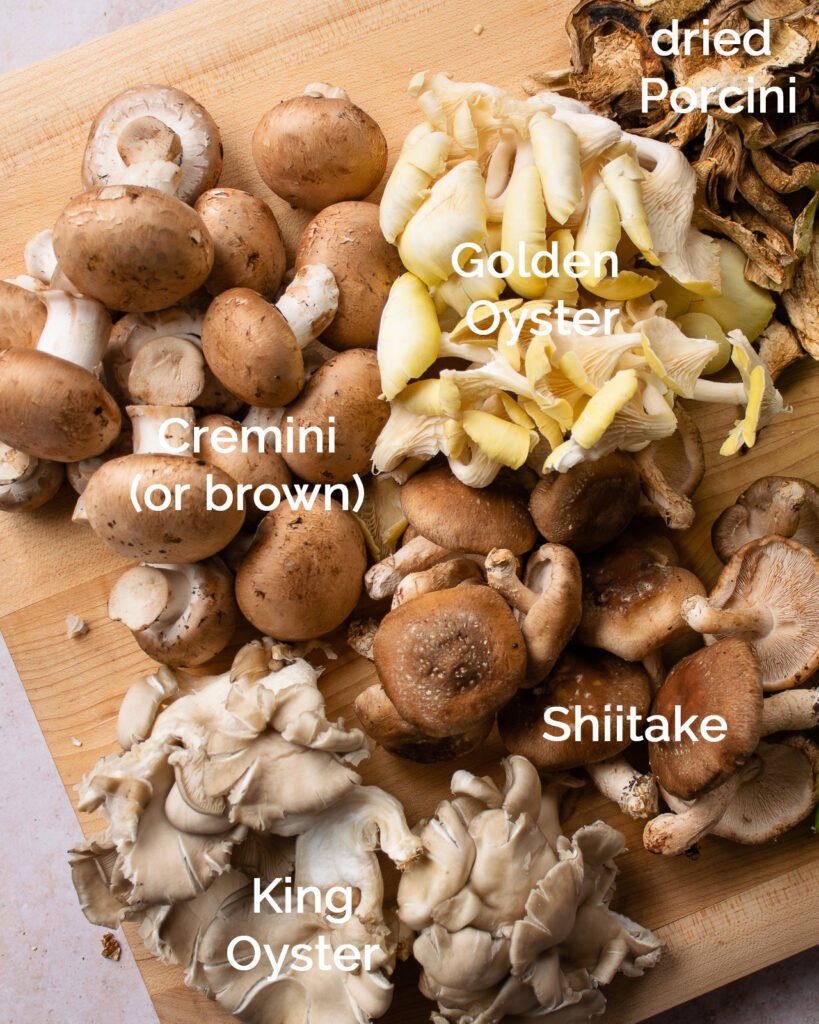 The Mushrooms
When you're making cream of mushroom soup from scratch, it's adding a variety of mushrooms that really matters. Most store-bought soups are made with one type of mushroom, but there are so many different mushrooms to choose from in grocery stores these days that you don't have to stick with just one variety. You also don't have to use the mushrooms I've labeled above – any wild mushroom mix that is available to you will work. If all you have are button or brown mushrooms, add a mix of both of those mushrooms. Just make sure you add two or more types of fresh mushrooms. I also like to cut them in different shapes. Chopping some of the mushrooms finely helps add bulk to the soup, while slicing some so that they are still a recognizable mushroom shape adds visual interest. For the dried porcinis, any mix of dried mushrooms are perfect and you only need a small amount.
What is Wild Rice Anyway?
Wild rice is the second prominent ingredient in this cream of mushroom soup. It adds a nutty, earthy flavor, but it also adds so much more! Wild rice is actually not even a rice, but the seed from a water grass. It's the cool cousin to white and brown rice and brings a lot of benefits along with it. It has a lot more protein than white rice and a TON more fiber. It's also lower in calories and carbs than regular white or brown rice. So, it's more than just a pretty face! It does have one other big difference, however, which is that it takes longer to cook. That's not a problem for us, however, because we're using the pressure cooker which will speed things up. If you like a little chewiness in your wild rice, pressure cook this soup for 30 minutes. If you want the wild rice completely soft, let the pressure go for 45 minutes total. (If you are interested in learning more about white rice and how to cook it, click here.)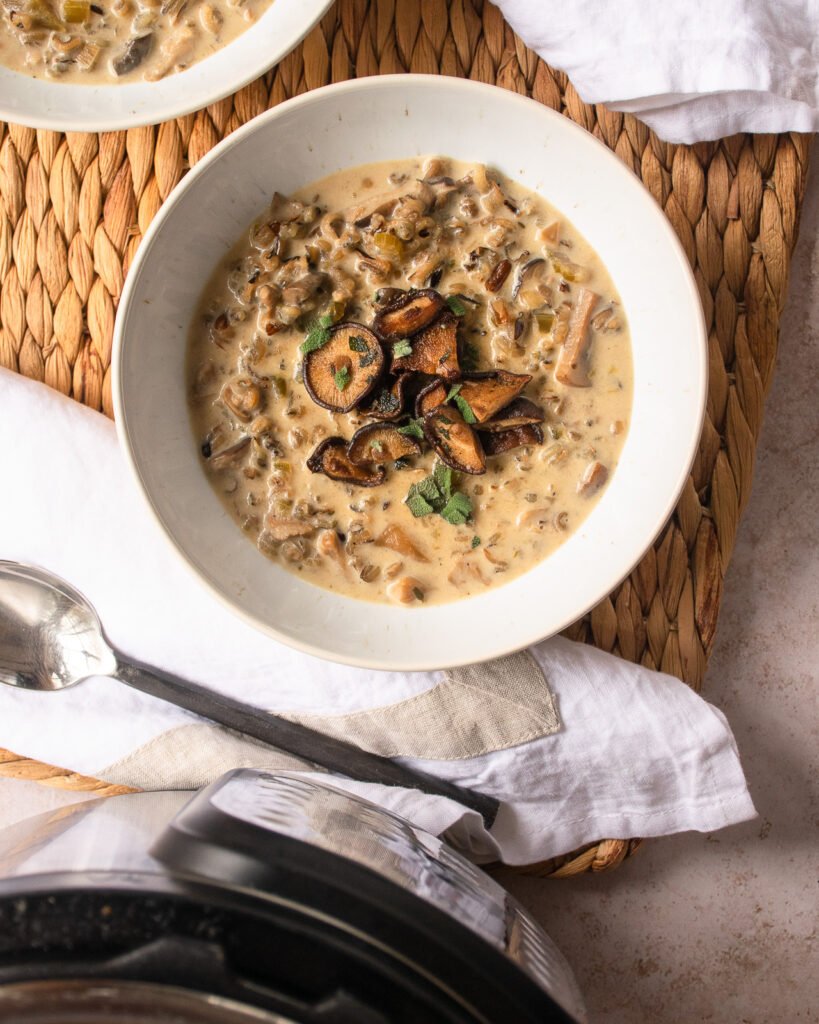 A Pretty Soup Deserves a Pretty Garnish
You don't have to make the sautéed shiitake mushroom topping, but it does look nice and dresses this soup up. I'll make a deal with you – for family on a weeknight, you don't have to make the topping, but for a weekend meal or a dinner party just give it a try. It only takes a few minutes and your soup is cooking for 30 minutes anyway. Remove the stems from the shiitake mushrooms and cut them into spoon-sized pieces (leave little ones whole). Sauté them on high heat with butter and sage. Easy but they enhance the look so much and their flavor is fantastic.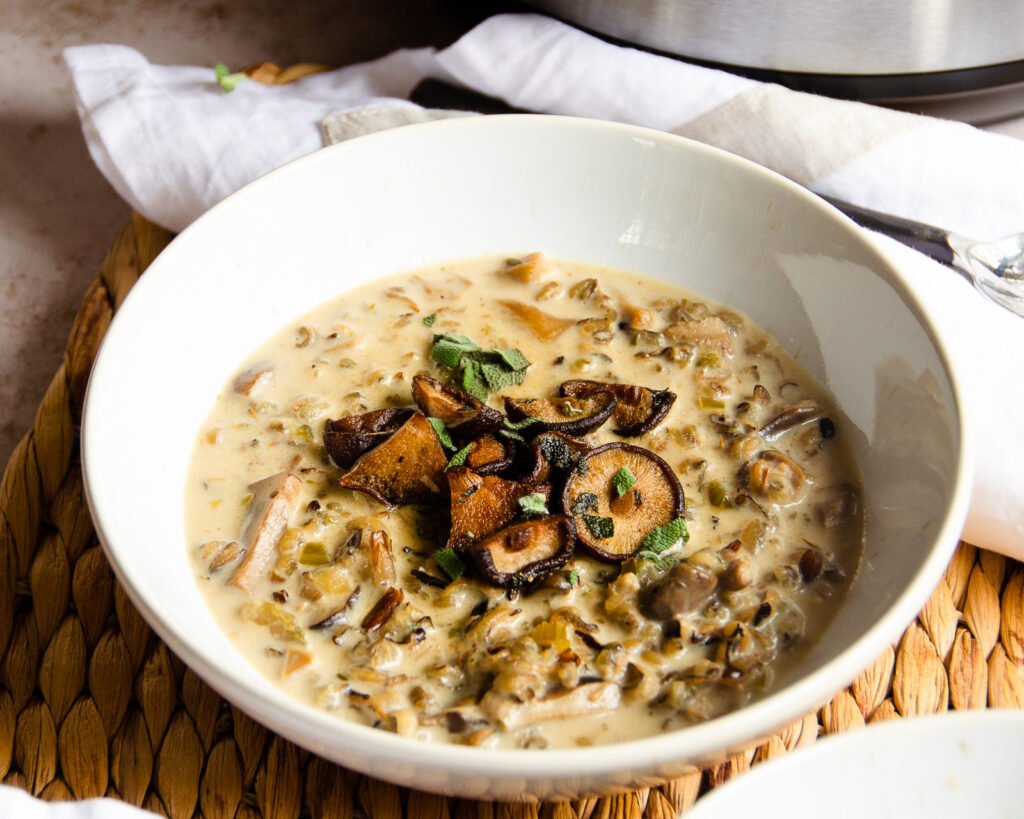 How to Make Cream of Mushroom Soup on the Stovetop
If you don't have a pressure cooker (why not?), of course you can make this soup on the stovetop instead. Follow the recipe as written, but sauté the mushrooms for longer – about 10 to 12 minutes. Add an extra cup of stock and simmer on the stovetop for at least one hour, or until the rice is the texture that you like. Finish the soup the same way it is written in the instructions – with a beurre manié if you want it thicker and some delicious heavy cream. 
Does Cream of Mushroom Freeze?
Yes, indeed! You can store this soup in the refrigerator for up to 5 days or you can put it into an airtight container and freeze it for up to 3 months. When you re-heat the soup (from the refrigerator or freezer), make sure you thin the soup to your liking with either water or more chicken stock.