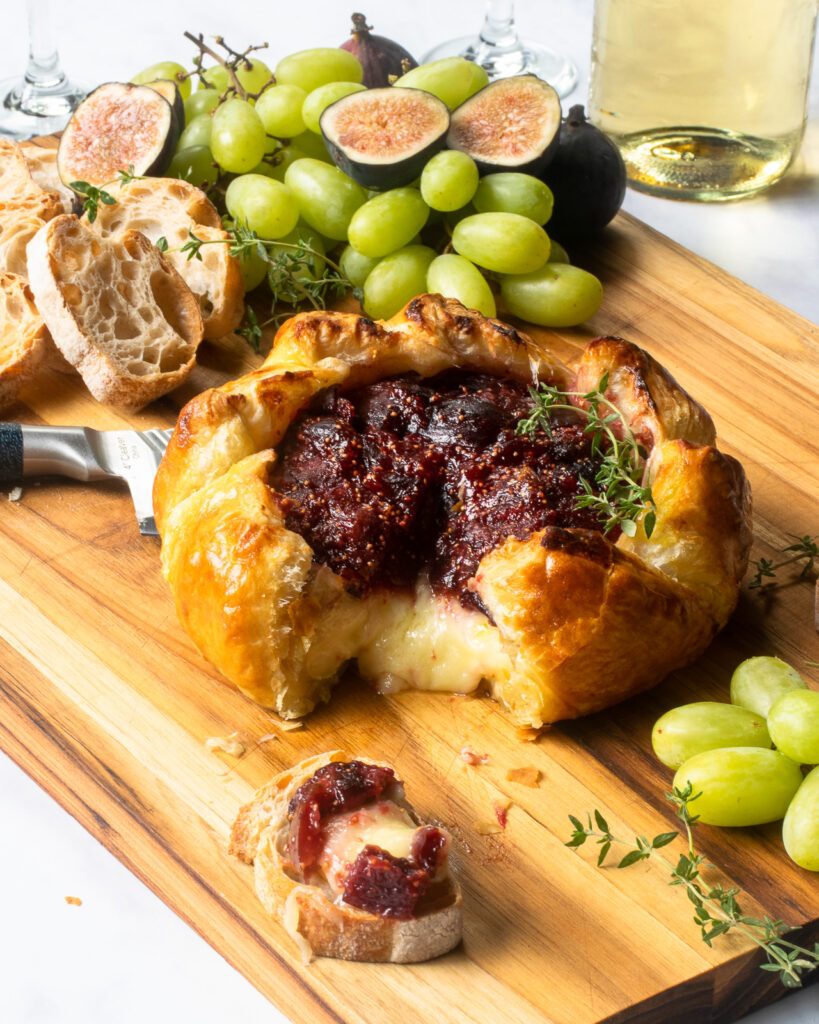 Perfect Holiday Appetizer
Baked brie cheese is a classic appetizer on any cheese board, but this recipe takes the traditional and elevates it a little by making it a baked brie with fig jam. Not only does it add a level of sophistication to the mild flavored cheese, but it looks pretty too. Best part… it's not hard to do AND you can just make the fig jam if you like to serve with other cheeses.
How to Make Fig Jam
If you have some fresh figs on hand, this couldn't be simpler. You just chop the figs and place them in a saucepan with some lemon juice, honey, sugar, vanilla extract, water and a sprig of thyme. That's it! Just simmer this until it turns into a thick jam and let it cool.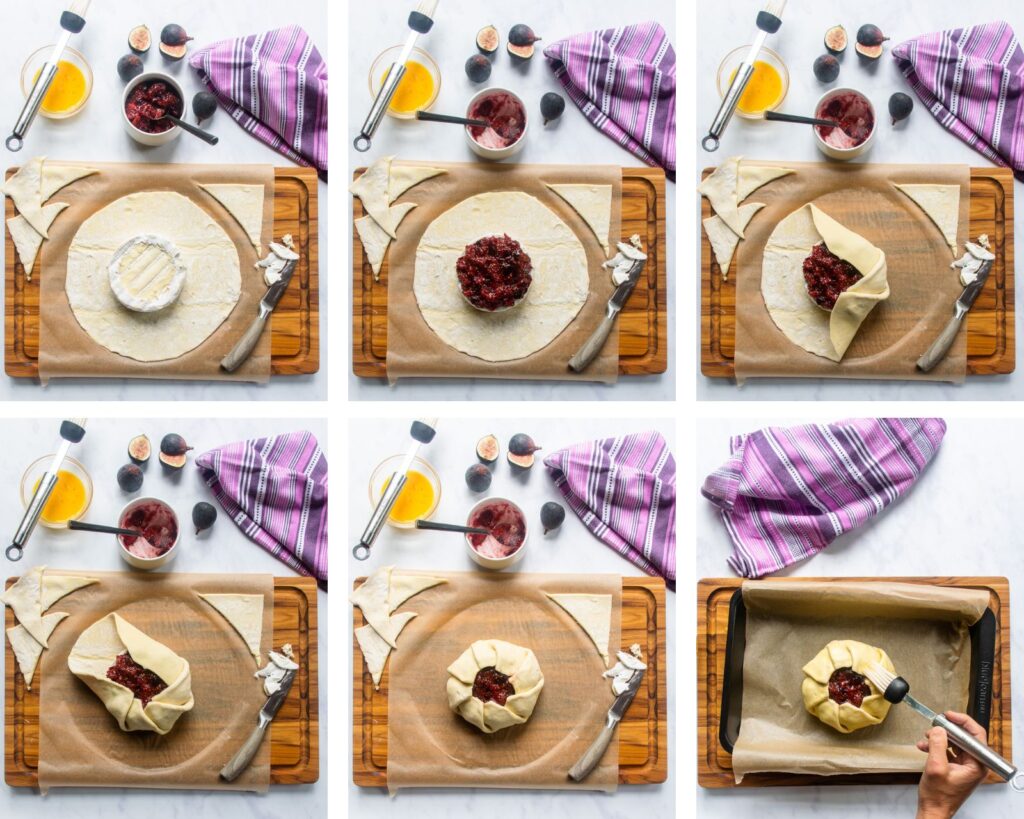 How to Assemble Baked Brie
Assembling this baked brie is also very simple. Start with store bought puff pastry and follow the steps above. I do like to cut a little of the top rind of the brie away so that it oozes a little more and is easier to cut into when it's baked. Assembling the brie on a piece of parchment paper makes it very easy to transfer the wrapped cheese to a baking sheet.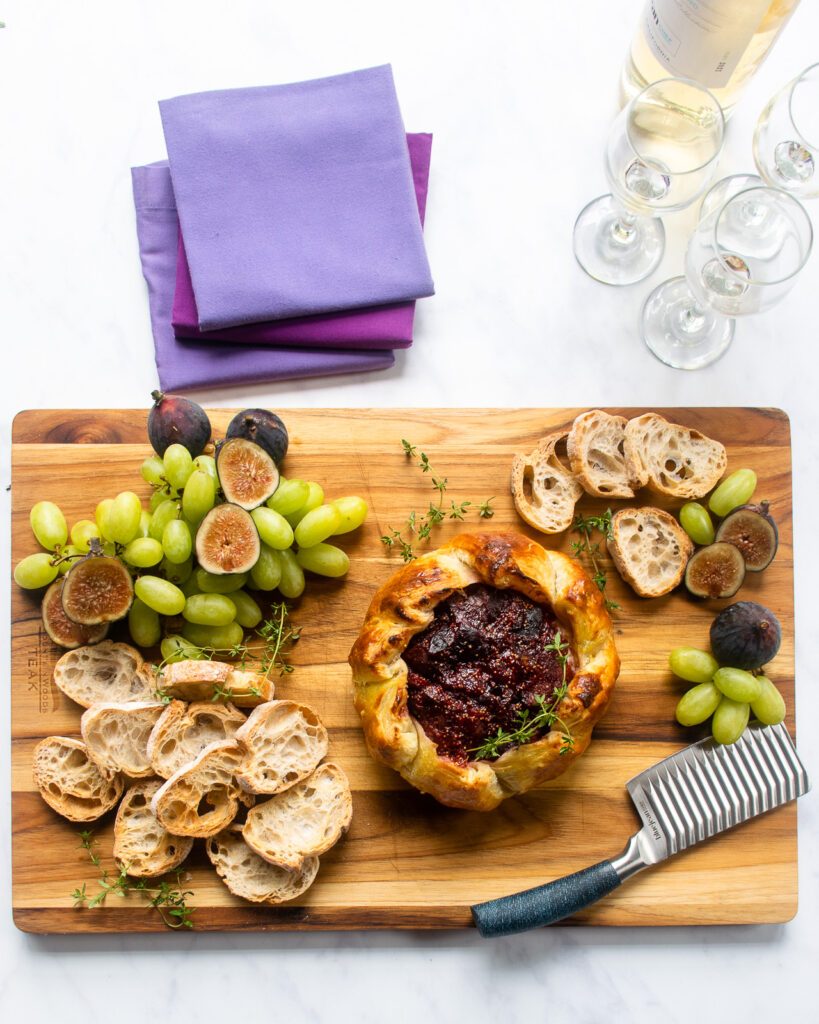 How to Serve Baked Brie
Of course, this appetizer is best served warm so that the cheese is oozing and almost scoopable. You can hold it warm in an oven until you are ready to serve. Then, pop it onto a board with some crackers or crostini, a few grapes and perhaps some additional fresh figs if you have any left over. It can also be the center of a cheese and charcuterie board too if you're feeding a large crowd. Oh, and if you're wondering what you might serve to drink alongside, try the sweet wine blend or the Chardonnay from my Chambray wine collection. It's a perfect match.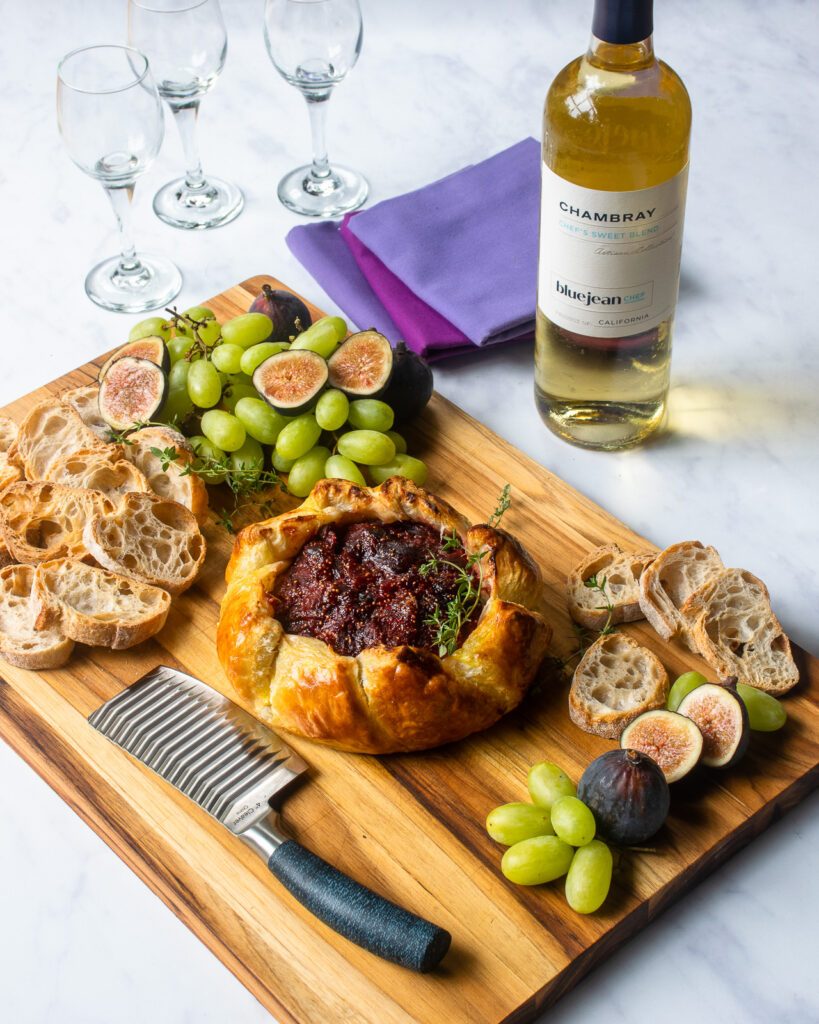 Make Ahead Baked Brie
Baked Brie with Fig Jam is also an easy appetizer to make ahead of time. Wrap the cheese and then just hold it in the refrigerator, wrapped in plastic, until you are ready to bake. You can do this a day ahead of time and then pull out an elegant appetizer with very little effort the next day. Happy Entertaining!