The one thing you must do if you want to make homemade French baguettes is plan ahead. While there are only a few ingredients and they are not hard to make, there is a lot of down time waiting for the dough to rise in different stages. Just start a full day ahead of when you'd like to eat the baguettes and enjoy the process. Start by making a  poolish. A poolish is what we call a pre-ferment – a starter dough that is made ahead of time and it is key to giving your bread great flavor. Other examples of a pre-fermented doughs are sourdough, levain or biga. The nice thing about using a poolish as a starter for baguettes is that it is made once, takes just 12 hours and is used in its entirety when you make the baguette dough – you don't have to keep and feed it like you do with a sourdough starter. It's as simple as stirring three ingredients together – flour, water and yeast.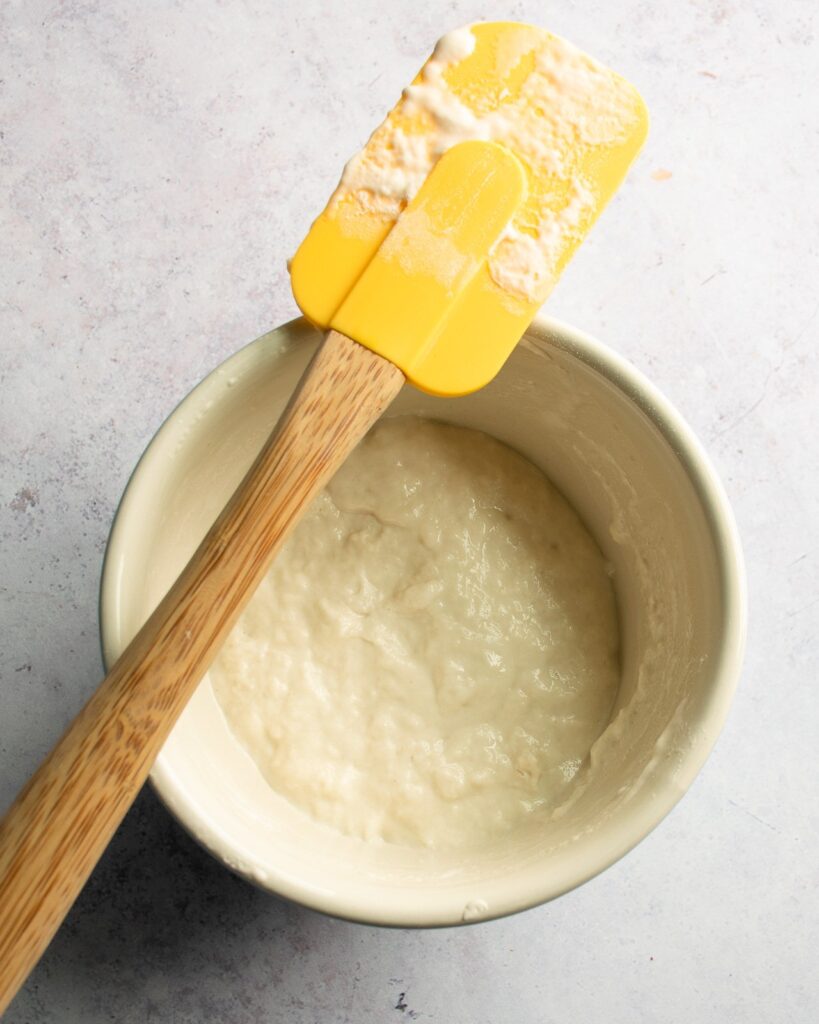 After 12 to 18 hours at room temperature, your poolish will look like the image below – slightly increased in volume and bubbly.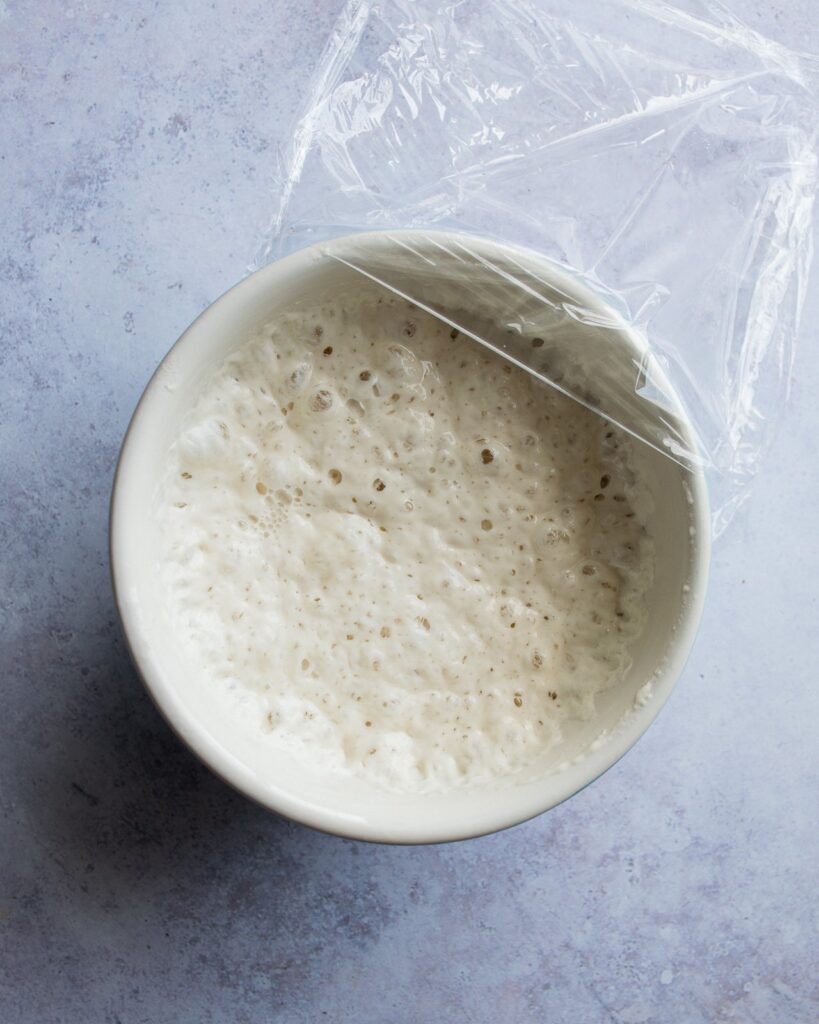 Add water to the poolish to loosen it and then add the flour, more yeast and some salt. The dough will be relatively wet, but the good news is that you don't really have to knead baguette dough. We want there to be nice airy bubbles in our baguettes and by simply stretching and folding the dough over on itself is enough to engage the elastic quality of the gluten and then you just have to let the yeast do its job of reproducing and flavoring the dough.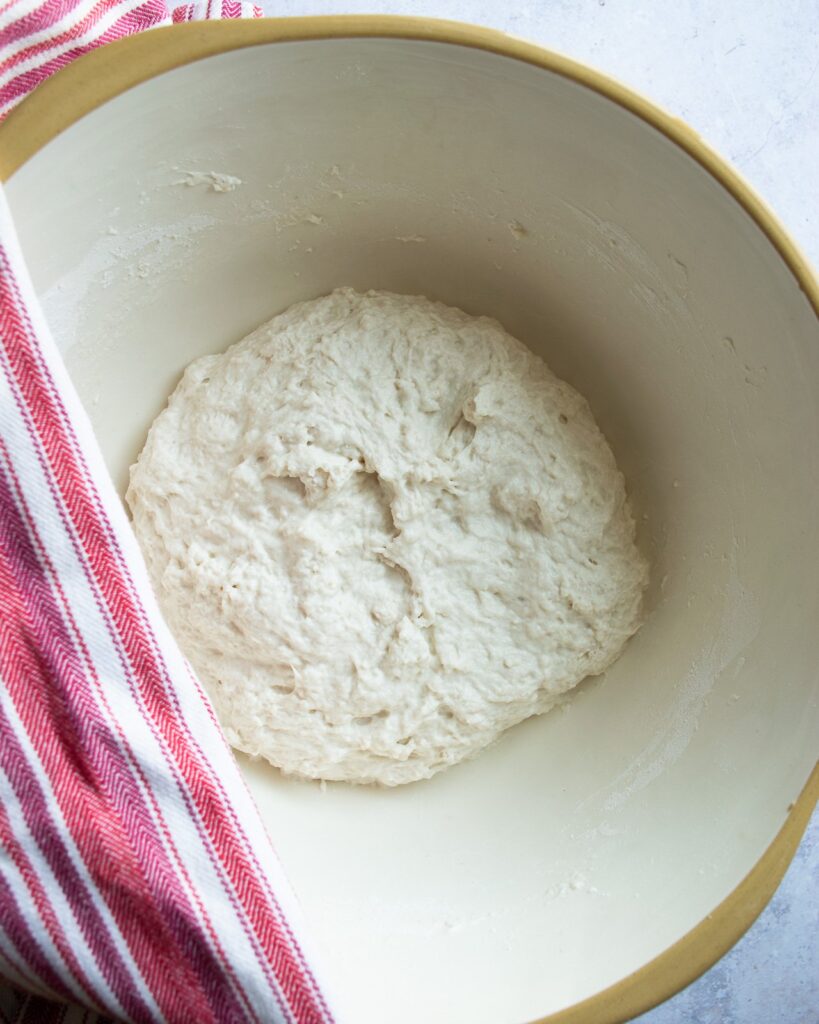 Once your dough has gone through a couple of rises, start to shape the dough into roughly the right shape – a rectangle. Portion the dough into 3 or 4 pieces and flatten them into rectangles. Then, with the long side of the rectangle facing you, fold the dough into a third of its width as you would fold a letter – fold the top third of the rectangle down and fold the bottom third of the rectangle up. It should now look roughly like a log. Let it rest and rise again.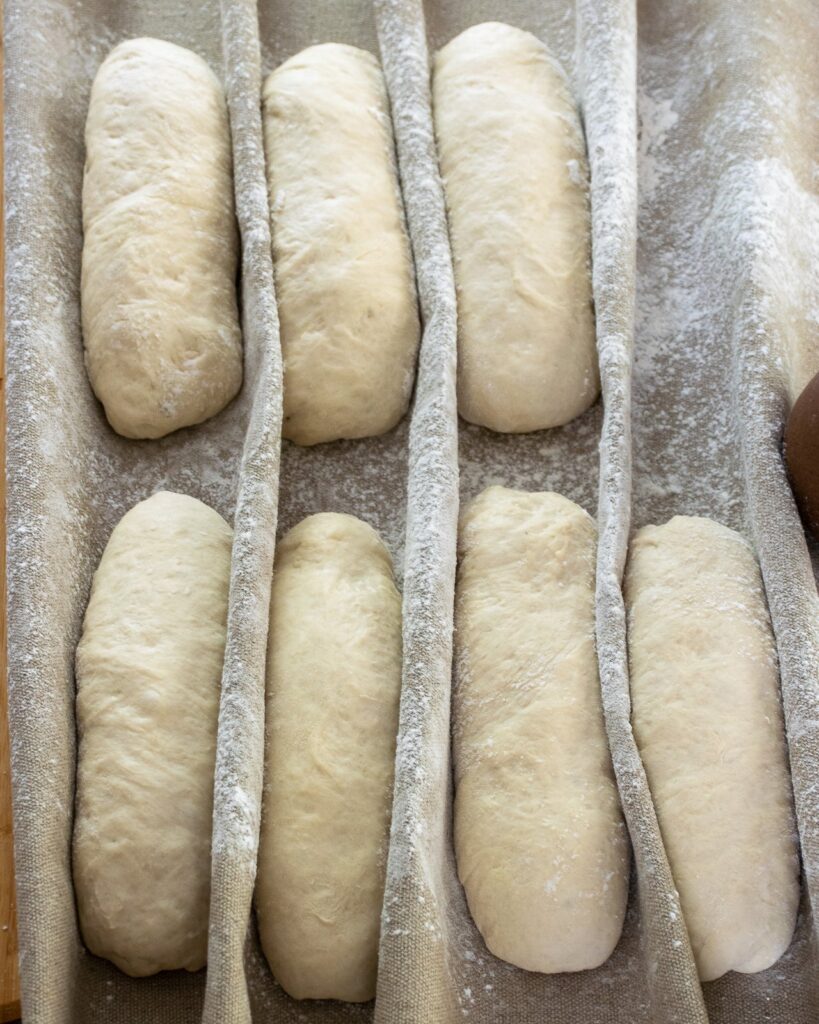 You'll do this one more time before gently rolling the logs out into a baguette length. It should now rise one last time in a baguette pan or on a baker's couche – a durable French linen cloth used  to keep the doughs rising upwards instead of sideways.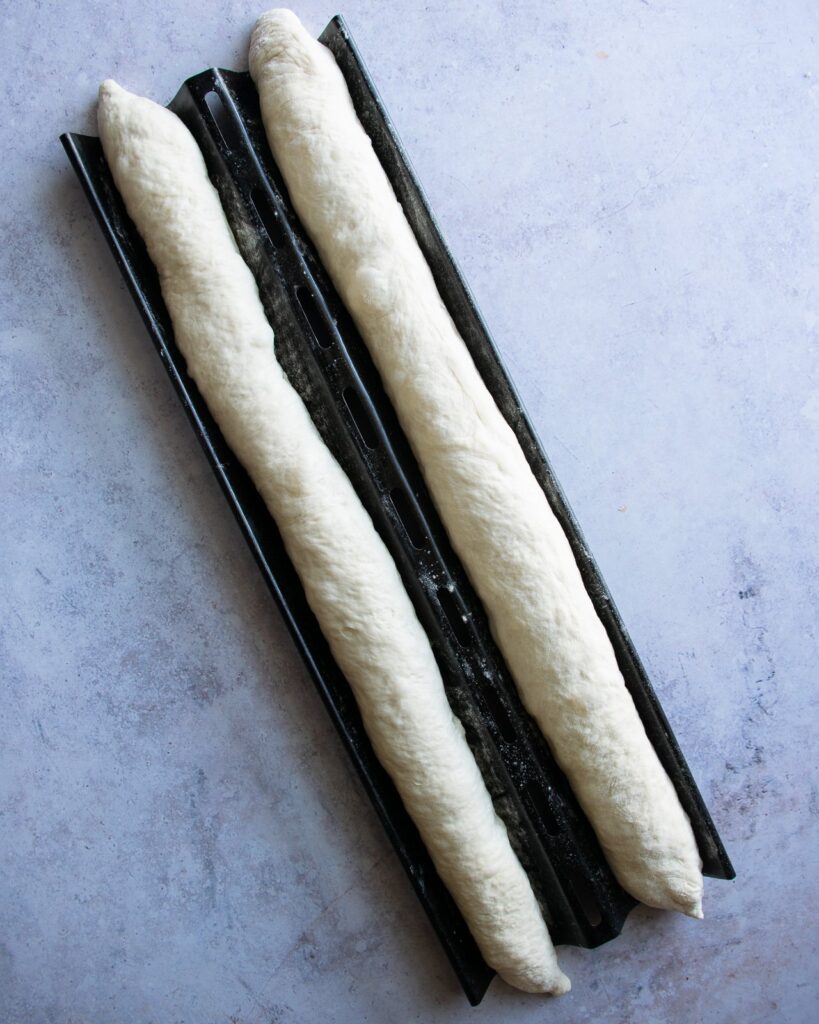 Now it's time to bake the homemade French baguettes. The key to the crust of a baguette is steam. Professional bakers use stem ovens to get the best crust, but you can create a similar environment at home. Pre-heat your oven with a cast iron pan in the bottom of the oven for at least 30 minutes. Boil the kettle and when you're ready, put the baguettes into the oven and pour boiling water into the cast iron pan. Use long oven mitts to do this and be aware that there will be a lot of steam. Close the oven door as soon as you can and let the baguettes cook in the steamy environment for just 15 to 20 minutes. It's the steam that will create that nice crispy crust on the outside of the baguette.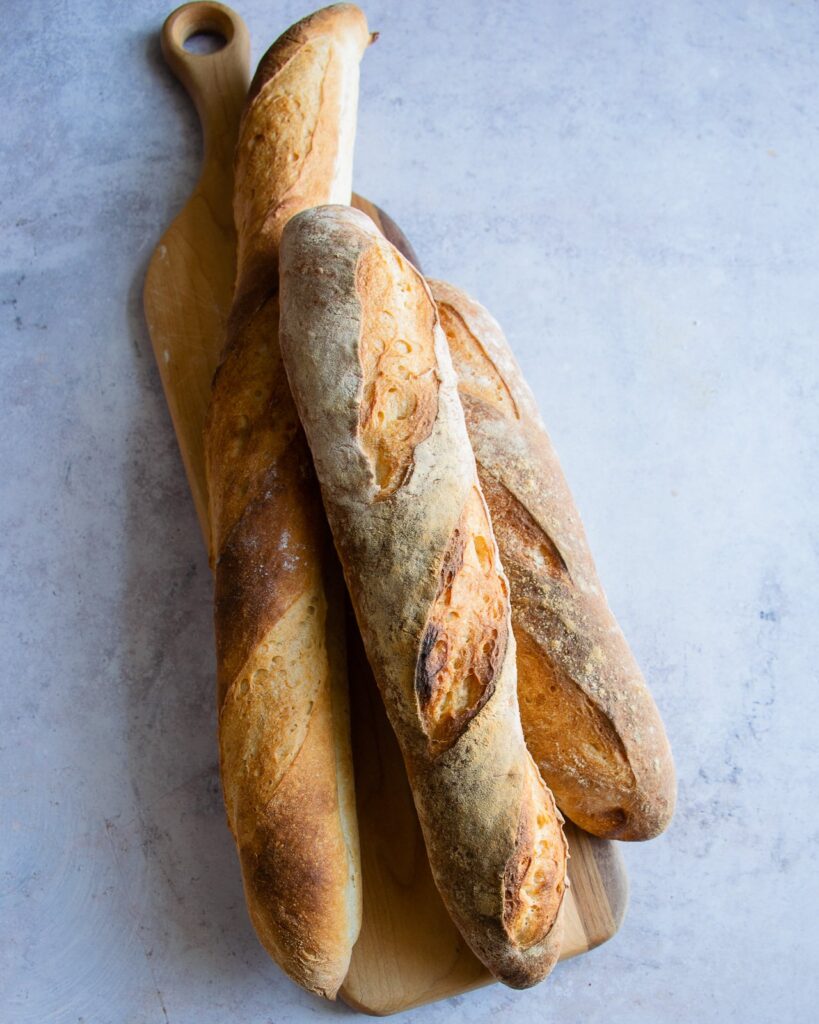 The three baguettes above have a different appearance because two of them were dusted with flour before being transferred to the oven. If you like that rustic look, a simple quick dust with flour is all you need.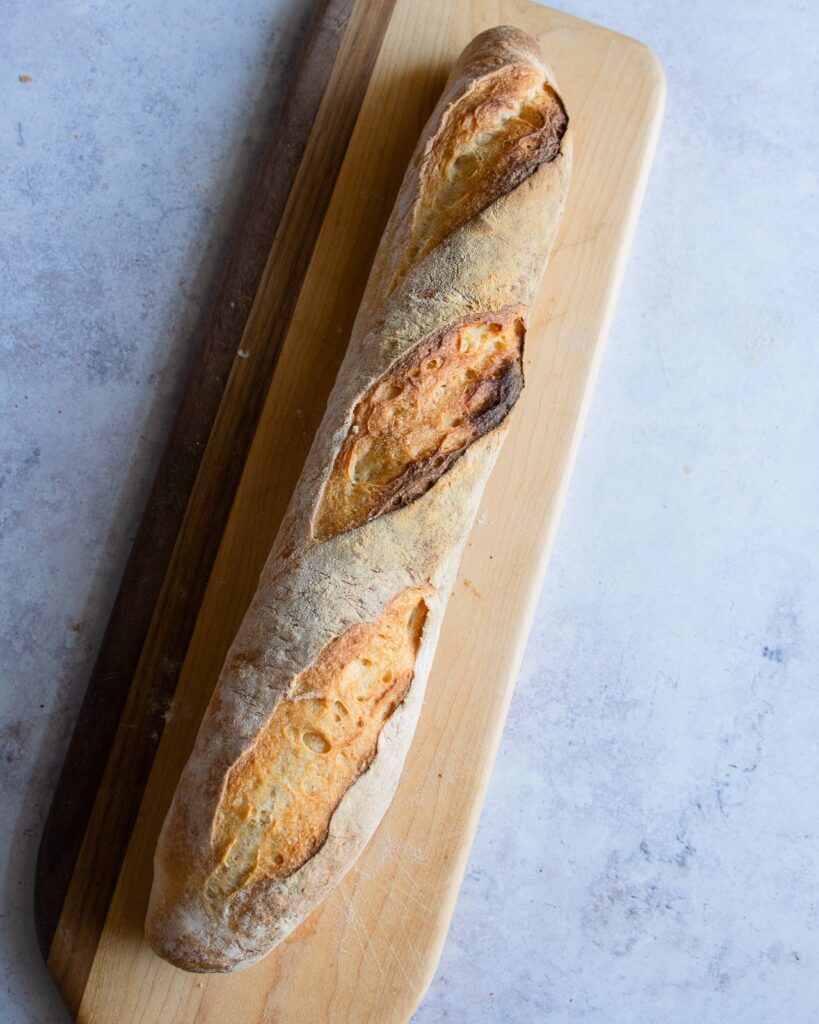 So you can see it is a long-is process (lots of unattended time), but there are a couple of ways you can shorten the path to freshly baked bread. You could make the dough, let it rise twice, portion it into 3 or 4 and then freeze the dough for another time. Freeze  each portion in an air-tight bag and then defrost the dough on the counter and pick up the recipe where you left off once it has fully thawed.  I find it even more convenient to freeze freshly baked baguette as soon as they've cooled down. Then, it's a quick re-heat in the oven at 400ºF for 8 minutes or so and you're set to go with a fresh loaf. Just grab a bread knife!
Recipe Step-by-Step Quick Notes:
Make poolish and  let sit, covered, room temperature for 12 to 18 hours
Add water to poolish, then flour, yeast and salt. Mix together, turning the dough over on itself several times.
Rest 10 minutes.
Stretch and fold the dough and put in an oiled bowl, covered with a lid or plastic wrap.
Rest 45 minutes
Stretch and fold the dough. Return to the oiled bowl, covered with a lid or plastic wrap.
Rest 45 minutes.
Divide the dough into 3 or 4 portions. Flatten each portion, fold and shape each into a log. Cover.
Rest 30 minutes.
Fold and shape each log into a baguette. Rest either on a baguette pan or baker's couche, covered.
Pre-heat the oven to 475ºF with an empty cast iron pan inside for at least 30 minutes while baguettes are resting.
Bring water to a boil on stovetop.
Score the baguettes. Send to the oven. Pour boiling water into cast iron pan.
Bake at 475ºF, 20 – 25 minutes.