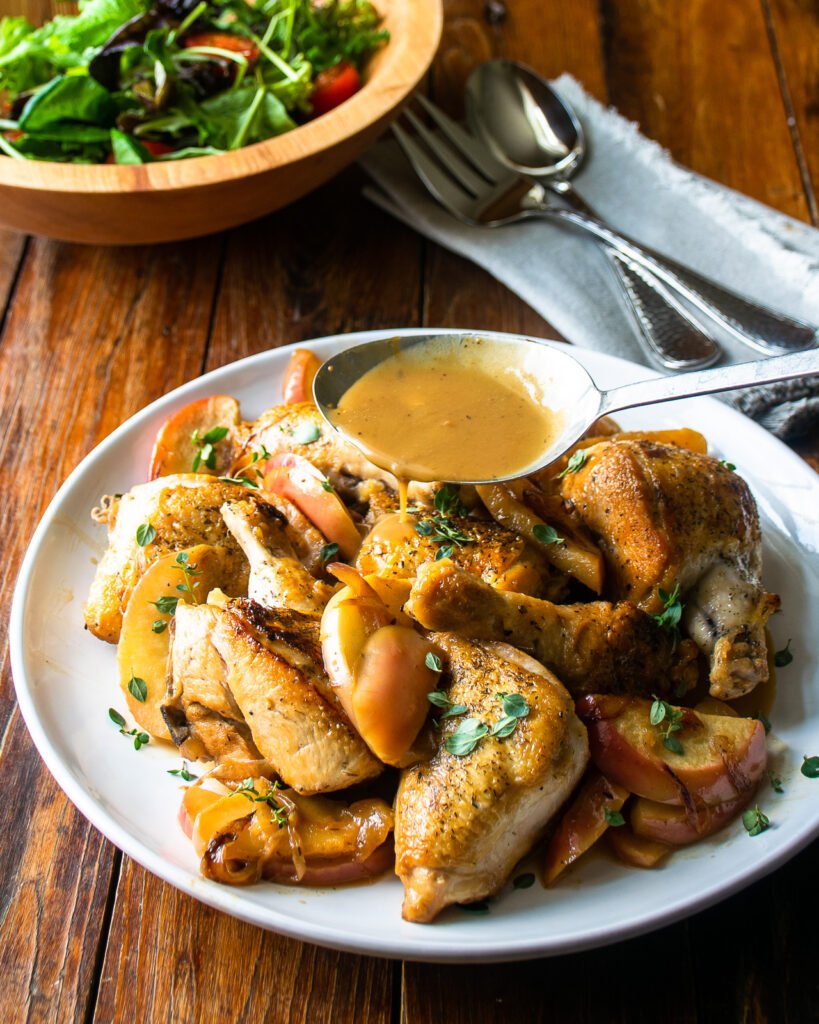 Quick Chicken Dinner
Every cook, no matter how busy a life they lead, loves a quick dinner. There are just those days when you want to push the 'Easy Button' in the kitchen. For those days, this Apple Cider Glazed Chicken dish is perfect. After initial browning, you just toss some apples and shallots in the pan, then add some apple cider and chicken stock and return the chicken to the pan to simmer for 15 minutes or so. It's quick and easy, but more importantly, it's delicious with all the flavors of fall.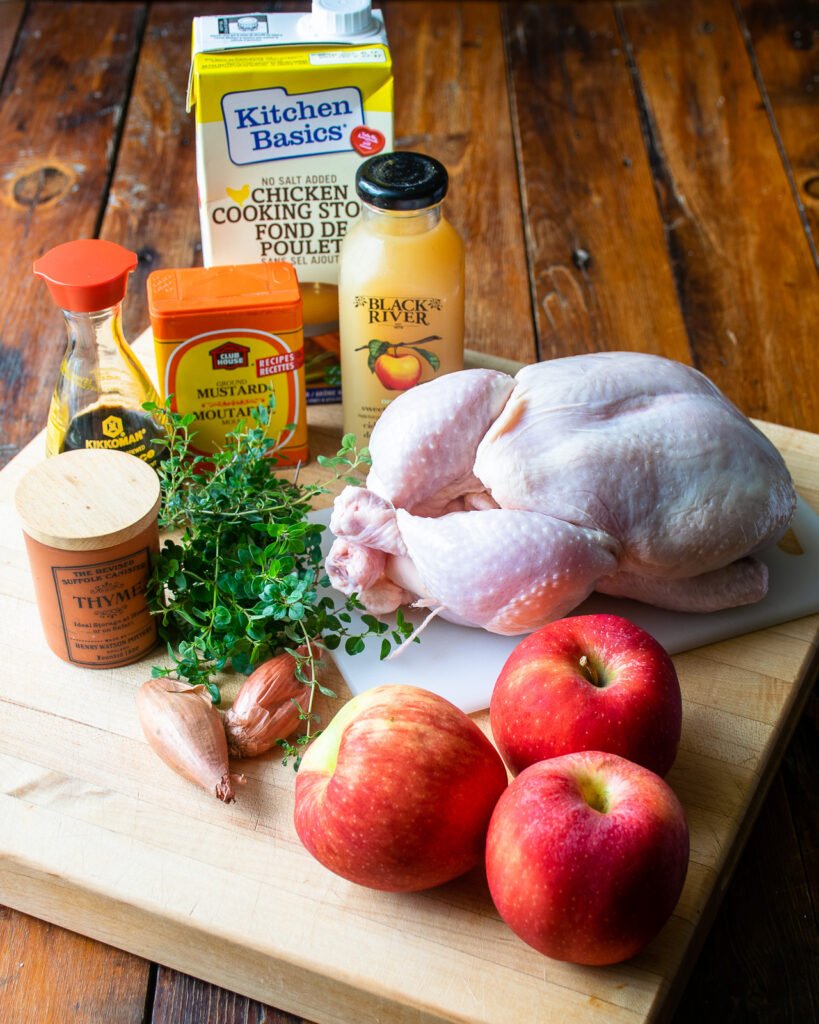 What Pieces of Chicken to Use
Some people only like white meat and others only dark meat, so what pieces of chicken you use for this recipe is up to you. My favorite way to make any chicken dish is to use a combination of both white and dark meat, so I usually buy a whole chicken and cut it up myself. This is the most economical way to buy chicken and it allows you to make sure the pieces are cut and trimmed to suit your preferences. If you'd like to learn more about how to cut up a chicken, you can check out that lesson with step-by-step photographs in the cooking school. It's not difficult as long as you have a good sharp knife. If you're going for speed, however, you can pick up any pre-cut chicken pieces you like. I prefer bone-in pieces because they generally have more flavor, but you could choose boneless too. With boneless chicken, shorten the simmering time to 10 to 15 minutes, depending on their size.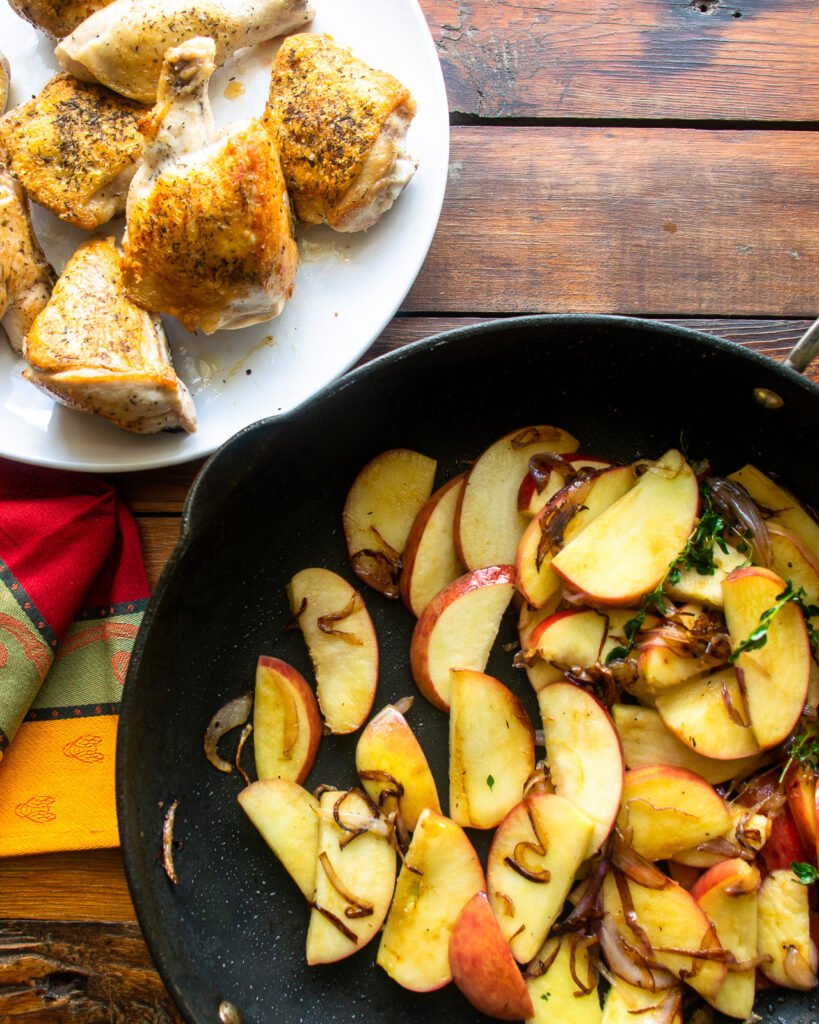 Brown First
The first step in this recipe is to brown the chicken. This is an important step that shouldn't be overlooked. It will set the appearance of the finished dish, it determines the flavor of the finished dish and it gives the chicken a head-start in cooking so that the simmering time can be shorter. Make sure the chicken gets a good brown color because the color will fade as the chicken simmers.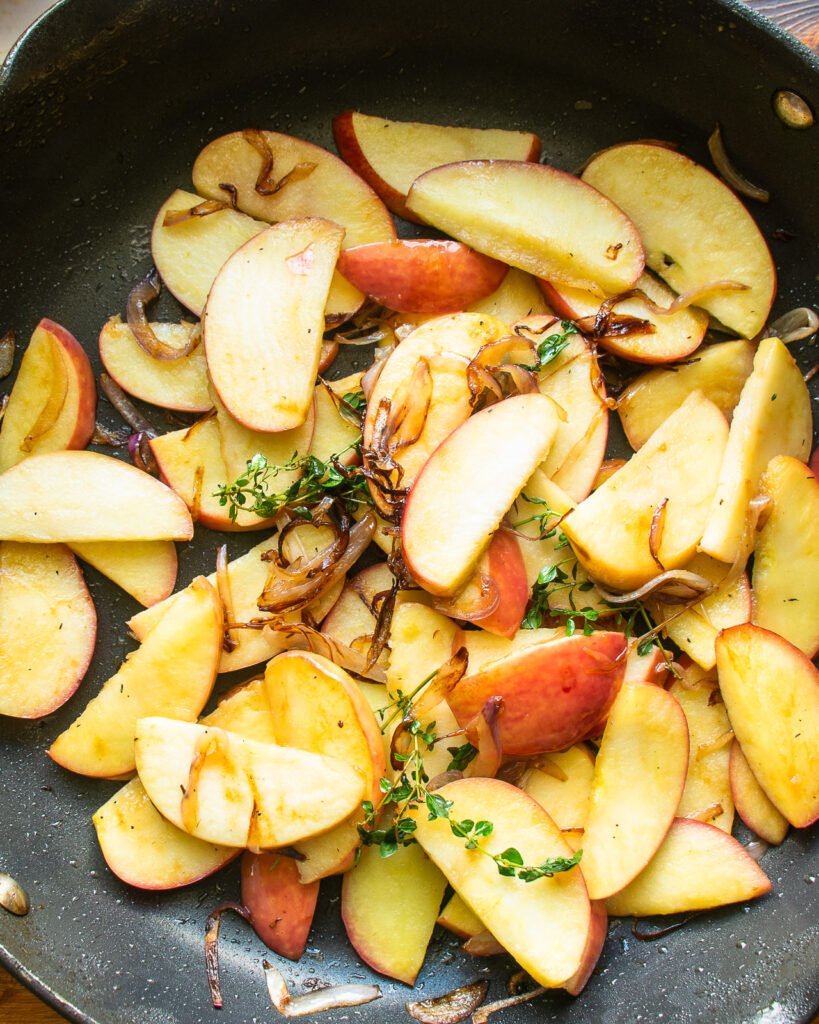 Best Apples for Braising
What apples to use is also a matter of personal preference. For this apple cider glazed chicken recipe, you want an apple that has a crisp texture (it won't stay crisp after being braised, but you don't want it falling apart) and a sweet flavor. How sweet an apple to use is where your preference comes in. I recommend the following apples in order of the sweetest to the very slightly tart: Honey Crisp, Fuji, Gala or Roma. In other words, if you want sweet, pick the Honey Crisp or Fuji; if you want the dish to be less sweet, try a Roma apple; if you want something in between, Gala is your pick.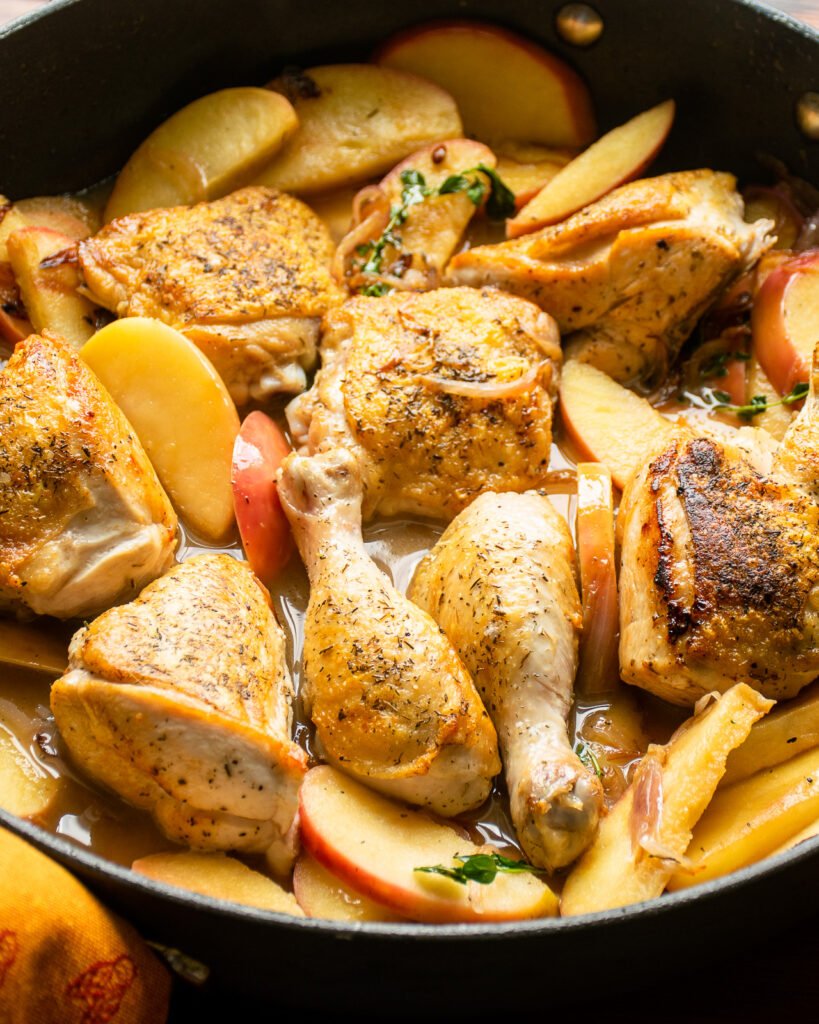 Braising Chicken on Stove top
This recipe is not really a braise because it isn't covered as it cooks, but it's similar to a braise. The chicken cooks on the stovetop in simmering liquid that reduces over time and forms a glaze for the chicken. Turn the chicken over a couple of times as you simmer, but leave the skin side up for most of your cooking time. If you'd like a crispy skin at the end, pop the pan under the broiler for a minute or two before serving.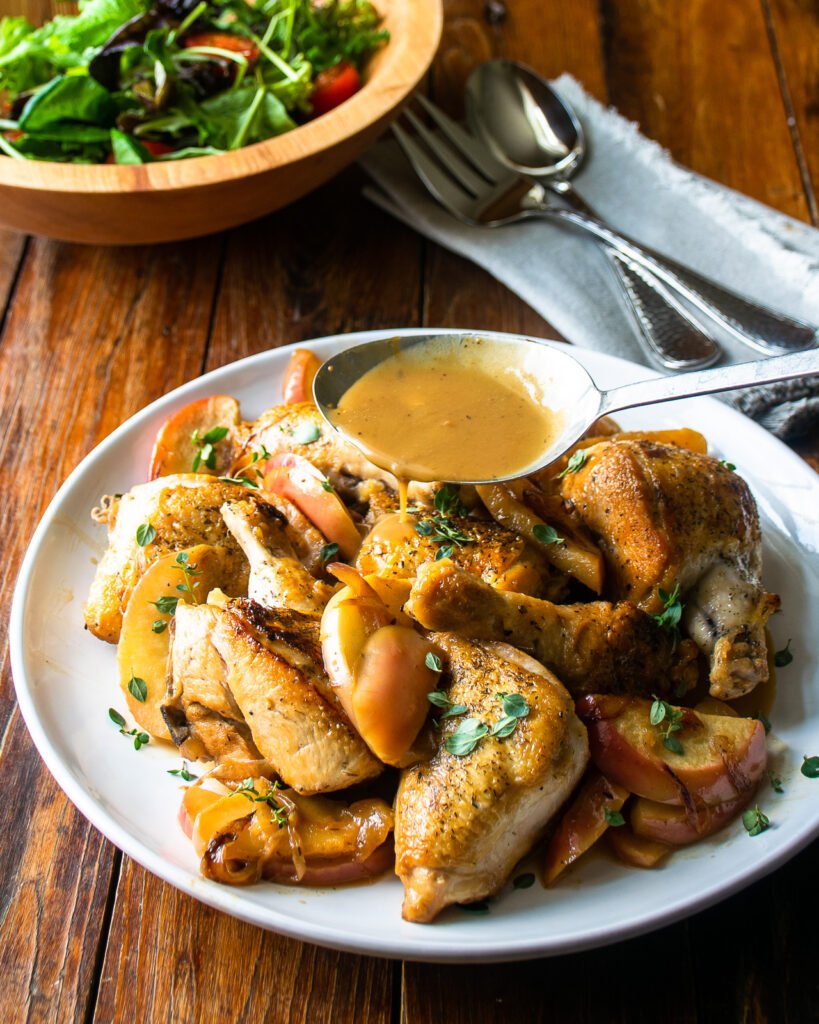 Apple Cider Glaze
After the liquid reduces on the stovetop, it creates a glaze for the chicken – not a sauce. You won't find a pool of sauce left in the pan after the chicken has finished cooking. All that should be left is enough to pour over the chicken once to coat everything one last time – to glaze it.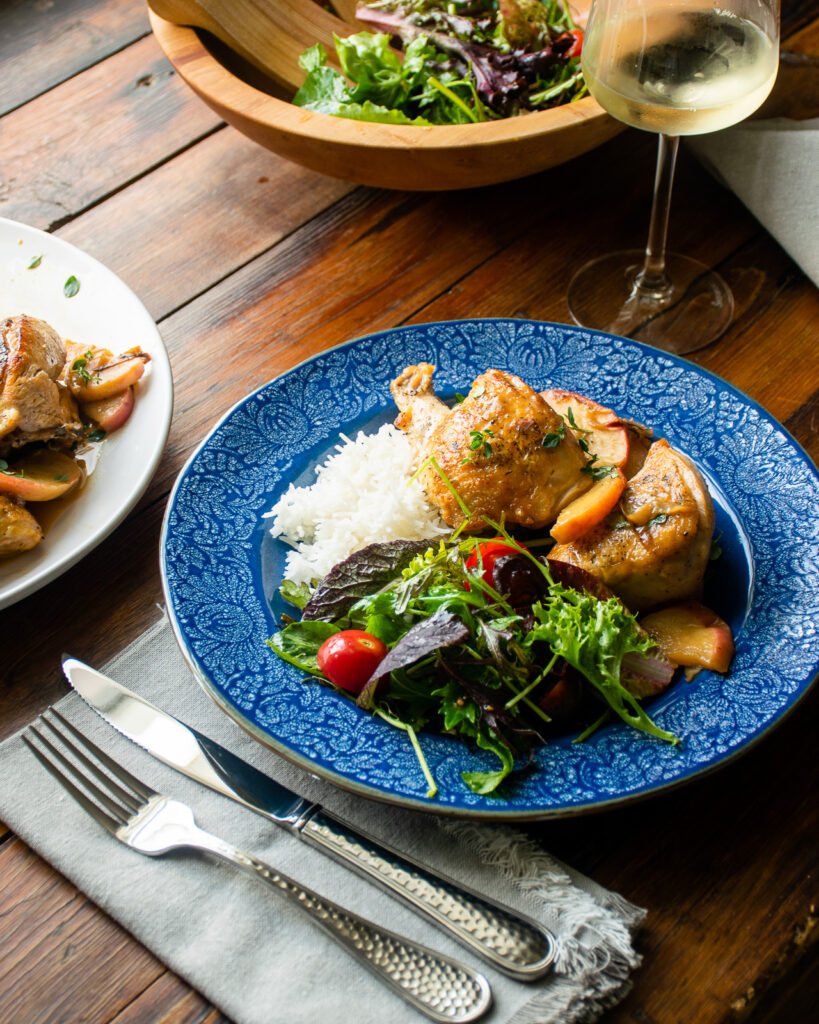 What to serve with Apple Glazed chicken
You can serve apple cider glazed chicken with any combination of vegetables. I like it over basmati rice, mashed potatoes or this parsnip, pear and rosemary mash, but it would also be really nice over polenta or grits too. Aside from something starchy to mop up any leftover glaze, I think a simple mixed greens salad is perfect with this fall dish, but it would also be nice with some steamed broccoli or green beans. Toss in a glass of white wine and you have the perfect fall dinner.