There is a market in Philadelphia that I used to go to where you could buy a bag of 9 lemons for $1. You couldn't split the bag and only buy two lemons so I always walked home with 9. That's when the saying "when life gives you lemons…" really kicked in for me. Of course when you have 9 lemons and only need 2, you make lemonade! But why make plain lemonade when you can make sparkling raspberry lemonade? That's what I'm talking about!

How to Make Homemade Lemonade
There really aren't too make tricks to making homemade lemonade. You can see a full recipe and video explanation here, but the good news is that you need very few ingredients – lemons, water and sugar. Juice your lemons, add water, sweeten it up and you have lemonade. Let's talk about those ingredients a little more though.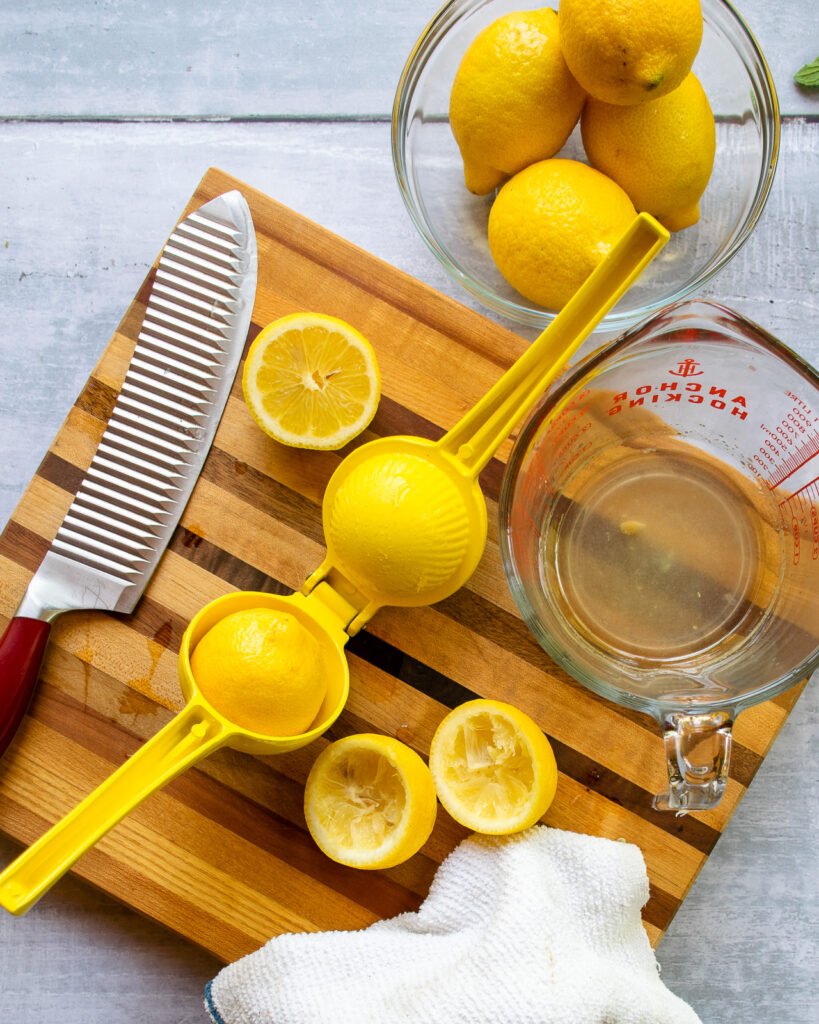 Juicing Lemons
Lemons are one of nature's gifts. They have a spectacular flavor and so many beautiful qualities. You can read all about lemons and tips and tricks to getting the most out of them here. Obviously, making lemonade requires squeezing a lot of lemons and depending on what tools you have in your arsenal, that could take a lot of hand and arm power or none at all. I like to use a handheld citrus squeezer to juice lemons and that's what I used for this recipe. There are electric juicers, however, which are very handy if you're making a big batch at one time. Once you have your lemon juice, you just dilute it with water and sweeten it with the next important ingredient – simple syrup.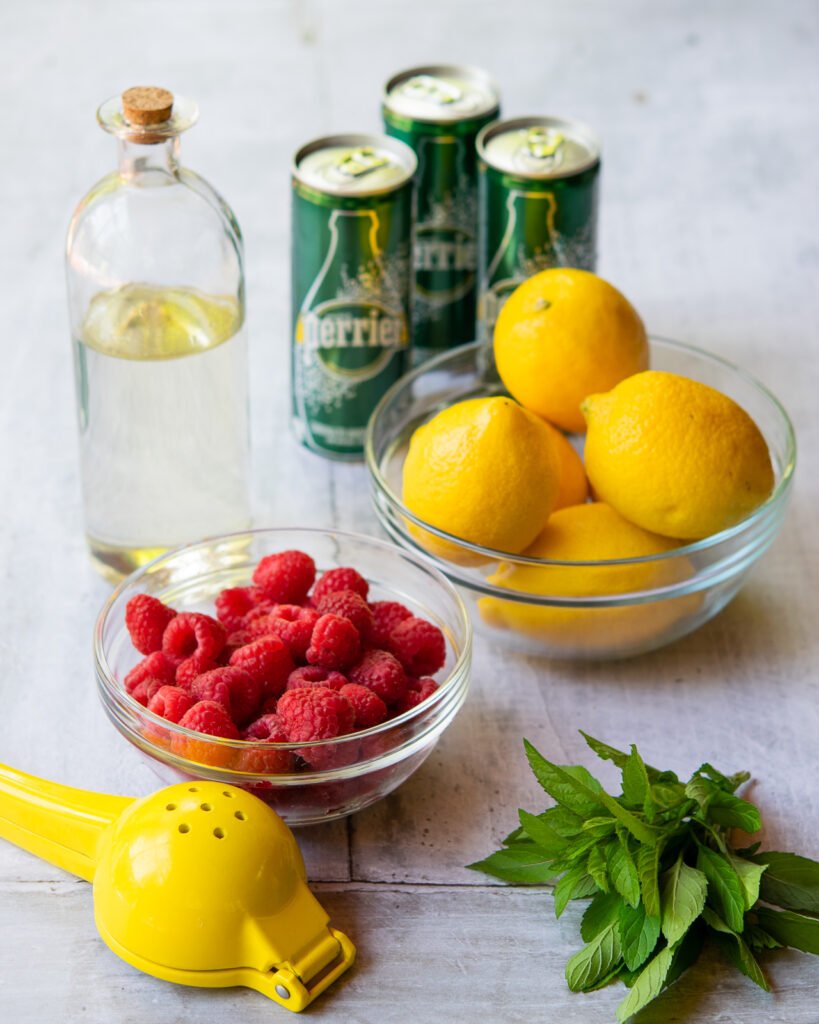 How to Make Simple Syrup
Simple syrup is simply equal parts of sugar and water, mixed together so that the sugar has dissolved completely. Read all about how to make your own simple syrup and store it here. It's as easy as boiling sugar and water together, but it should be cool when you add it to the lemonade, so be sure to either make it ahead of time or plan a strategy to cool it quickly – like pouring it into a shallow cake pan and popping it into your freezer for about 10 minutes.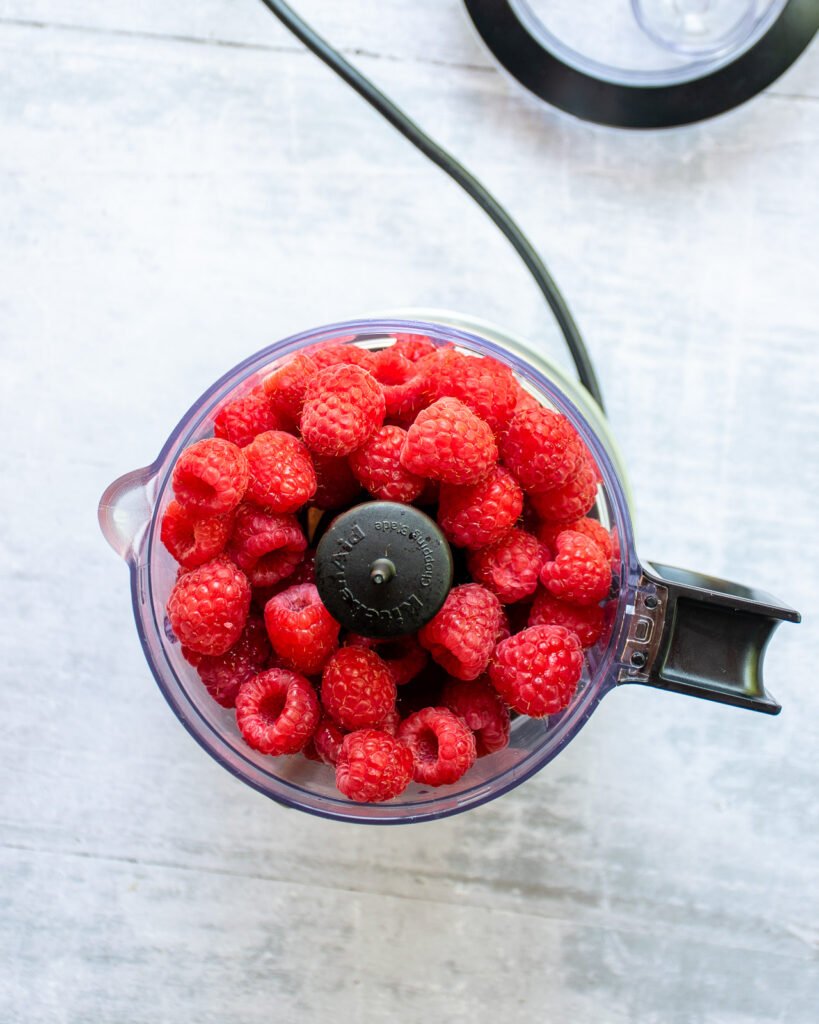 Raspberry Purée
Adding the raspberry flavor to this sparkling raspberry lemonade is pretty simple too if you have a food processor or mini chopper. Process fresh or frozen raspberries with a little lemon juice until they are smooth. You can give the raspberries a taste at this point too. That will give you an idea of how much simple syrup you will be using to sweeten the final drink.
Remove Raspberry Seeds
No-one likes raspberry seeds in their teeth, so regardless of whether you use fresh or frozen, be sure to strain the seeds out of the purée with a mesh strainer before moving onward. Your strainer doesn't have to be super fine, but you'll need a relatively fine mesh to remove the tiny seeds.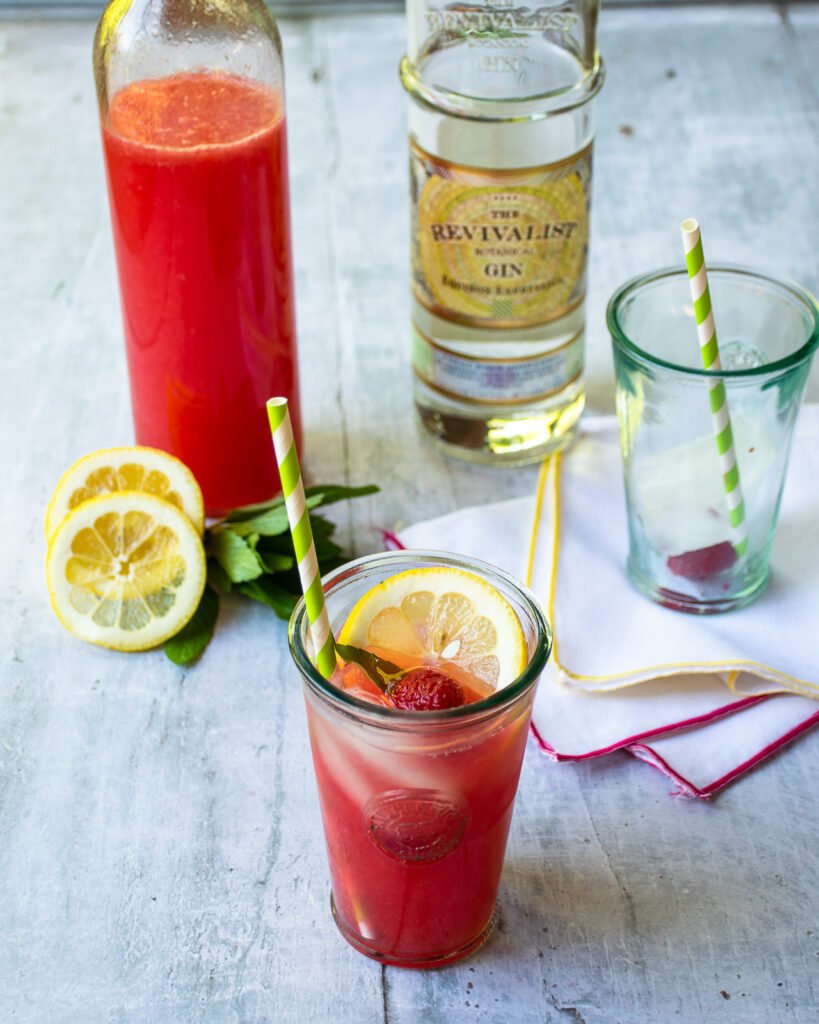 Lemonade Cocktails
Sparkling raspberry lemonade is delicious all by itself, but it also makes a refreshing cocktail if you are so inclined. It blends nicely with both vodka or gin. Start with 1 to 1½ ounces of your choice of alcohol in a tall glass filled with ice. Pour in the sparkling raspberry lemonade and garnish with a wheel of lemon, a raspberry and a spanked mint leaf (spanked to help release more of the oils from the herb). Go easy with the refills because this is the sort of cocktail that can sneak up on you!😉