When I was a kid I participated in Brownies and like any good Brownie, I went on the outdoor "camping" trips and I do fondly remember roasting marshmallows over an open fire. I took particular pride in my marshmallow roasting ability, making sure I never burned the marshmallow, but toasted it into a perfect light brown color evenly on all sides until the marshmallow became too hot and started spinning on my wire hanger. At that point, I would pull the marshmallow away from the fire and offer it to a fellow Brownie who would be waiting to squeeze it between two Graham crackers with a section of Hershey's chocolate, happy that they didn't have to toast their own marshmallow. I'd then grab a new marshmallow and start toasting it for another friend. I can count the number of times I actually ate a s'mores myself on one hand (one finger actually). Why? Well, true confessions – there are only two foods that I've come across in my life that I really don't like: pumpkin (particularly pumpkin pie) and marshmallows. I've learned to like pumpkin in some foods like muffins and soup (pumpkin pie, on the other hand, will never cross my lips again), but marshmallows and I will never be friends. I just don't like marshmallows. 
Having said that, these cookies will never be my favorite cookie, but I understand that lots of people like marshmallows and if you do, this s'mores cookie is a lovely tribute to our childhood s'mores. The cookie itself is made with mostly Graham cracker crumbs and is delicious on its own, and even more so once the square of Hershey's chocolate has been pressed into the center of it.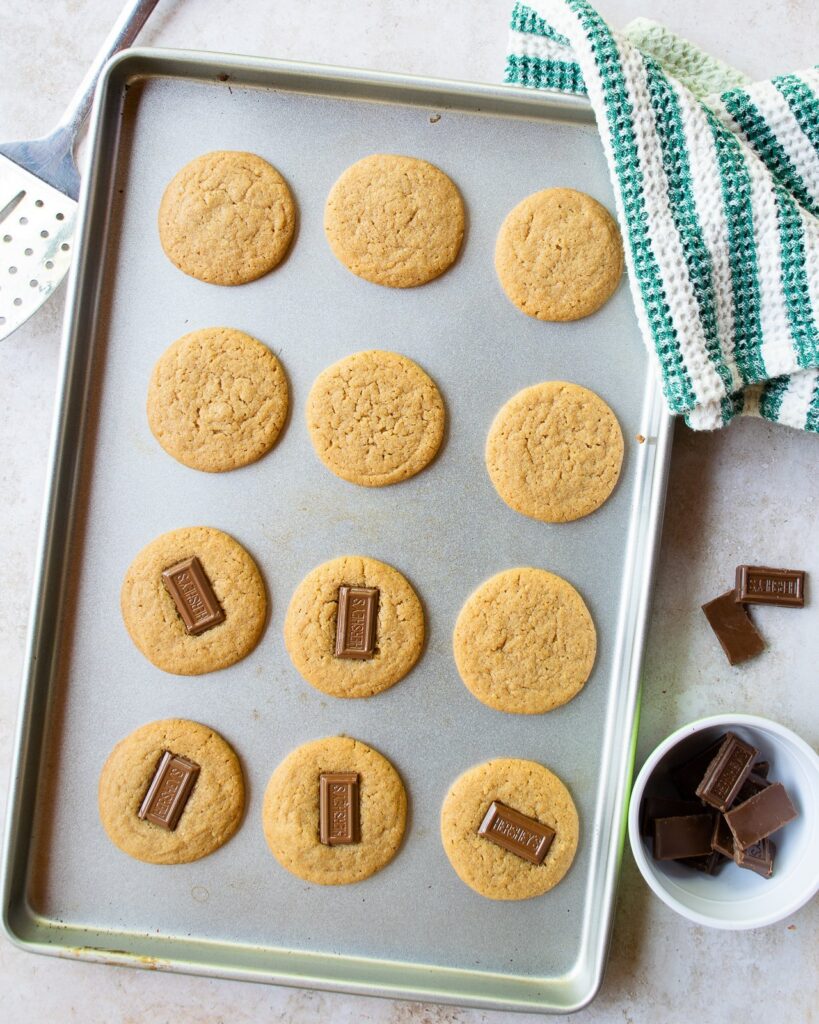 The timing of when to put the chocolate into the cookie is important. Let the cookie cool for just a a few minutes on the baking sheet and then press the chocolate into the center while the cookie is still warm. If the chocolate starts to melt too much, wait another minute before doing the next cookie.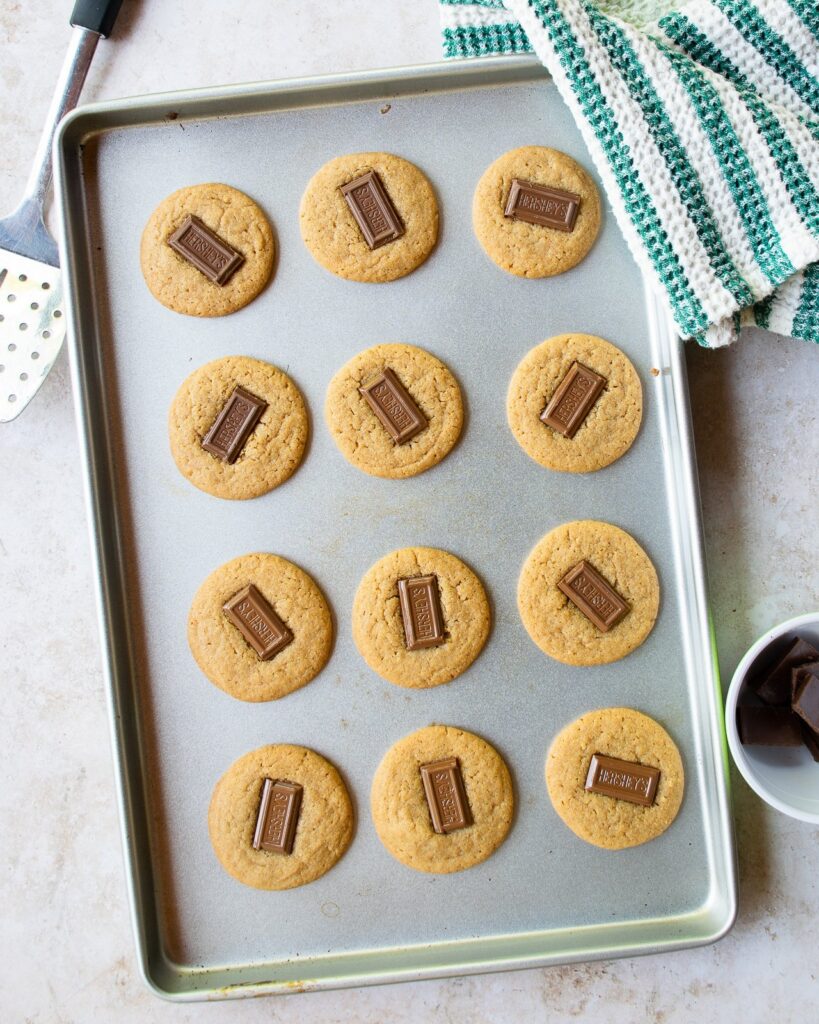 This is the stage where I really enjoy these cookies – the delicately sweet Graham cookie with a chunk of chocolate pressed into the center. What's not to love? If you're making these cookies for me, stop here.
The next step is where the fun begins for true s'mores lovers. Melt the marshmallows down in a non-stick sauté pan or skillet. Since I'm being really honest with you here, I'll tell you another truth. When we first made these cookies, we forgot about the melted marshmallow cream in the pan for just a minute and it started to brown on the bottom before we knew it. We stirred it in and realized that this was that perfect light brown toasted marshmallow color that I used to strive for as a young Brownie! Toasting the melted marshmallow became a part of the recipe and adds a nice light tinge of brown and a toasted flavor to the marshmallow drizzle. You can take that toasting as far as you like, but I'd try not to replicate the black, charred, flaming marshmallow so many kids end up with – even if that was you as a child.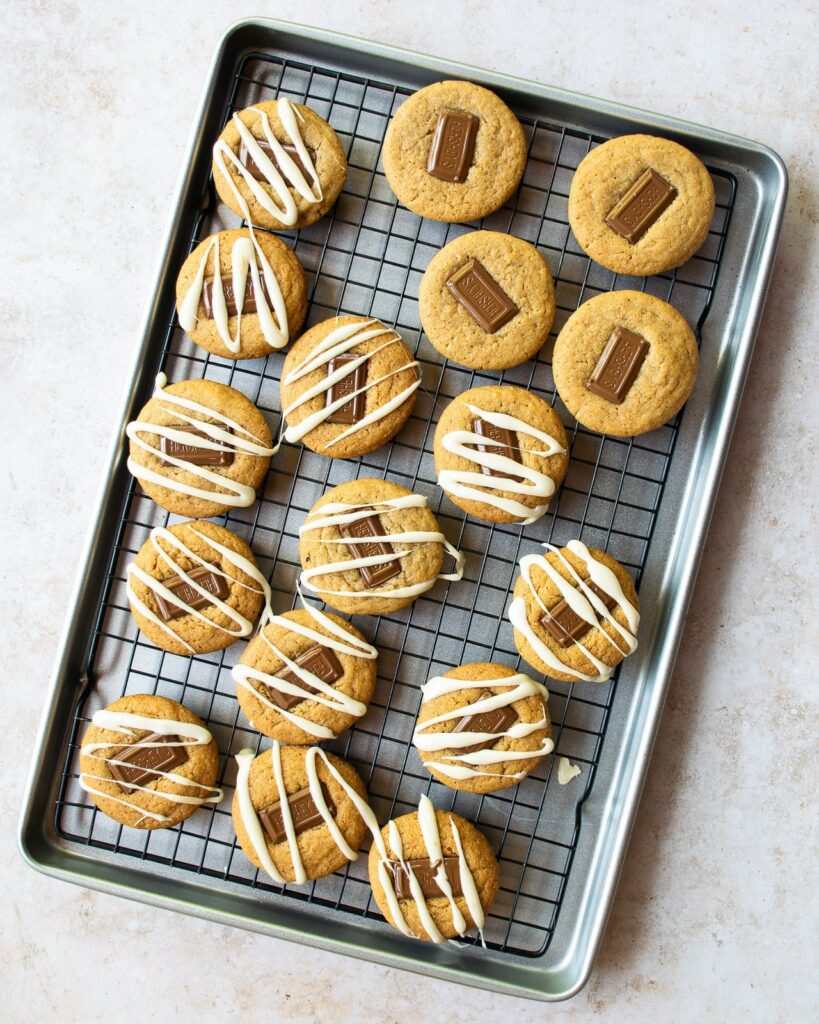 A word of caution when you come to the marshmallow drizzling stage. If you'd like to use a piping bag for more precision, I suggest using a disposable piping bag or zipper sealable plastic bag instead. The marshmallow cream is a bear to clean off a cloth bag. Also, be careful – this stuff is HOT. Be sure to wrap a tea towel around the bag before you try to handle it. Alternatively, you can drizzle the marshmallow onto the cookies from a spoon if you prefer. Let the marshmallow drip off the spoon and hold the spoon about 12 inches above the cookies for the most even drizzle. Do make sure you have either a sheet pan or a piece of parchment paper underneath to catch the excess.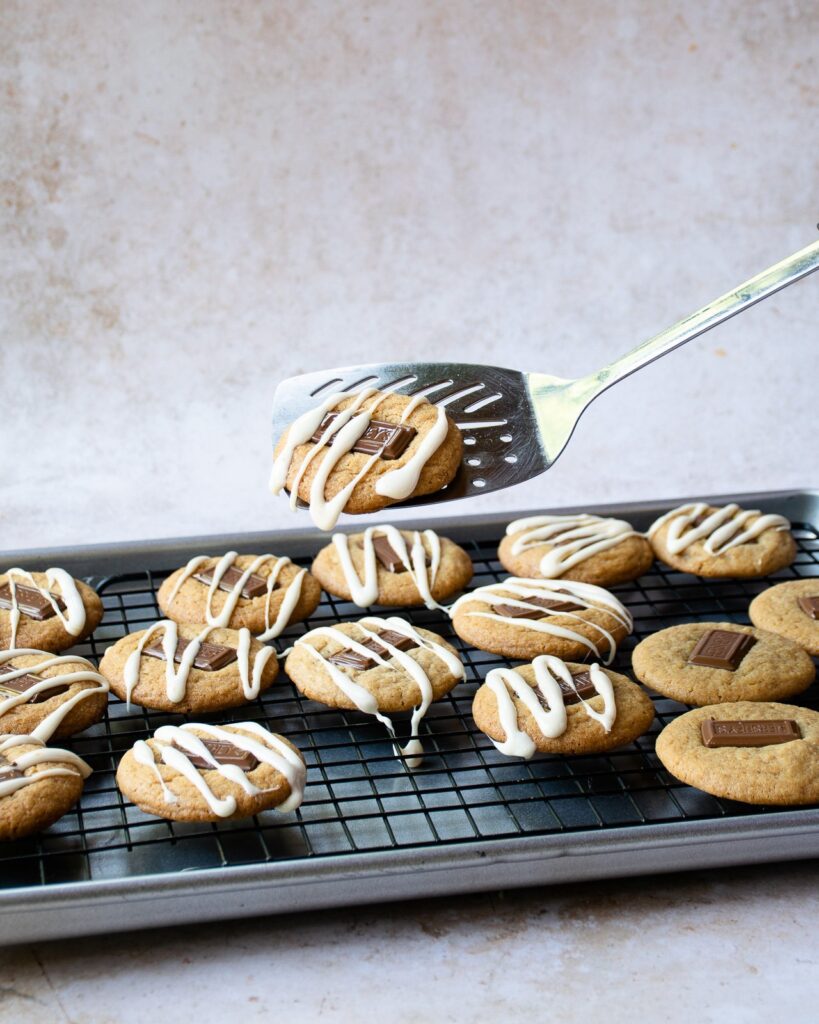 If you are storing these cookies for any period of time, do so in an airtight container and put a piece of parchment paper between layers. The marshmallow drizzle will harden somewhat, but it will always be sticky and while a stack of s'mores cookies is not unappealing, you probably would prefer to eat them one at a time. 😉