When I was a kid I participated in Brownies and like any good Brownie, I went on the outdoor "camping" trips and I do fondly remember roasting marshmallows over an open fire. I took particular pride in my marshmallow roasting ability, making sure I never burned the marshmallow, but toasted it into a perfect light brown color evenly on all sides until the marshmallow became too hot and started spinning on my wire hanger. At that point, I would pull the marshmallow away from the fire and offer it to a fellow Brownie who would be waiting to squeeze it between two Graham crackers with a section of Hershey's chocolate, happy that they didn't have to toast their own marshmallow. I'd then grab a new marshmallow and start toasting it for another friend. I can count the number of times I actually ate a s'mores myself on one hand (one finger actually). Why? Well, true confessions – there are only two foods that I've come across in my life that I really don't like: pumpkin (particularly pumpkin pie) and marshmallows. I've learned to like pumpkin in some foods like muffins and soup (pumpkin pie, on the other hand, will never cross my lips again), but marshmallows and I will never be friends. I just don't like marshmallows. 
Having said that, these cookies will never be my favorite cookie, but I understand that lots of people like marshmallows and if you do, this s'mores cookie is a lovely tribute to our childhood s'mores. The cookie itself is made with mostly Graham cracker crumbs and is delicious on its own, and even more so once the square of Hershey's chocolate has been pressed into the center of it.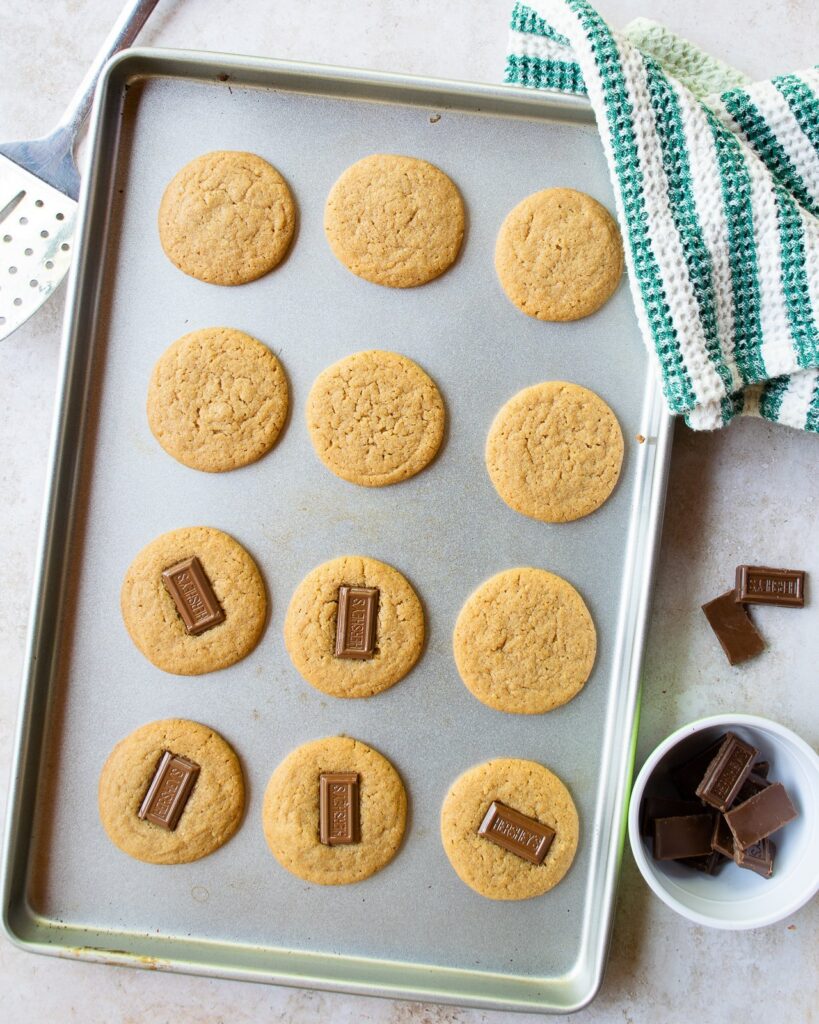 The timing of when to put the chocolate into the cookie is important. Let the cookie cool for just a a few minutes on the baking sheet and then press the chocolate into the center while the cookie is still warm. If the chocolate starts to melt too much, wait another minute before doing the next cookie.