A Nanaimo bar is a Canadian treat that you don't see down in the United States very often (or ever!). It is something, however, familiar to all Canadians. It's as Canadian as the Butter Tart and I just don't understand why it has remained north of the 49th parallel and hasn't spread down to the USA with wild abandon. The written recipe for this sweet treat first appeared in a cookbook in Nanaimo, a town on Vancouver Island in British Columbia, in 1952 and was described as a "chocolate square". That's a pretty good description, but it doesn't really explain all the intricacies of this Canadian delicacy.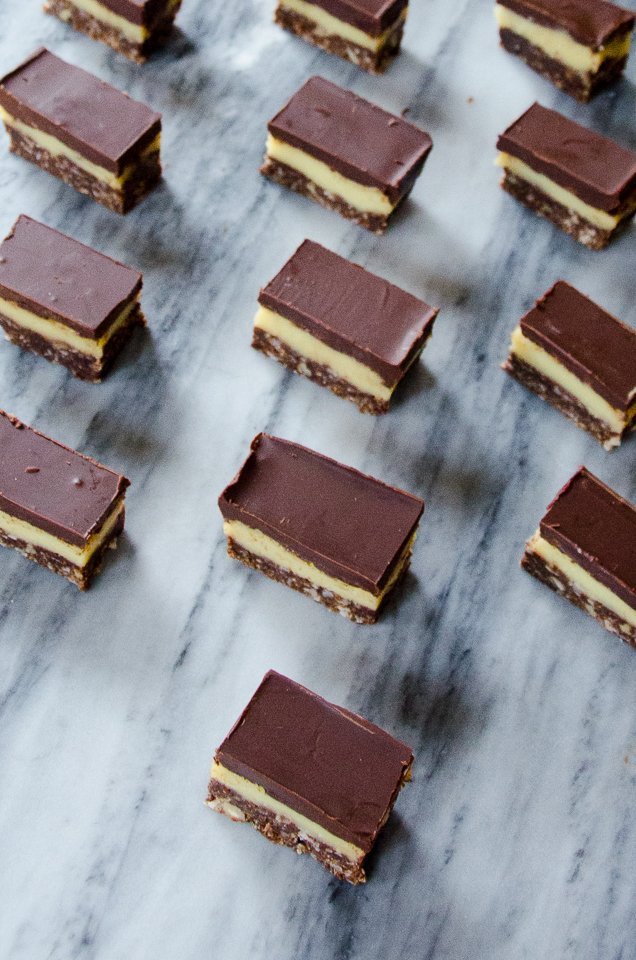 A Nanaimo bar is a layered square (or bar) with a nutty, chocolate, coconut, Graham cracker base, a thick icing or custard-like filling and a layer of chocolate on top. Sometimes the filling is flavored with mint, or coffee, or peanut butter, but traditionally the middle layer is a pleasant yellow color and just has a plain vanilla flavor. Most of the time, this layer is made using Bird's Custard Powder, or if that can't be found a vanilla pudding mix.
This recipe for Nanaimo bars veers from tradition by actually making a very thick vanilla custard filling from scratch, rather than using custard powder which is predominantly cornstarch, some flavorings and color. Making a custard is easy to do, tastes great and it's a good culinary skill to have, so why not learn now? There's no better way to enjoy the fruits of your labor, after all.