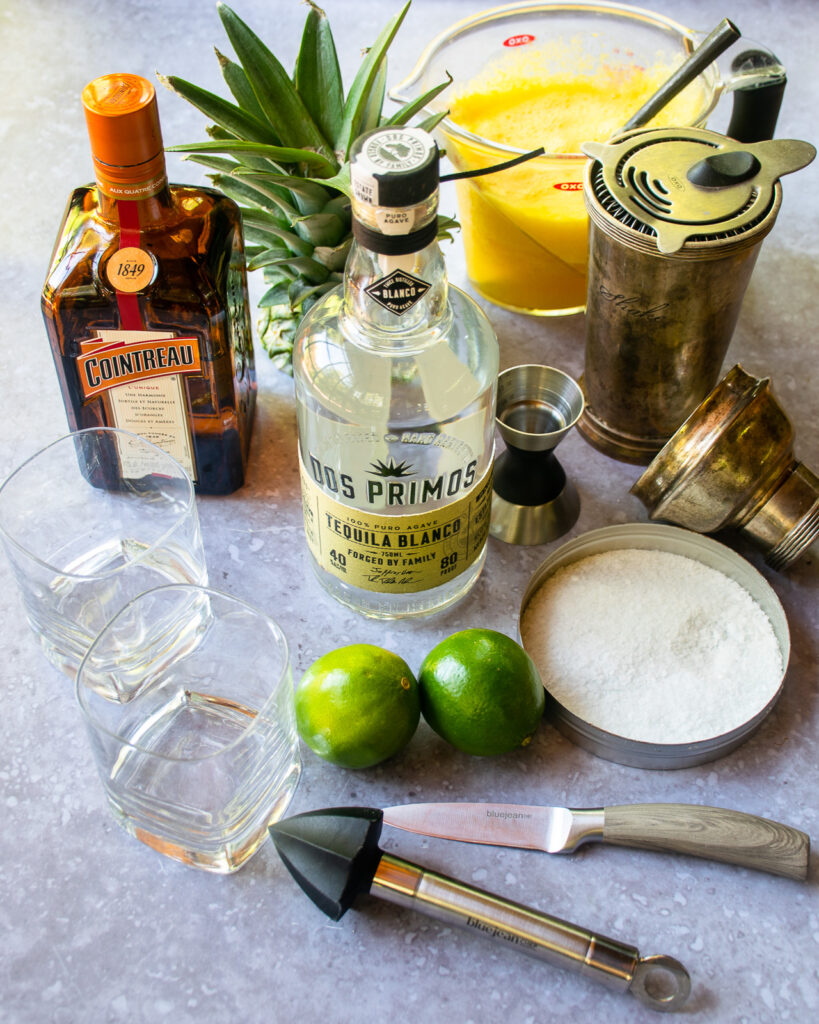 What's in a Pineapple Margarita?
A margarita is a classic cocktail. Margaritas make me think not only of Mexican foods, but of hot summer sun and generally a good time. The ability to create variations on this classic cocktail are endless, but I think the best variations have a tropical fruit. Enter the Pineapple Margarita! The classic ratio of tequila to cointreau to lime in a margarita is 2:1:1. When I'm making a pineapple margarita, however, this ratio shifts a little. Instead of that classic ratio,  I use a little less tequila, a little less lime juice and add pineapple juice to the mix. You'll thank me for this because this cocktail is so delicious you'll probably want more than one!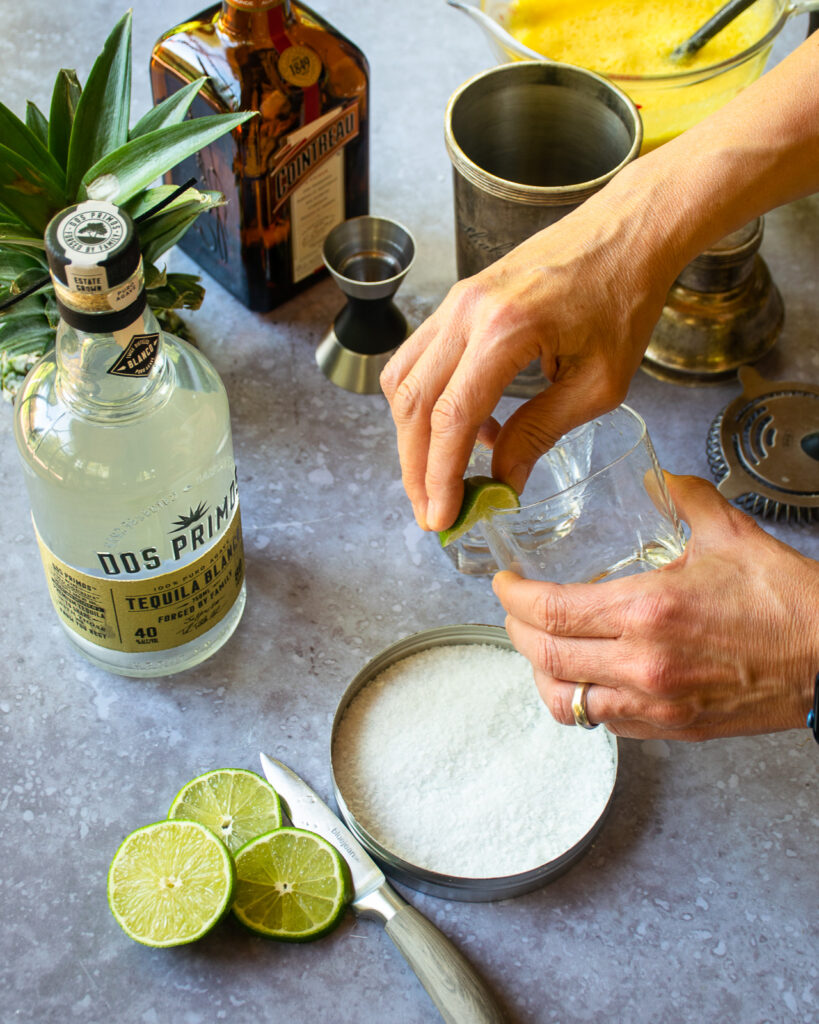 Prepare your Glasses First
When making any cocktail, the first step is to prepare your glass. In this case, you should cover the rim of the glass with salt. To do that, rub a wedge of lime around the rim of the glass to moisten it and then dip it into coarse salt. THEN, put your ice cubes into the glass. I like to strain the cocktail over fresh ice cubes, rather than pouring shaken cubes from the shaker into the glass.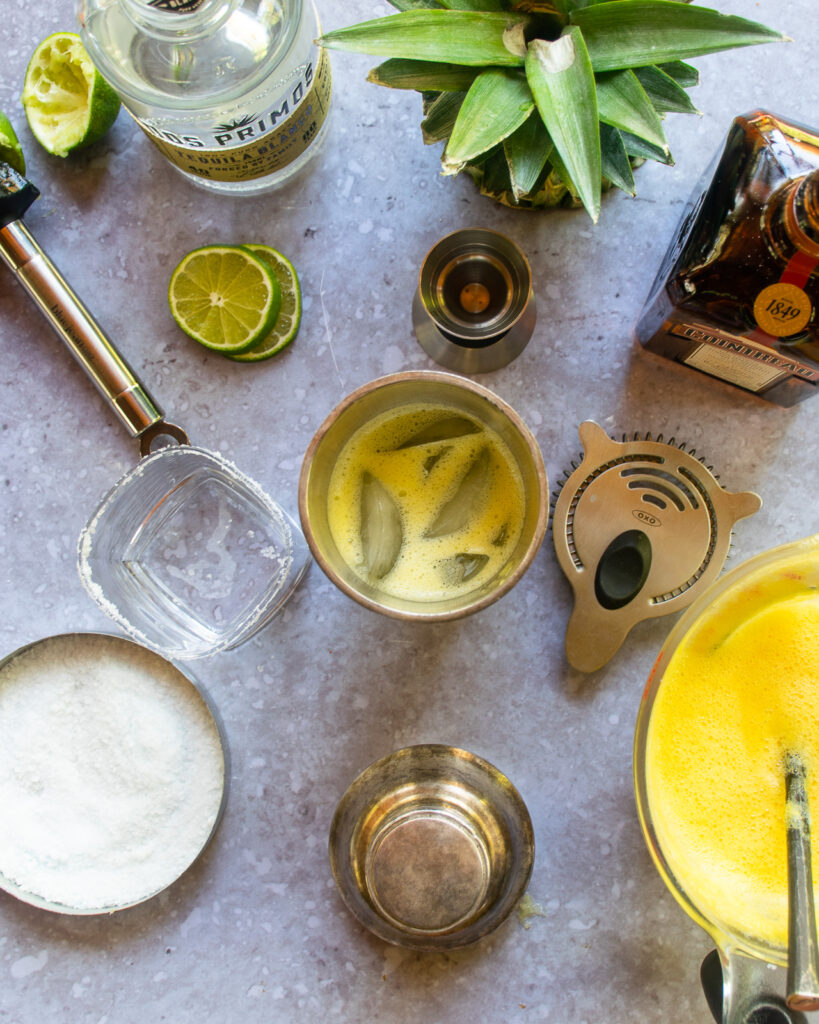 What Tequila to Use for a Pineapple Margarita?
There are about as many choices for tequila in a pineapple margarita as there are variations of margaritas themselves! Basically, it comes down to your favorite brand in one of two categories of tequila. Blanco (also known as silver or white) tequila is the least aged of all tequilas. This tequila has a crisp and refreshing flavor since instead of being aged in barrels, it usually goes straight from the still into stainless steel tanks. This is probably your best bet for a margarita. Lucky for you, it's also usually the least expensive.
The next level up of tequilas is a reposado, which is slightly golden in color because it has been aged in barrels for 2 – 12 months. It has a more rounded mellow flavor and I think it is excellent in this pineapple margarita, especially if you're not a fan of the bite of tequila and prefer a smoother cocktail. As for brands… there's a world to choose from. I wouldn't break the bank on tequila when making a cocktail, but I wouldn't go bottom shelf either. Pick a good, medium-priced tequila and you can't go wrong.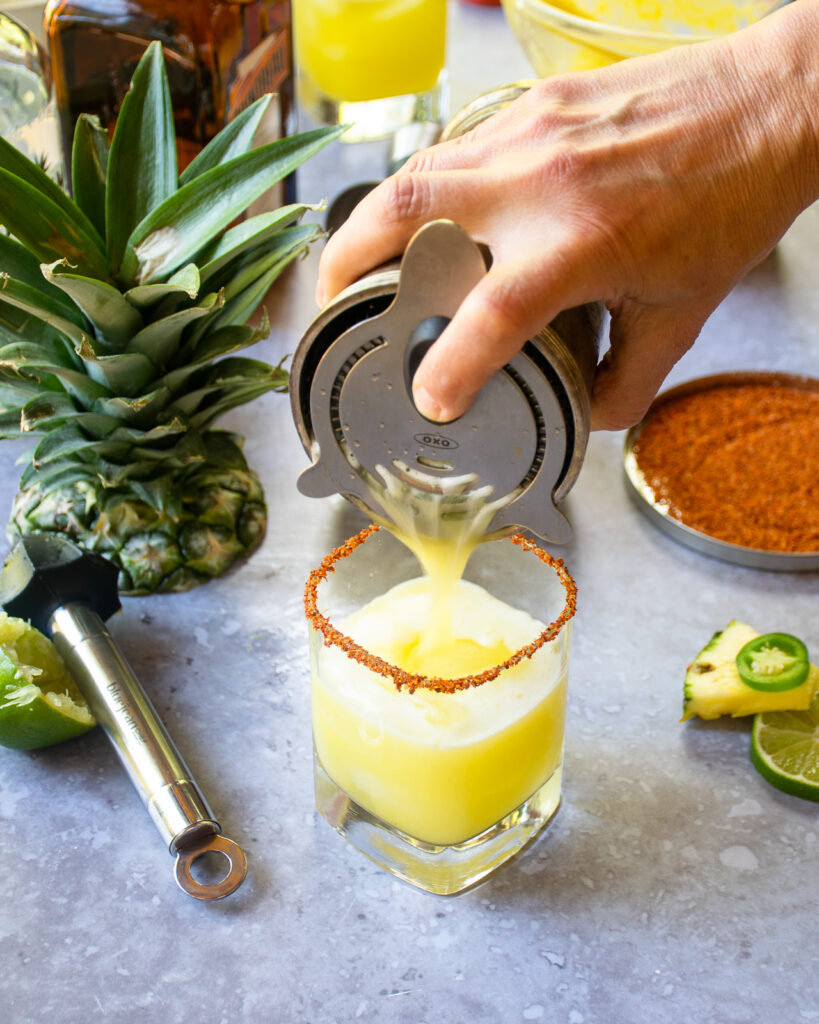 Spicy Pineapple Margarita Option
If you'd like a little more spice in your life, why not try a Spicy Pineapple Margarita? There are just a few changes you'll make to the recipe. First of all, when coating the rim of the cocktail glass, dip the moistened rim into a mix of coarse salt and Tajin® spice blend. You could use a 1:1 ratio, or lean heavier on the spice if you're up for trouble. Then, add a few slices of Jalapeño pepper to the shaker when you shake your cocktail. Save one extra slice for the garnish too.