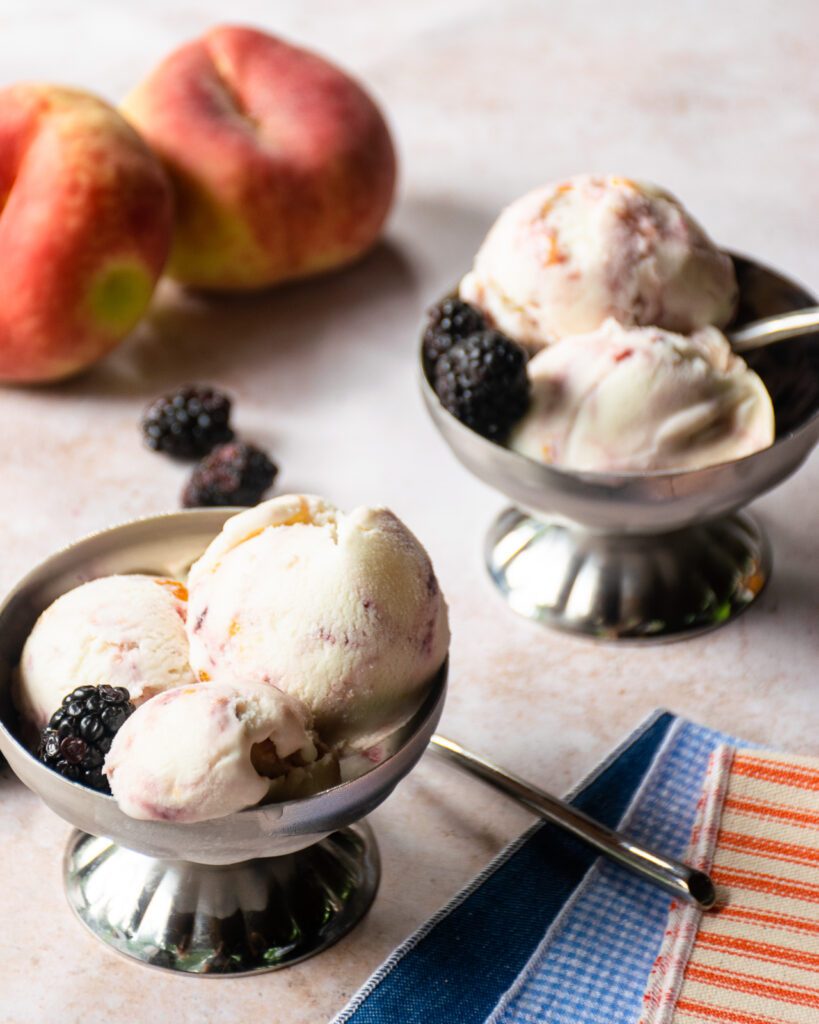 Homemade Frozen Yogurt
I used to think of frozen yogurt as the sad version of ice cream, the somewhat less guilty version of a favorite frozen dessert. That's all changed and now I often turn to frozen yogurt just because I love the contrast of the tangy yogurt with the sweet flavors added. Making your own frozen yogurt is a bonus because you can add whatever flavor or combination of flavors that you like. This Peach and Blackberry Swirl Frozen Yogurt is a great example of that. It has the flavors of two of my favorite fruit flavors combined and in such an easy way.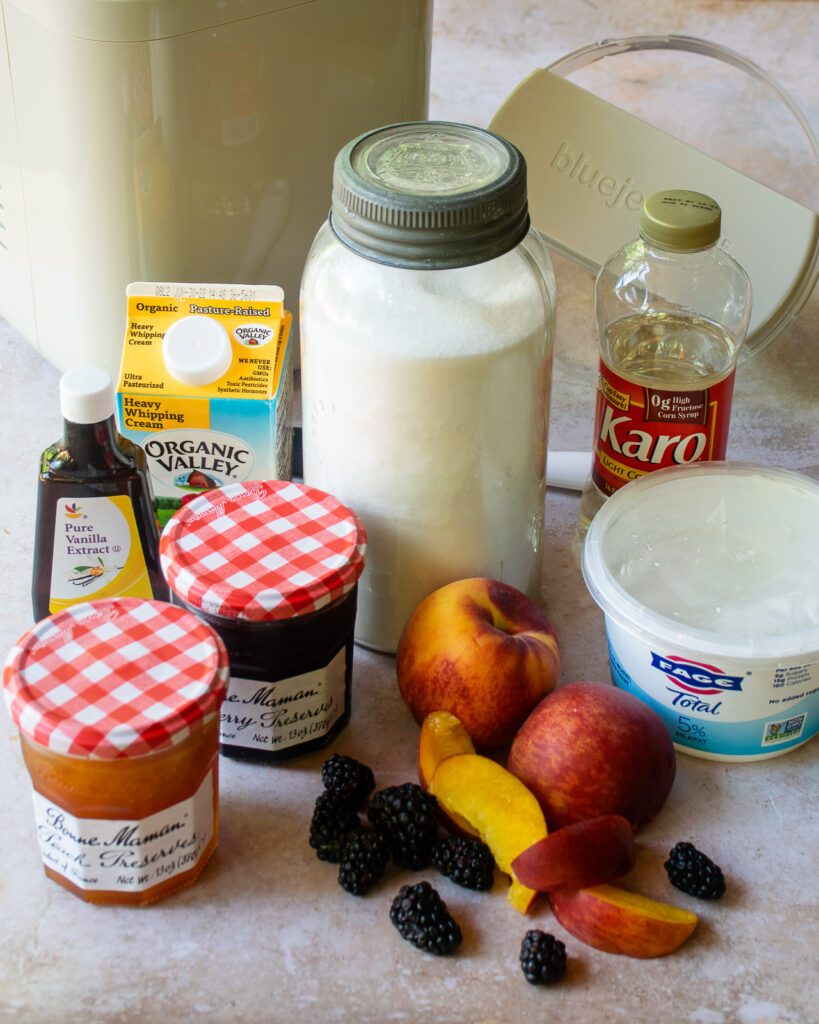 Creamy Frozen Yogurt
One of the complaints about frozen yogurt is that it can be icy rather than creamy. But there's a way to ensure that your frozen yogurt turns out just as creamy and delicious as ice cream. The key to creamy frozen yogurt is to use full fat yogurt and add a little heavy cream. I know what you're saying… this means that the frozen yogurt is not quite as less guilty as usual, but let's face facts. Frozen yogurt has a ton of sugar, just like any ice cream and it's really not something that we jump into if we're watching calories. I'm an advocate for having less of a really good thing, than more of something that is not as enjoyable. So… whole milk yogurt and add a little heavy cream. It's still lighter than ice cream, but just as enjoyable.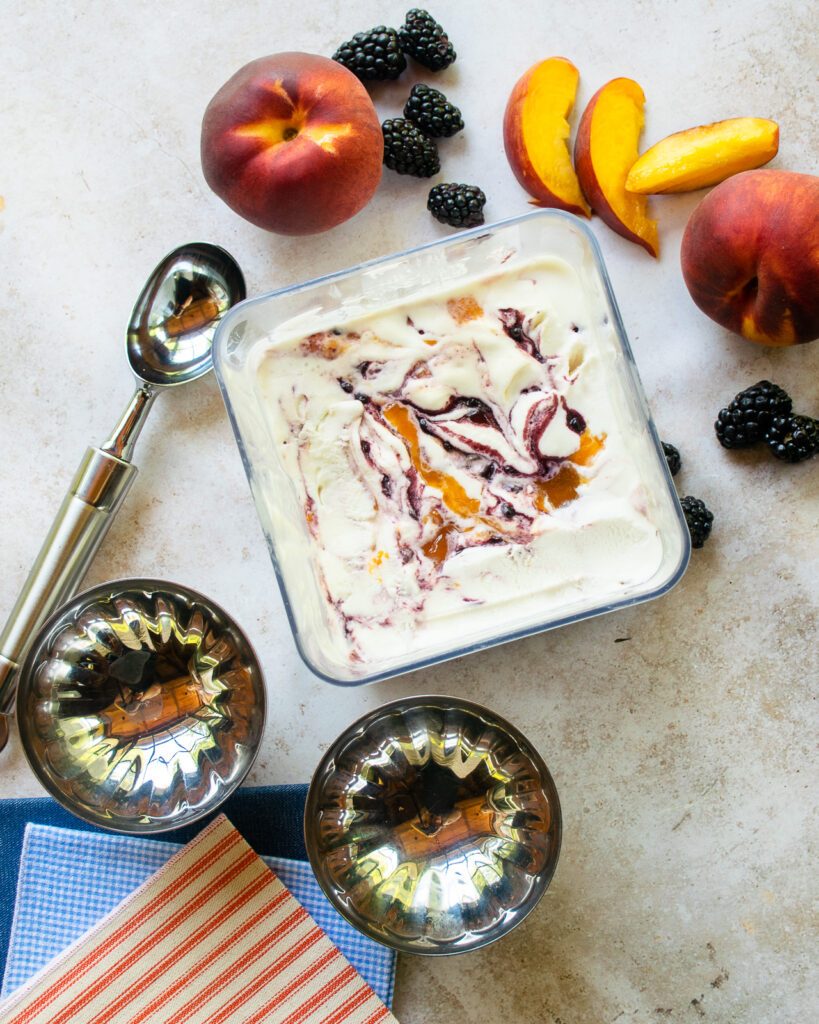 Easy Swirls in Frozen Yogurt
Adding the swirls to this peach and blackberry swirl frozen yogurt couldn't be easier. Instead of cooking down blackberries and peaches separately, sweetening them and then chilling them, this recipe just uses two jams. Give each jam a good thorough stir to loosen them up first – it helps if they are room temperature. Then dollop the jam into the yogurt and swirl it into the mix with a spatula or butter knife. Adding jams to the yogurt works perfectly and makes this recipe unendingly versatile – you can swirl any two flavors of jam into the frozen yogurt base at the end. Create your own flavors!
A Note About the Recipe
This recipe makes enough frozen yogurt base to fill a 1-quart capacity ice cream maker, but because it doesn't have a lot of cream, it doesn't expand as much as regular ice cream does. As a result, the final quantity is not huge. Try doubling the quantities to make more frozen yogurt, and churn it in two batches.