What is a pierogi?
In the simplest of terms, a pierogi is an eastern European dumpling. In more detail, a pierogi is a dumpling made by wrapping an unleavened dough (no yeast, eggs or chemical leaveners) around a filling that is usually potato-based, but  homemade pierogies can include almost anything. They can be savory or sweet; they can be boiled or boiled and then fried; they freeze well and they makes people happy. What more could you ask for?
I've always loved pierogies. I can remember going to the house of my friend's Ukrainian grandmother in Alberta, Canada as a child. She was making homemade pierogies by hand that day and all the kids had a pierogi-eating contest. I came in second. I had NINETEEN… and I came in second! 
Recently, I had the pleasure of making pierogies by hand with another Ukrainian grandmother. This time it was the 96-year old mother of a friend of mine. She told me what to do and I did it. Though I'd like to say it was an intense and challenging project, I have to admit it was so delightfully easy and the pierogies turned out perfectly. We smothered them in butter and onions and I only ate nine, but I still feel like that is a respectable amount (for a glutton)!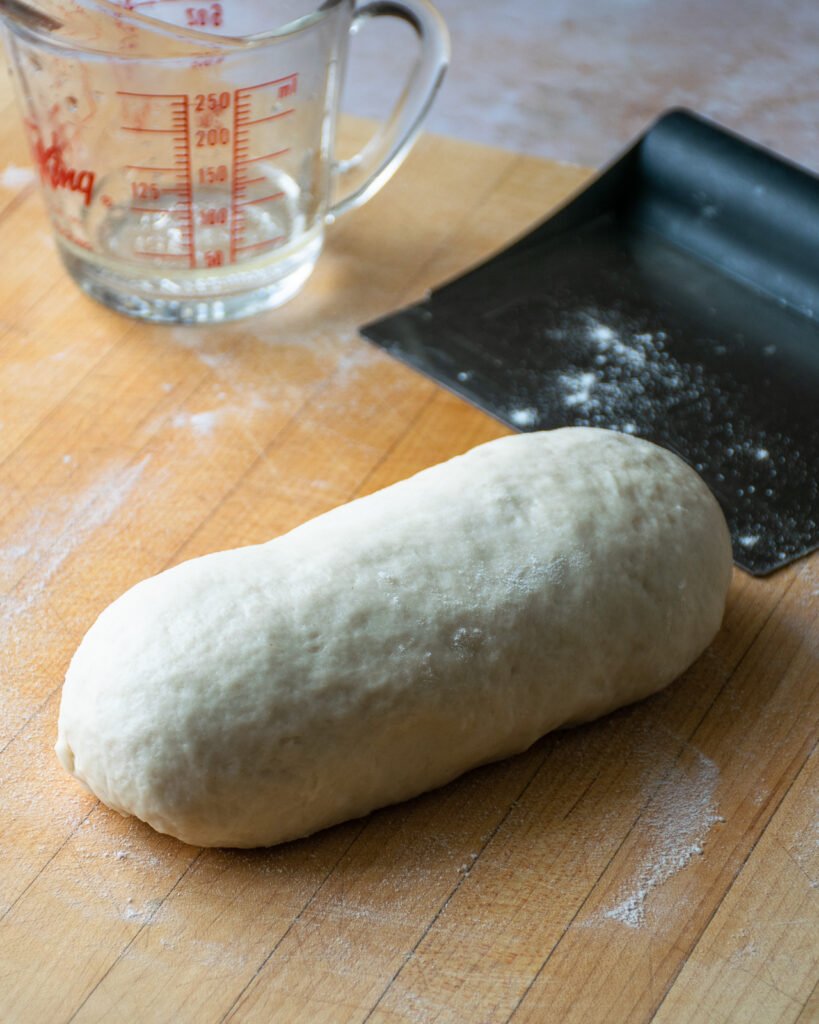 Pierogi Dough
There are only four ingredients in pierogi dough: flour, salt, water and vegetable oil. You could use a hand or stand mixer to combine the ingredients, but honestly it takes so little time using just your hands and your hands are much easier to clean. As you bring the dough together with your hands, you'll know if you've added the right amount of liquid to flour if the bowl you're using ends up relatively clean. If it's too sticky, add more flour. If it's too dry, add more water. It's as easy as that.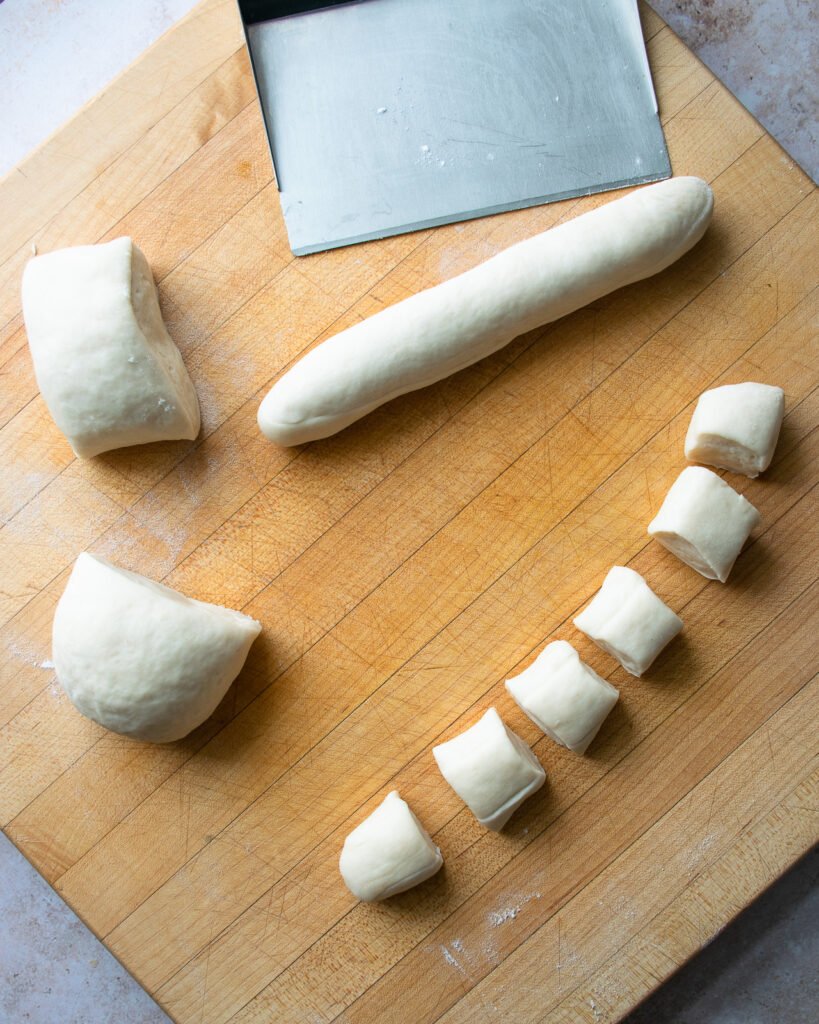 Divide into 24 portions
The important thing to remember whenever you are working with a dough of any kind is that doughs need to rest. After you've kneaded the dough for the first time, let it sit for 10 to 15 minutes before dividing the dough into 24 portions. Divide the dough into 4 pieces first. Then, roll each quarter into a log and divide that log into 6 pieces. Then… let those little pieces of dough rest for 10 minutes or so before you try to roll them out into circles.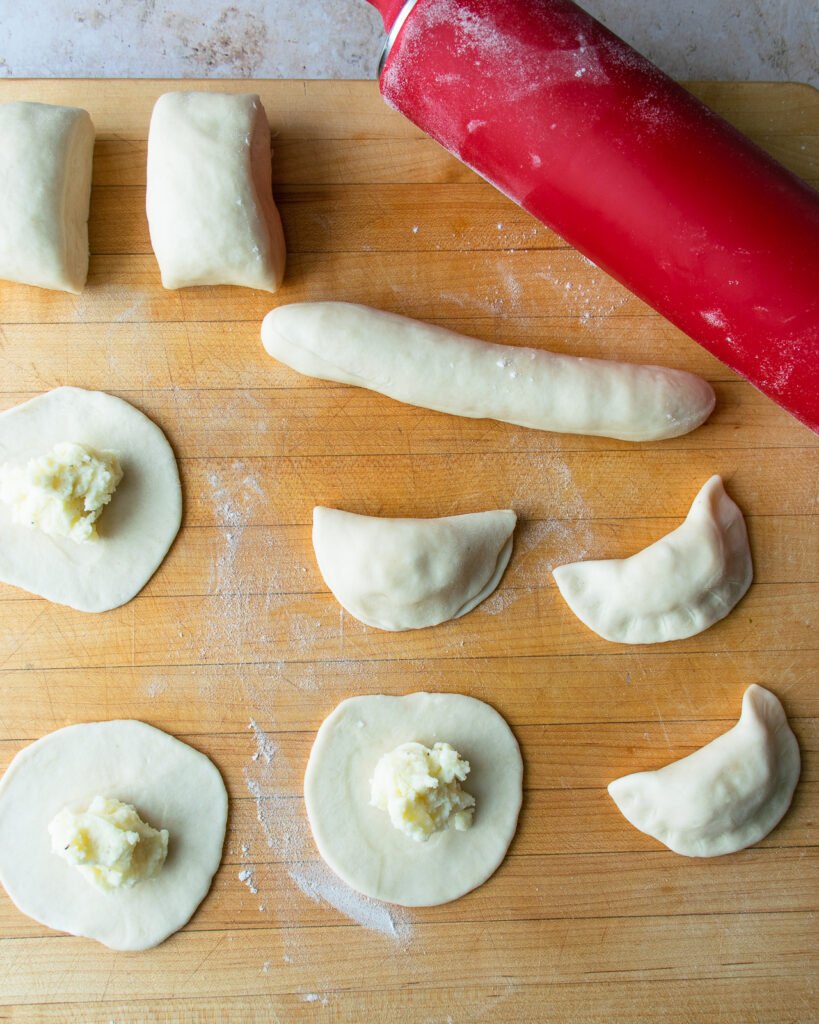 BIG Dough Rolling Tip
If you are aiming for a certain shape when you're rolling doughs, you have a better chance of arriving at that shape if you start with that basic shape. That means, if you're trying to roll out pierogi dough into a circle, start with a little piece of dough that is roughly a circle. You'll see in the video below that I cut the log of dough and then flatten each piece of dough with the cut edge down so that the piece of dough is circular. Start with a circle, end with a circle. Of course, these are your pierogies so whatever shape you get is perfect.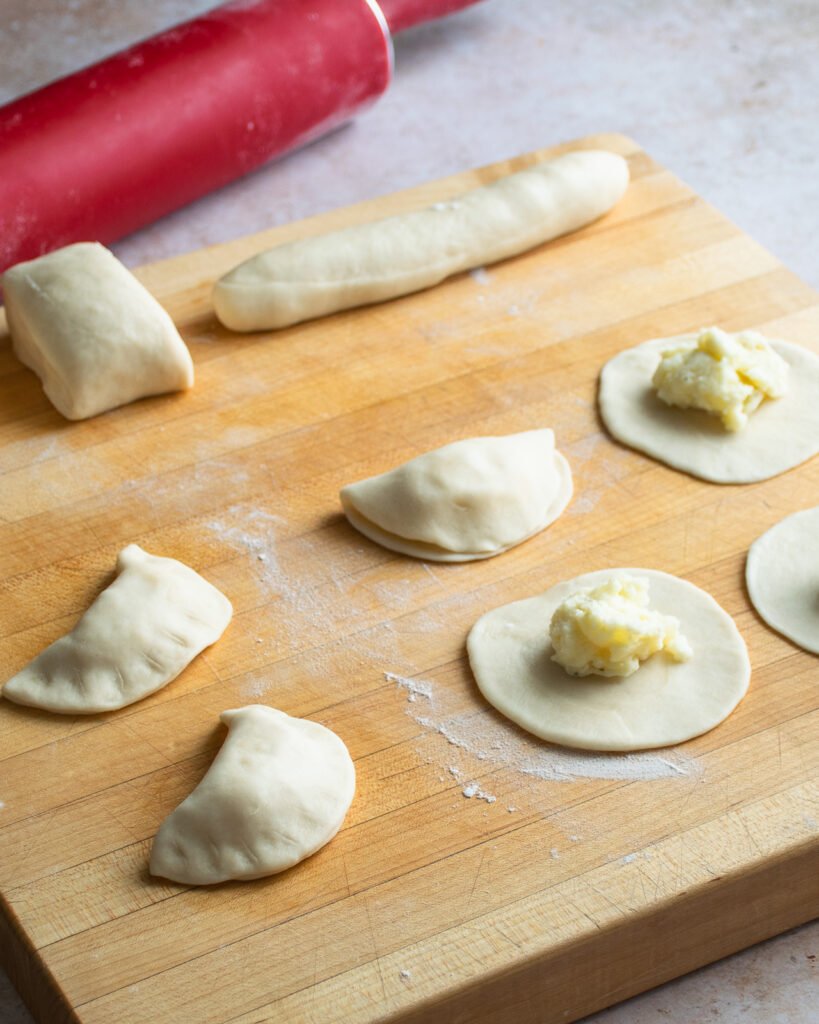 Potato and Cheese Stuffed Pierogies
Make the potato filling by peeling and boiling a russet potato. When it is super soft and still warm, mash it with the Cheddar cheese and season it to taste. You'll be surprised how far just one potato will go – it's ample to fill all 24 pierogies.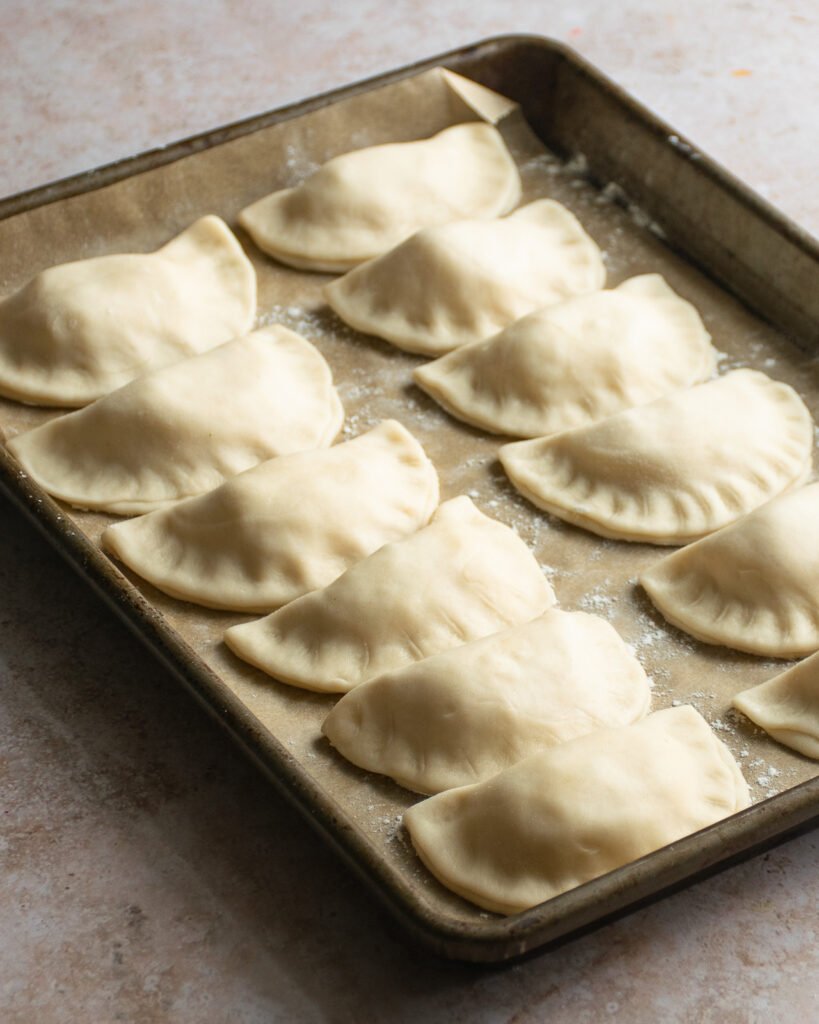 Pinch hard… and then pinch again!
I won't be able to console you if you don't seal the pierogies well enough and they burst open in the water when you boil them. So, pinch the seams of each pierogi together as though that pierogi were your older brother who had just eaten the last pierogi. Then, go over the seam and pinch it again.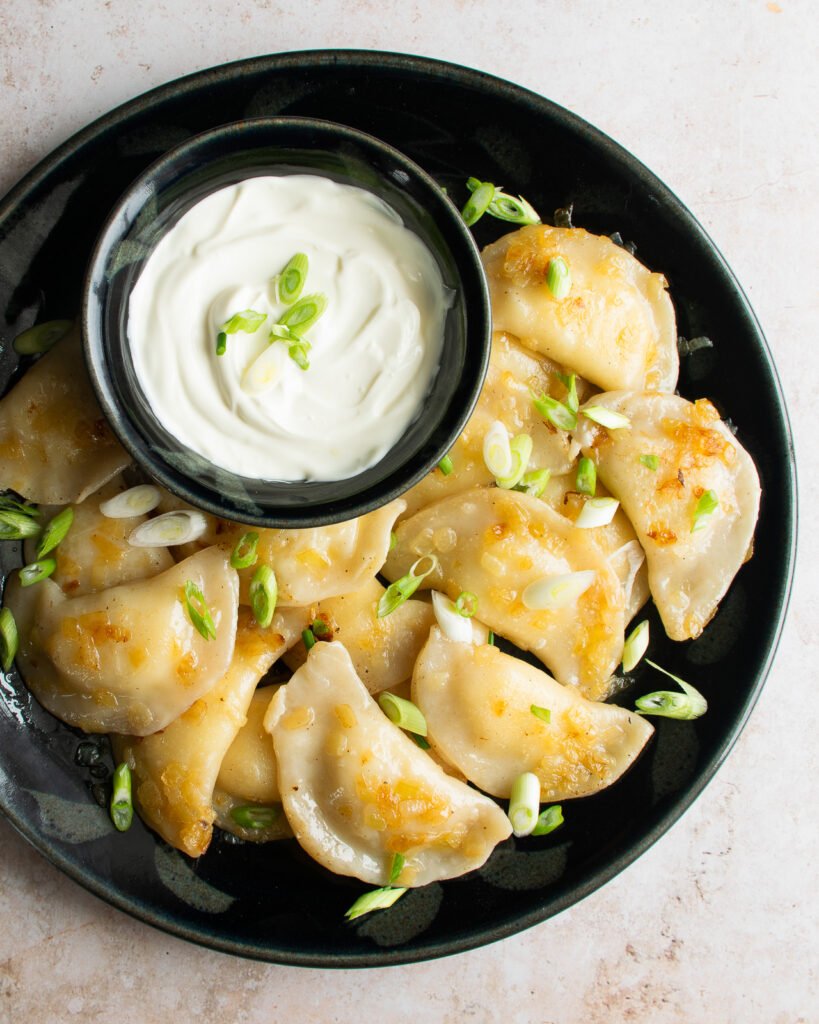 How to Finish Pierogies
Now, I don't mean how to finish eating pierogies (I can thoroughly instruct you on how to do that later if you need my help). I mean how do you finish preparing the pierogies now that you've made them. The pierogies need to be boiled in salted water. Make sure you use a big pot with lots of water so those dumplings can move around. Add them to the pot when the water is at a rolling boil and stir them once – just to make sure nothing is stuck to the bottom. They will only take about two to three minutes and then they will start to float. Let them float for about 30 seconds and then remove them with a slotted spoon. 
Usually, the boiled pierogies are then tossed with either just melted butter, or onions cooked in butter, or onions cooked with bacon, or with sauerkraut, with kielbasa, or honestly any way you like them. The photo below shows you the pierogies with just onions and butter, while the video shows you caramelized onions and bacon. I won't say no to either! You can even use pierogies in a casserole bake like this Kielbasa, Pierogies and Sauerkraut Bake.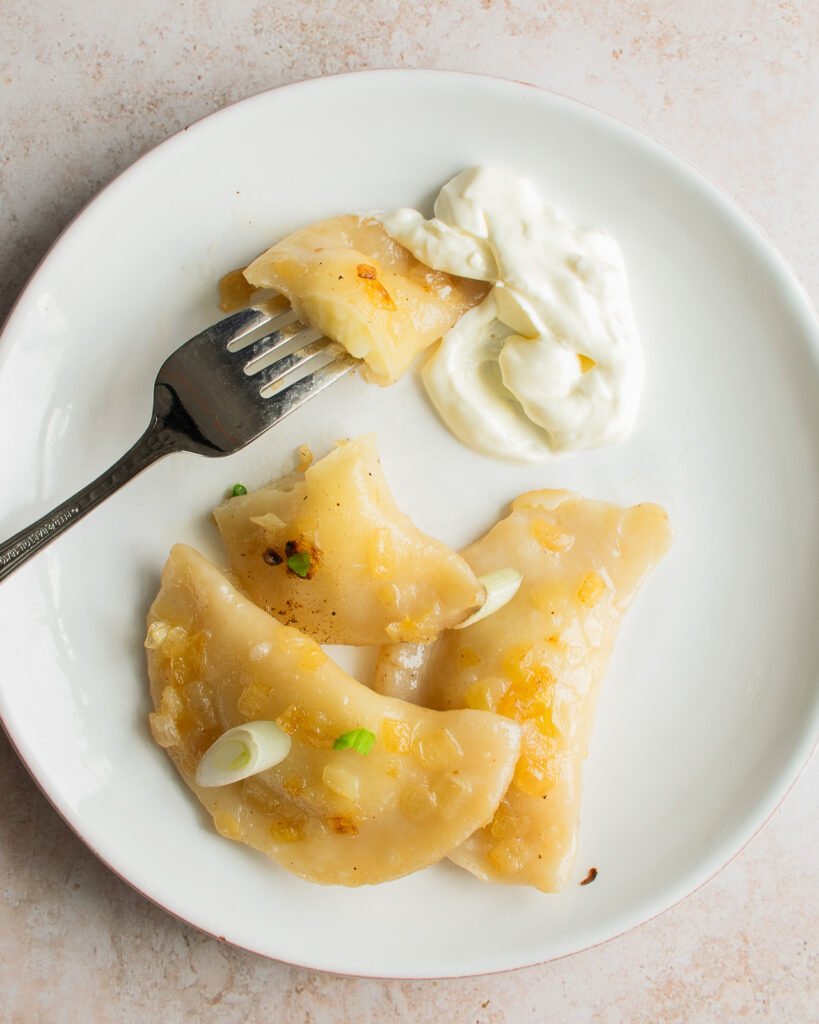 How to Freeze Pierogies
As I mentioned before, homemade pierogies freeze really well. Once they are shaped and before you boil them, pop them into the freezer on a baking sheet. Once they are frozen, transfer the frozen pierogies to an airtight bag and return them to the freezer with as much air removed from the bag as possible. When you're having a craving, simply drop the frozen pierogies into the boiling water. They will take longer to cook, but they will eventually float. You'll wait 30 seconds and then remove.
How to Eat Pierogies
I could go on and on, but I think you probably have this area covered.