How to Make Caramelized Onions
First things first. There is no rushing the process of caramelizing onions, so pick an afternoon when you have some time. You'll need at least 30 minutes of cooking time to properly caramelize onions, but longer if you're making a big batch. which can take up to an hour to brown nicely. It's also wise to plan for prep time as well, which is mostly just slicing the onions (see video below for how to properly slice the onions). When I'm investing the time into making caramelized onions, I do like to make a large enough batch and for that I generally use about 5 to 6 large yellow onions. Yellow onions are the most common onion in grocery stores and work perfectly, but you can also use sweet onions (like Walla Walla or Vidalia).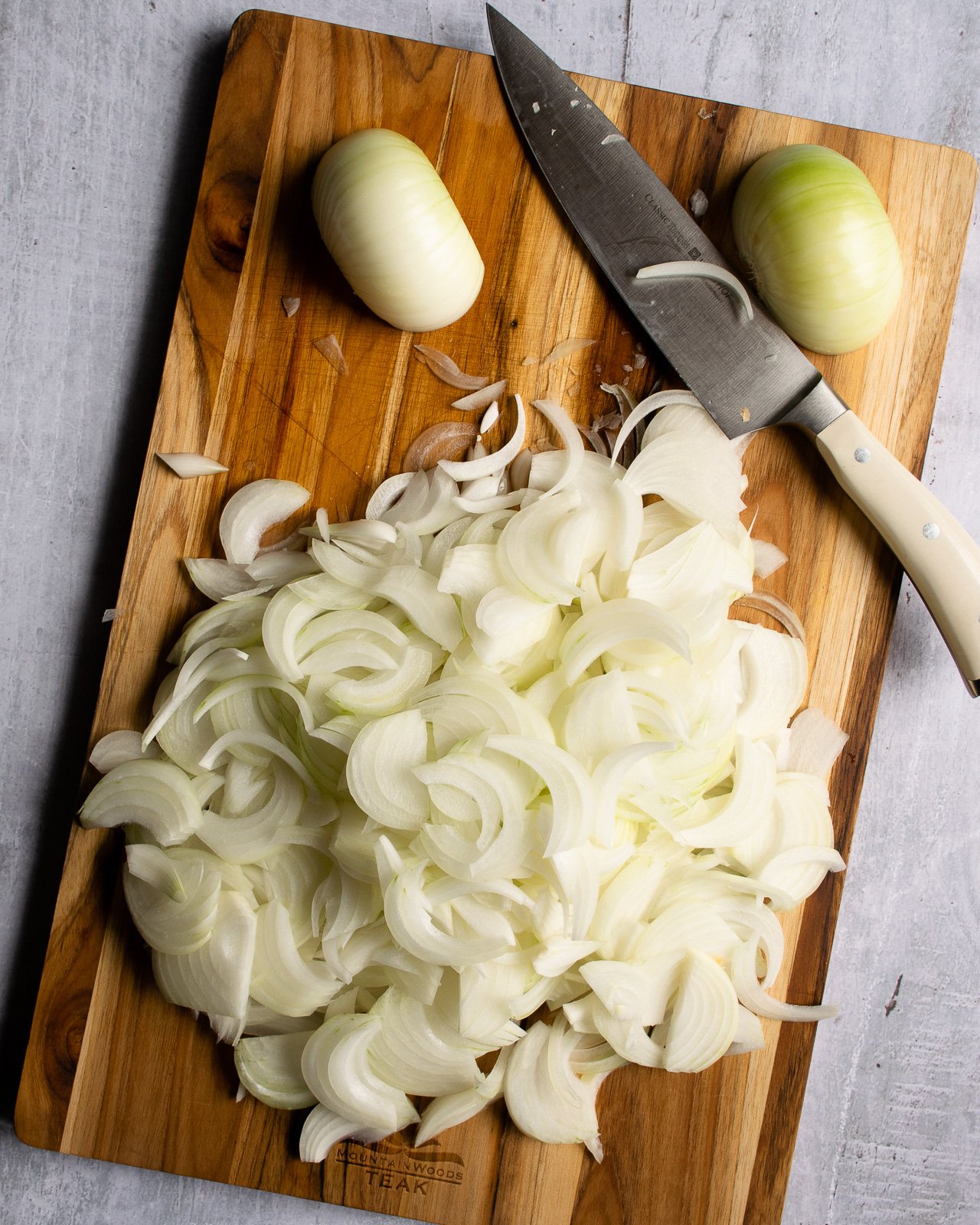 To caramelize onions, you will need a good-sized skillet, a good knife, some parchment paper, scissors, and as I mentioned a good chunk of time.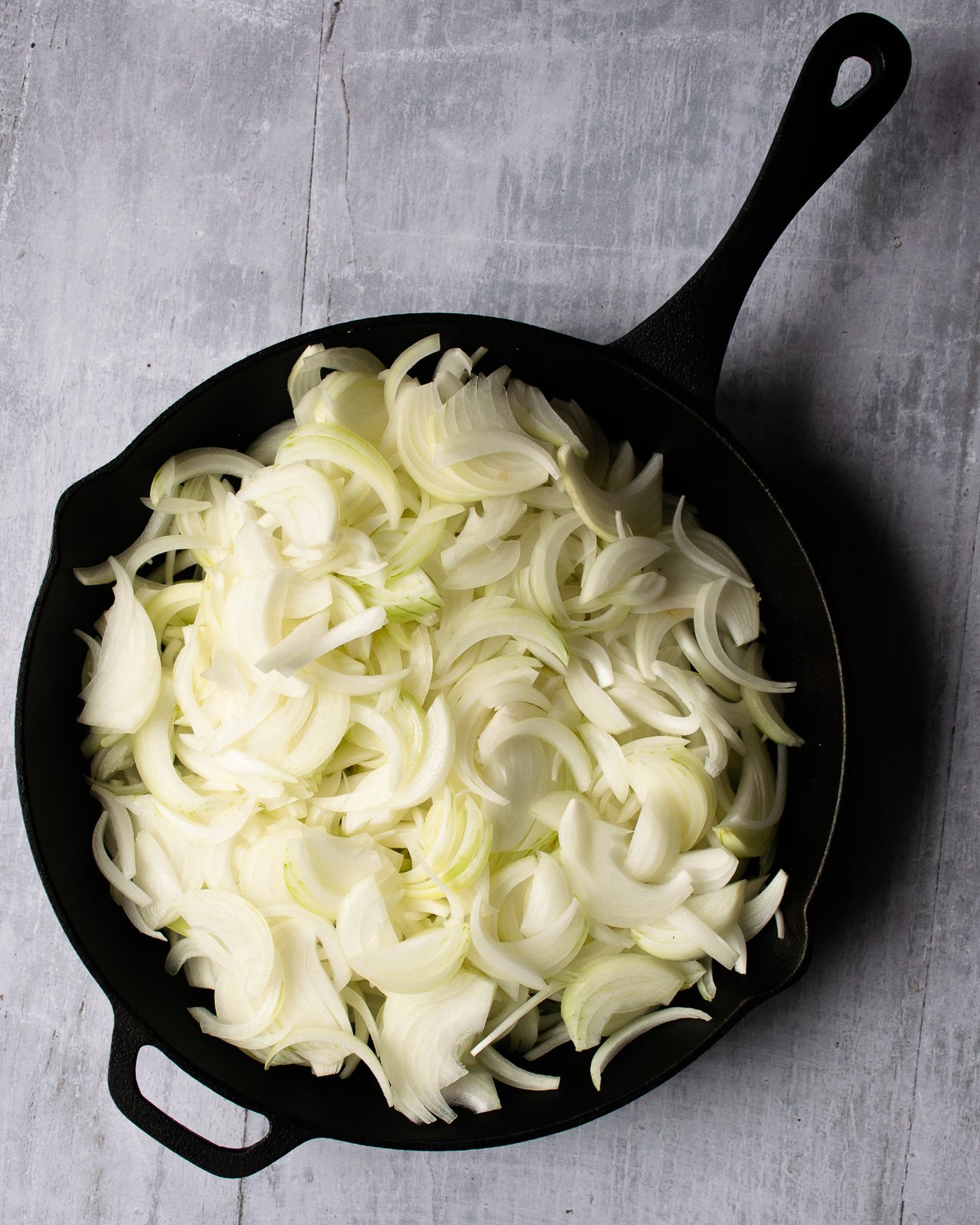 How Long to Cook Caramelized Onions
I like to use parchment paper cut into a circle, placed over the onions while they cook. This holds in the moisture and prevents the onions from cooking too fast or burning. (See the video below for my trick to cutting a perfect parchment paper circle). Your cooking time will be roughly 30 to 60 minutes in total, depending on a few variables like your heat, the size of your skillet, and the amount of onions you are caramelizing. So start by cooking your onions in the skillet over medium heat while covered with the parchment paper circle.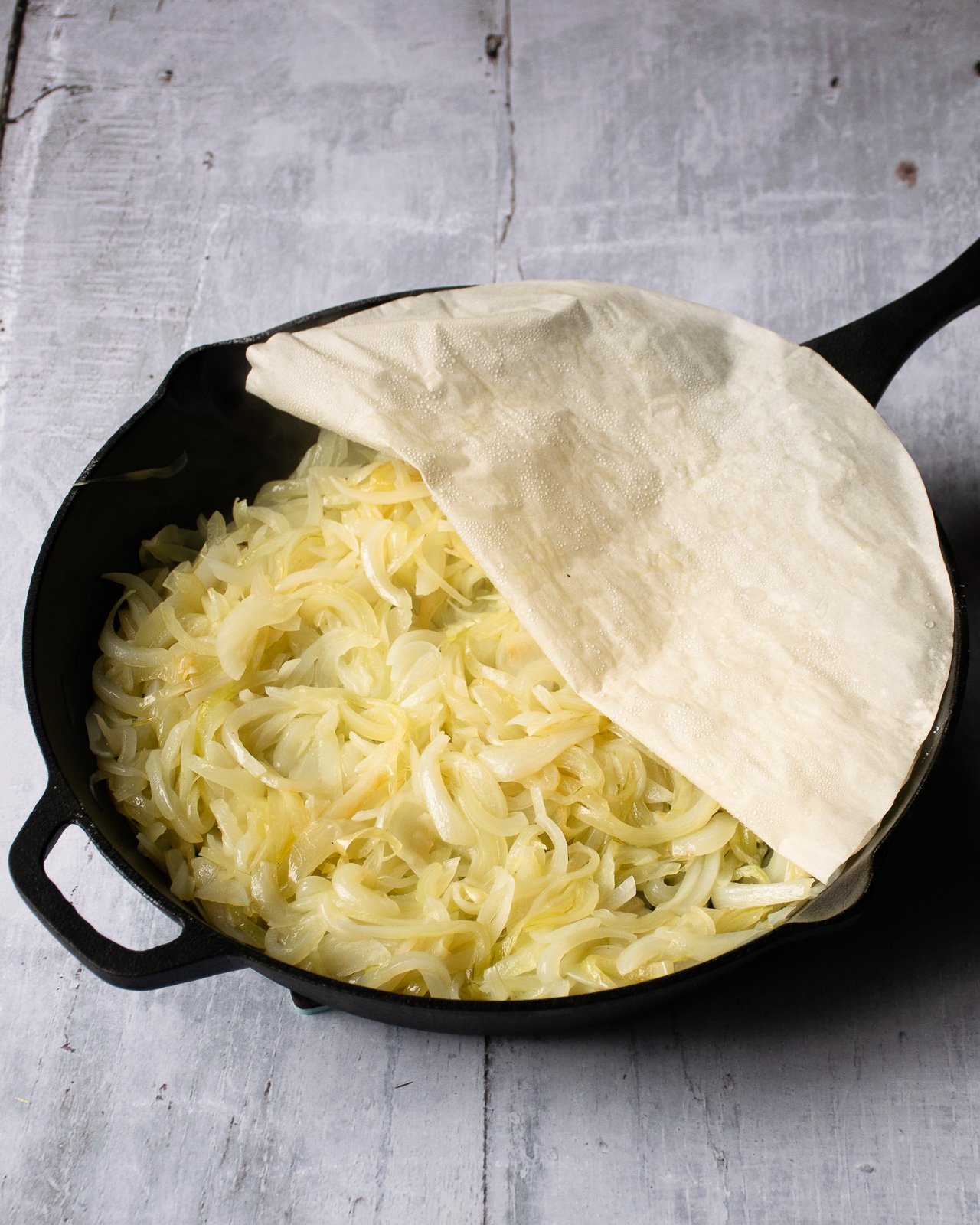 After about 10 to 15 minutes, you will start to see some browning. At this point, add some salt and stir. Stirring the onions from time to time will make all the difference, so stir, not too often, to evenly brown and caramelize the  onions. If the onions are getting too brown, too quickly, just add a little wine, water, or chicken stock to the skillet. You can season the onions with some sugar, salt and pepper, or even a little balsamic vinegar, which is a sweet ingredient itself.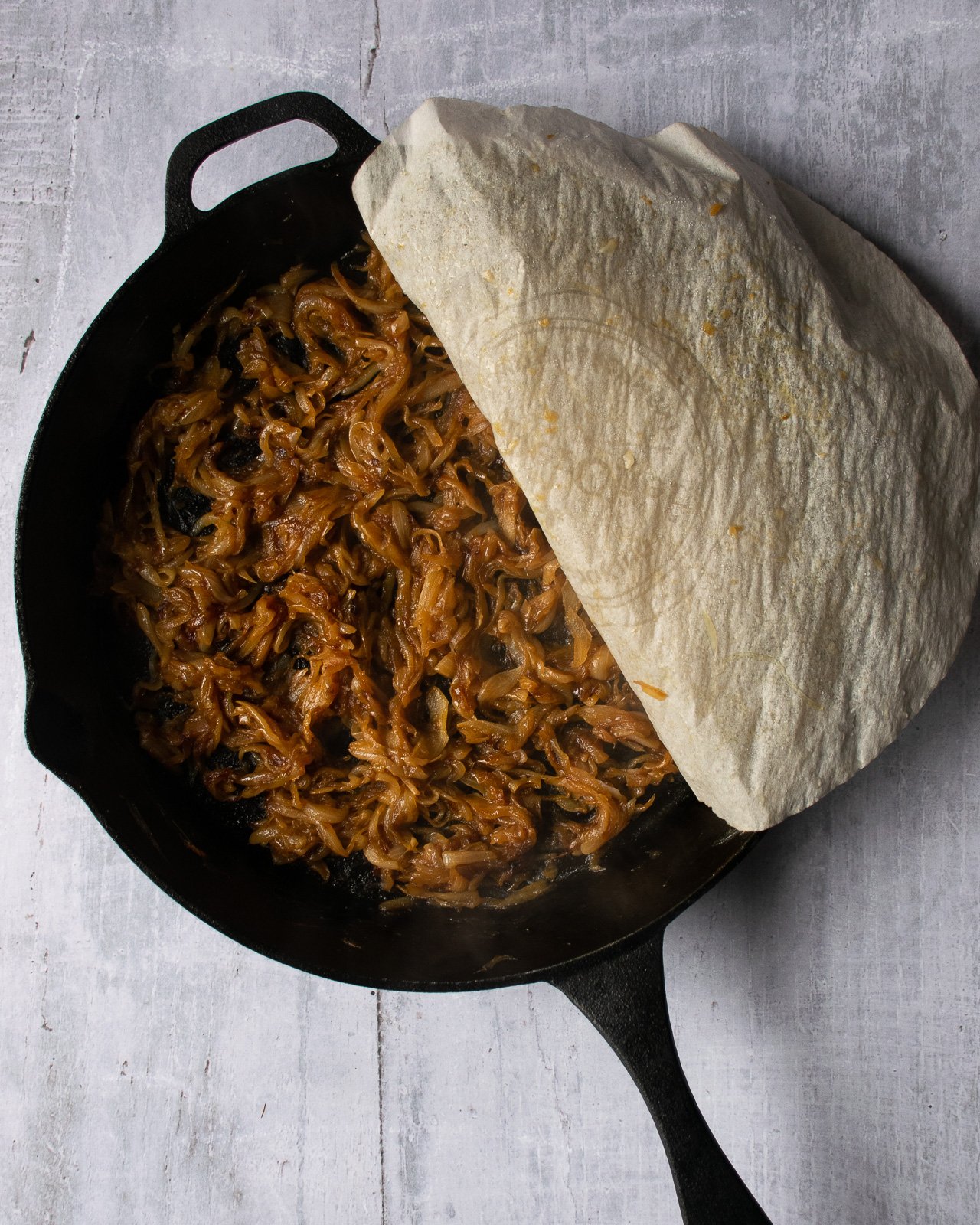 Once your onions have caramelized to perfection, turn off the heat and let them cool. Serve them on crostini with goat cheese or have them on hand to add to a pasta or pizza recipe, or to your favorite sandwich. If you're not using  them right away, store caramelized onions in the fridge in a sealed, airtight container for a week or two.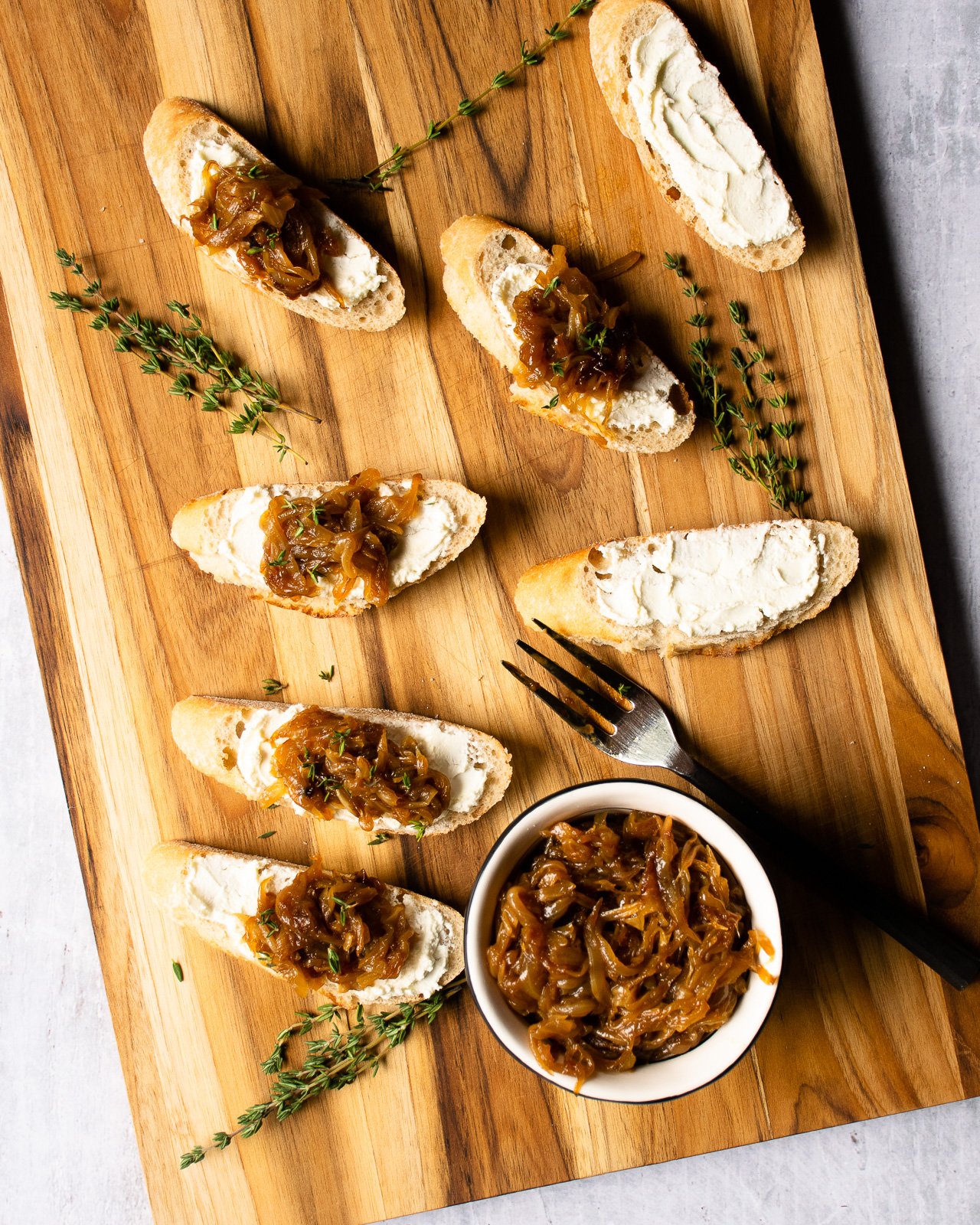 How to Make Caramelized Onions in a Slow Cooker
Using a slow cooker is good way to make a large batch of caramelized onions. You can use this method to easily cook down 4 to 5 pounds of onions. It is easier than the stovetop method in labor, but it will take you the better part of a day to get the onions fully caramelized. Of course, all that time is unattended, so with a few minutes of prep you can make a bulk batch of caramelized onions with very little work. Simply toss the thinly sliced onions with ½ cup of melted butter or olive oil in a pre-heated slow cooker. Cover and slow cook on the LOW setting for 8 hours. Stir the onions and season them after 8 hours. Then, leave the lid ajar and slow cook on LOW for another 3 to 4 hours. Leaving the lid ajar will help the liquid evaporate, making the onions thicker and darker in color. This will yield about 3½ cups of caramelized onions, which you can freeze for up to three months. It's a good idea to freeze the onions in smaller containers or zipper sealable plastic bags so that you can add just a little to soups or sauces for a boost of flavor.
---
Quick Notes:
Use yellow onions, about 5 to 6 large onions
Slice the onions into long slices
Coat the skillet with olive oil or butter
Use a parchment circle to hold the moisture and prevent burning
Stir the onions from time to time to ensure even browning of the onions
If the onions are browning too quickly, simply add a little liquid
Season the onions part way through the cooking time with salt and pepper, sugar or balsamic vinegar
When the onions are nicely and evenly browned, after about 30 to 60 minutes of cooking time, turn off the heat and allow to cool
Add to crostini, pasta, pizza, grilled meats or a sandwich
Store in the refrigerator in an airtight container for one to two weeks or freeze for up to three months
Make caramelized onions in your slow cooker: toss with butter or oil, slow cook on low for 8 hours, stir, slow cook on low with the lid ajar for another 3 to 4 hours
---