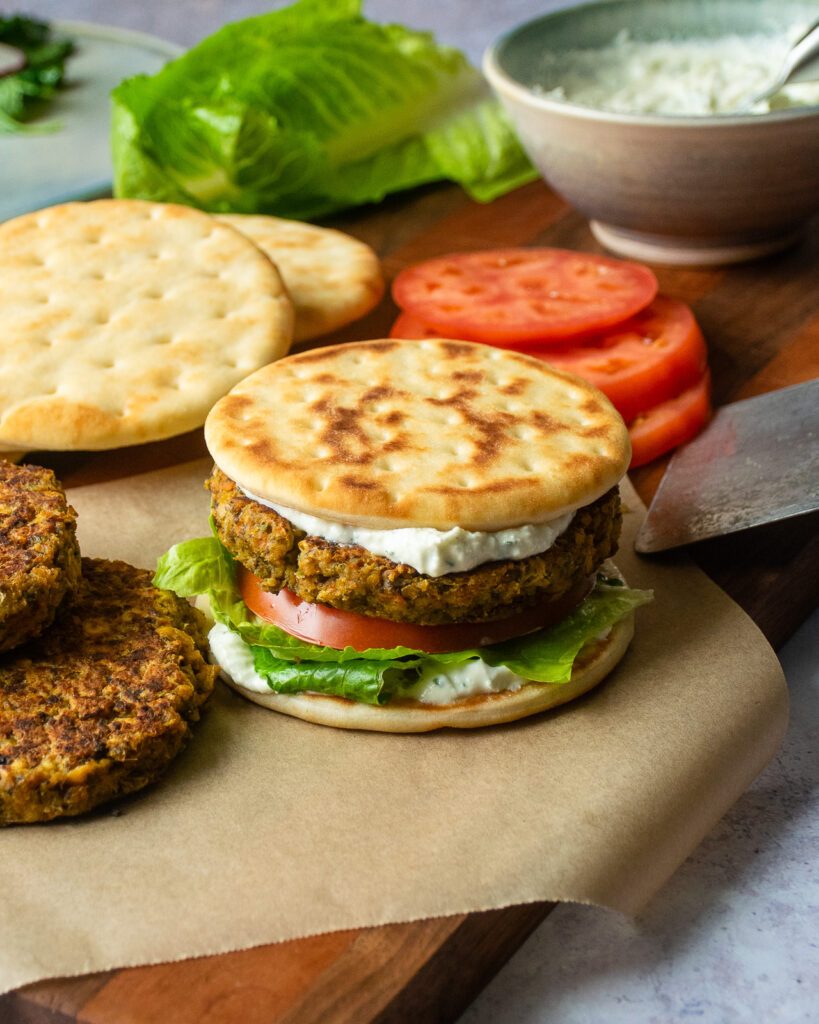 Easy Plant-based Burger
While I love a good burger, I'm not devoted to that burger being the traditional beef burger. Why limit yourself to just beef when there are so many other great burgers out there? I enjoy a good turkey burger, salmon burger and I love quinoa burgers too. These chickpea burgers are delicious plant-based burgers that are packed with protein so they're sure to keep you feeling full and satisfied.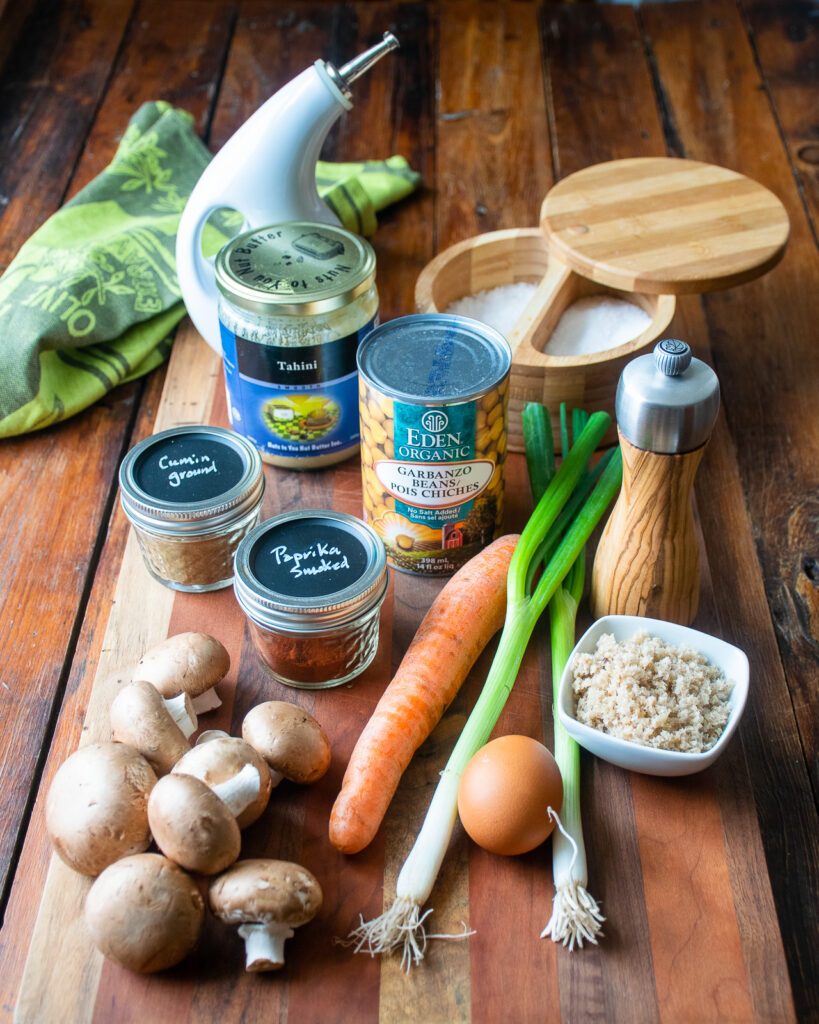 What is in a Chickpea Burger?
Aside from chickpeas, there are just a few other ingredients in these chickpea burgers. Carrots give the burgers a little color and flavor and some cremini mushrooms give them that meaty texture you might be craving. Tahini (or mayonnaise) moistens the patties, cumin and smoked paprika add a smoky Middle Eastern flavor, and an egg and a few breadcrumbs help to bind the patties together.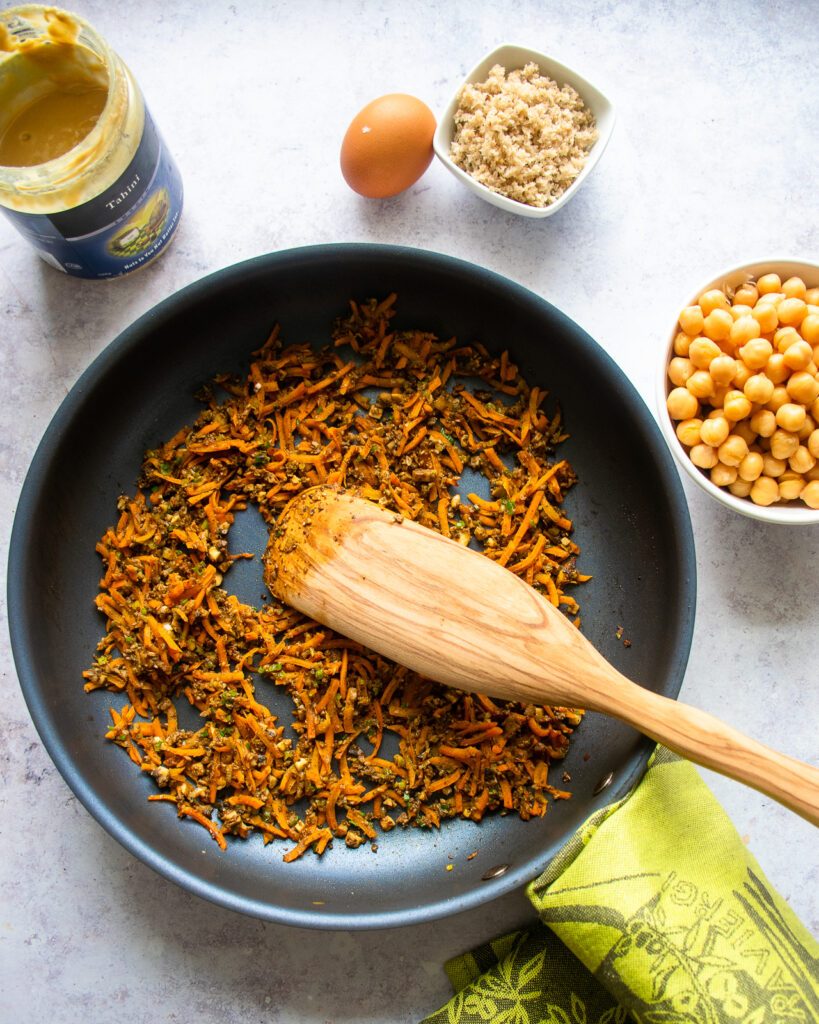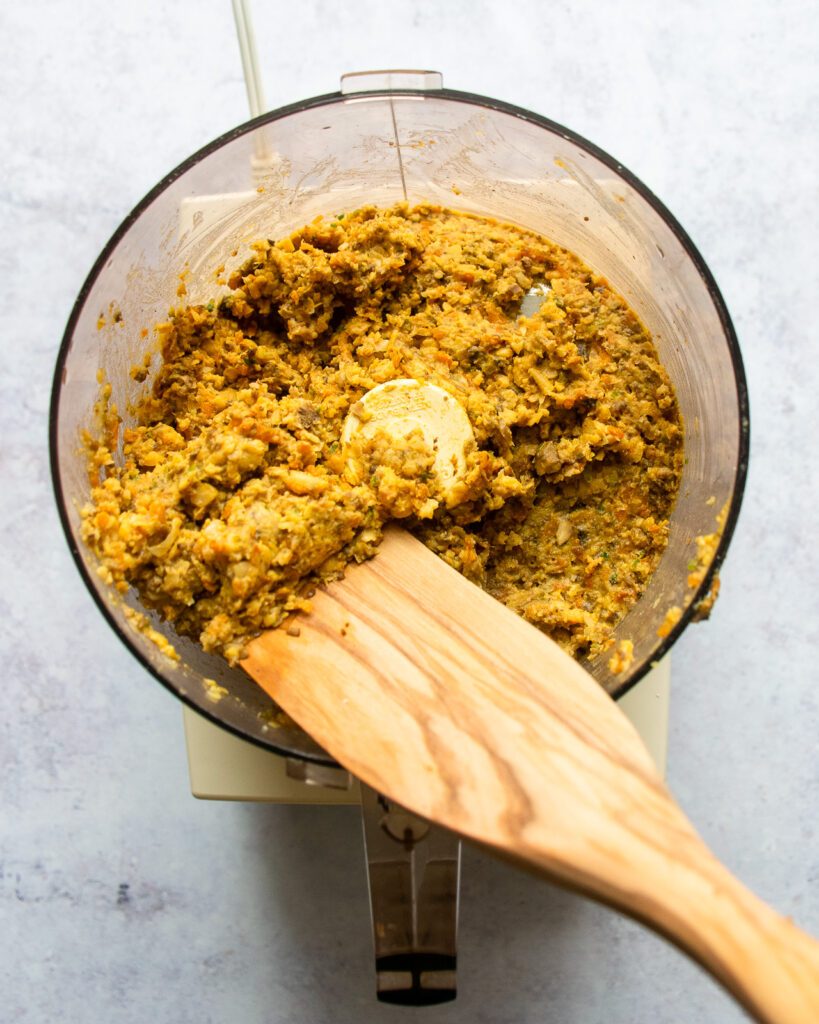 Use Your Food Processor
These chickpea burgers are most easily made with a food processor. You can pulse the mushrooms in the processor to get them finely chopped. Then, use the grating blade to grate the carrot evenly before pulsing the chickpeas and mixing all the ingredients together. You should never have to turn the processor on fully – just pulse the ingredients so that the mixture remains somewhat chunky.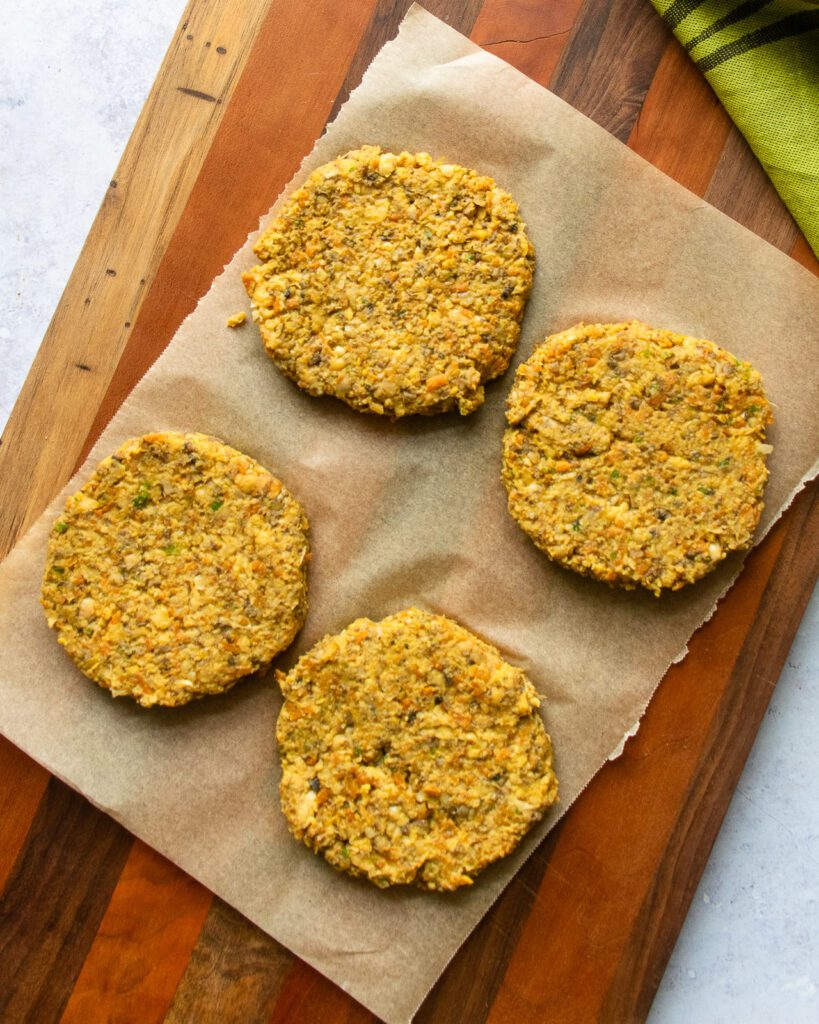 Make Ahead and Freezing Chickpea Burgers
Once you have the chickpea patties shaped, let them chill in the refrigerator for at least 30 minutes. OR… if you want to make these ahead of time, freeze the patties to cook on another day. Freeze them on parchment paper and then transfer them to an airtight bag with a little parchment between patties, removing as much air as possible from the bag. Let them defrost for about 30 minutes before cooking.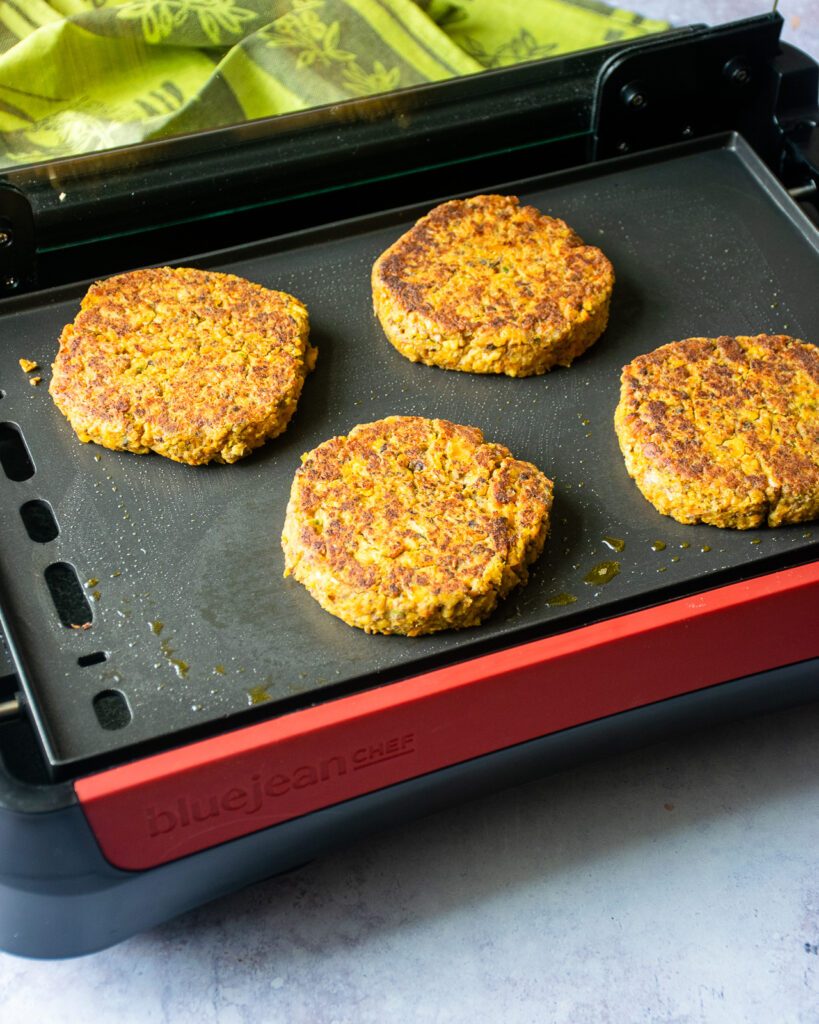 How to Cook Chickpea Burgers
You can fry the burgers in a large skillet with a little olive oil, or better yet, cook them on an electric griddle set at around 325˚F. The patties will be more delicate than regular burgers, so flip them gently, cooking for 4 to 5 minutes on each side until they are warmed through and brown and crispy on the outside.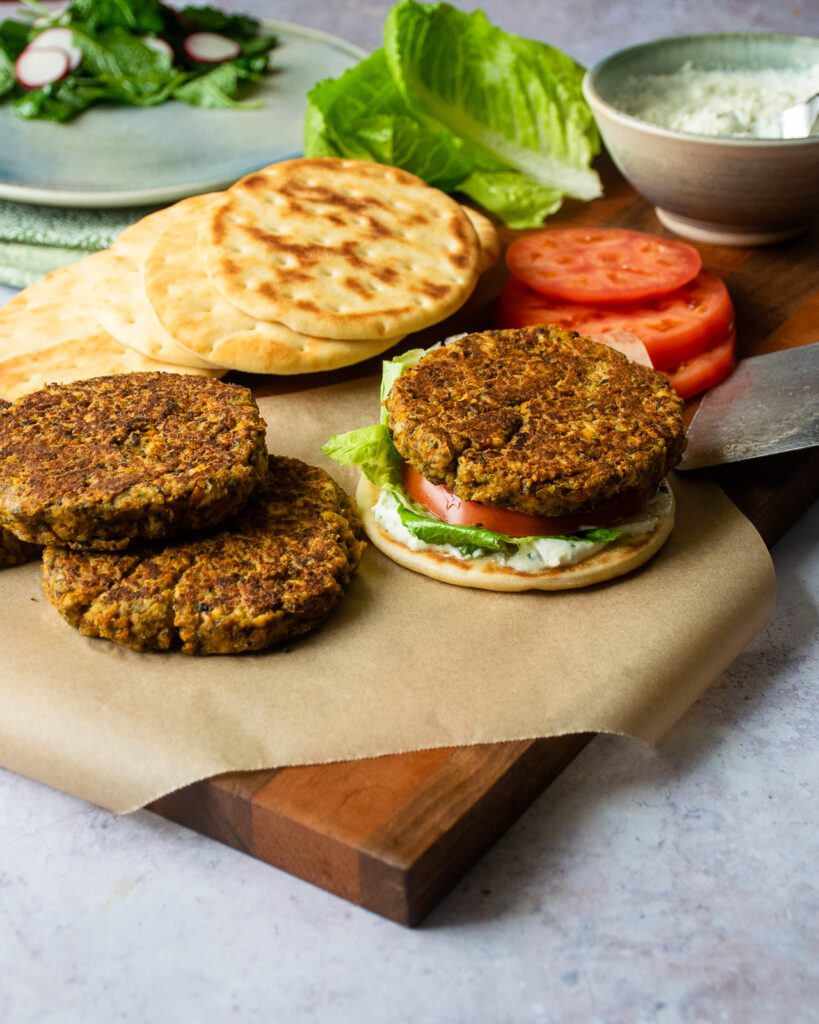 Toppings, Spreads & Bread
Burger toppings are personal. I think most people like lettuce and tomato, but you might also like some thinly sliced red onion too. I keep the toppings simple and serve these chickpea burgers with whipped feta spread, which you can make in 5 minutes in your food processor. Process the ingredients until the feta is very smooth. Then season to taste with lemon juice and freshly ground black pepper. Depending on your feta cheese, you may also want to season with salt, but go easy. You could also use the tahini sauce from this chicken shawarma recipe, or the cumin-avocado spread from this turkey burger recipe if feta cheese doesn't appeal to you. 
When it comes to the bread, you could use your regular hamburger bun, but pita bread, flat roll or mini naan gives you less to bite through and really lets the flavor of the burger patty shine. Whatever bread or buns you choose, toast them lightly with a little olive oil to warm them up and give them a little crispy texture.