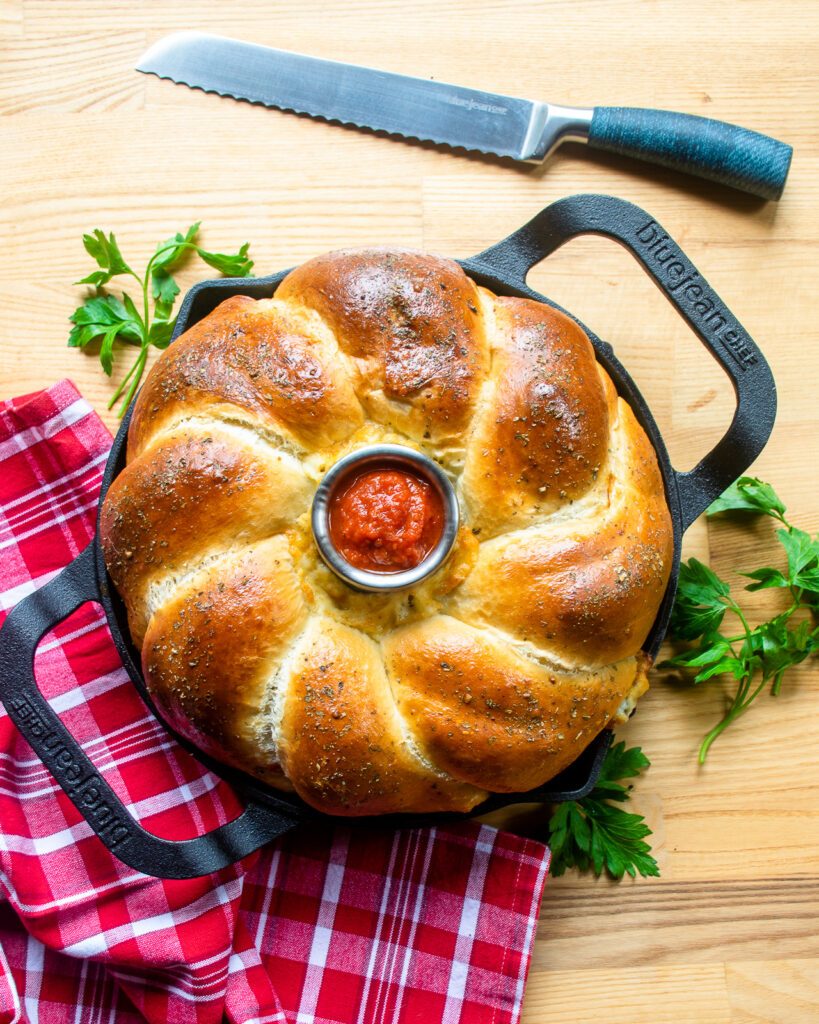 Quick and Easy Bread Ring
Honestly, this is the easiest bread recipe on my website. Why? Because this Cheese Stuffed Bread Ring starts with store-bought bread dough! Truth is, this bread ring was made to show off my beautiful hammered cast iron chicken roaster when I was presenting the roaster on television and showing what else it can be used for. The result was so beautiful and when we pulled it apart afterwards, it was so cheesy and delicious that I decided that even though it takes some serious shortcuts, it was worthwhile sharing the recipe with you.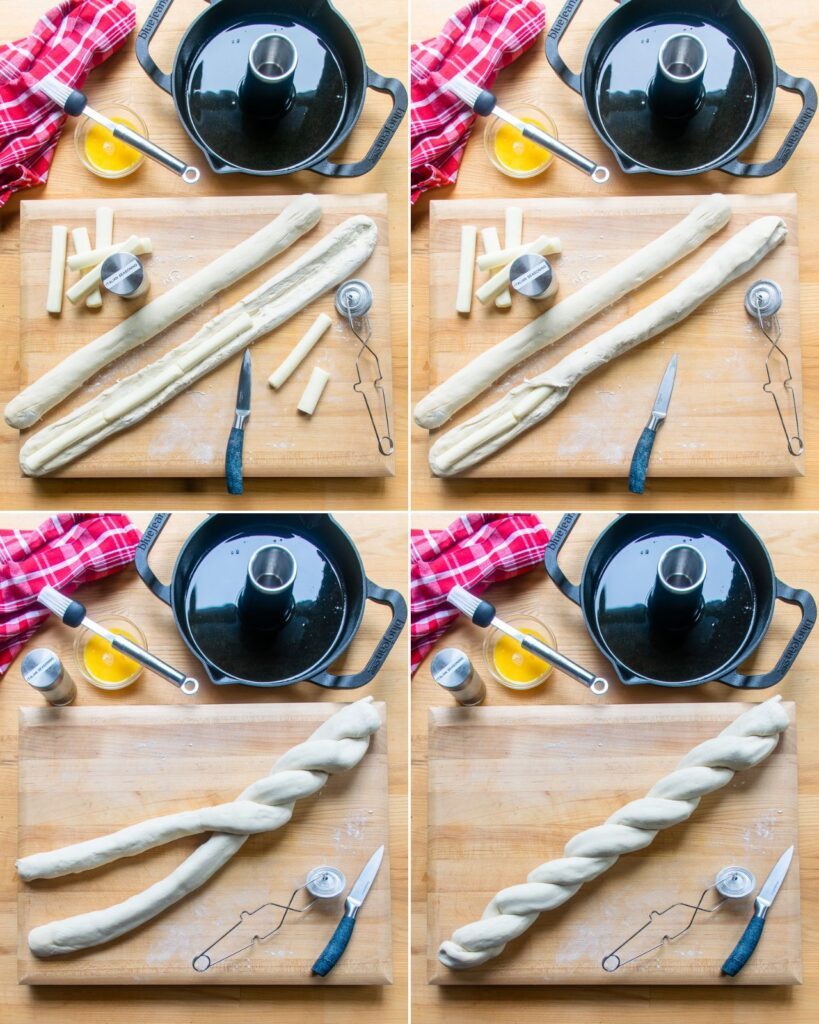 How to Make Cheese Stuffed Bread
All you need to buy for this recipe is the frozen bread dough and some cheese. I used string cheese because it melts and pulls well and it is already the right shape, in long tubes. However, you can use whatever cheese you like and cut it into logs that will fit nicely in the bread – Cheddar, Swiss, Gruyère. Roll the bread dough out into long logs and then slice into it, but not through it. That will create a slit into which you will put those logs of cheese. If you wanted to, you could brush some garlic butter, or some dried herbs, or some chopped olives in the bread crevice before adding the cheese to make a cheesy bread ring variation. Cheesy garlic bread ring. Or  Cheesy olive bread ring… you get the idea. Whatever you put into the crevice, pinch the bread logs shut and then twist them around each other before wrapping them around the center of the chicken roaster (or Bundt® pan?) and pinching the ends together to form a ring.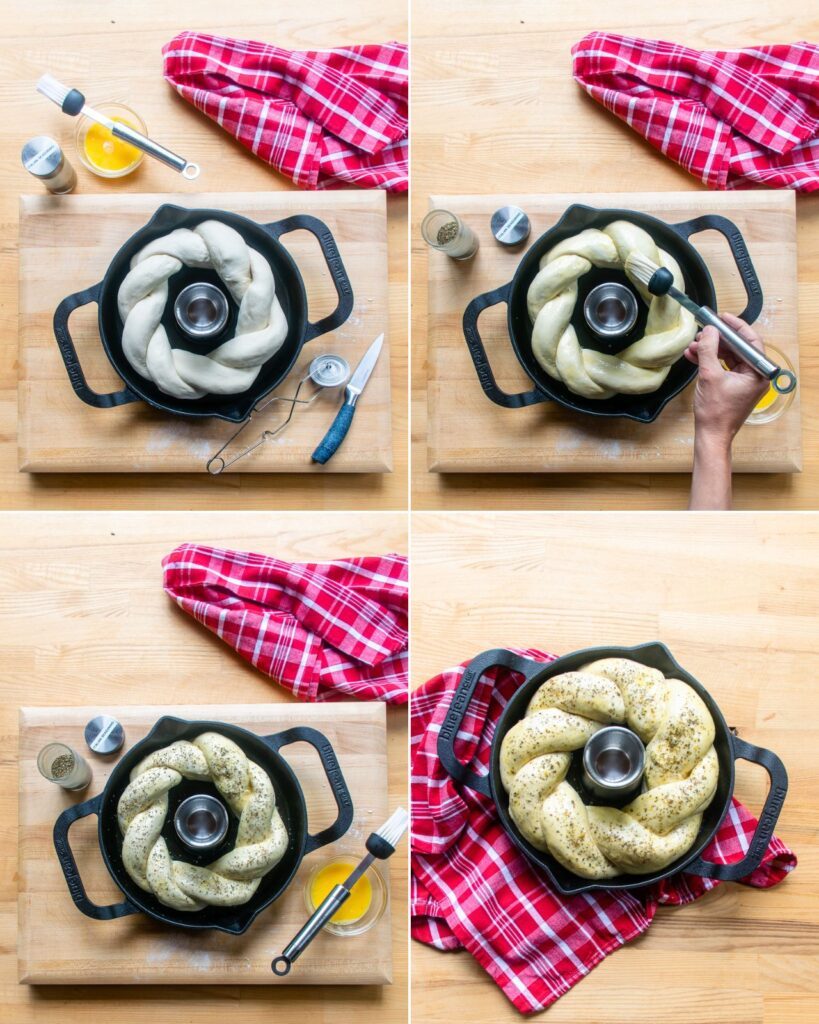 Proofing Time
Once the raw bread ring is in the pan, brush with a little egg wash and sprinkle some dried herbs or coarse salt on top. Then, let it rest to proof. Proofing time will depend on a couple of things – how cold your bread dough is and how cold your room is. You can see above how much the bread should rise before popping it into the oven. Then, bake and delight in the pretty result.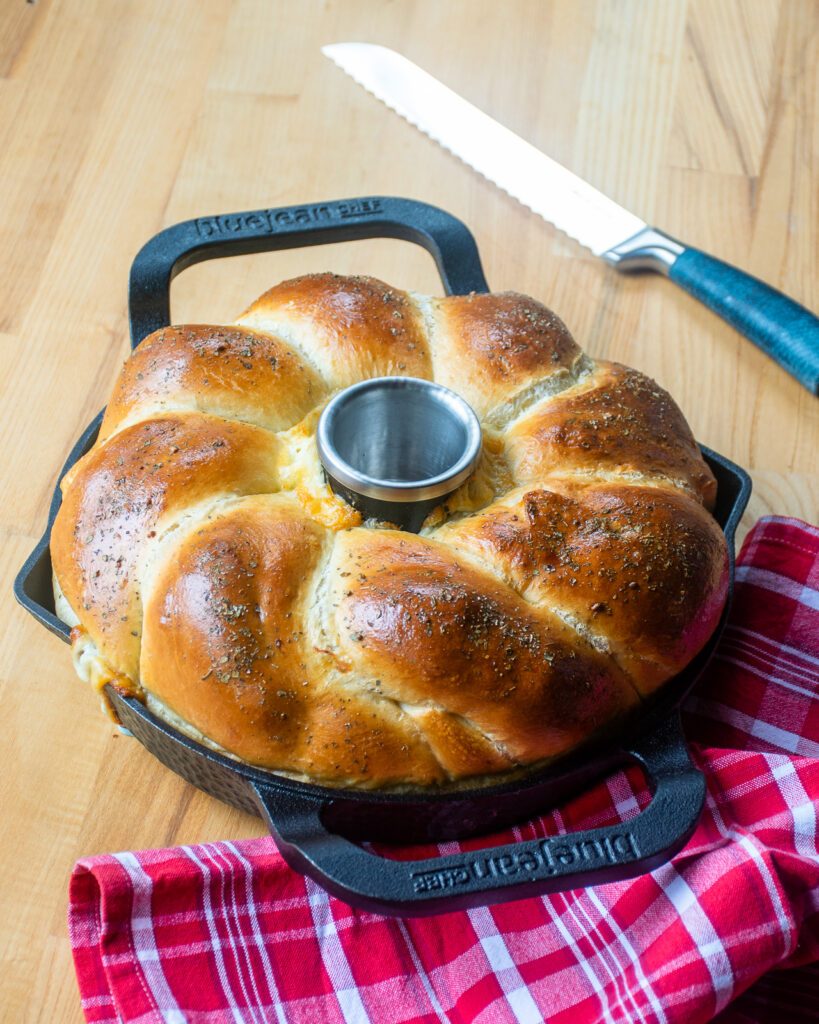 How to Serve Cheese Stuffed Bread Ring
Get yourself a good bread knife! A bread knife is essential. I use mine every day. You can pull this bread apart, but slicing it is easier and ensures that everyone gets some cheese. I love baking this bread in the cast iron chicken roaster because the cast iron distributes the heat so well AND because it retains heat, keeping the bread warm. It's also handy to have the little cup in the center that can hold some marinara sauce, or garlic butter for dipping. Delicious!