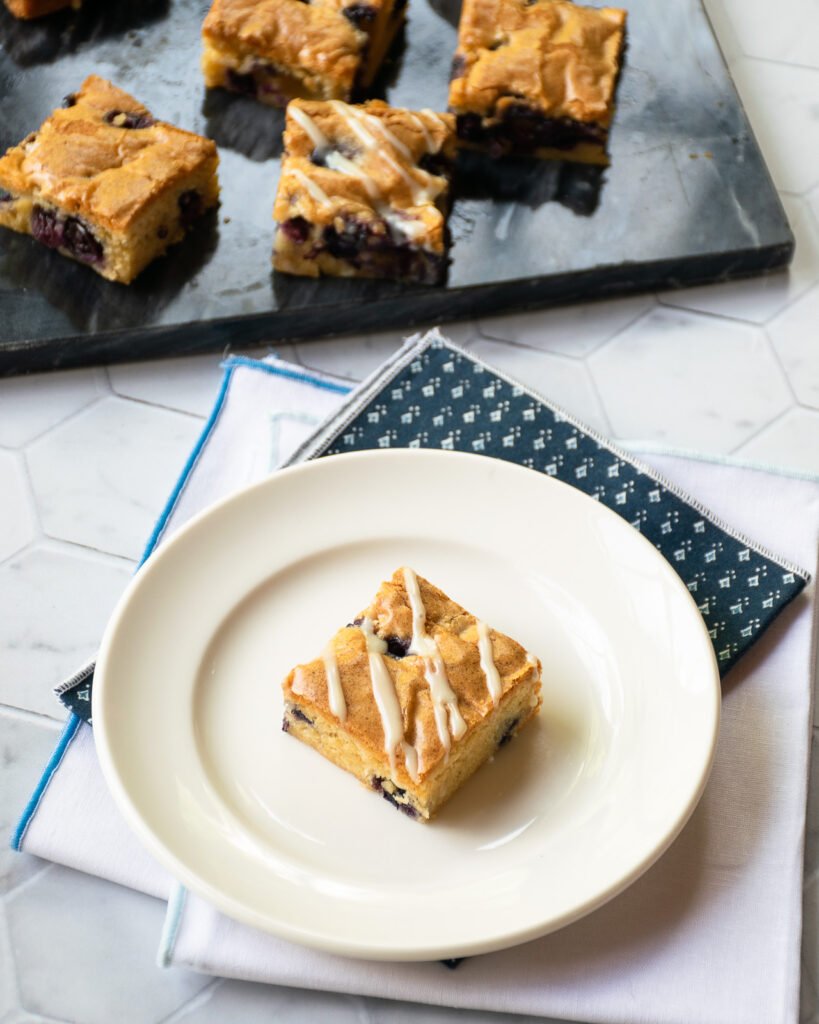 What are Blueberry Blondies?
What's a blondie, you ask? Well, it's pretty much just like a brownie but it doesn't have any chocolate and it isn't brown, so it's called a blondie instead. It's a sweet bar treat that is more dense than cake, but lighter than a square. Just like brownies, the texture of different blondies varies from super dense and fudge-y to lighter and more tender. This recipe for blueberry blondies fall somewhere right in the middle – not too dense and not too light. Just right.

Basic Ingredients
The ingredients for this recipe are very basic and you probably have everything you need in your pantry already. You also don't need a lot of anything – just 1¼ cups of flour, ½ cup of butter, 1 cup of brown sugar, an egg, a little baking powder, salt and vanilla extract and some blueberries. This is the sort of recipe that you can pull off in a pinch.

Wet Ingredients and Dry Ingredients
The method for making these blondies is also very basic. Just combine all the wet ingredients (melted butter, brown sugar, egg and vanilla) in one bowl and combine all the dry ingredients (flour, baking powder and salt) in another and then stir the two together until you see no trace of dry flour. 

How to fold in blueberries
Folding in the blueberries is the last step before baking. This recipe calls for fresh blueberries and you just need to delicately fold the batter over the berries until they are covered and evenly dispersed. If you want to use frozen blueberries, toss the blueberries in while they are still frozen, stirring as little as possible to get them incorporated into the batter. They may shed their color and bleed a little, but they will still be delicious.

Optional Ingredients
There are lots of variations possible with this recipe. Blueberries and lemons were practically made for each other, so folding in a little lemon zest with the blueberries would be delicious. You could also stir in white chocolate chips (about ⅓ cup) or some rolled oats into the batter for variety, and if you don't have blueberries, try using raspberries instead.

White Chocolate Glaze
The white chocolate glaze is completely optional, but it does help dress the blondies up if you're going for presentation points. It's easy to make and you don't need much. White chocolate can be temperamental when you try to melt it, but don't be discouraged. If the chocolate looks grainy or clumpy as it melts, just stir in the hot water and it will loosen everything up. Beating in the powdered sugar helps sweeten the glaze and thicken it a little, making it the perfect consistency to drizzle. The white chocolate glaze will get a little messy if you stack the blondies, so keep that in mind. If you're planning on packing these blondies away for a picnic, I suggest going without the glaze. They are just as delicious.

How to Store
Store the baked blondies in an airtight container at room temperature for a few days, or in the refrigerator for up to a week. You can also freeze them for a rainy day for up to three months.