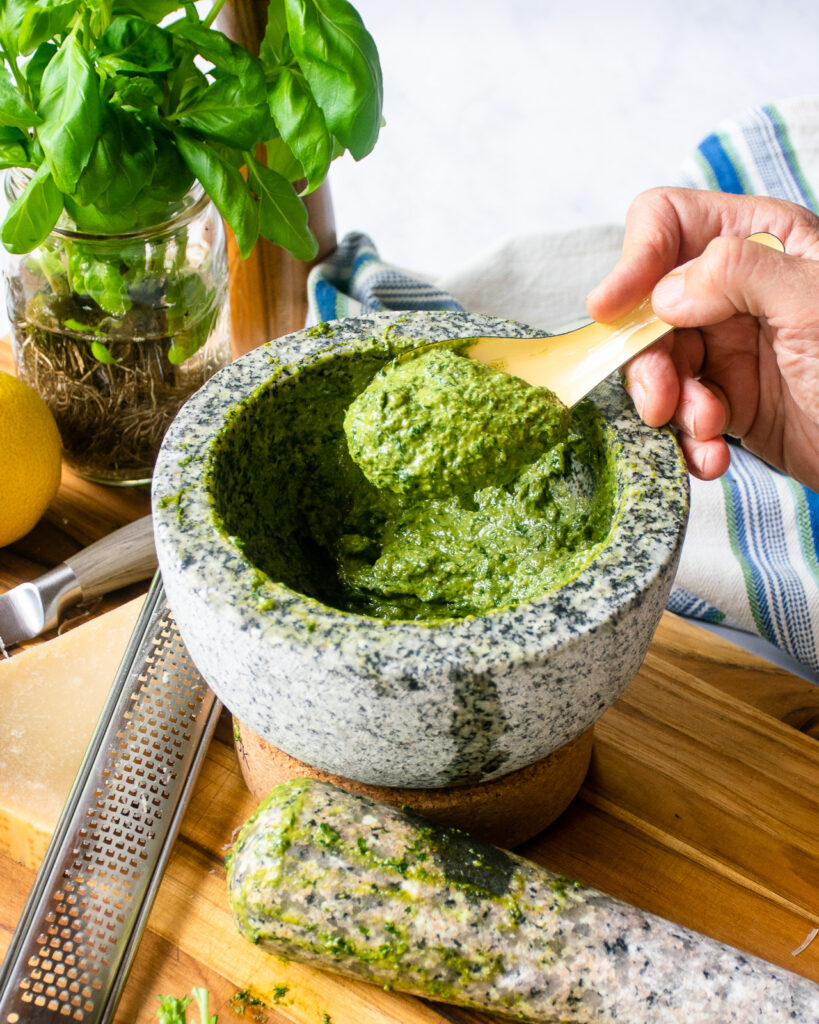 What is Pesto?
A pesto is basically a simple sauce made of blended flavorful greens, cheese, nuts and olive oil. Basil pesto is the most commonly made and most often served as a sauce for pasta. In fact, it's one of the easiest pasta sauces to make and simply tossing some pesto with warm spaghetti, a little pasta water and perhaps another glug of olive oil can be a very satisfying meal. The word "pesto" is derived from the Italian word for "pound" or "crush" and the sauce was traditionally made with a mortar and pestle. Although many people prefer to make pesto in a food processor for the sake of prep time, I still think using a mortar and pestle is the best way to go, making a smooth, delicious sauce with no bitter bite.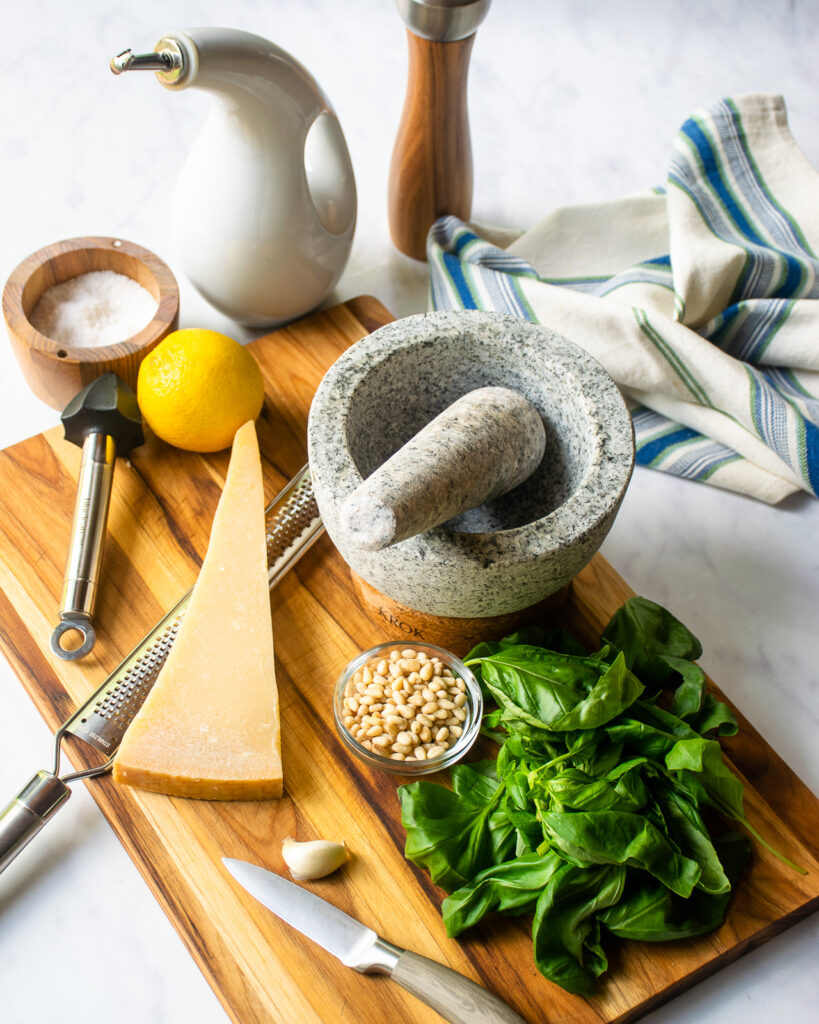 How to Make Pesto
The basic ingredients for basil pesto are fresh basil (and a lot of it!), pinenuts, garlic, Parmesan cheese, olive oil and salt. Lemon is an extra ingredient that does brighten it up a little, but it is optional. Start by pounding the garlic clove in the mortar with just a pinch of salt. You'll see that the garlic can be crushed into a smooth paste. You won't get this same result in a food processor, which will instead just chop the garlic into tiny pieces. Once the garlic is smooth, add the pinenuts and crush them into a paste with the pestle. Then start adding the basil, a handful at a time, and pound to break down the leaves. It takes a little time, but pounding the basil this way lets the oils release naturally and the flavor is smoother as a result. Once all the basil is pounded, add the cheese and the oil, continuing to pound. It will emulsify into a beautiful pesto. Seasoning with salt, pepper and perhaps lemon juice is the only thing you have left to do.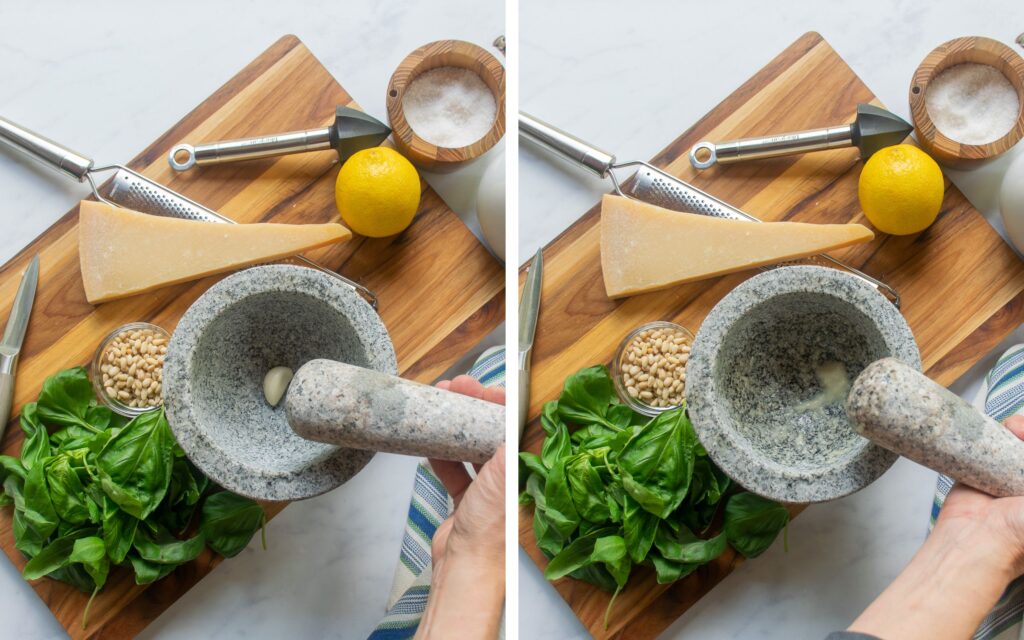 Pesto Variations
If basil is not the flavor you are looking for, there are endless varieties of pesto that you can make. You can read about some options here in this cooking school article, or check out my sun-dried tomato pesto recipe as an example of what you can do to mix things up a little.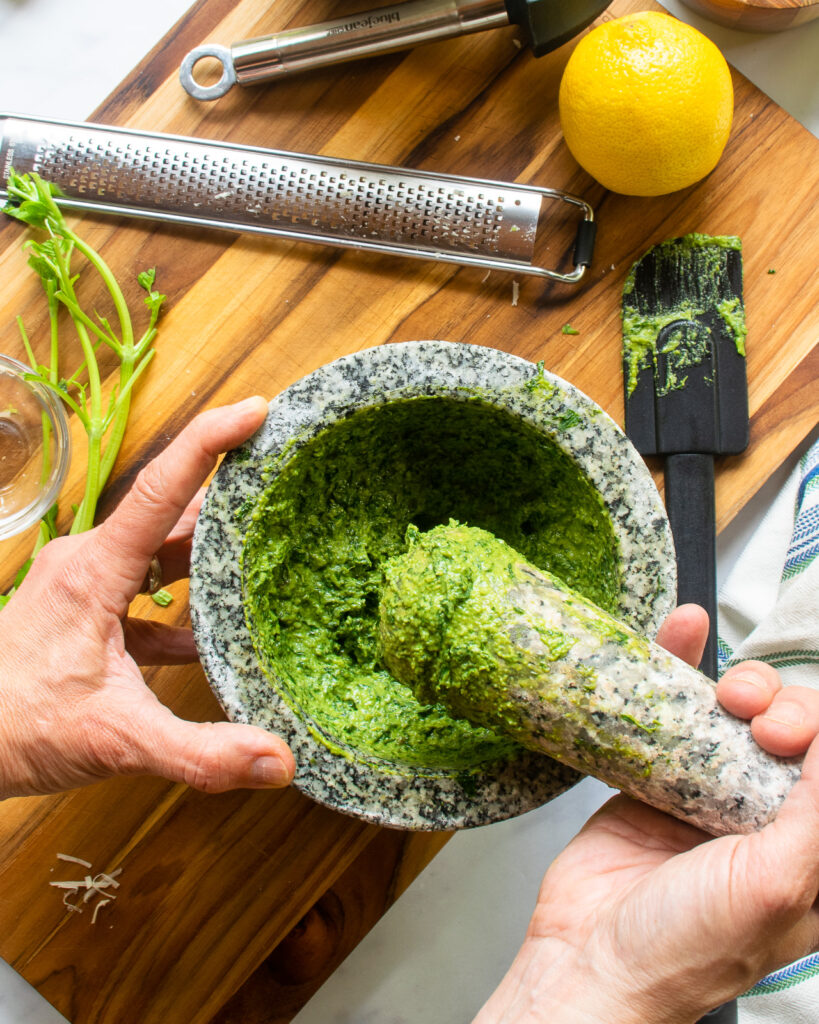 How to Use Pesto
While basil pesto is most traditionally used as a sauce for pasta, it really can go on so many different foods, from sandwiches, to pizza, to grilled fish or chicken or even to top a baked potato or an omelet. One of the reasons I always try to make a thicker pesto is because I might want to stir it into mayonnaise or spread it on ciabatta for a sandwich and I need it spreadable. I thin the pesto with a little more olive oil if I'm going to use it for pasta or to toss with vegetables.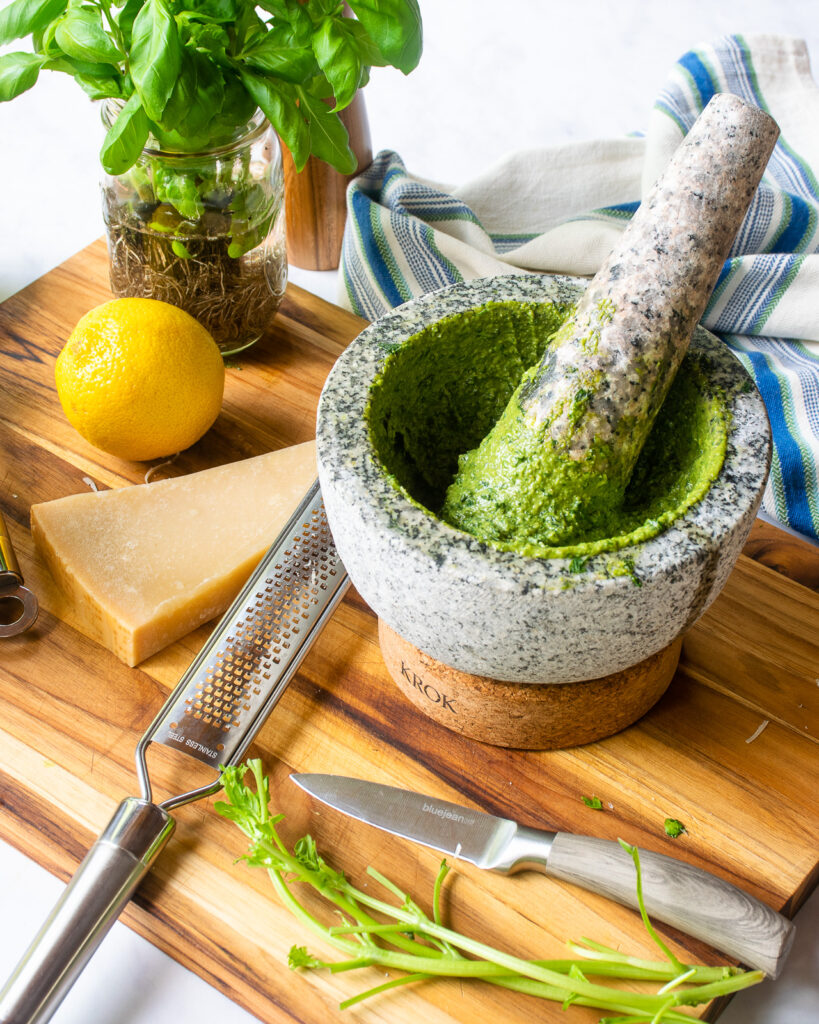 How to Store Pesto
Sadly the bright green color of pesto will fade over time. This is inevitable, but it will still taste great. You can store pesto in a container in the refrigerator for up to 5 days, with a piece of plastic wrap pressed right down on the pesto to help lesson the color fading. For longer storage, fill an ice cube tray with pesto and freeze the cubes. Then, remove the cubes and store in an air-tight bag or container. Then, you'll have a pasta sauce at your fingertips for those quick weeknight meals.