Quick Bread
Banana Bread is the quintessential quick bread – a group of breads that use a chemical rising agent (baking soda or baking powder) instead of yeast, making them super quick to make because they require no rising time. It's a crowd pleaser and the very best way to make use of those bananas that have been hanging around your kitchen for just a little too long.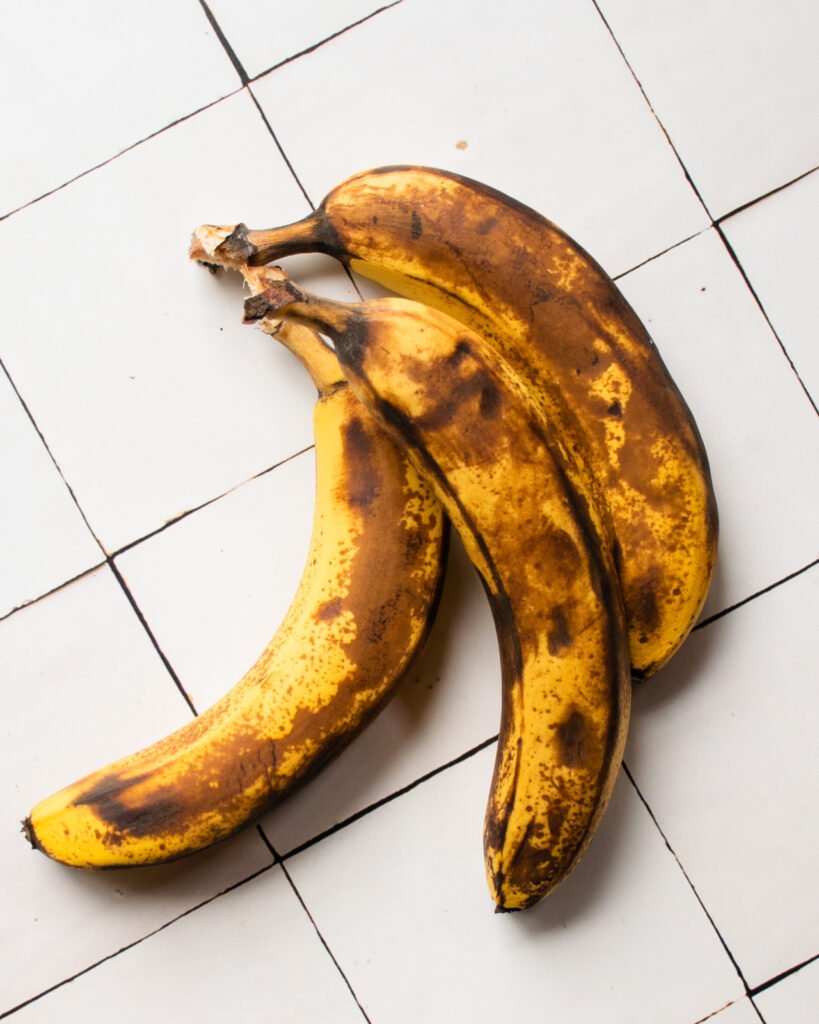 Freeze Over-Ripe Bananas
Sometimes over-ripe bananas just happen to me. I buy bananas with every intention to eat them promptly, but then I'll turn around and see them another day and they are covered in brown and darkened peels and feel slightly squishy inside. That's when I pop them into the freezer to hold onto them until I have enough bananas (three, by the way) and the time to make the bread. When that time comes, let the bananas thaw at room temperature (doesn't take too long) and you'll be ready to go.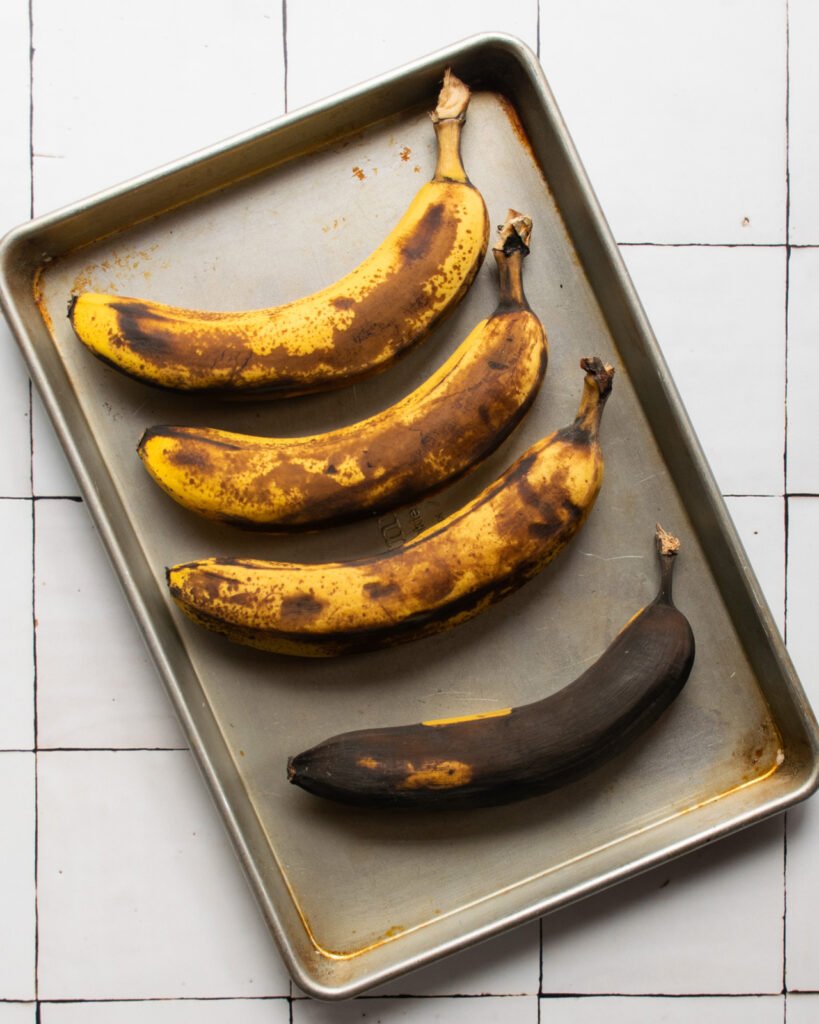 How to "Quick-Ripen" Bananas
Then there are the times when you have a craving for banana bread, but you don't have any over-ripe bananas on hand. Well, here's a trick for you. You can pop the bananas into the oven on a baking sheet and roast them at 350ºF for about 20 minutes. The peels will turn completely black and the interior will be soft – perfect for banana bread. Just let them cool, peel and proceed with the recipe. (The bottom banana in the photo above is the roasted banana.)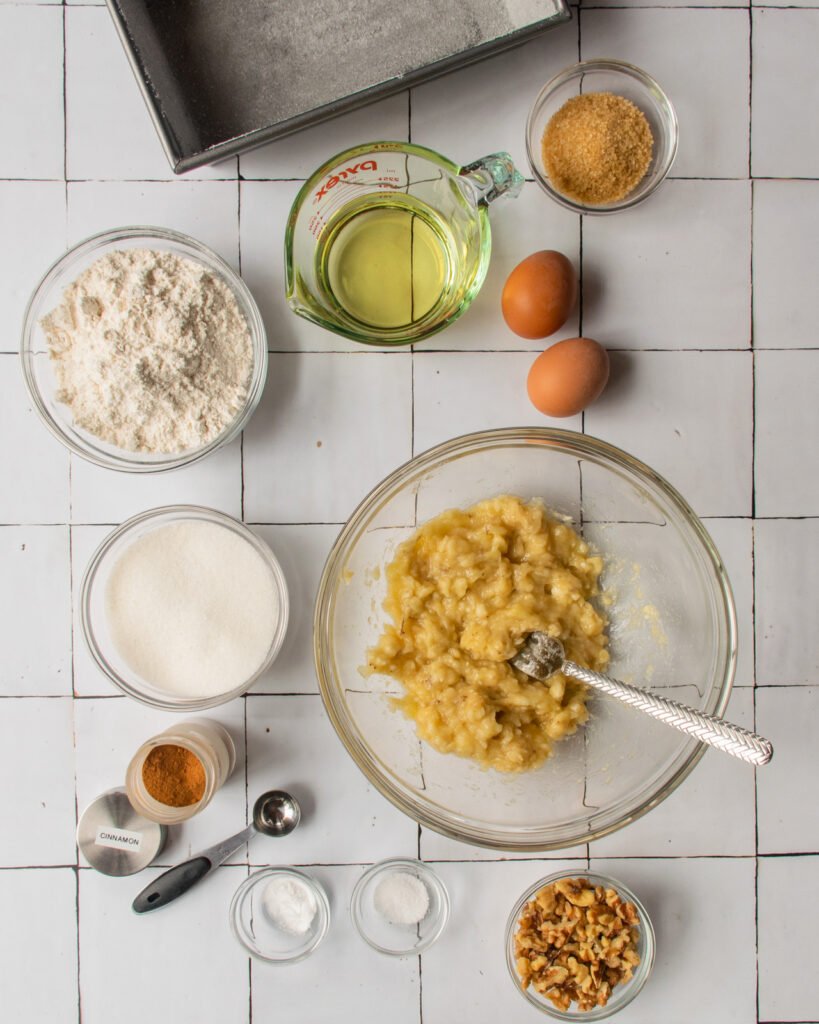 How to Make Banana Bread
The key to making moist, tender banana bread is to mix it as little as possible. Mash those bananas with a fork and add the eggs, oil and sugar. Then mix the dry ingredients (flour, baking soda, salt and cinnamon) in a separate bowl. Mix the dry ingredients into the wet ingredients, stirring only until everything is combined. Once you see no more traces of dry ingredients, stop.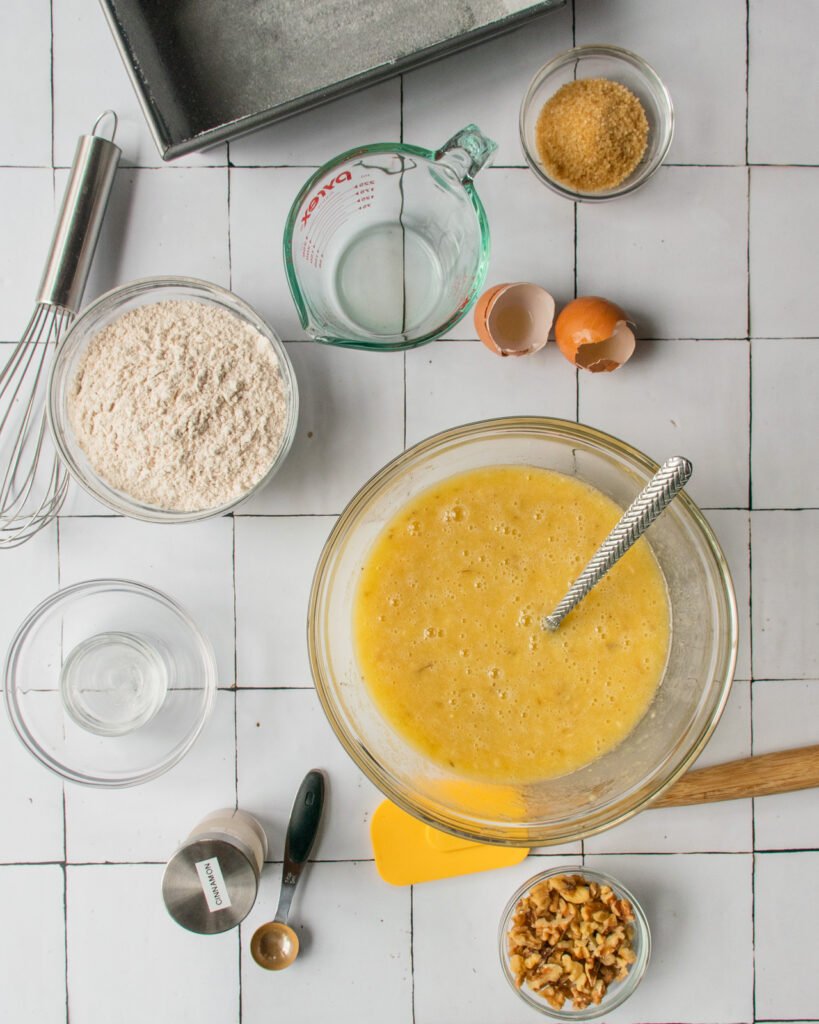 Banana Bread Variations
Once the batter has been mixed together, you can add additional ingredients like walnuts, pecans, raisins or (if you're a devil) chocolate chunks. Fold these ingredients in gently so you don't over-mix. Then, transfer the batter to the prepared pan. If you want to make another delicious quick bread other than banana bread, try this carrot cake loaf, which is made the same way.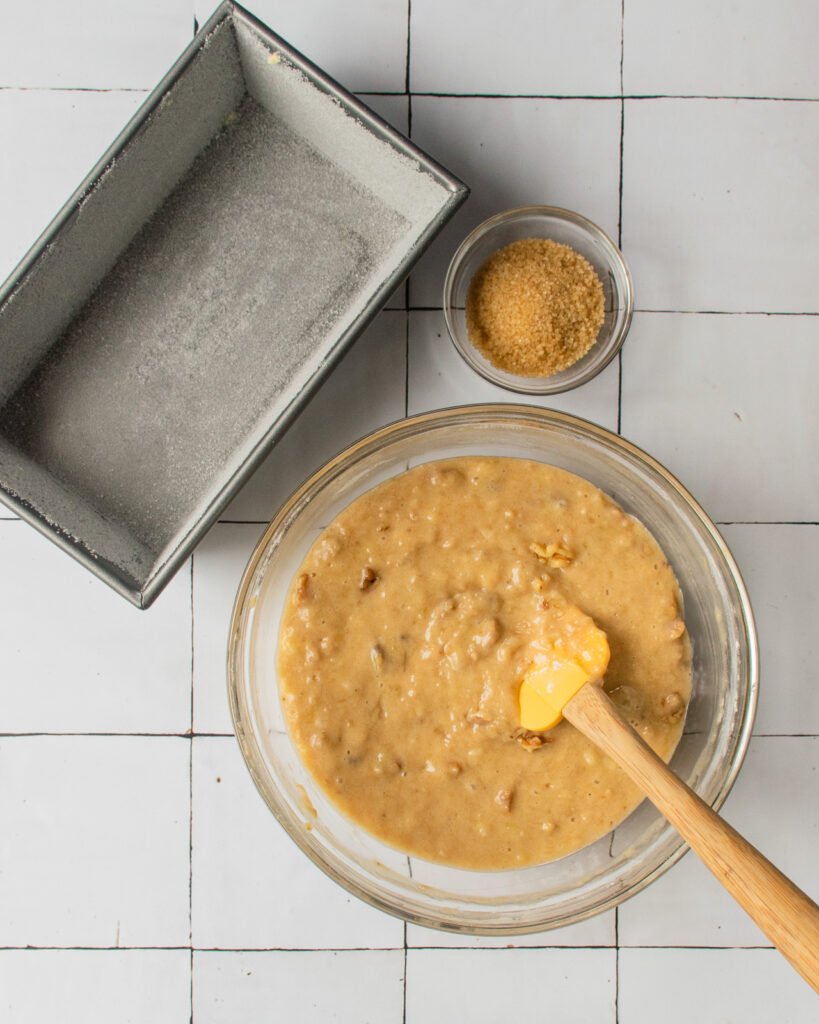 Prepare the Loaf Pan
Speaking of the prepared pan… this recipe calls for you to butter the loaf pan and dust it with sugar. Dusting with sugar does two things. First of all, it really shows you where you missed buttering the pan (you'll understand when you try this), but more importantly, it creates a crunchy sugary exterior to the loaf which is frankly pretty irresistible. Still, if you want to skip the sugaring step, you can.
Turbinado Sugar
Another skippable step is sprinkling the top with turbinado sugar. Turbinado sugar is a partially refined sugar that still retains some of the molasses. It's brown in color and comes in larger granules. It also forms a crunchy sugar surface on the top of the banana bread and makes it look like it came straight out of a professional bakery. Again… irrisistible.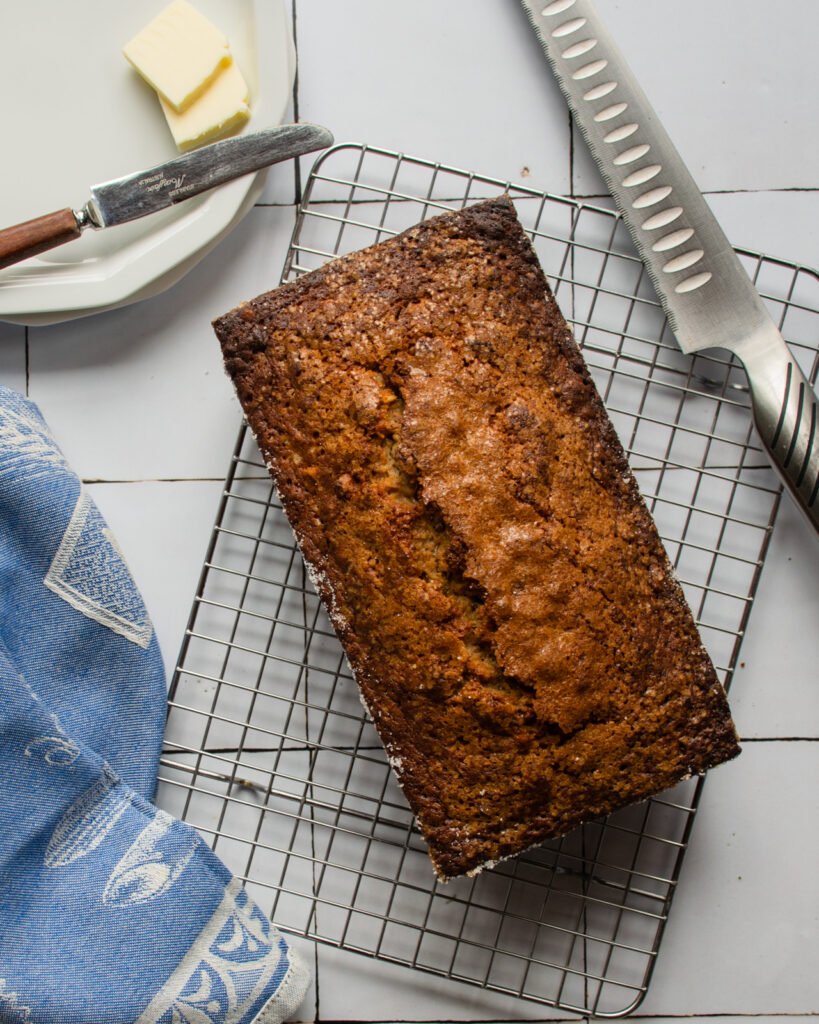 How to Tell When Banana Bread is Done
Banana bread bakes for about an hour. You'll know it is done when the top and sides are nicely browned and a skewer inserted into the center of the loaf comes out clean, with no wet batter on it. Remove it from the oven and do your best to let it sit on a cooling rack. Once it has cooled, just enough so you can handle it, cut into it and enjoy as a little butter melts over that perfect slice.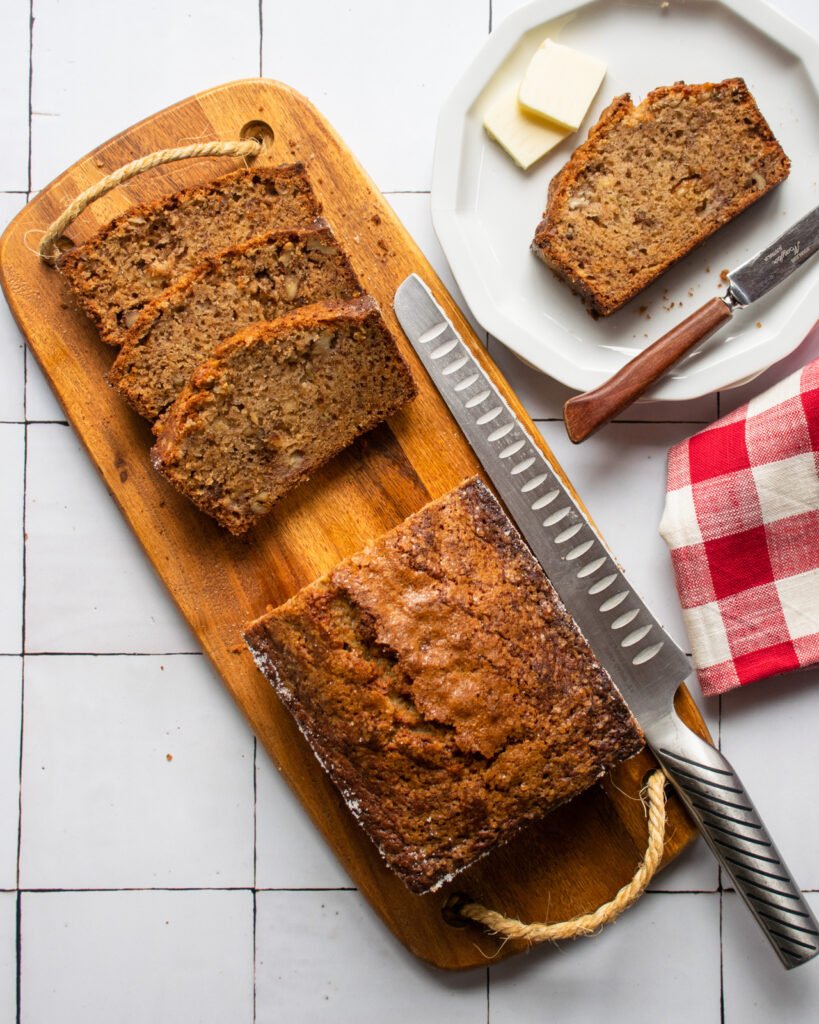 Storing Banana Bread
You can freeze baked banana bread for several months if it is wrapped well. Then just defrost at room temperature and enjoy. Otherwise, store the baked banana bread wrapped in plastic on your kitchen counter. Stored at room temperature, it will remain delicious for several days. How long banana bread actually lasts, however, depends entirely on you!