What is a Smash Burger?
A smash burger is pretty much exactly what it sounds like. It is a burger where the beef gets smashed onto the hot cooking surface rather than being shaped into a patty. You might think that smash burgers exist purely as a natural consequence of laziness, but there is actually more to it than that. When you smash a burger instead of packing and shaping it, you end up with an irregularly shaped patty with lightly charred craggy edges that holds onto its moisture and is tender enough to fall apart in your mouth as you bite into it. Sounds pretty good, doesn't it? Let's learn how to make the best smash burger in town.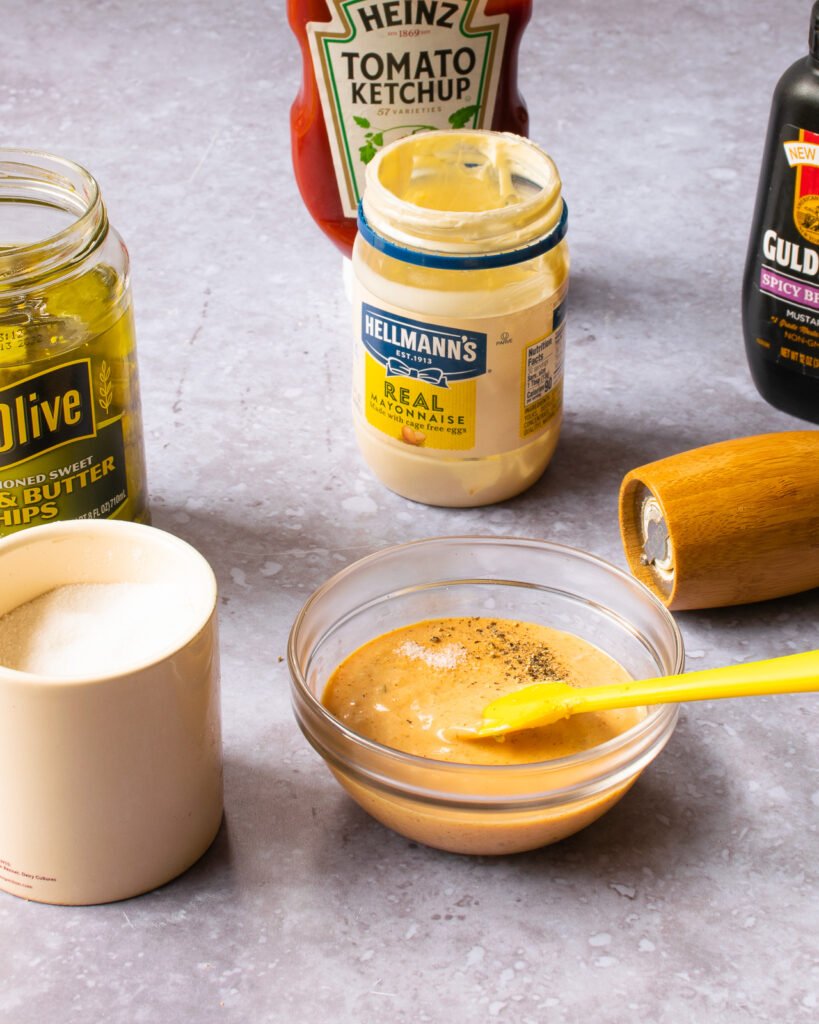 The Best Burger Sauce
A smash burger is always good. A smash burger with the best burger sauce is even better! Sure, you could go with the old standbys of ketchup and mustard on your burger, but combine the ketchup and mustard with a little mayonnaise, some sweet pickles and a little pickle juice and you have a sauce that covers all the bases with one spread and is seriously delicious. It takes about 3 minutes to stir it together and then you can put all the condiments away, leaving just one bowl of sauce to put out for people to add to their burger. 
How to Season a Smash Burger
Before you can make a smash burger, you'll need to get the right sort of beef. That beef is 85% lean beef. It makes the best burgers because it has just enough fat to keep the meat juicy and succulent. If you can't find 85% lean beef, go for 80%. Don't worry about the fat content percentage – much of that fat will render out of the burger. If you go with a leaner beef, your burger will be tougher and less flavorful. Even if you're making regularly packed burgers, 80 – 85% lean beef is what you're looking for. (To learn more about making a traditional burger, click here.) 
Preparing the ground beef for a smash burger takes about 30 seconds. Divide the beef into portions about 4 ounces each and simply sprinkle salt and pepper on all sides. There's no need to mix it in with your hands – just season well on all sides of the portion of beef.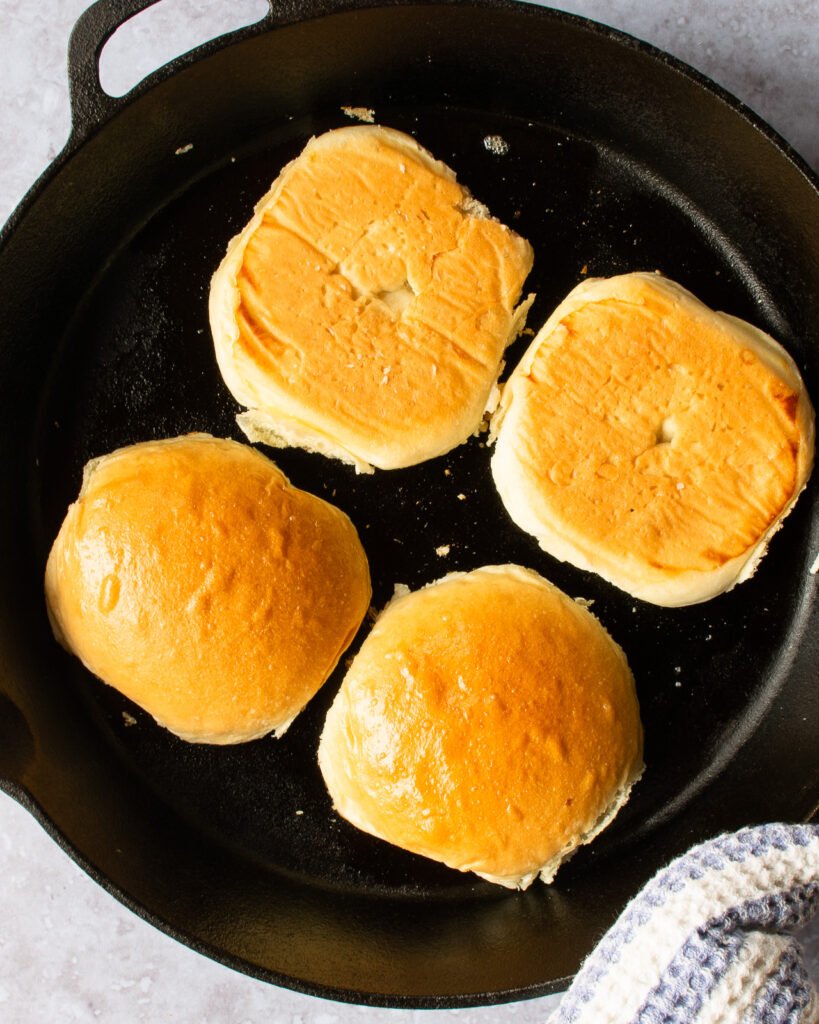 Great Buns!
Now, because smash burgers take no time at all to cook, it's important to have all the other parts of a burger ready before you start cooking the burgers. You've already made the best burger sauce, so the next step is to toast the best hamburger buns. I love a brioche or potato bun for smash burgers. The buns should be firm enough to hold the patty without falling apart, but soft enough to bite into without having to tear. To me the point of a smash burger is the delicious flavor of the beef, so I go for plain buns that don't intrude with respect to flavor – no onion buns. Be sure to toast the hamburger buns – the added crunch on that toasted surface is all part of the pleasure of a smash burger.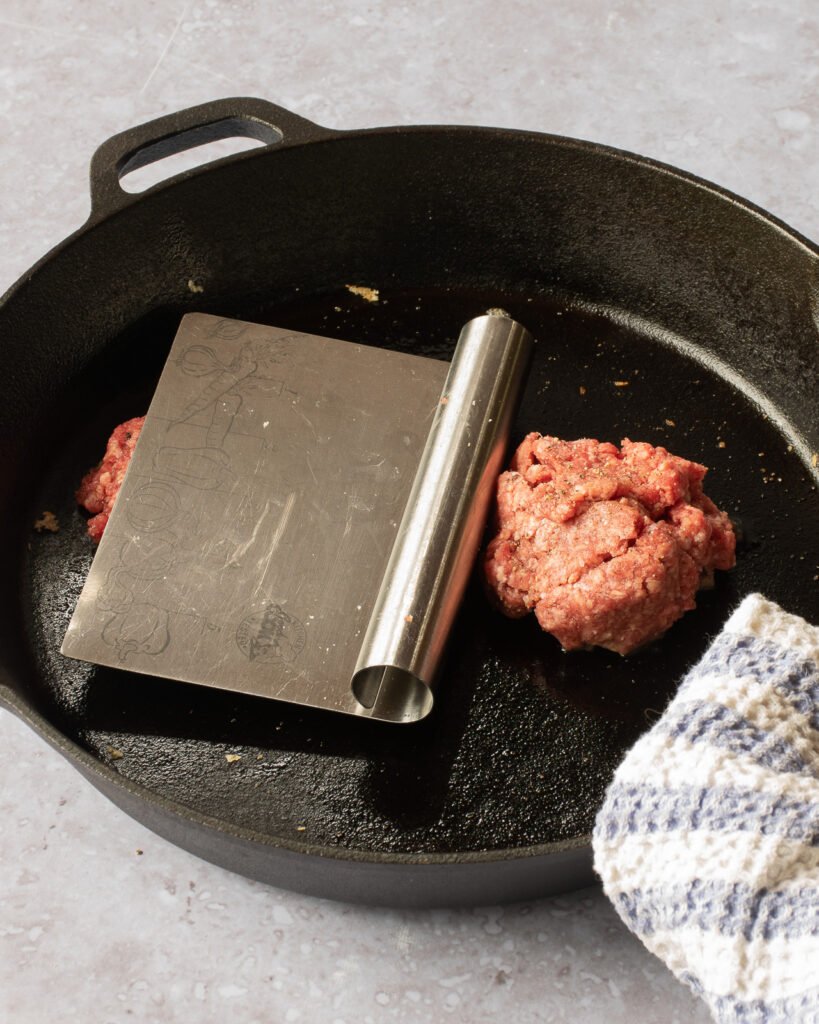 How to Smash your Smash Burger
When you're ready to cook the burgers, heat a cast iron pan on medium-high to high heat for a few minutes. Ideally, this is the same pan that you used to toast the buns. Place the beef portions into the pan and press down firmly with a flat surface to smash the beef into a patty shape. That flat surface could be a bench scraper as in the photo above, or a big flat spatula, or even a burger press if you have one. Just make sure you press the beef down evenly to form an evenly thick patty. Then, let the burger cook without disturbing it for about 3 minutes before flipping it over for another 3 or 4 minutes on the other side.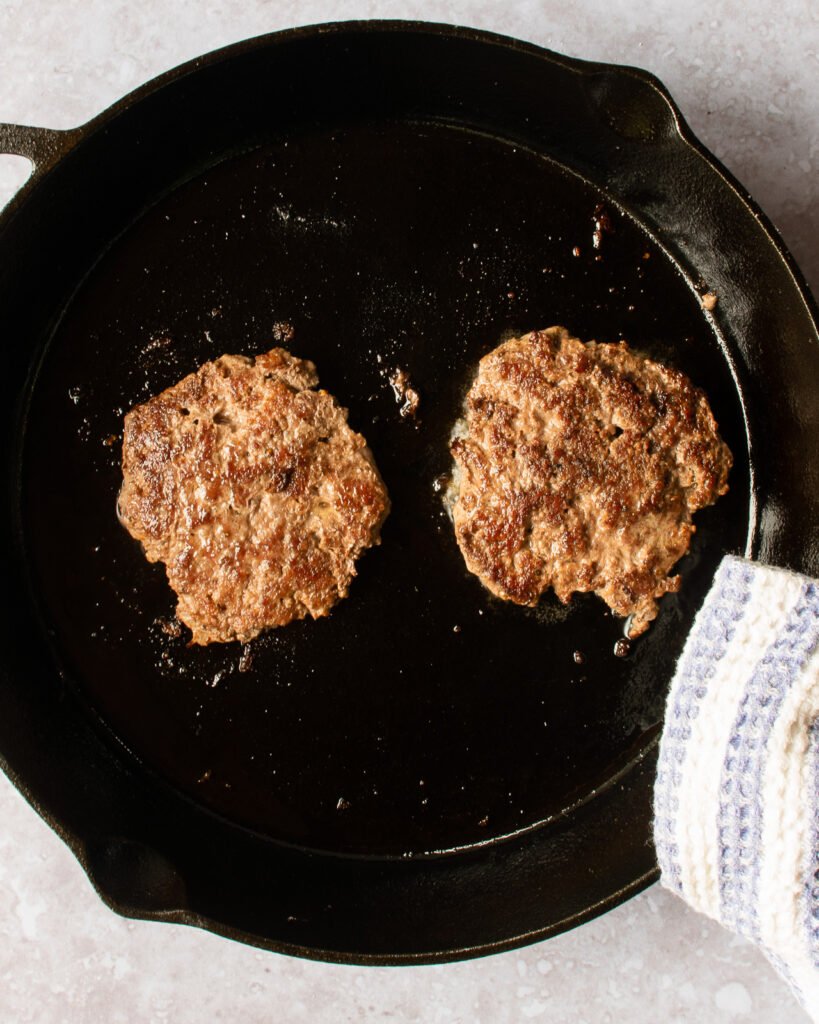 Why are Smash Burgers Better?
You  may have heard that pressing down on your burgers as you cook them is a bad thing. This is true. If you are cooking burgers and you press down on the patties as they cook, you squeeze out the juices and the fat and end up with a drier, less flavorful burger. If, however, you smash the raw beef down in the hot pan, the fat is still in a solid state and doesn't get squeezed out. Instead, what happens is you create a larger flat surface of beef to come in contact with the pan. This force, pressing the beef into the hot pan gives you a better browning and sear on the burger, which ends up being more flavor. You only smash the burger at the beginning of cooking. As the burger cooks, some fat does render out of the burger, but not all of it. What is left inside gives moisture to the tasty patty. More flavor, more moisture = better.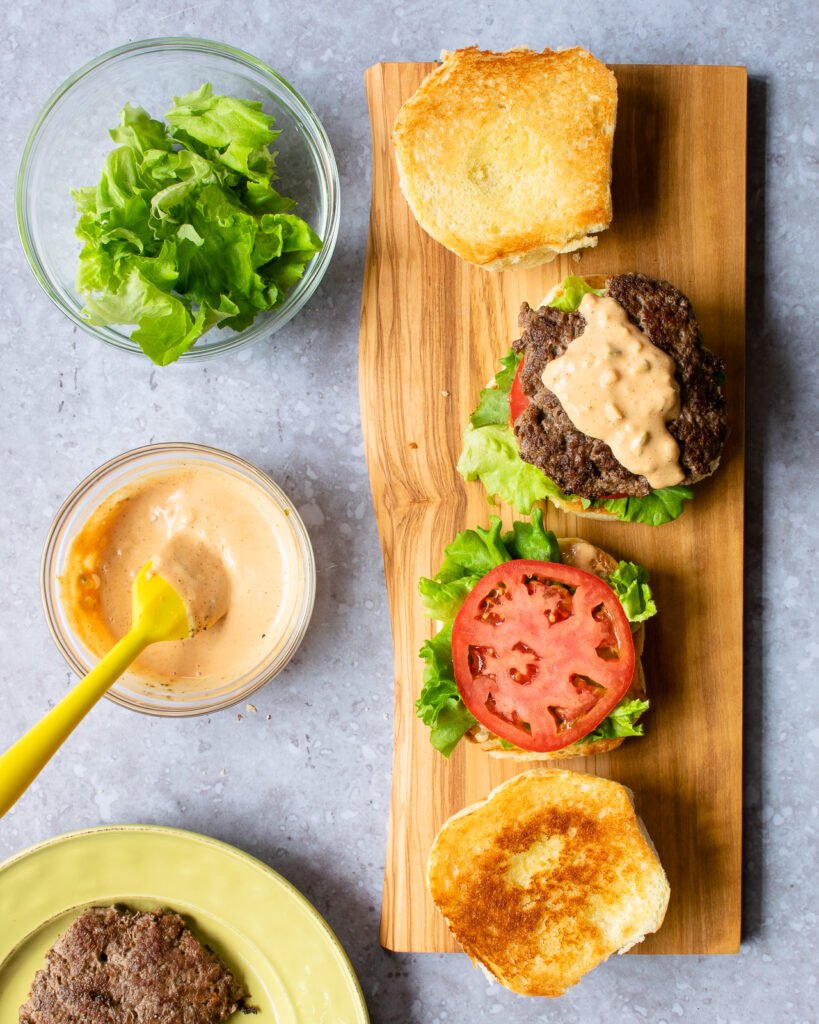 Keep Your Smash Burger Simple
The beauty of a smash burger is its simplicity. The patty is beefy and tasty, the bun is perfectly toasted, the sauce gives you all your favorite toppings at once. Don't complicate and overshadow its beauty with a ton of toppings. I'll permit you to have lettuce and tomato (and cheese if you really want it). That's it. If you prefer a gourmet burger, check out this Bacon Blue Burger or go for the Bourbon Bacon Burger or even the Inside Out Burger. But, if you're having a smash burger, just have a smash burger and relish its simple perfection.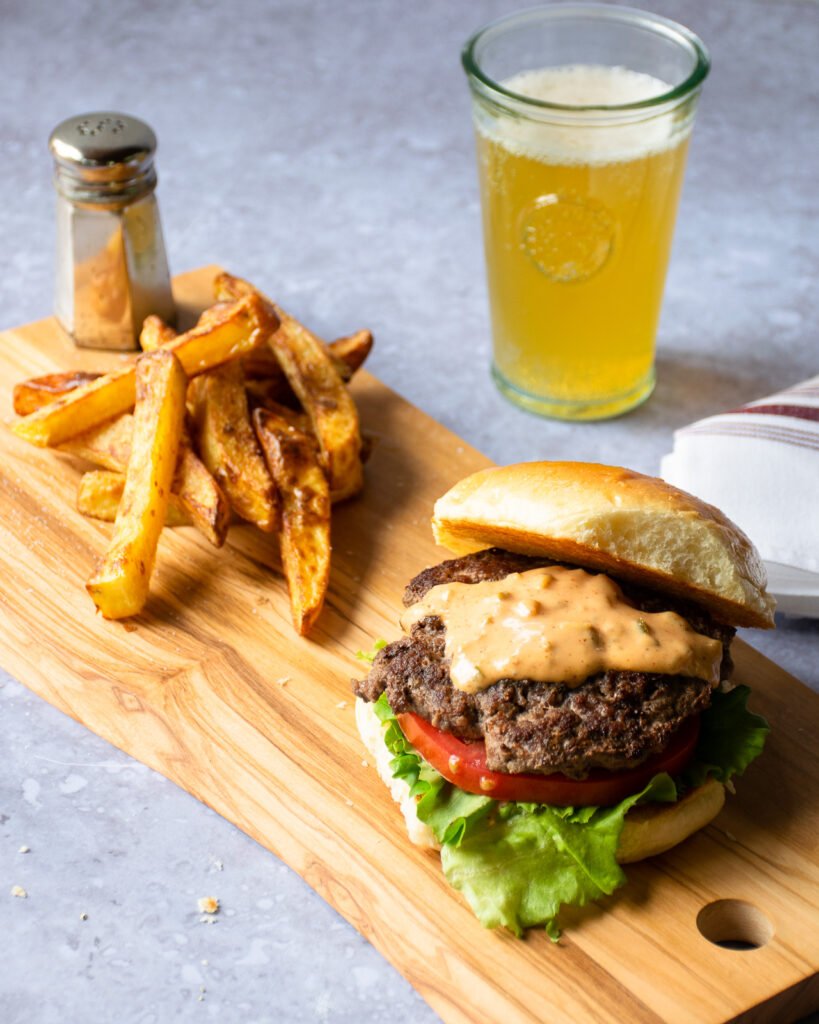 What to Serve with a Smash Burger
I know you're not helpless and know what you like to eat alongside a burger, but since the smash burger is SO quick and easy to make, I thought it might be nice to give you a few ideas for side dishes that take a little more time. You could make your own homemade French fries or potato chips, for example. If you have a little more energy, try the air-fried beer battered onion rings or make some potato salad or coleslaw if you're feeding a crowd. I'm sure you'll figure it out. 😉