What does Fra Diavolo mean?
So many food dishes have legends or stories behind their name and Shrimp Fra Diavolo is no exception. Certainly "devil" in any recipe titles usually indicates that it is spicy, so it's not a stretch to see why this hot pasta sauce is named "Fra Diavolo", but there is a more interesting story wandering around on the Internet about the name "Fra Diavolo". It turns out there was an Italian named Michele Pezza, born in the 1770s to whom this nickname "brother devil" was given. He was a guerilla leader who resisted French occupation in Naples, but his nickname was given to him in his youth, or so the story has it. As a child, he survived a serious illness and was consequently dressed as a monk and paraded with other children who had also recovered from serious illness on the patron saint day of St. Francis of Paola (the patron saint of sick children) – two Sundays after Easter. This was a tradition in Itri, a small central Italian town where Michele lived. Apparently, little Michele was a feisty child and at some point during one of these celebrations he was such a rascal that he was named "Fra Diavolo". The name stuck, as nicknames often do.
Whether Michele Pezza has any relationship to the Fra Diavolo recipe seems doubtful. In fact, experts in Italian cooking can't even agree on whether the dish is truly Italian or originated with Italian-Americans in the northeast. What can be agreed upon is that Fra Diavolo is a spicy tomato sauce that is usually served over pasta and/or seafood (especially lobster). Now, as with most recipes, the legend of "Fra Diavolo" should be taken with a grain of salt, but it might make for interesting dinnertime conversation as you gobble down this meal. 

How spicy is Fra Diavolo Sauce?
Fra Diavolo is spicy. If it's not spicy, it's not Fra Diavolo, but you can definitely temper the spiciness to suit your own tastes. My recipe calls for ½ to 1 full teaspoon of crushed red pepper flakes. I use ¾ teaspoon and find it spicy enough without making me want to fill my mouth with cotton balls. You could add less, or you could add more.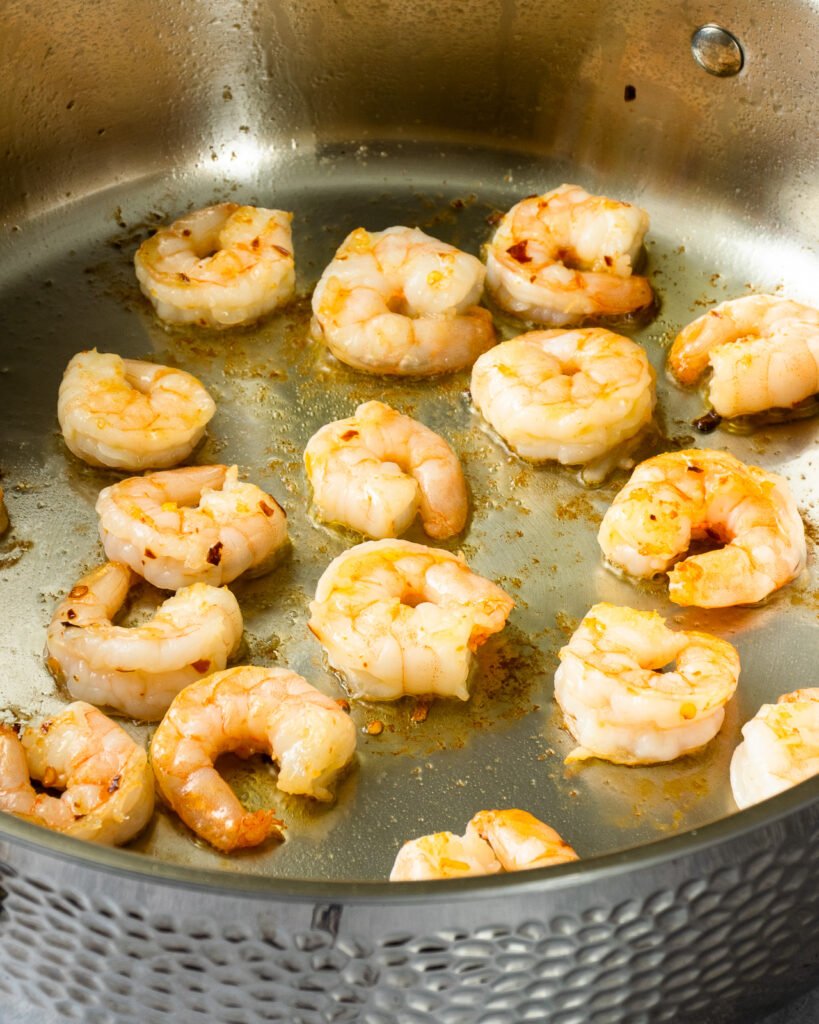 How to Make Shrimp Fra Diavolo
Whenever you're cooking a dish with shrimp, the goal is to not over cook them. Shrimp cook very quickly and smaller shrimp cook faster than larger shrimp. This recipe calls for large shrimp, which means you should have 31 to 40 shrimp per pound. If you're cooking for 2 really hungry people, half a pound of shrimp should be plenty and that would give you about 8 to 10 shrimp per person. If you're serving 3 people with half a pound of shrimp, you'll each get about 6 or 7 shrimp. You can easily add more shrimp if you like. However many you cook, do it quickly in a hot pan and remove them from the pan as soon as they look like they might be fully cooked in another minute. That means, sear them on each side for a minute at most and then remove them to a side plate. They will get a little more time in the sauce at the end, so be sure to not overcook them in this beginning stage.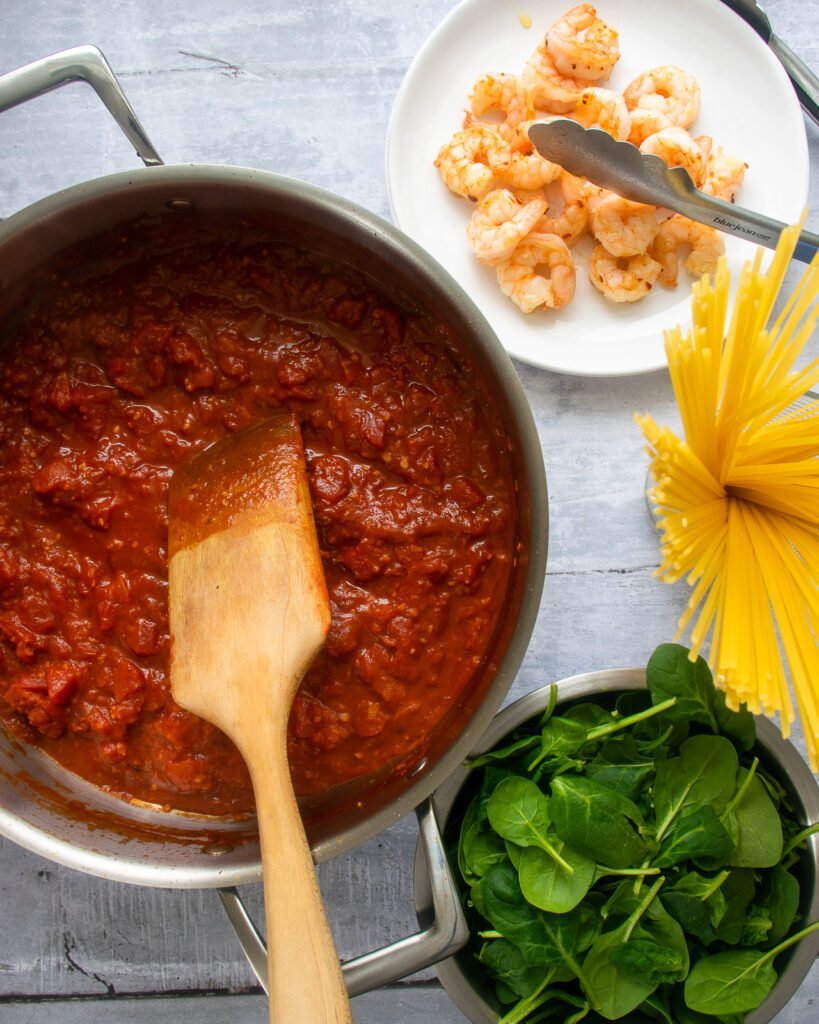 Variations of Fra Diavolo Pasta
Fra Diavolo sauce is most traditionally served with lobster, so Shrimp Fra Diavolo is already a variation of the dish, but I've taken it one step farther. This recipe adds some spinach to the sauce at the very end, which I think gives it nice color and adds some green vegetable to the dish. You could omit the spinach and keep it traditional, or you could add different ingredients to the sauce instead of the spinach. If you want to stretch the meal to serve 4 people, try adding some mussels or clams (steaming them open in the sauce before returning the shrimp to the pan) or stirring in some chickpeas or white beans. You could also vary the type of pasta you serve with the sauce if you like. The world is your oyster… but don't add oysters.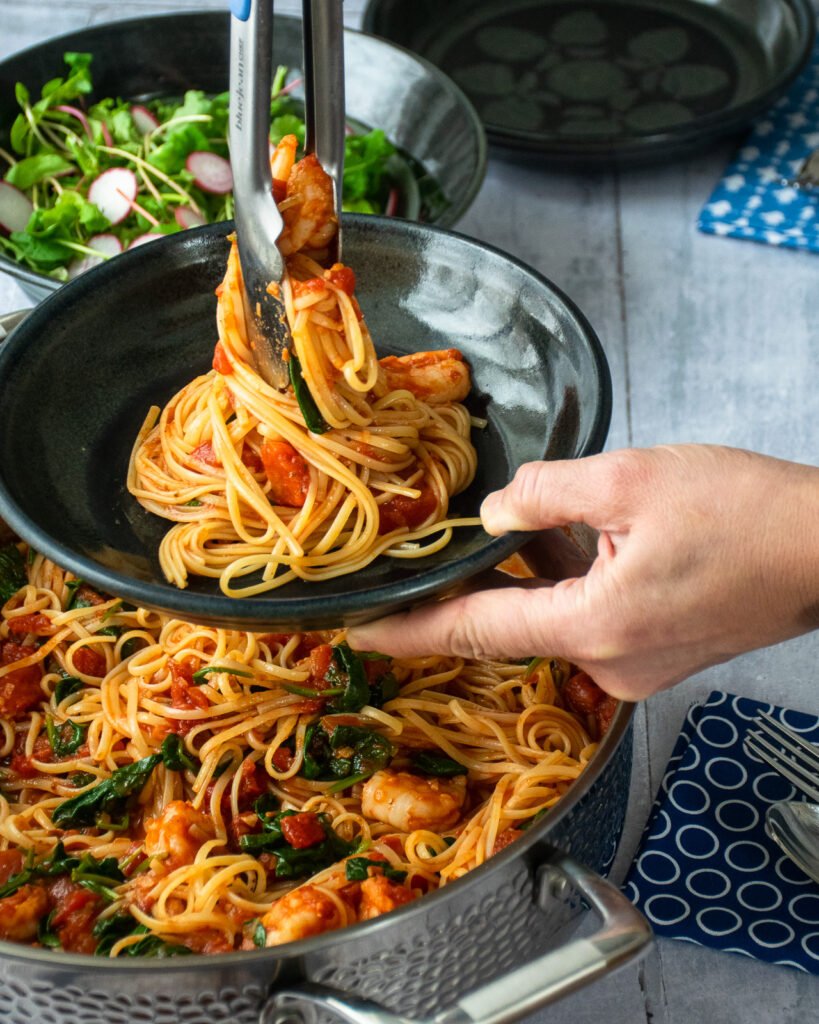 What to Serve with Shrimp Fra Diavolo
As we've mentioned, this is a spicy dish and it's always nice to have something to cool your mouth when you're eating spicy foods. Contrary to what we reach for most often to put out a fire inside, water and liquids don't do the job. Try serving this with some crusty bread. That will help sooth your mouth if you've made the sauce overly spicy or it can be a perfect vessel to scoop up any remaining sauce when you realize you can't get enough of it. It's also nice to have a cool crisp green salad with Shrimp Fra Diavolo, so toss some beautiful greens in a bowl or go for a salad with enough flavor to stand up to the sauce, like a Caesar salad.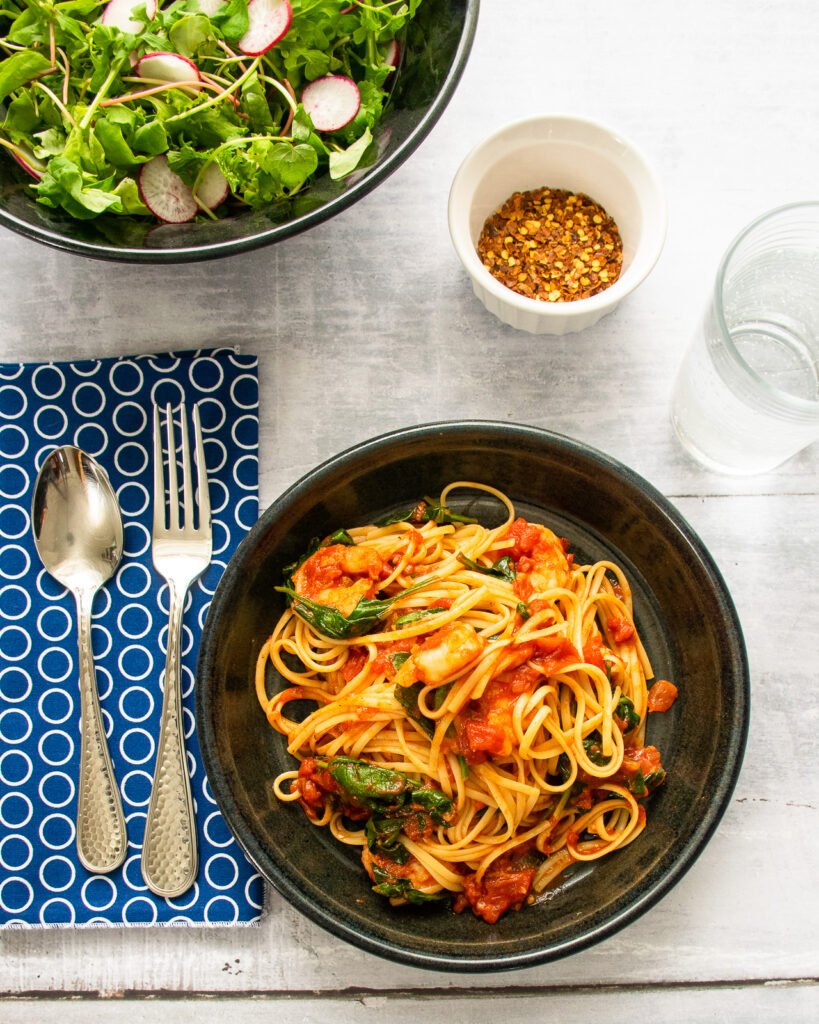 What Wine goes with Fra Diavolo?
Even though it won't cool down your mouth, it is nice to have something to drink with Shrimp Fra Diavolo. If you like white wine, a Pinot Grigio would be perfect – it has a citrusy flavor and great acidity. If you're a red wine drinker, try a fruity Chianti or a Primativo (also known as Zinfandel), whose lighter body and fruity spiced flavors will compliment the spicy pasta nicely. You could even have the best of both worlds and go for a rosé wine with this dish. Just don't expect the wine to ease that tingling heat!