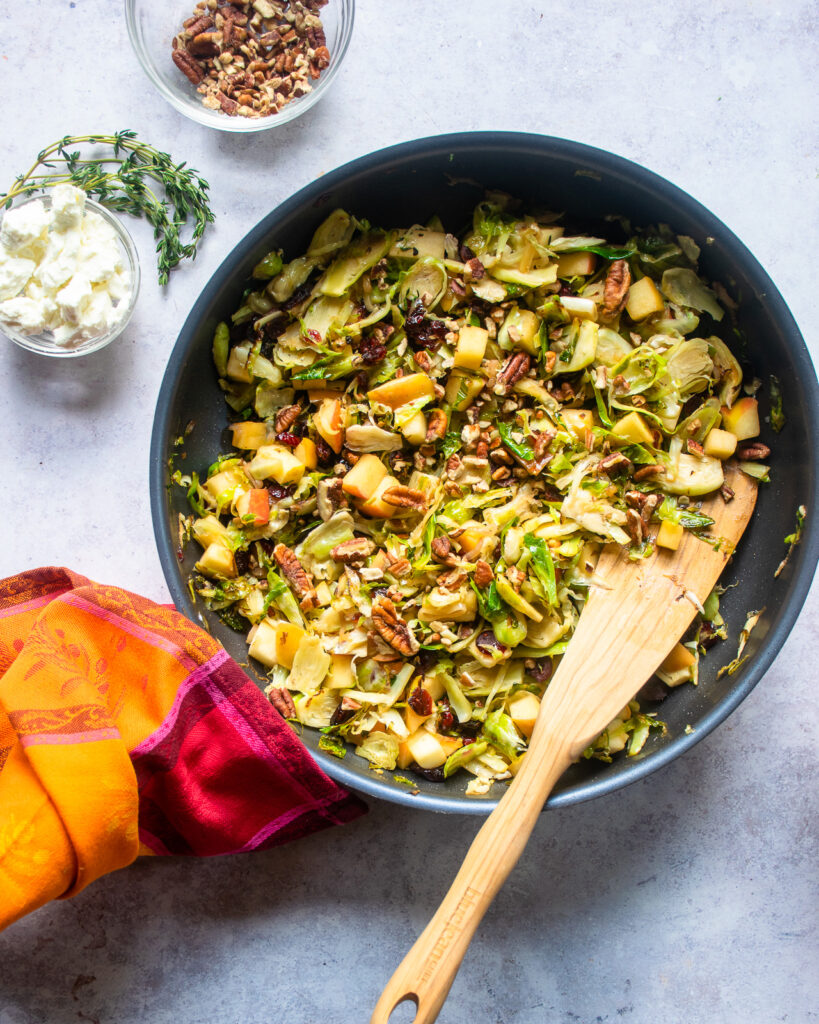 Advantages of Shaved Brussels Sprouts
I'm a big fan of Brussels sprouts, but I know they are probably the most polarizing vegetable there is. Some people cringe just at the mere suggestion of the little cabbage. I'm not going to say crazy things like "by shaving the Brussels sprouts all those Brussie-haters will suddenly fall in love with their most hated vegetable", but I will say that shaved Brussel sprouts are just a little more palatable and deliver an entirely different experience to the traditional boiled and buttered sprouts. Shaved Brussels sprouts are also easier to mix with other ingredients, like dried cranberries, apples, herbs, shallots, nuts and even bacon (no bacon in this recipe, but you will find a recipe with bacon here). And if those reasons weren't enough to convince you to try this recipe, shaved Brussels sprouts are also quicker and easier to cook. 

How to Shave Brussels Sprouts
There are two ways to shave Brussels sprouts. You can brush up on your knife skills and use a good sharp chef's knife, slicing the thinnest slices you can. If you're making this for a crowd or don't feel confident in your knife skills, you can also use a mandolin or V-slicer to thinly slice each sprout. Either way, trim off the brown root end and discard any blemished and browned sprouts before slicing the Brussels sprouts.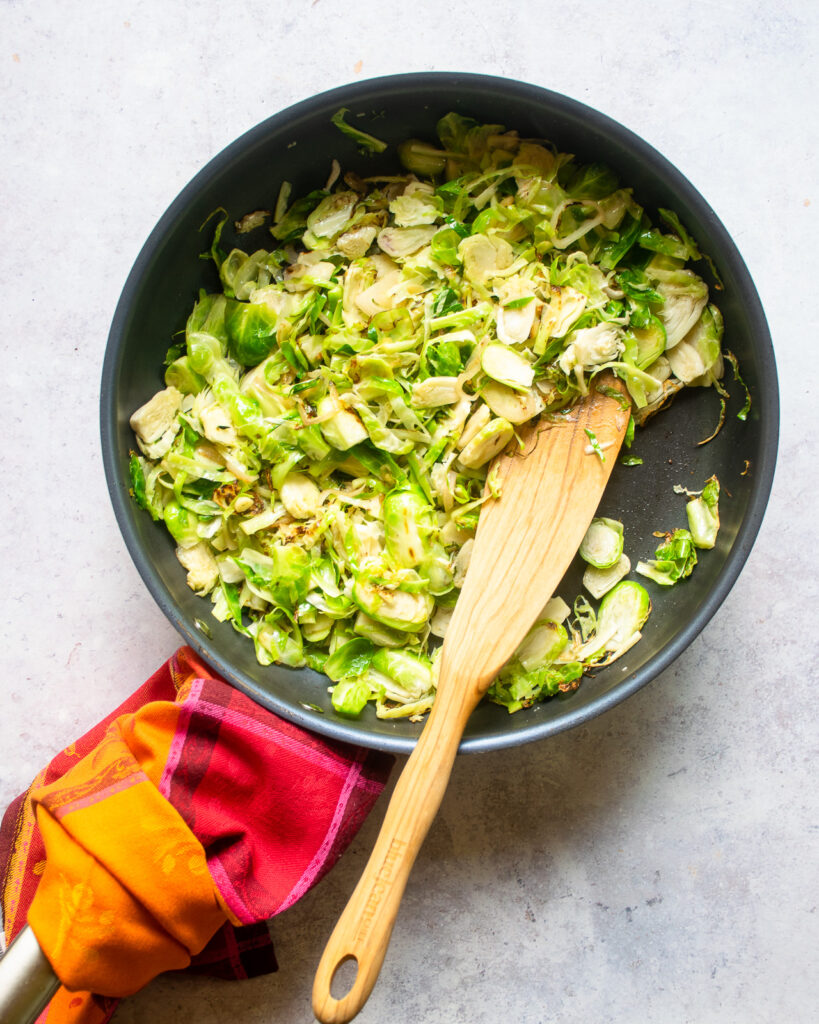 Cooking Shaved Brussels Sprouts
You can sauté the Brussels sprouts in olive oil or butter, or a mixture of the two which delivers the flavor of butter, but the higher heat resistance of oil. They take under 10 minutes to cook from start to finish, and you add the other ingredients along the way.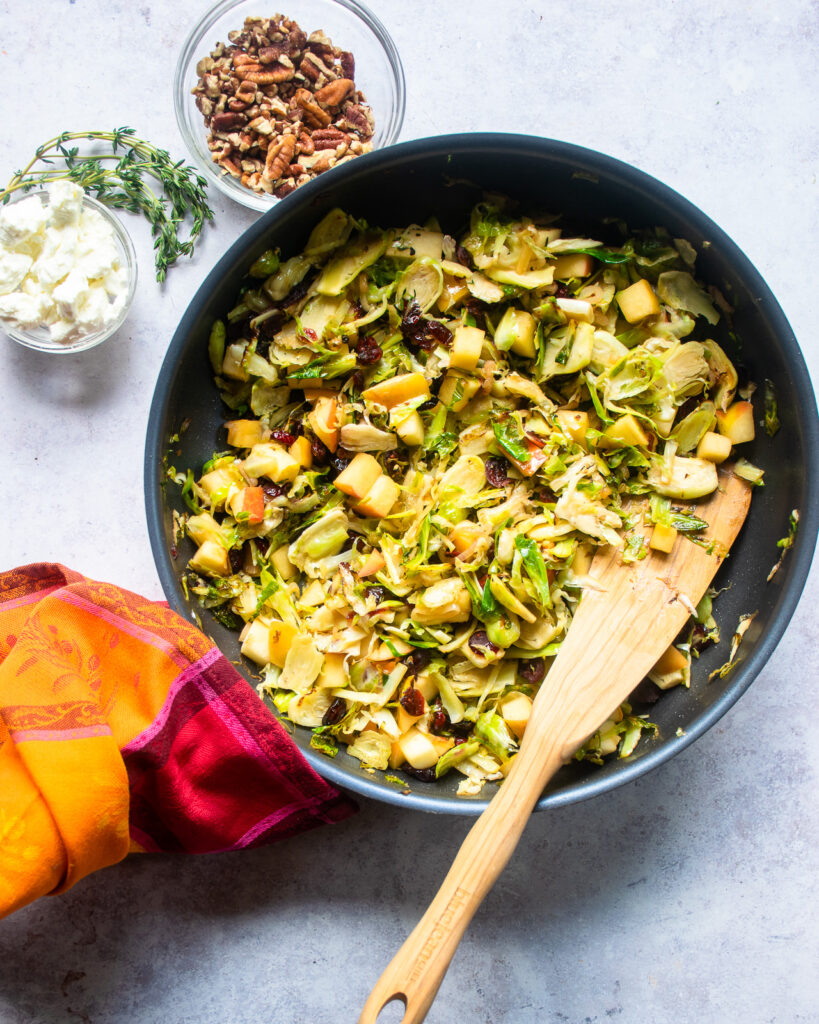 Adding Fall Flavors
While of course you could add whatever vegetables you like (think sautéed butternut squash, pistachios, etc..), this recipe combines the fall flavors of apples, dried cranberries and pecans. All of these flavors make this a perfect side dish for the Thanksgiving table, but it needn't be limited to just that one day. Tossing with white balsamic vinegar and a little honey sweetens the pot (literally) and then the soft, creamy goat cheese is a delicious option at the end. What you end up with is quite different from a bowl of boiled and buttered Brussels sprouts!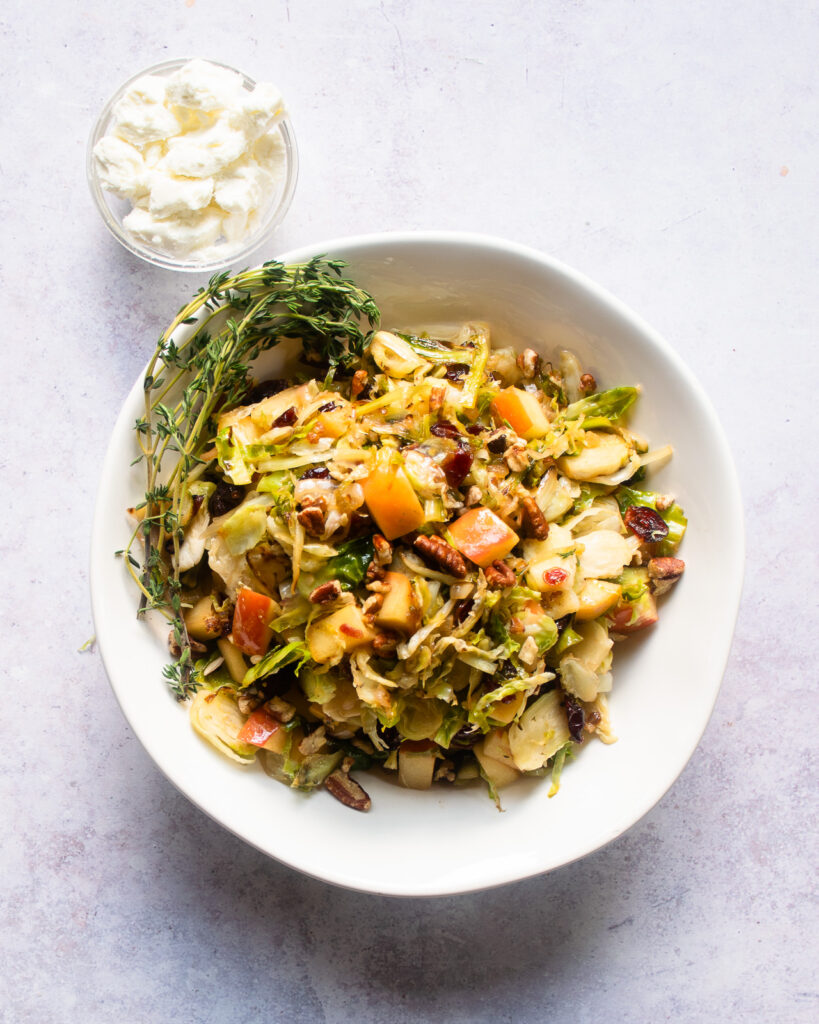 How to Make Ahead
If you do decide to make this for a holiday meal, chances are you'd like to do as much ahead of time as possible. While I don't recommend actually cooking the sprouts ahead of time, you can definitely prep this entire dish ahead. Shave the Brussels sprouts, slice the shallot, chop the pecans and measure the vinegar and honey. You could chop the apple ahead of time, but it might brown a little – honestly not a big deal since you're sautéing the apple with the Brussels sprouts anyway.  I know you might have hoped to make the entire dish ahead, but it only takes 10 minutes and is delicious when made right before serving.