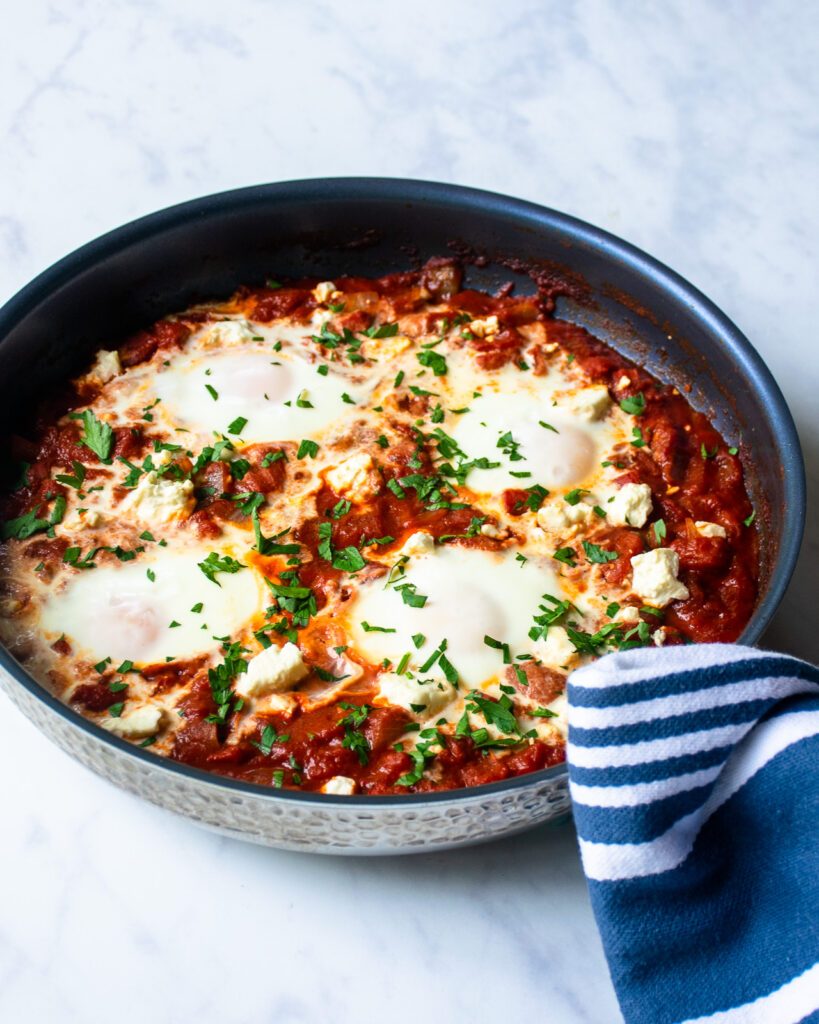 What is Shakshuka?
Shakshuka is a Middle Eastern or North African savory egg dish that lends itself to any meal of the day. This is a meal where eggs are baked or poached in a spicy tomato sauce. It is one of the easiest and most satisfying one-pan meals that you can make with ingredients you already have in your fridge and pantry. As such, it qualifies as the perfect meal to make in a pinch whether that be for dinner, lunch, brunch or breakfast.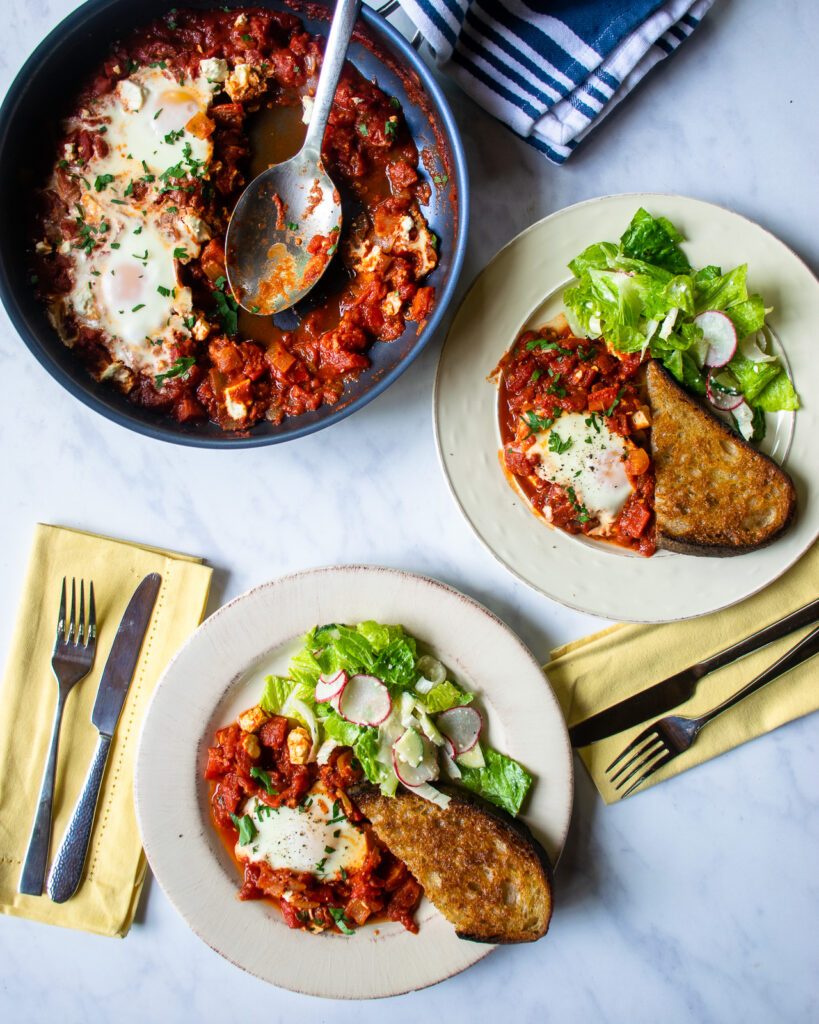 How to Make Shakshuka
When making shakshuka, the first task is to make the spicy tomato sauce. In my recipe the sauce is not your regular marinara, but a tomato sauce that is seasoned with spices and chili flake and enhanced with roasted red pepper, but you really could add a number of different ingredients if you like. You'll see some substitution suggestions below. Make this spicy sauce in a large skillet and let it simmer for just 10 minutes. Then, crack in the eggs, sprinkle with some cheese (if you like) and transfer the pan to the oven to bake the eggs. Alternately, you could cover the pan with a lid and let the eggs poach in the tomato sauce. When the eggs are cooked to your liking – some like the yolks runny, others prefer a firm yolk – simply serve and enjoy.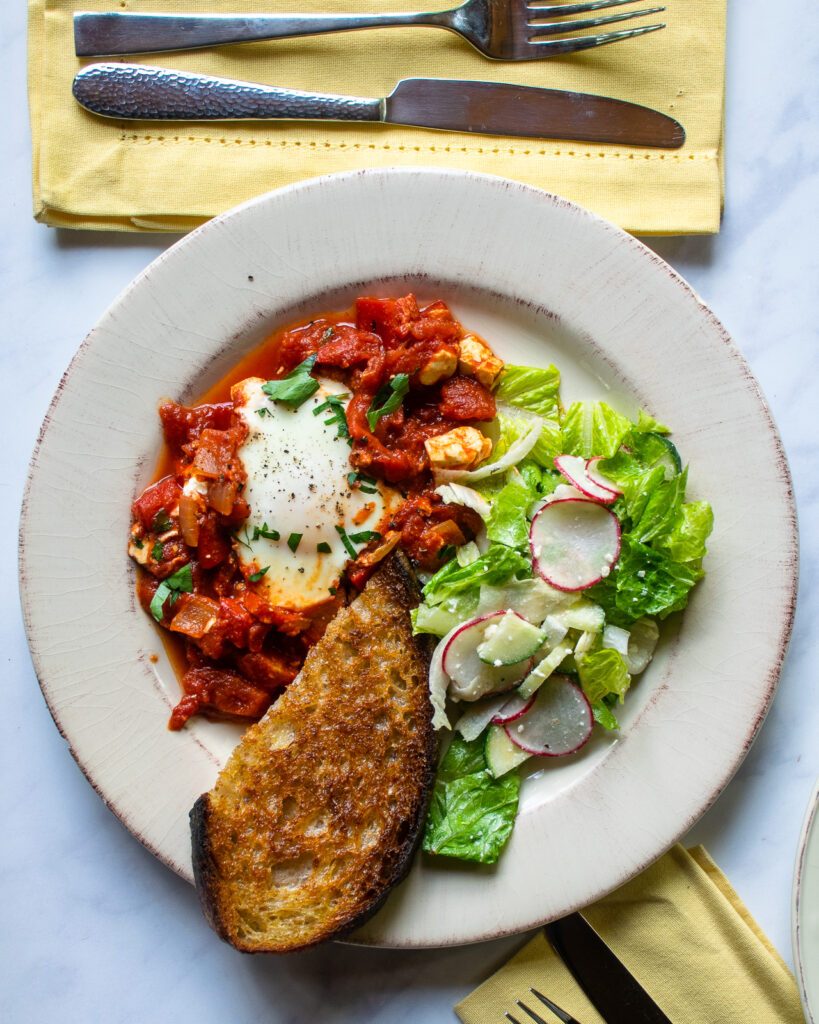 What to Serve with Shakshuka
I like Shakshuka with some grilled, fried or toasted bread and a simple side salad. For me, that covers all the bases. I can spoon the Shakshuka onto the bread, or I can use the bread to mop up any leftover sauce. The bright crisp salad provides a nice compliment to the spicy sauce. Honestly, just writing about Shakshuka makes me want to get into the kitchen to make some.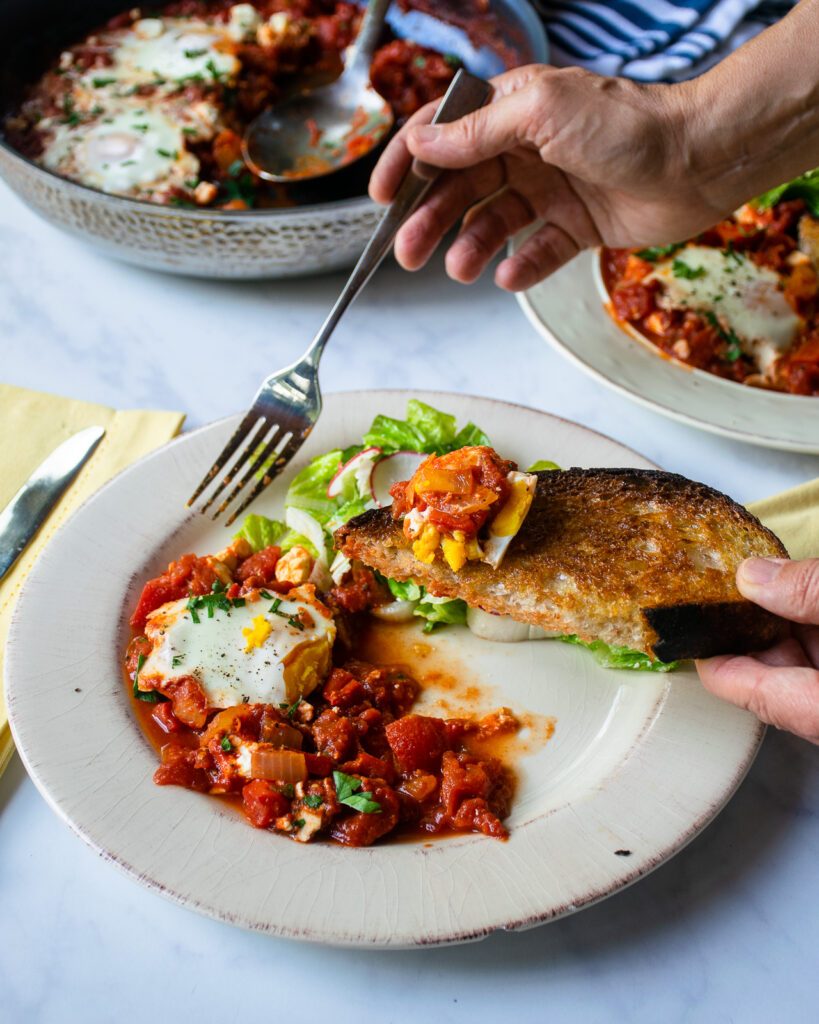 Ingredient Substitutions
I mentioned above that you can make Shakshuka with ingredients you already have in your house, so let me offer some suggestions should you not have one of the ingredients in the recipe:
No roasted red peppers? You could leave them out or sauté a fresh bell pepper with the onion until soft. OR… you could add any vegetable that you might have on hand. Diced zucchini or eggplant would be nice. Fennel would offer another flavor that would be tasty. Corn kernels would add color. The options are endless.
No cumin? Try ground coriander for something similar, or add a different flavor with some caraway seed or fennel seed.  
No paprika? Chili powder or smoked paprika would be nice.
No chili flake? If you have no chili flakes, you could add minced fresh Jalapeño, or go with chili powder – as much as you like depending on how spicy you like your foods. 
No feta cheese? You could leave the cheese out, or you could substitute some greated Cheddar or crumbled goat cheese, or any cheese that you like. Make it your own!
The two ingredients you can't substitute are tomatoes and eggs, although there are such things as a green shakshuka… but we'll leave that for another time!