The Best Use for Leftover Salmon
It's not often that I have leftover salmon kicking around, unless I've cooked a whole side of salmon (as is the case with one of my most popular recipes – the baked salmon with horseradish crust), but when I do, making this salad is a real treat. But you don't have to have leftover cooked salmon to make this recipe. Salmon salad is so easy to put together that taking an extra 10 to 15 minutes to cook fresh fish specifically for this recipe is definitely worth it. Salmon salad is a very good way to use up any odd shaped pieces of salmon too, should you buy a whole side of salmon to cut up yourself.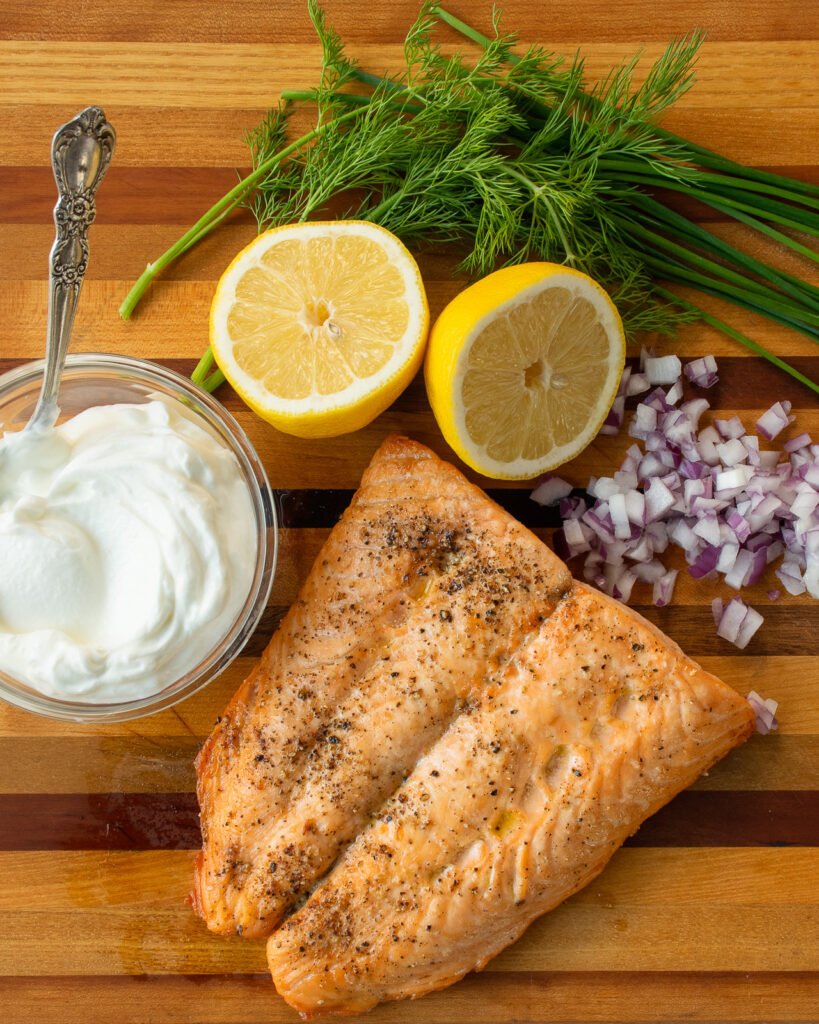 How to Cook Salmon for Salmon Salad
The very easiest way to cook salmon for this recipe is to air fry it. You can read all about how to quickly air-fry a fillet of salmon here. It will only take 10 to 12 minutes and there's very little clean up to do afterwards. If you don't have an air fryer, you can also quickly pan-fry salmon. Either way, fish cooks very quickly and you'll have your main ingredient in no time. For this recipe, start with one pound of raw salmon and then cook it with your preferred method.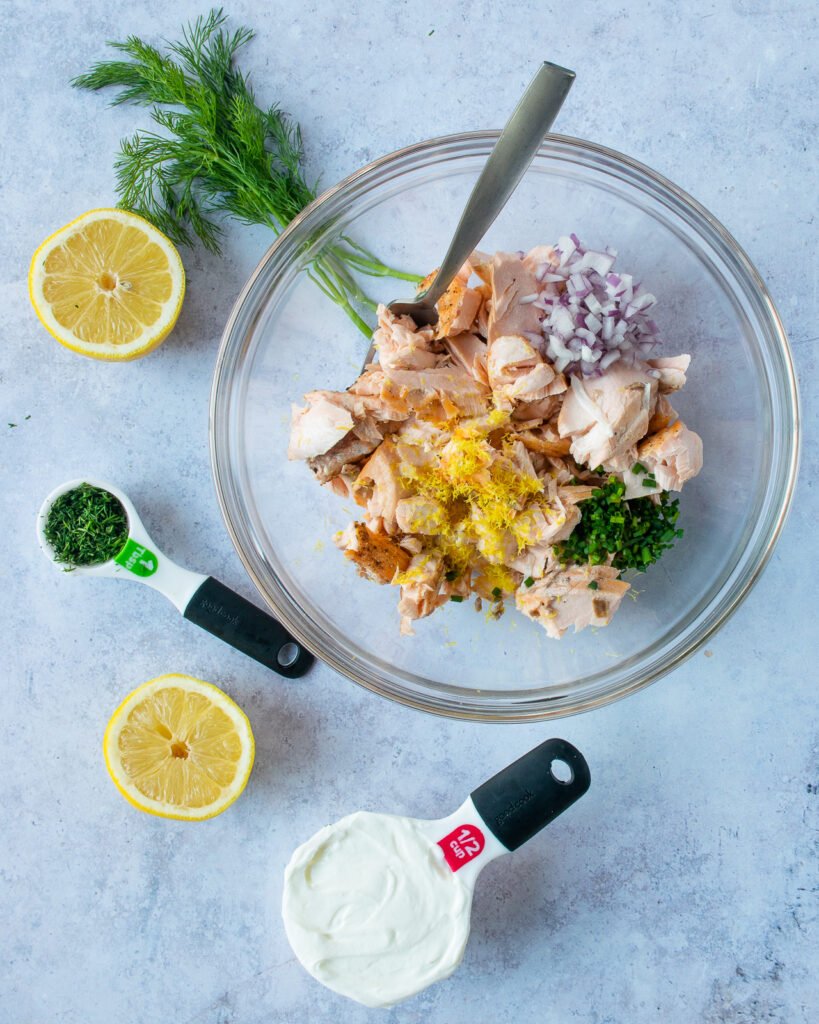 Canned Salmon for Salad Salmon
To be completely honest, I much prefer fresh salmon over canned for this salad. The texture of freshly cooked fish is more tender than canned salmon and you're able to season and flavor it the way you like when you cook it yourself. Having said that, if there is a brand of canned salmon that you like, you can certainly substitute about 12 ounces of canned salmon for the fresh salmon in this recipe.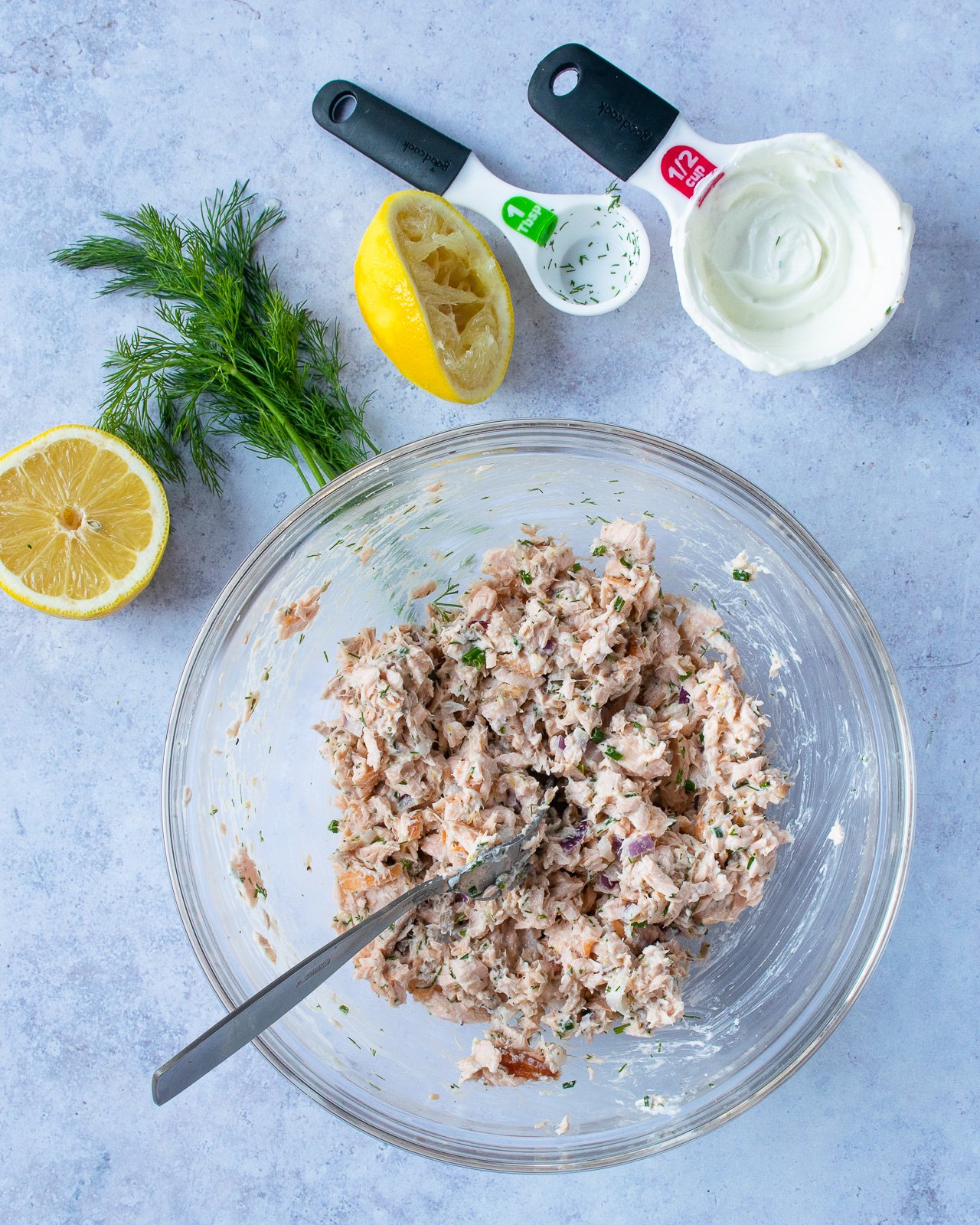 Yogurt Dressing for Salmon Salad
Tuna salads are almost exclusively made with mayonnaise, but this salmon salad recipe uses yogurt for a lighter, tangier result. The Greek yogurt blends with lemon zest and juice, fresh dill, fresh chives, salt and pepper to create a nice light dressing. There's no need to make the dressing on the side – just mix all the ingredients together in the bowl. The only other ingredient in the salad is red onion for a little bite. Speaking of that bite…whenever I add raw onion to a recipe, I like to soak it in cold water first. Soaking the minced onion for about 20 minutes takes away some of the harsh flavor of the onion and makes the flavor more palatable to me. If onions tend to bother you digestively, this is a great trick to have in your back pocket. If you love the flavor of raw onion, you can certainly skip this step and just stir it into the salad.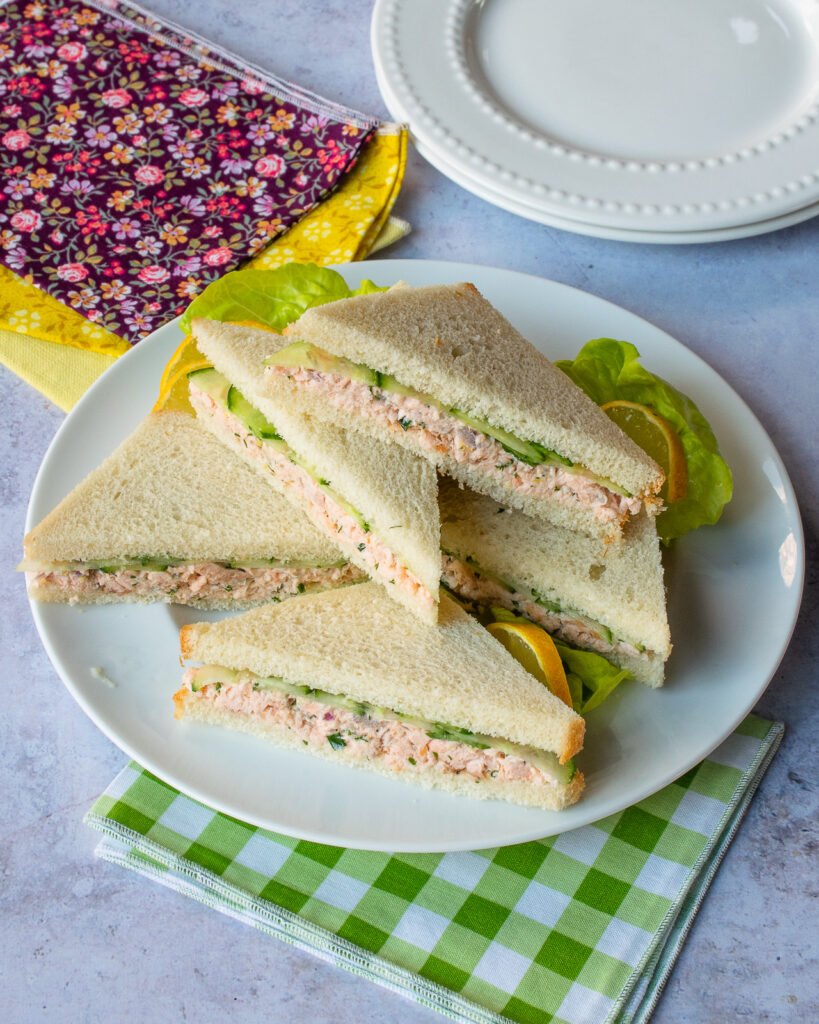 Salmon Salad Cucumber Tea Sandwiches
You can serve this delightful salad over some butter lettuce or with some water crackers, but it also makes perfect little tea sandwiches on thinly sliced white bread with the crusts cut off. A little cucumber for crunch makes it perfect.