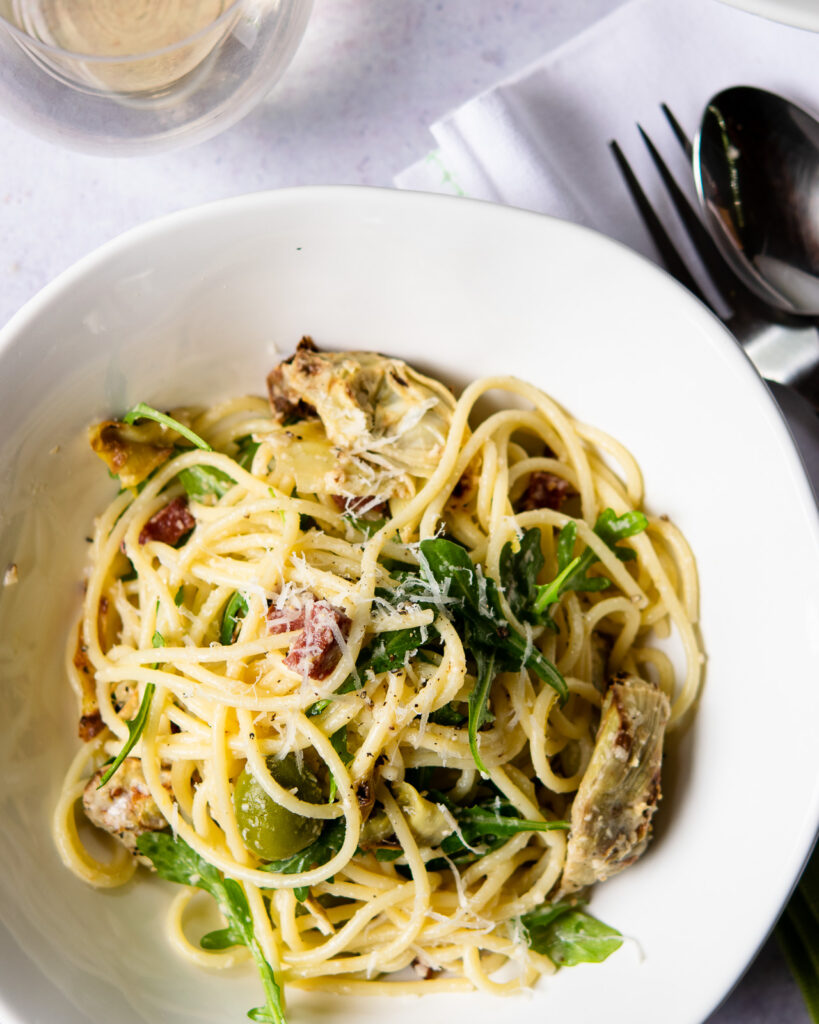 Quick and Easy Weeknight Pasta
When I'm at a loss for what to make for dinner (it happens!), I often make a pasta. But for me, pasta does not mean spaghetti with marinara sauce (although I do love that). Pasta is just the blank slate for whatever you have in the house that goes nicely together.  That's exactly what the flavors in this lemon pasta with salami, green olives and roasted artichokes do – they go so nicely together. Throw some Parmesan cheese, lemon zest and juice and arugula into the mix, and you have a pasta that is restaurant worthy.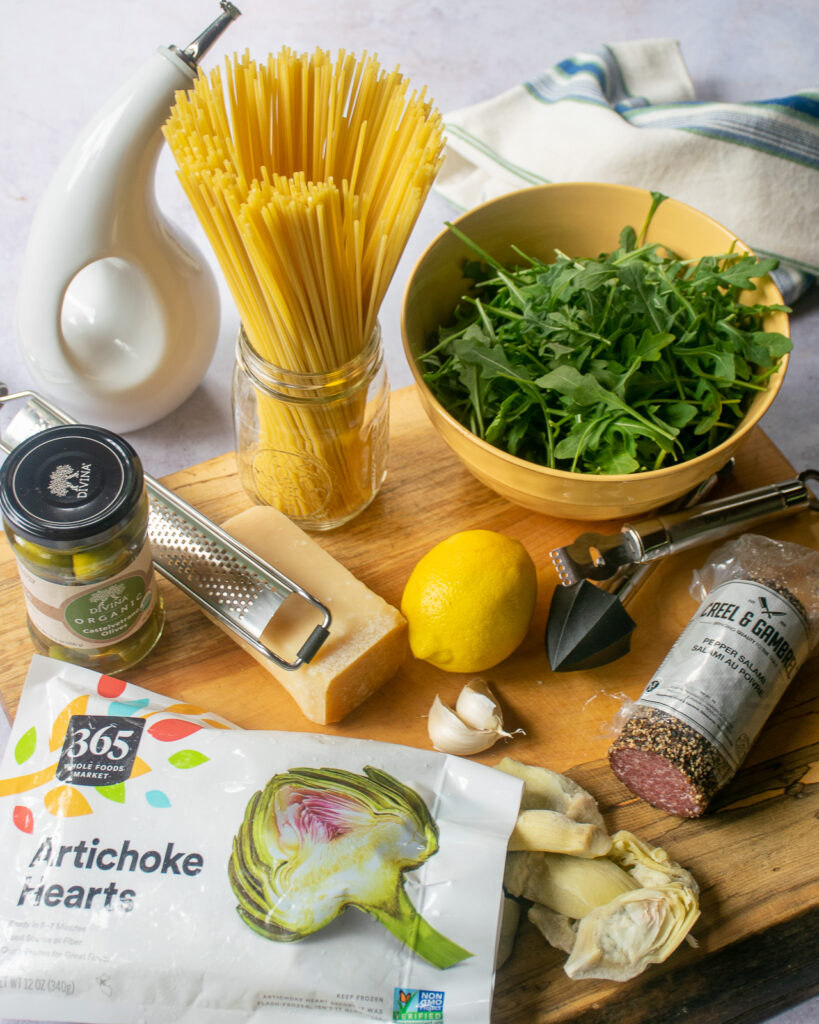 Ingredients for Lemon Pasta
I've said it before and I'll say it again… your dinner can only be as good as your ingredients. So, make sure you buy good ingredients for this pasta dinner. I use my favorite pepper salami, delicious Casteltravano green olives, real aged Parmigiano-Reggiano cheese and frozen artichoke hearts. Frozen artichoke hearts are super easy to work with – just defrost, toss with oil and roast in your oven or air fryer. If you can't find frozen artichoke hearts, you can use canned or jarred hearts. Just make sure you dry them as well as you can with paper towel before oiling and roasting.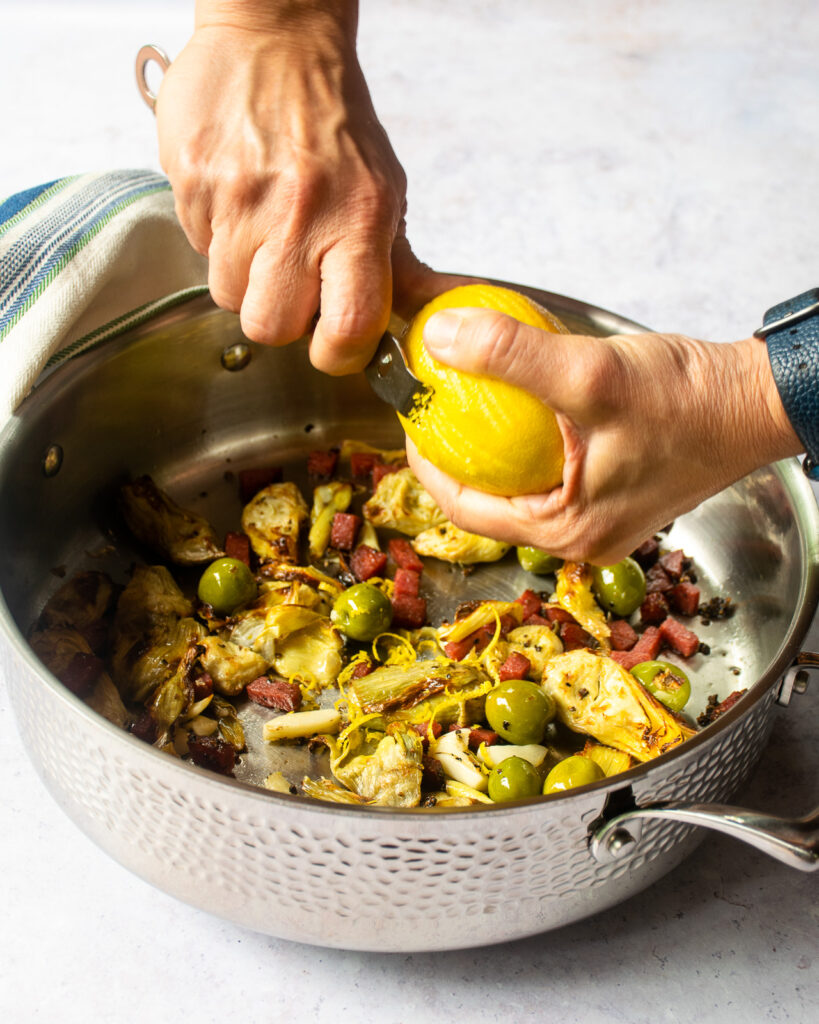 Zesting Lemon
Most people zest with a microplane these days, and while that does remove the zest (just the peel and not any of the white pith) from the lemon, the little pieces of lemon zest are so small that they disappear from view. You still get the flavor of lemon, but with a traditional zester (the one in the photo happens to be a part of my 8-piece gadget set) you get pretty strips of lemon that enhances the look of the dish. I go for a traditional zester as often as I can and save the microplane for grating the Parmesan.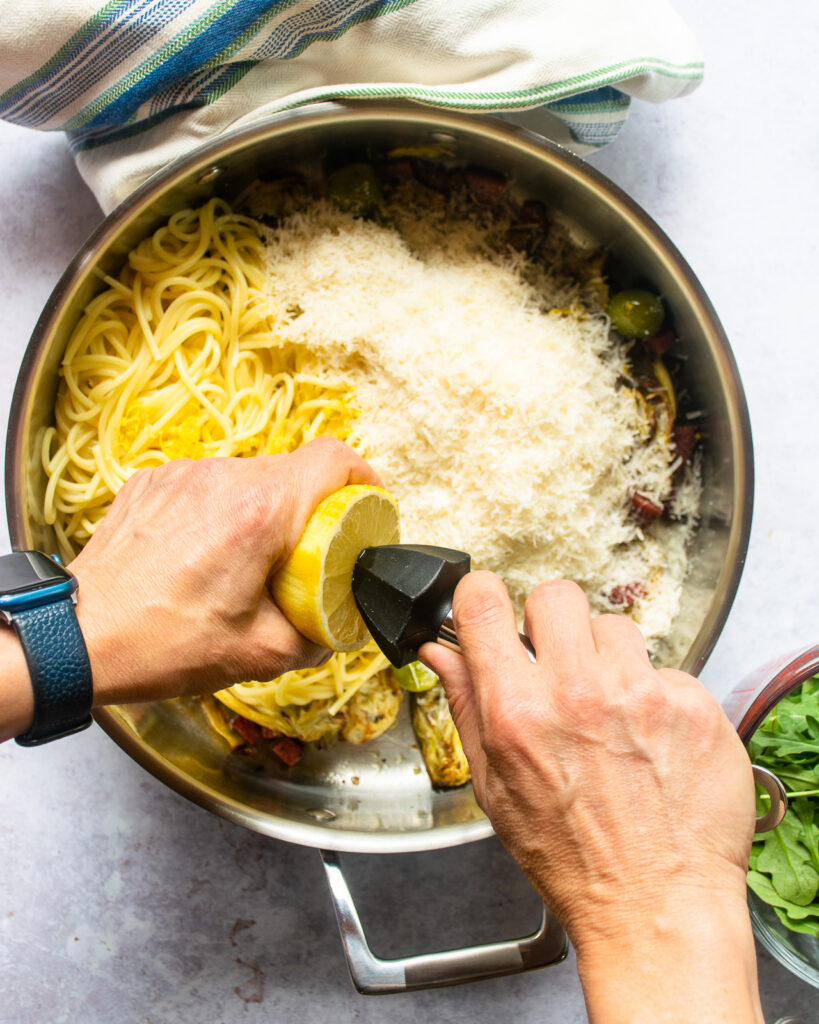 Juicing Lemon
The same goes for juicing a lemon. I'm always astonished at how expensive a lemon can be in relationship to how quickly you use it up! For that reason, I like to get ALL the juice out of the lemon. The best way to do that is to resort to the traditional tool for the job – a reamer (also a part of my 8-piece gadget set).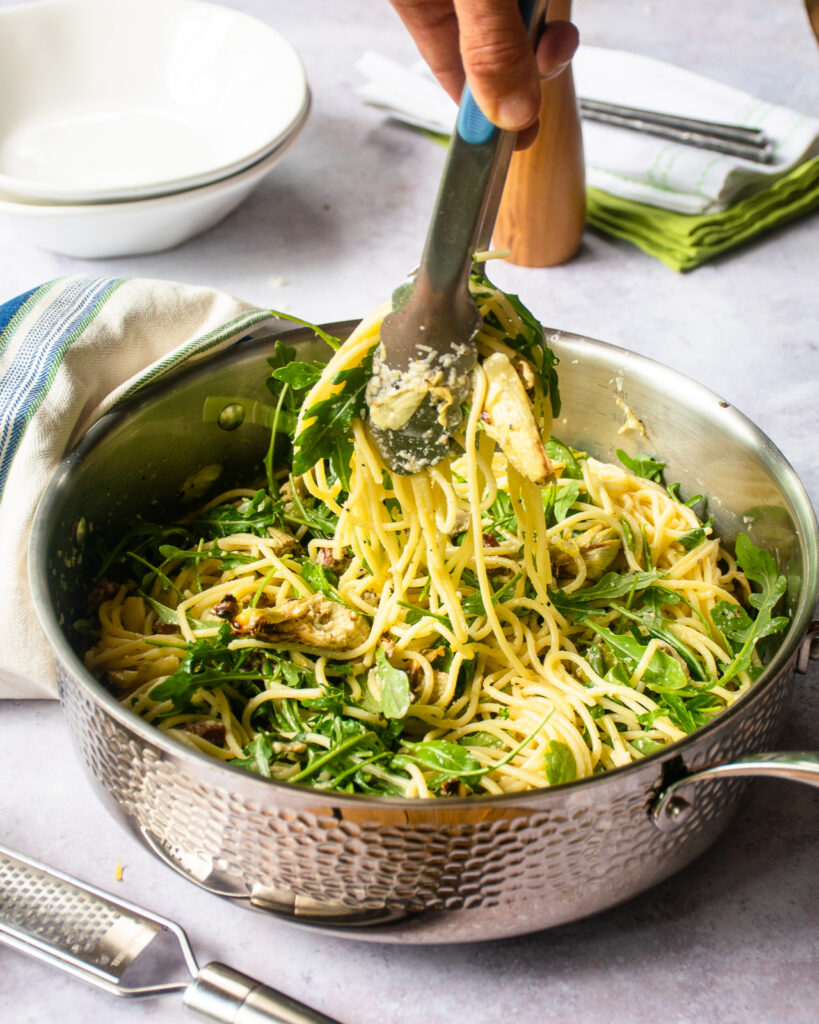 Serving Pasta
I have two tips for you when serving your pasta. First of all, always try to remember to reserve a cup of pasta so that you can thin the pasta as needed. Pasta continues to absorb liquid once it's out of the pasta water, so having a little extra is always a good idea. Secondly, use a pair of tongs to pick up the spaghetti and then as you put it into the pasta bowl, turn the bowl one way while you turn your tongs in the opposite direction. That will give you a nice high pile of pasta, which is more atractive on the plate (or in the bowl!).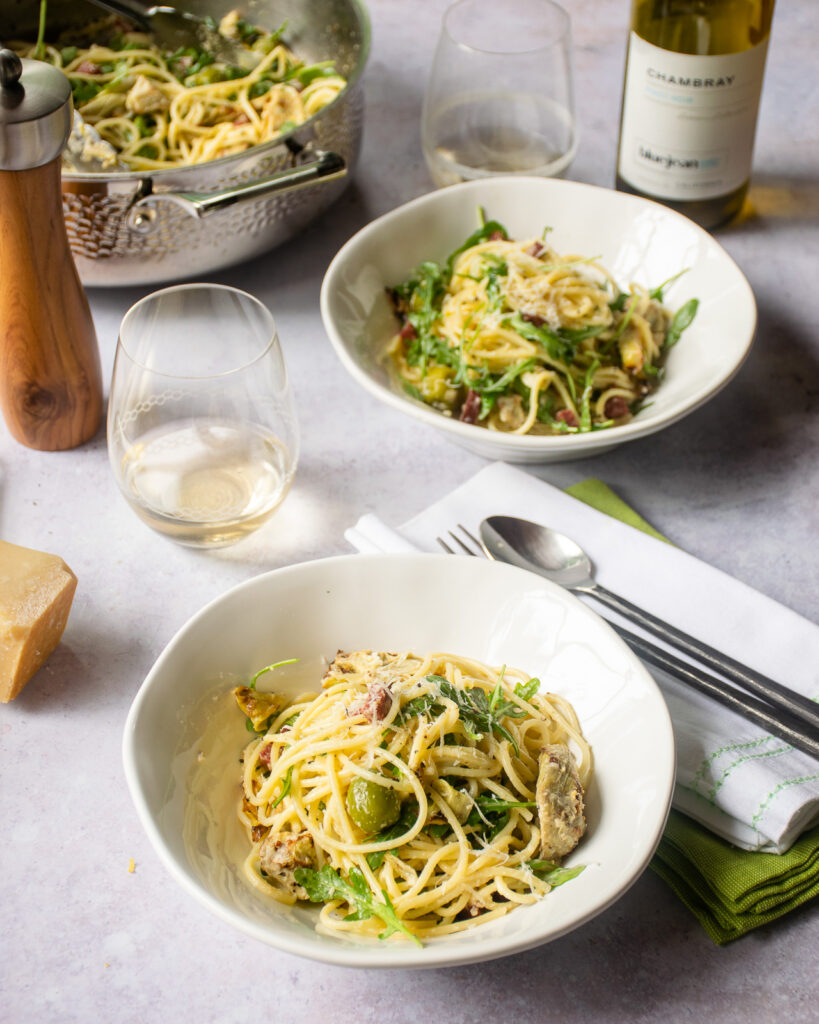 Try it!
Now, if you've read this far, you're probably pretty interested in the recipe and I don't have to convince you to try it. But… if you're still on the fence because some of these ingredients are unfamiliar to you, I'm here to implore you to give this lemon pasta with salami a whirl. The combination of these flavors is one of my favorites and if they happen to be new to you then I'll give you extra bonus points for bravely giving it a try.