This recipe for Italian BLT Paninis was sponsored by Mission Foods® and uses Mission Foods® Gluten-Free Spinach Herb Tortillas making this recipe a perfect gluten-free lunch.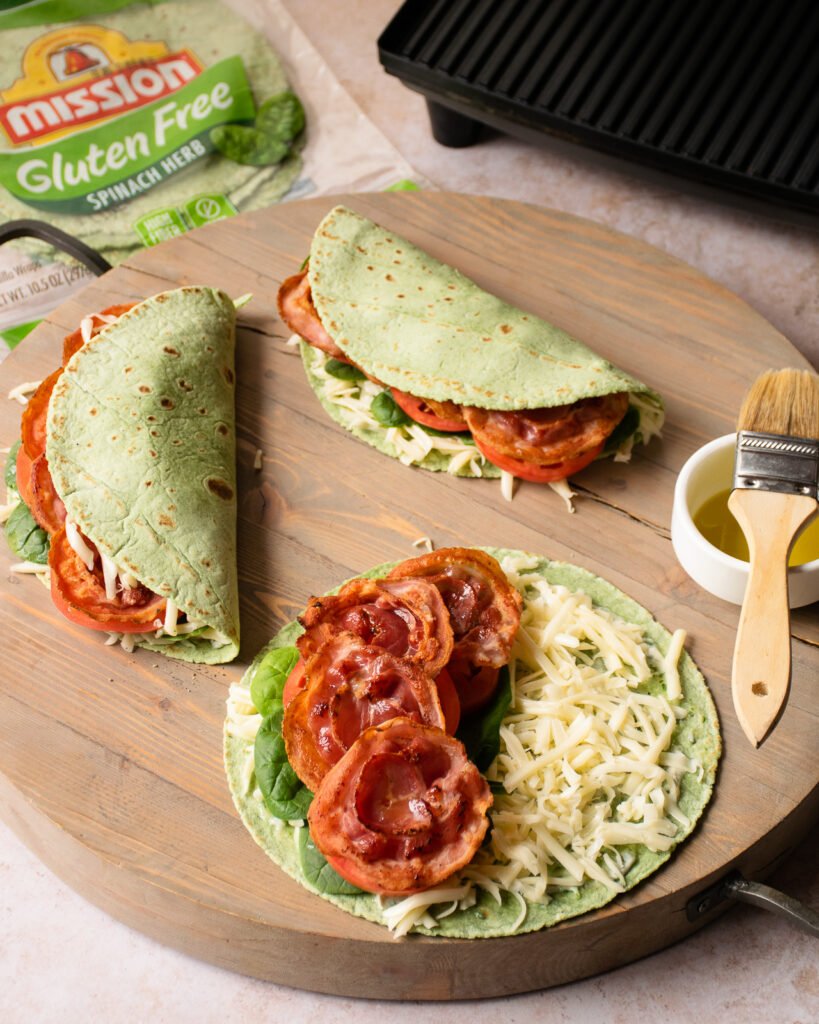 It's fun to take a favorite food, or in this case a sandwich, and put a few twists on it to make it your own. I love a good BLT, but when you're looking for a gluten-free option, most breads fall out of the picture. Enter the gluten-free tortilla. Mission Foods® has always made great flour tortillas, so it's no surprise that they are now making delicious gluten-free tortillas. For this BLT twist, I grabbed spinach and herb tortillas which prompted me to use spinach inside instead of lettuce. Then, instead of using bacon, I went with Italian pancetta (similar to bacon except that it is not smoked and is rolled before being sliced so it comes in nice circles). I kept the tomato the same, but added Fontina cheese to the mix to glue all the ingredients together as I grilled it. It comes together as a fusion of different lunch favorites – part BLT (or should we now say "PST"!), part panini, part quesadilla – and is so very tasty.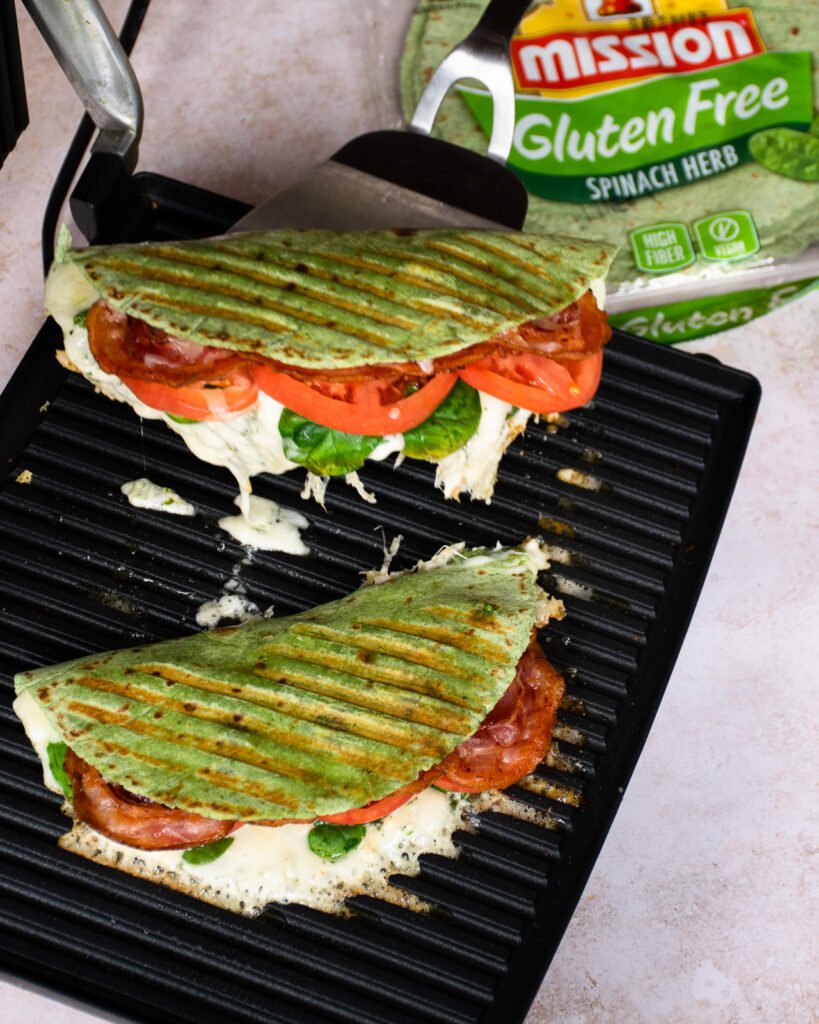 If you have a panini maker, this is quick and easy. Since the panini maker will grill from bottom up, as well as top down, you don't even need to flip the sandwich over as it toasts. Rest assured, however, that you can make this with a grill pan on the stovetop very easily as well. Just remember that you will need to flip the panini to grill the other side. A weighted bacon press will also speed up the process and make sure you get nice even grill marks.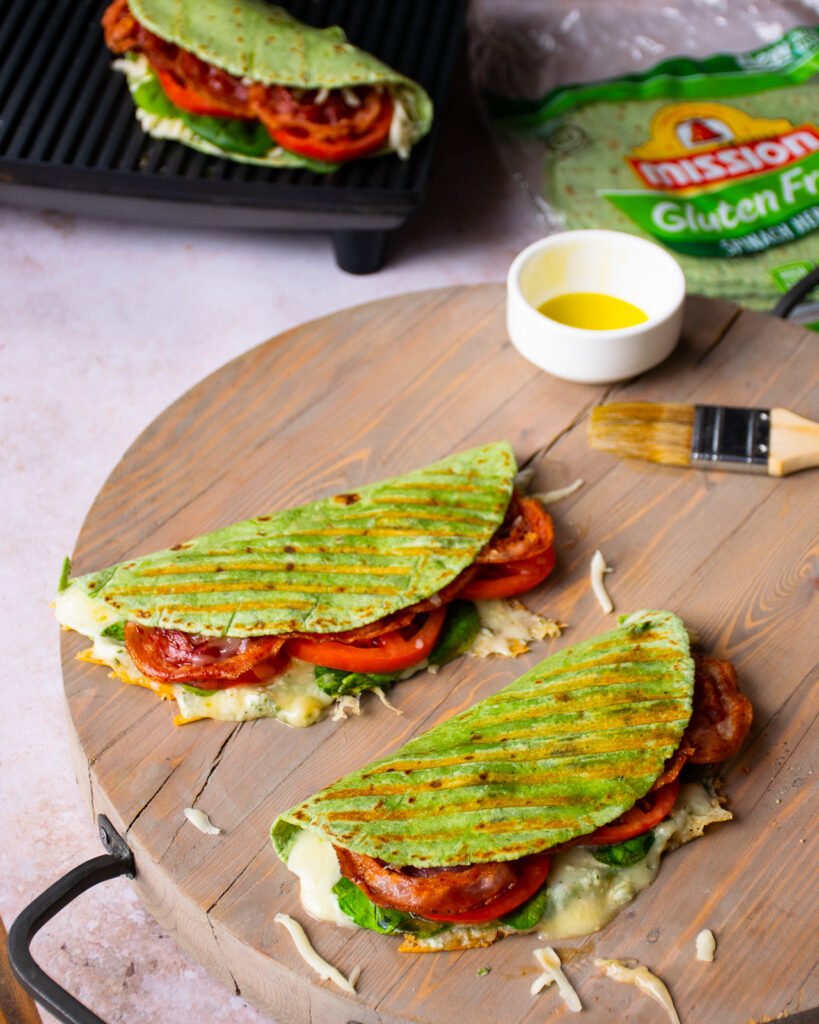 This is not the sort of sandwich that you can make ahead and take with you for lunch, although you can assemble the sandwiches, keep them in the fridge and then grill them just before you are ready to eat. Brush a little oil on the outside of the tortilla for added flavor and toasted color.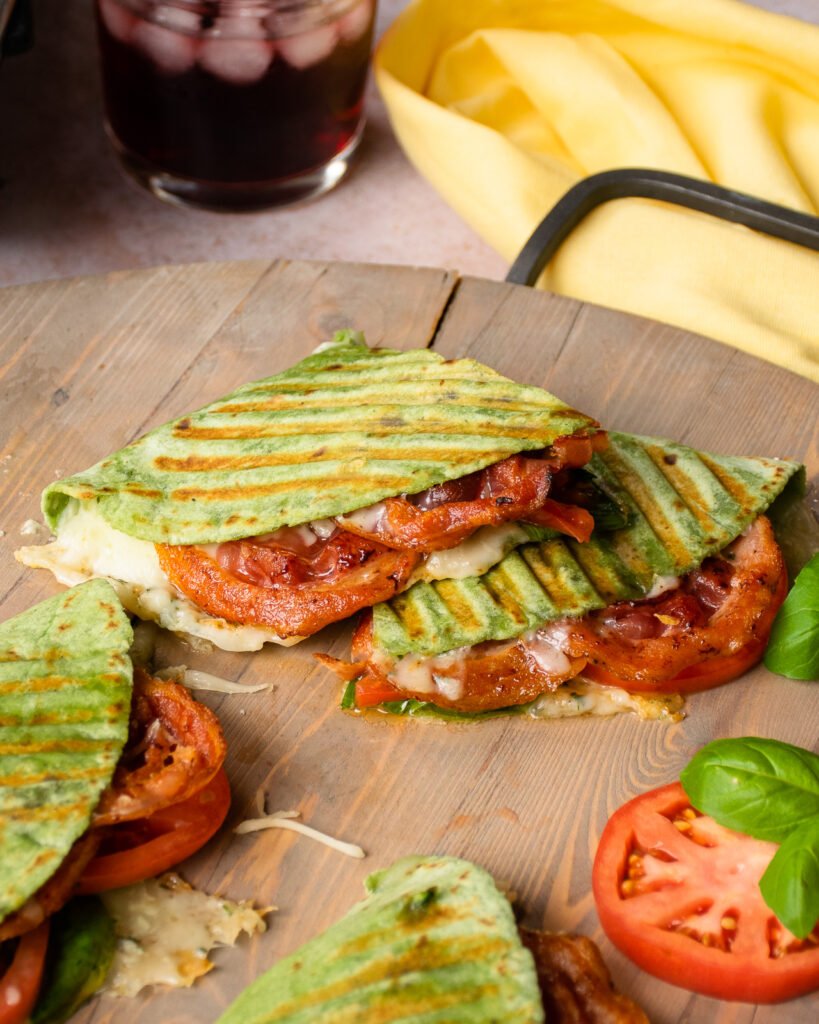 Then, just slice them in half, grab a napkin and enjoy. Whether you call it a BLT, a panini or a quesadilla, you won't even remember that you're enjoying a sandwich that happens to be gluten-free thanks to Mission Foods® Gluten-Free Tortillas.
This recipe was written as part of a partnership with Mission Foods®.