The number one question people have when it comes to making coq au vin is "what wine should I use?" My first answer to that is "use a wine that you like because you're using only 2 cups and it would be a shame to pour the rest of the bottle away." 😉 All joking aside, it is important to use a wine that you like. If you don't like the flavor of the wine (or any ingredient for that matter), why would you put it in your food? If you're like me, however, that answer doesn't really narrow down the options. So, the next thing to consider when choosing your wine is where the dish originated. Coq au vin is a classic dish from Burgundy, so it makes sense to go with a Burgundian wine. The most common red varietal from Burgundy is Pinot Noir, so that is one option. The challenge with using Pinot Noir is that good Pinot Noirs tend to come at a price that makes you wish you were pouring it into a glass, rather than a Dutch oven (which would make it a perfect bottle to have with coq au vin). So, you could widen the origin and think about a French wine instead of specifically Burgundian. Pick a medium-bodied red wine like Merlot or Carménère or Cabernet Franc, or go a little deeper and pick a solid Cabernet Sauvignon. Really… just pick a wine that you like.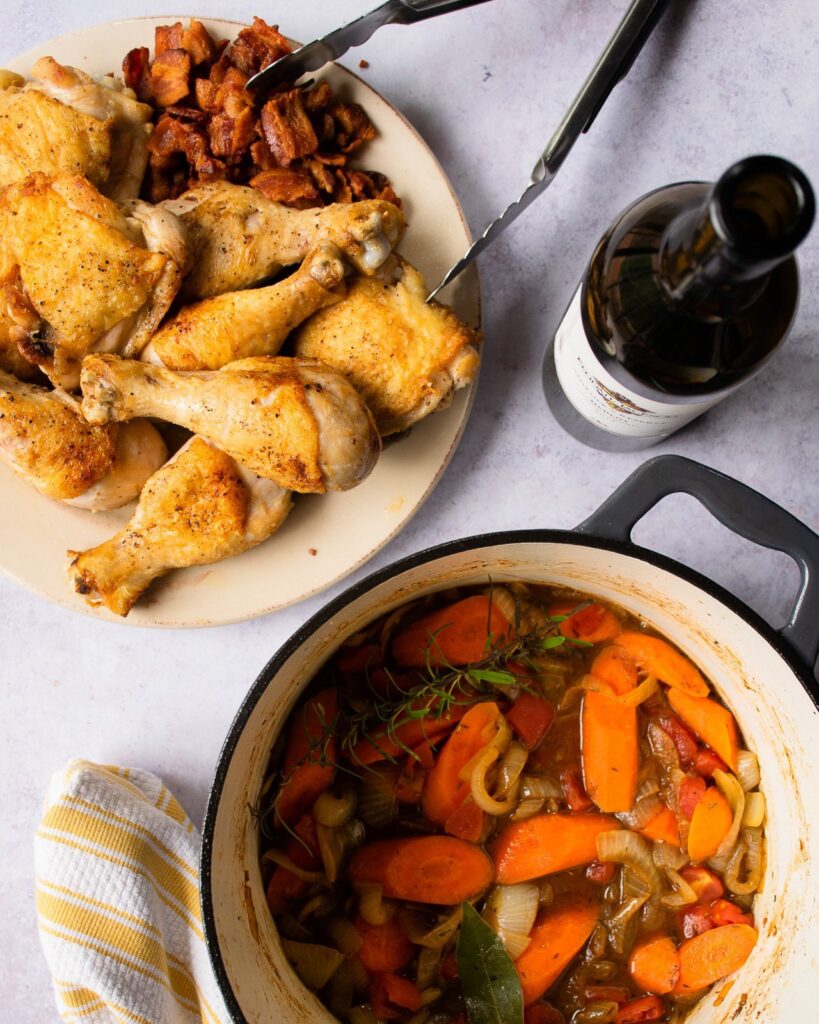 Remember, preliminary browning is important to good braising, so don't cheat on the step of browning the chicken. Getting good color on the chicken not only makes it look more presentable, but gives the entire dish better flavor. You can read more about how to braise in the cooking school here.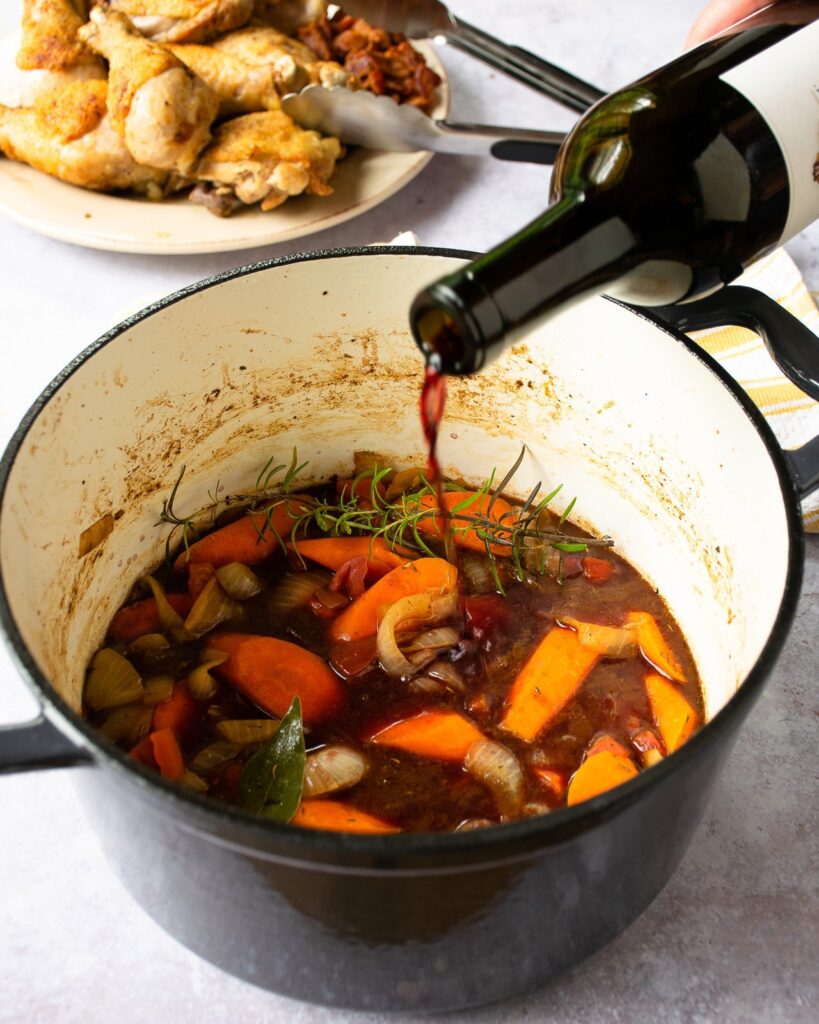 Deglazing is the next important step in braising. This recipe differs from other coq au vin recipes in that you deglaze first with brandy. This adds another flavor dimension to your braise, deepening the flavor somewhat. (Honestly – this part of the recipe came from an honest slip of the hand with mine en place. Brandy was added first and I loved the way it turned out, so it has become a part of the recipe now. Yep, that's how great recipes happen!) Next pour in that wine and grab your flattest wooden spatula or spoon to scrape up all the brown bits on the bottom of the pot. This double deglazing is what will give flavor to your sauce.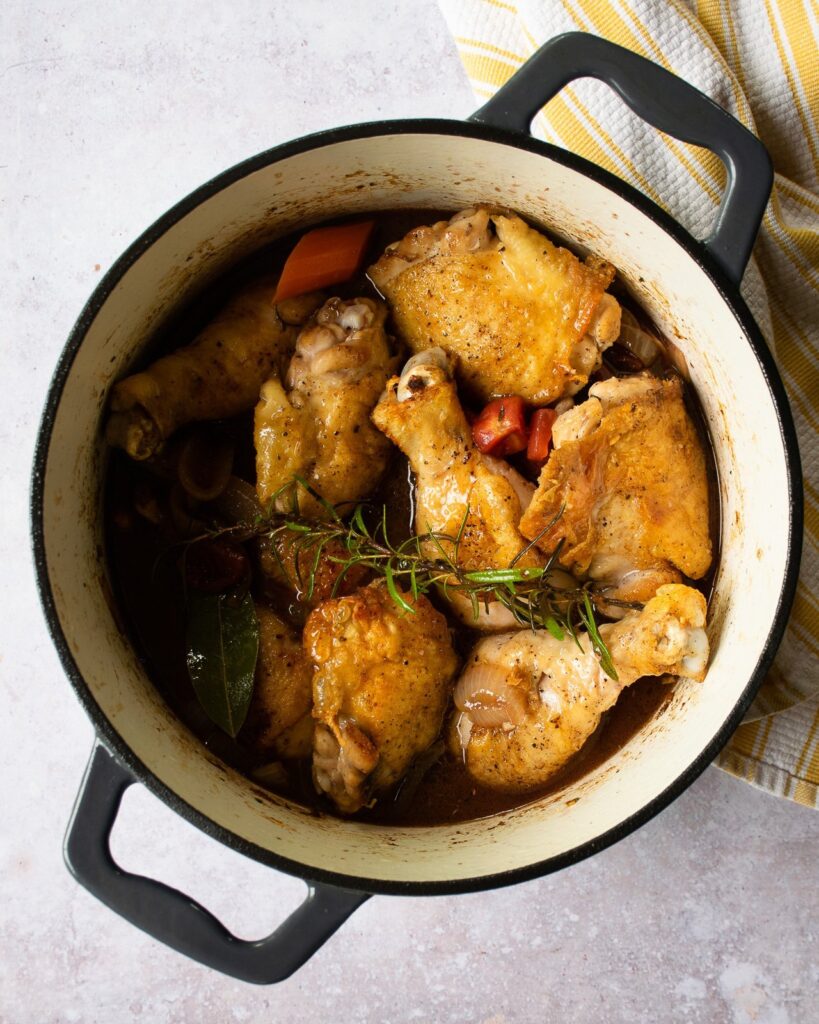 Do be sure not to over braise coq au vin. Originally, this recipe was intended for a coq, or translated from French to English a "cock", but let's just call it a rooster. 😳 Roosters are older and tougher, much tougher than the chickens that we cook with today. So, where the recipe originally would have you cooking a rooster for several hours, you really only need 30 or 40 minutes these days. Even though the chicken is cooking in liquid, it's still very easy to dry out chicken in a braise, so pay attention to the time.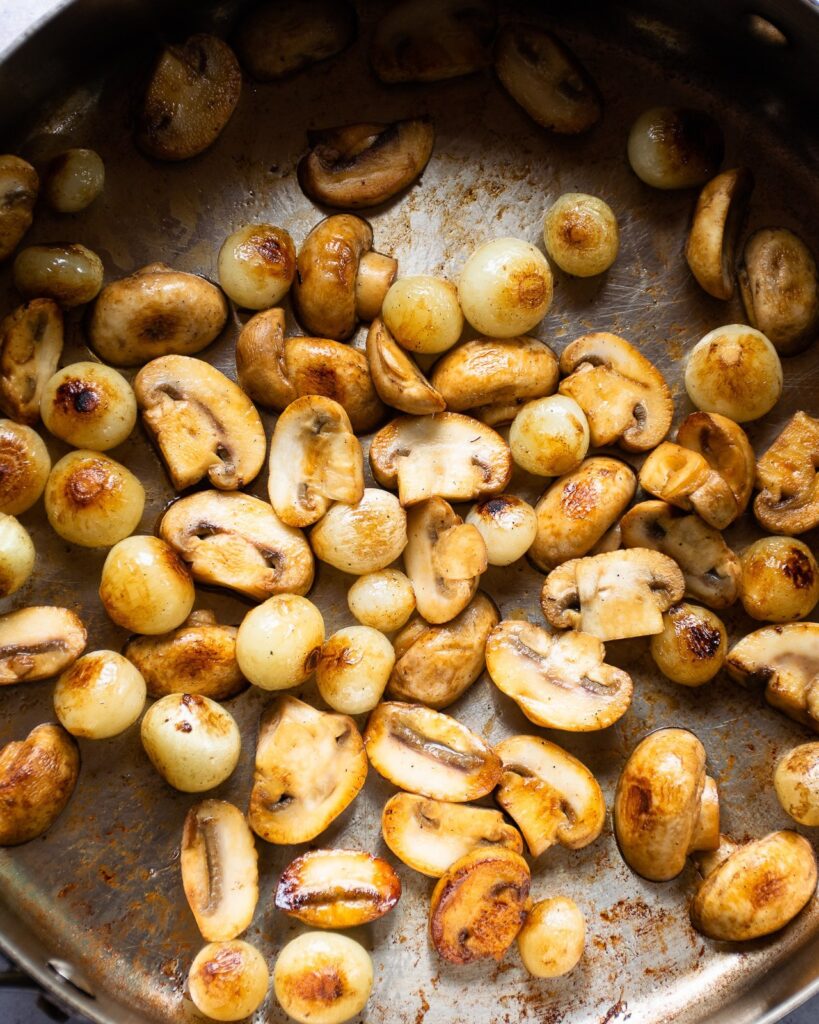 Braising for half an hour gives you plenty of time to brown the mushrooms and pearl onions separately in a pan. This extra step is preferable because cooking the mushrooms in with the braise just makes them water-logged and unpleasant. By cooking them separately, you can get some much wanted color on both the onions and mushrooms and that enhances the look and flavor of the finished dish. Plus, you get to deglaze with brandy again!
At the very end of the braise, you can decide to thicken the sauce with a beurre manié or leave it broth-y. The sauce consistency is completely up to personal preference, so you choose. Either way, it will be delicious and serving it over mashed potatoes, or rice, or even wide noodles means that no sauce will be left behind.