With all these great benefits, why are we not all drinking bone broth every day? Well, if you're looking to buy high-end bone broth, you could spend as much as $10 for an 16 ounces of the stuff in New York City, and if you choose to make it yourself, you need to plan to spend many many hours doing so. But.. it doesn't have to be that way… if you have a pressure cooker!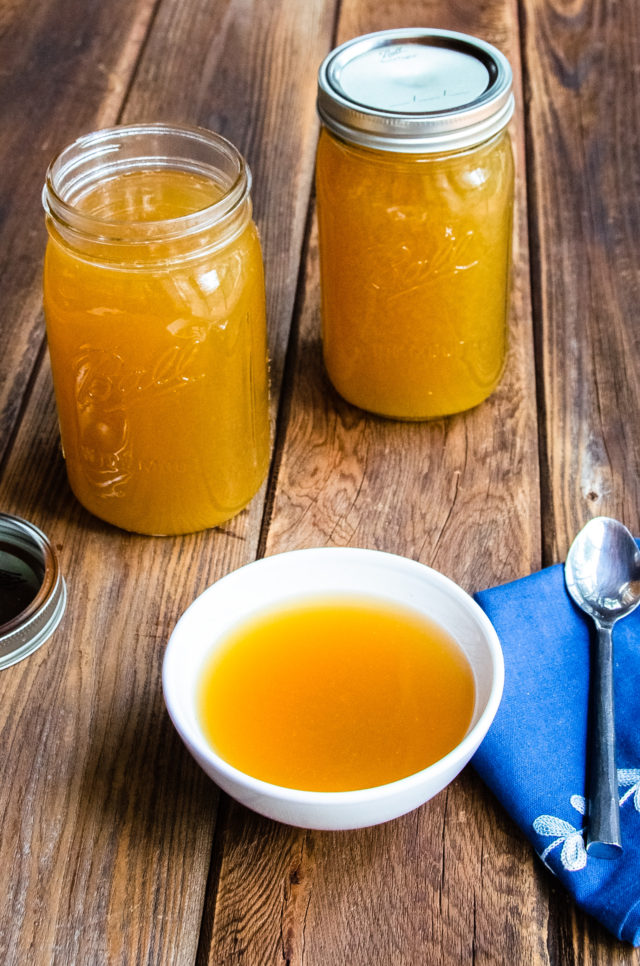 Bone broth is really a fortified stock – which is a flavorful liquid made from simmering animal bones for several hours (as opposed to broth, which is made from simmering bones and meat). The difference between bone broth and stock is that bone broth is simmered for many more hours, completely crushing the bones and extracting as many nutrients, vitamins and minerals and as much collagen as possible. In addition, because you simmer bone broth for so long, the flavor is concentrated and, quite frankly, delicious. The only downside to this long simmer is that a lot of the liquid evaporates over that period of time, so you're left with less bone broth than you really think you deserve at the end of the process. If you have a pressure cooker, however, you can cut that time simmering down from 12 to 24 hours to roughly 3 hours, and because the pressure cooker doesn't allow for much (if any) evaporation, you're left with more of the delicious liquid at the end.
The secret to making the process of making bone broth at home an easy part of your cooking routine is to save all the chicken bones you usually discard over the course of your regular meals. If you roast a chicken, save the wings and backbone in an airtight bag or container and store it in your freezer, adding to it every time you have any leftover bones. If you have the option to buy a whole chicken instead of pieces, do it! It will be cheaper overall – you can cut the chicken into pieces, saving the raw bones along with all your other scraps. Once you have about 3 pounds of bones, pull out your pressure cooker and make some fortifying bone broth with the recipe below. If you don't have the ability to save chicken bones, you can ask your butcher or meat counter for chicken bones and they will usually be happy to sell you some.