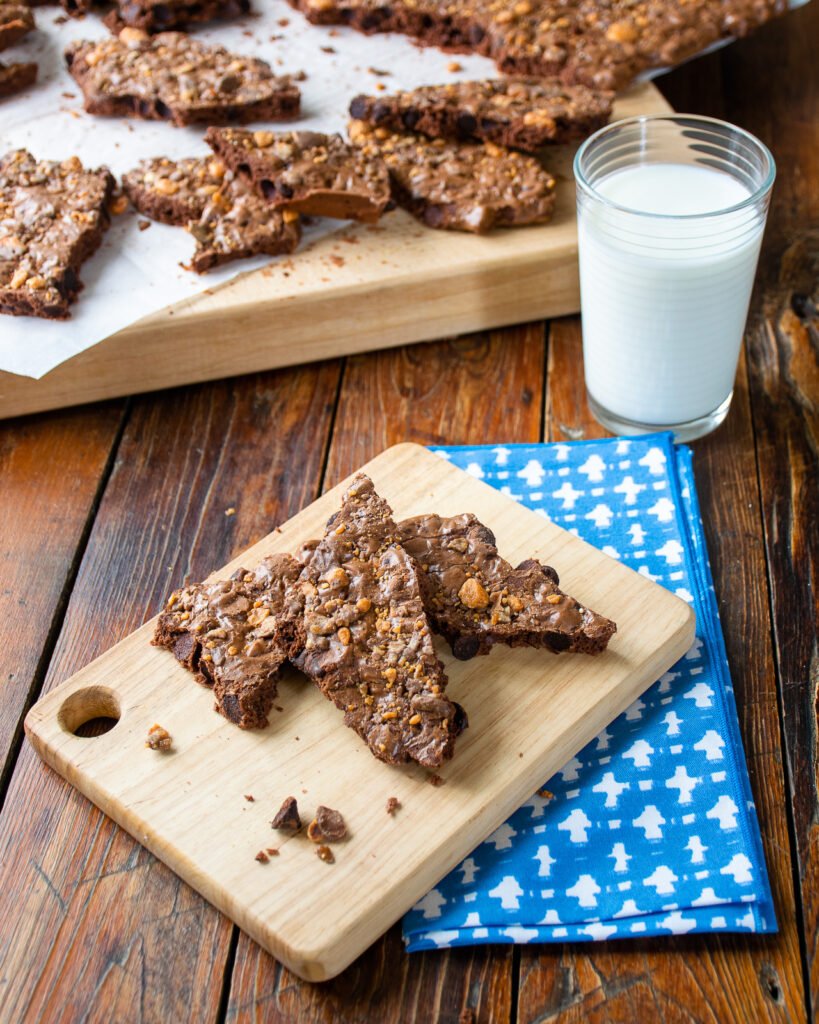 What is Brownie Brittle?
When it comes to brownies, I like them full of dense chocolate flavor and fudge-y. Brittle, on the other hand, with it's thin, crisp, crunchy texture, is the absolute opposite of dense and fudge-y. Can these two treats – brownies and brittle – come together? You bet they can! Brownie brittle is the perfect marriage of the two. It's all the flavors of your favorite brownie, but with the thin, crunchy texture of brittle. If you fight for the crispy corners of the brownie pan, if you enjoy the crunch of a cookie, or if you like chocolate any way possible (I raise my hand), then you will love brownie brittle.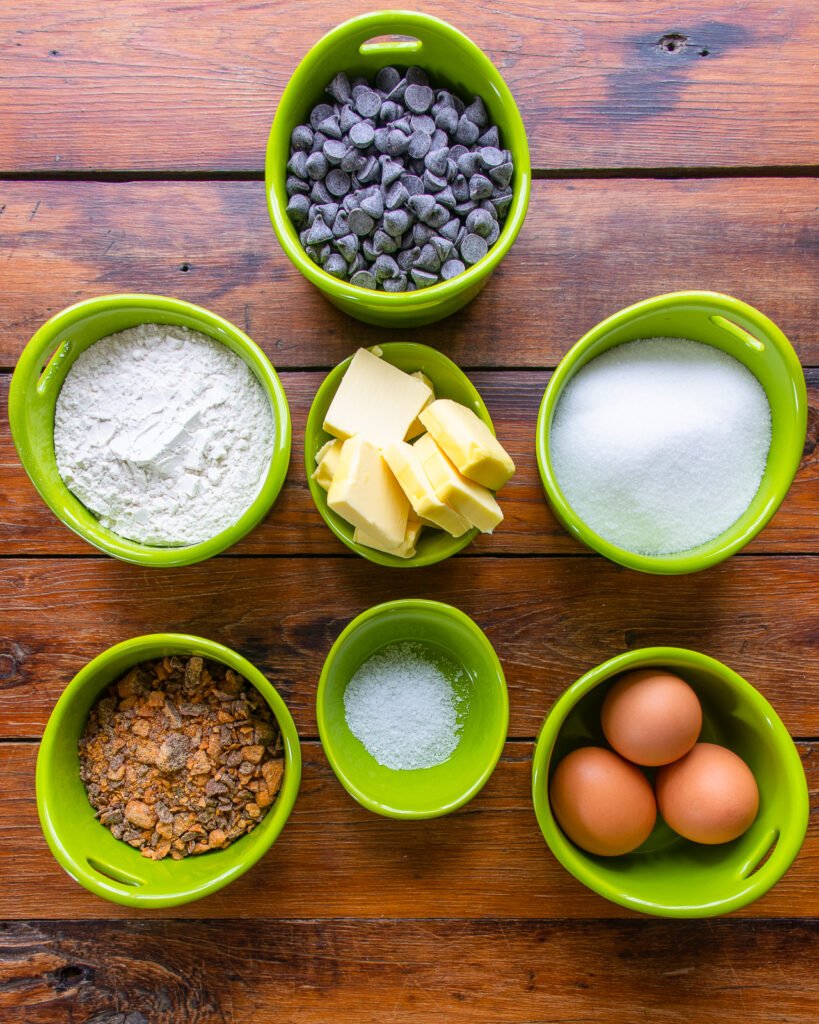 Simple Brownie Batter
Brownie brittle starts with simple ingredients. You're basically making the easiest of brownie batters, very similar to my 5-ingredient brownie. There are a few keys to making the brownie batter, however.
First of all, use the right chocolate. I like to use chocolate chips that are between 55% and 65% cocoa. With my passion for chocolate (dark, especially), you might think that I would be willing to go higher than that, but in reality, the sugar content in the chocolate (there is more sugar in a chocolate with a lower cocoa percentage) is what helps to create the nice shiny surface on the brownies. 
Secondly, beat the eggs and sugar well. You will probably want to use a hand or stand mixer for this job because beating the eggs to ribbon stage takes quite a bit of arm stamina. Beat the eggs until they have thickened slightly and they fall from the beaters in one solid ribbon. This is another key to giving the brownies a shiny surface. 
Finally, because we're going for texture when we make brownie batter, adding more chocolate chips to the batter gives us little nuggets of chocolate in our brittle. More texture, more chocolate, all good.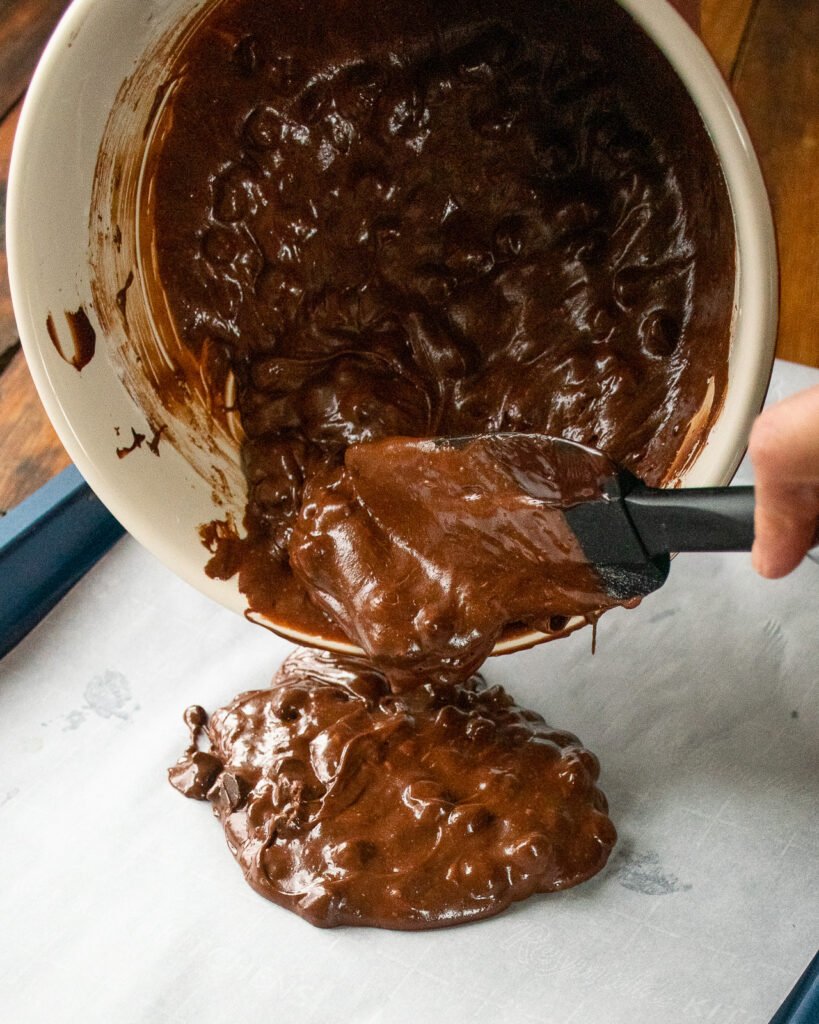 How to Make Brownie Brittle
Once you have your batter made, spread it out onto a sheet pan that has been lined with parchment paper. This sounds easier than it is, unless you have a strategy (which I'm about to give you). The batter is relatively thick and if you try to smooth it out by moving back and forth with a spatula, you will end up with a ball of parchment paper and brownie batter and your temper will flare! So, instead, plan on only spreading the batter out with the spatula in one direction only. Hold the parchment paper at one end of the pan and spread the batter away from you. Then, repeat with the other side. You want the batter to be spread into a layer that is only as thick as one of the chocolate chips.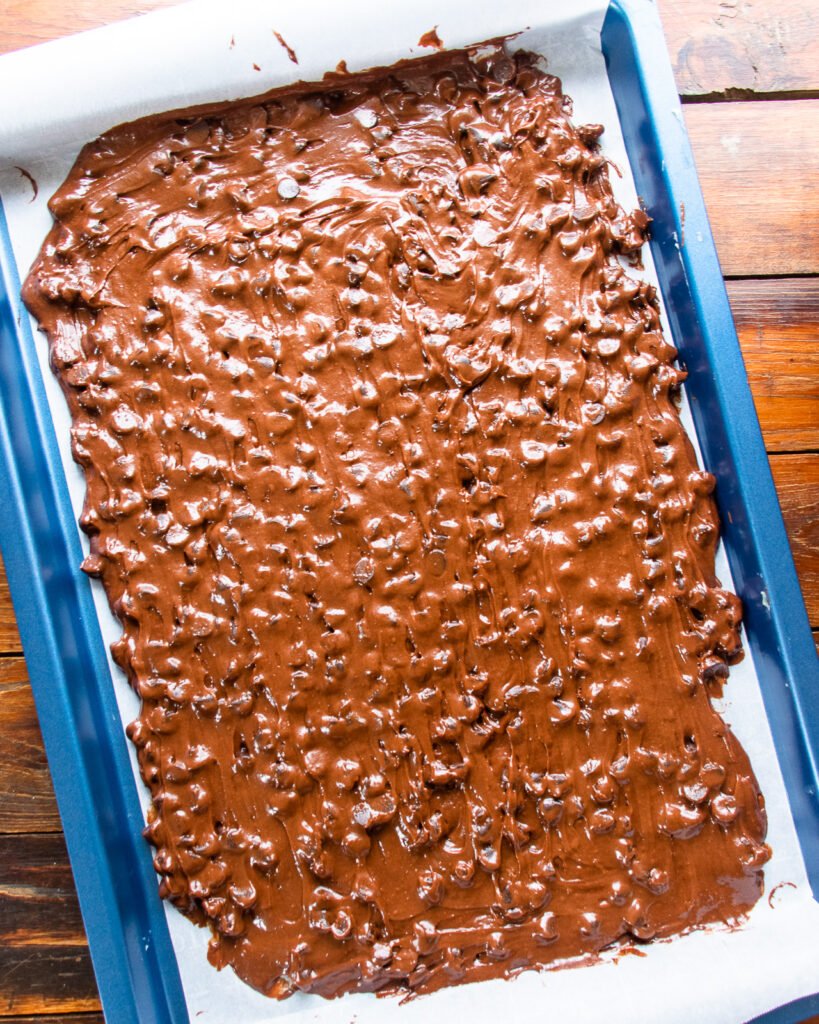 Baking Time
Unlike regular brownies, we want the brownie brittle to dry out a little in the oven. To accomplish that, bake it at 300ºF for 40 minutes (lower and slower than regular brownies). This will allow the batter to dry and crisp up. Some of the center pieces will be more chewy than the outer edges when first baked. That doesn't make them any less delicious in my opinion.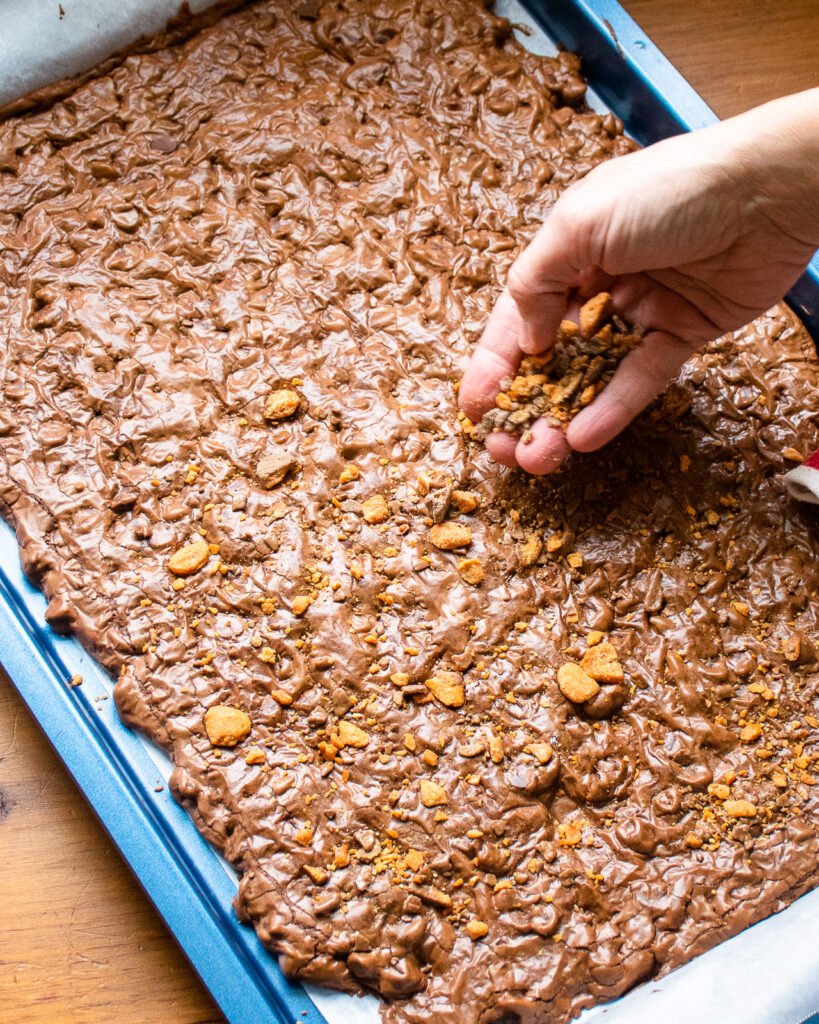 Toppings for Brownie Brittle
Once it has baked for 40 minutes, it's time to add any toppings you would like. If you put the toppings on before you par-bake the brittle, the batter will just swallow them up. This recipe calls for toffee bits on the brittle. You can use Skor®, Heath Bars® or Butterfinger® candy bars, crushing them into pieces, or you can buy baking bits in many different flavors to put on top. You could also add chopped nuts instead of the toffee bits if you prefer, or if you're going for a holiday theme, you could crush candy canes and sprinkle them on top. Whichever topping you choose, press them gently into the batter and then bake for another 5 minutes to set them in the brittle.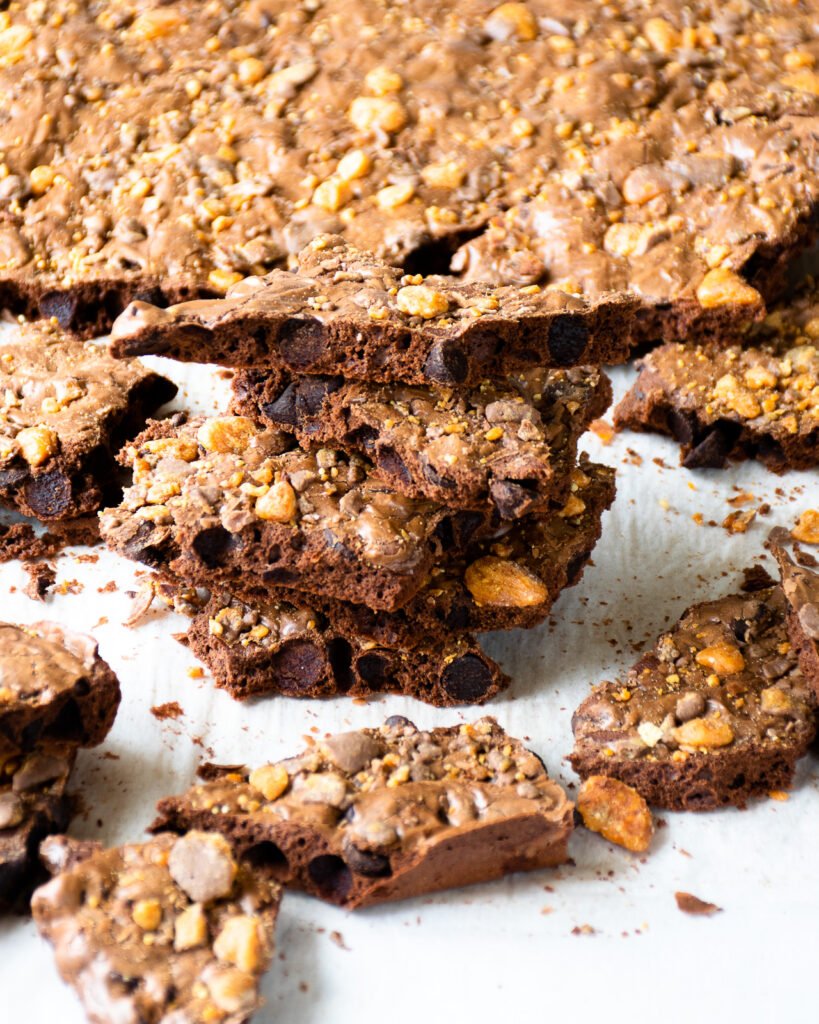 How to Store Brownie Brittle
Brownie brittle will store well in an airtight container for 10 to 14 days, but that depends entirely on your will power!