If you're someone who thrives on being appreciated as a cook, you should be making treats for dogs! I've had few human guests who are more excited about being fed and spoiled than my two dogs. No friend that I've ever invited over will sit on command, roll over, play dead and catch anything I toss to them in the air. Dogs, on the other hand? Make these blueberry pup-muffins and you'll have a trickster ready to do whatever you say. You get my point.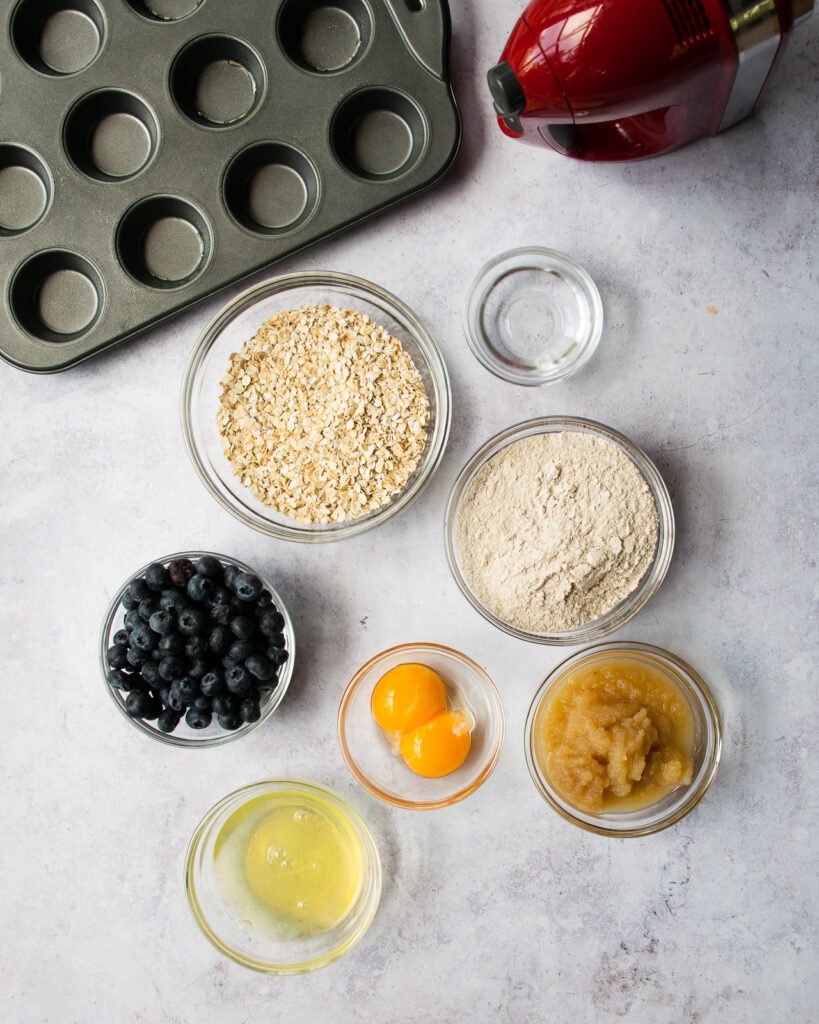 Safe Ingredients for dog treats
The most important thing to pay attention to when you are making homemade dog treats, is to make sure all the ingredients are safe for your dog. All the ingredients in these blueberry pup-muffins are safe for dogs in general, but you know your dog best and your dog might have specific allergies. Always test a food out on your dog in a small quantity before letting them eat a lot of it. Here is a list of common ingredients and whether they are safe for dogs or not. (Incidentally, if you have a dog, you'll find a lot of useful and interesting information about your best friend on this website, Fluent Woof.)
In this recipe, you'll find eggs (super nutritious and good protein), whole wheat flour (fiber ), blueberries (full of antioxidants), applesauce (minerals, vitamins and more fiber) and oats (even more fiber). That's it!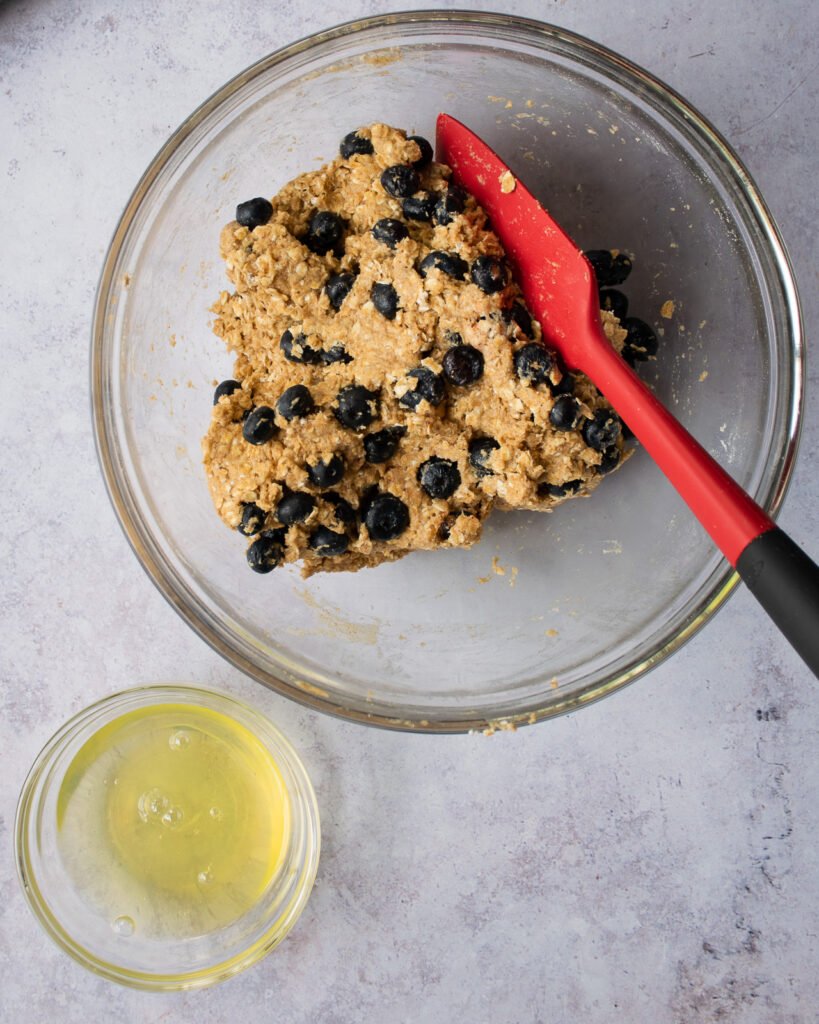 Can dogs eat blueberries?
The answer is "yes"! Blueberries are full of vitamin C and antioxidants, making them nutritious for humans as well as for dogs. (That does not mean you will want to eat these!) They are a good source of fiber and they are also low in sugar too. I will warn you, however, that blueberries do stain so if your dog is a slow and deliberate eater who takes little bites of snacks or plays around with half-eaten snacks, don't let him do that on your white couch!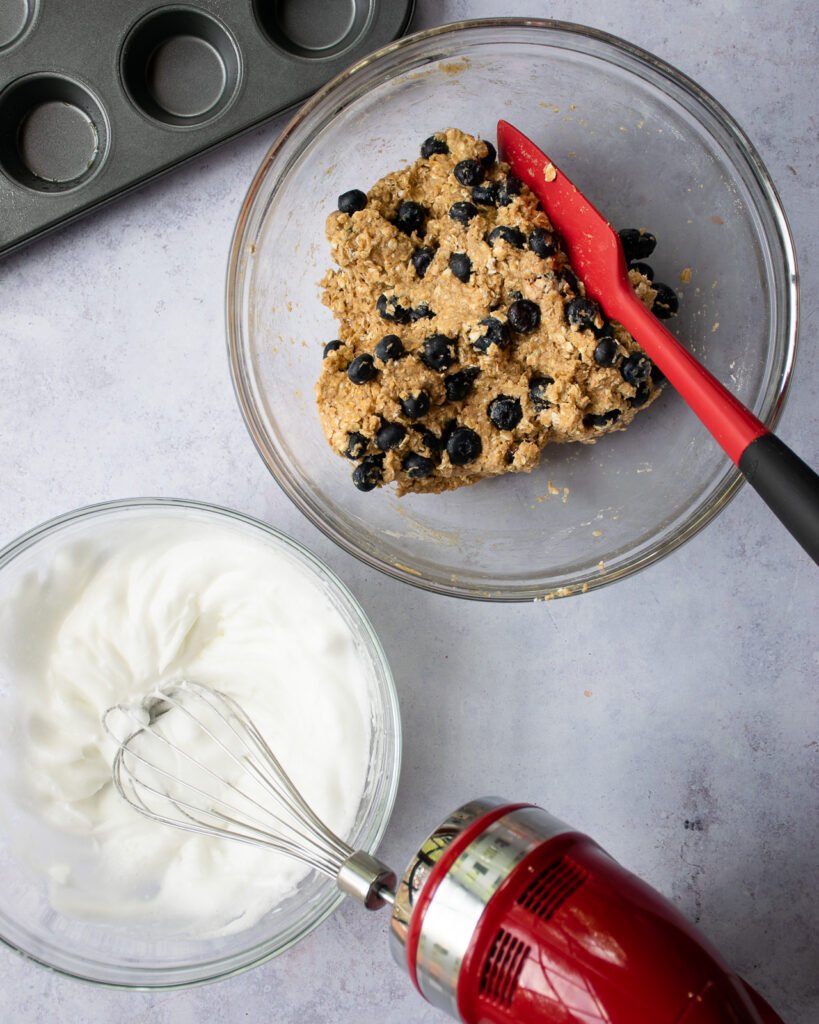 How to make muffins for dogs
There is a big difference between muffins for humans and muffins for dogs (trust me!). Human muffins rise and are light and fluffy because they have baking soda, baking powder or both (to learn the difference, click here). These chemical learners can, however, be toxic to some dogs if eaten raw and in large quantities. So, in dog muffins where we don't really need them, I use beaten egg whites to add a little rise to the finished good. Egg whites don't cause the muffins to rise very high, however, so these are dense little treats. I think that's more suitable for dogs anyway.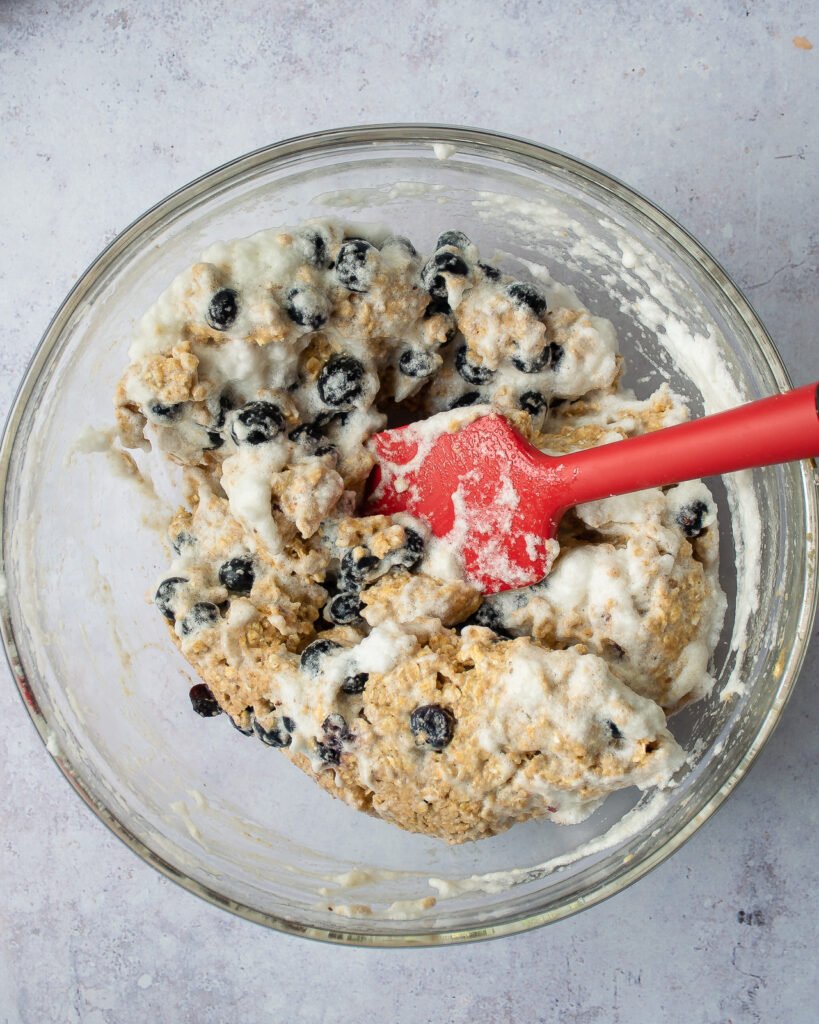 Folding in the Egg Whites
You should know that this batter is thick and dense. When you go to fold in the egg whites, it will take a little time to get them incorporated. You don't have to be as gentle here as you would if you were making a soufflé. Just keep working them into the other ingredients until you see no traces of white left. (The photo above is partway through the process.)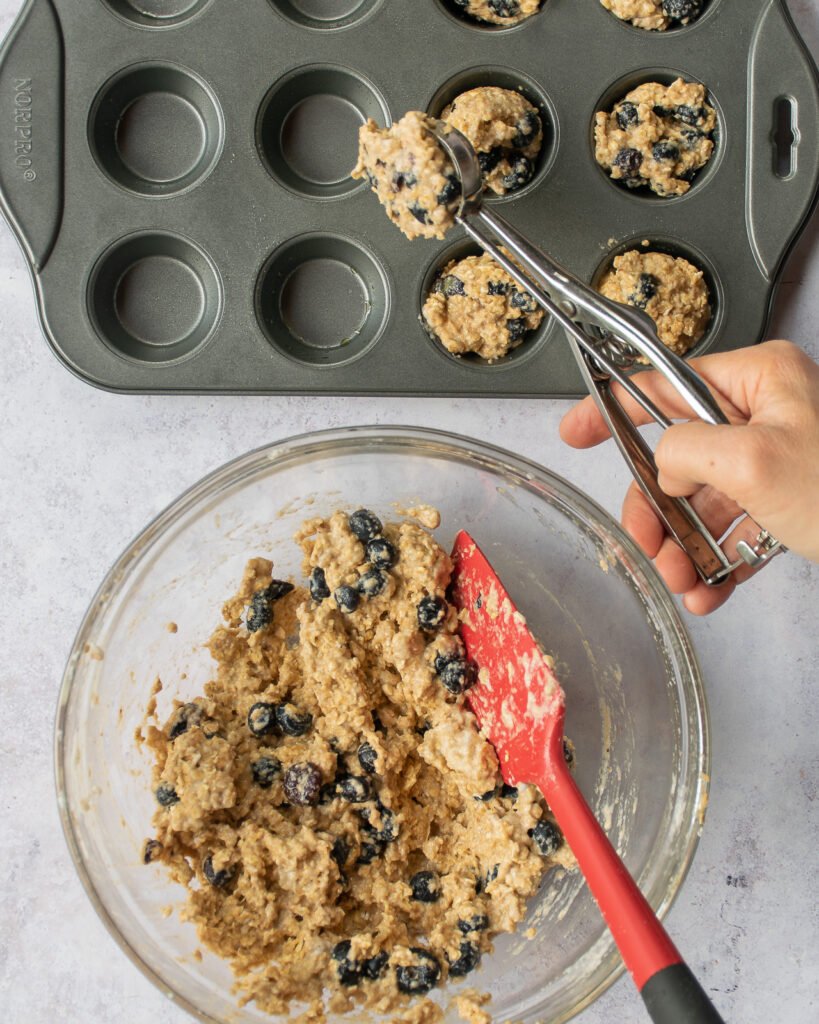 Homemade Mini Dog Treats
This recipe calls for a mini muffin pan. These are dog treats, not dog meals. If you have a 24-cup mini muffin pan you'll fill it once. If, like me, you have a 12-cup mini muffin pan, just bake off two batches. Scoop even portions of the batter into the greased muffin cups and flatten them ever so lightly. Then, bake for 25 minutes at 350ºF.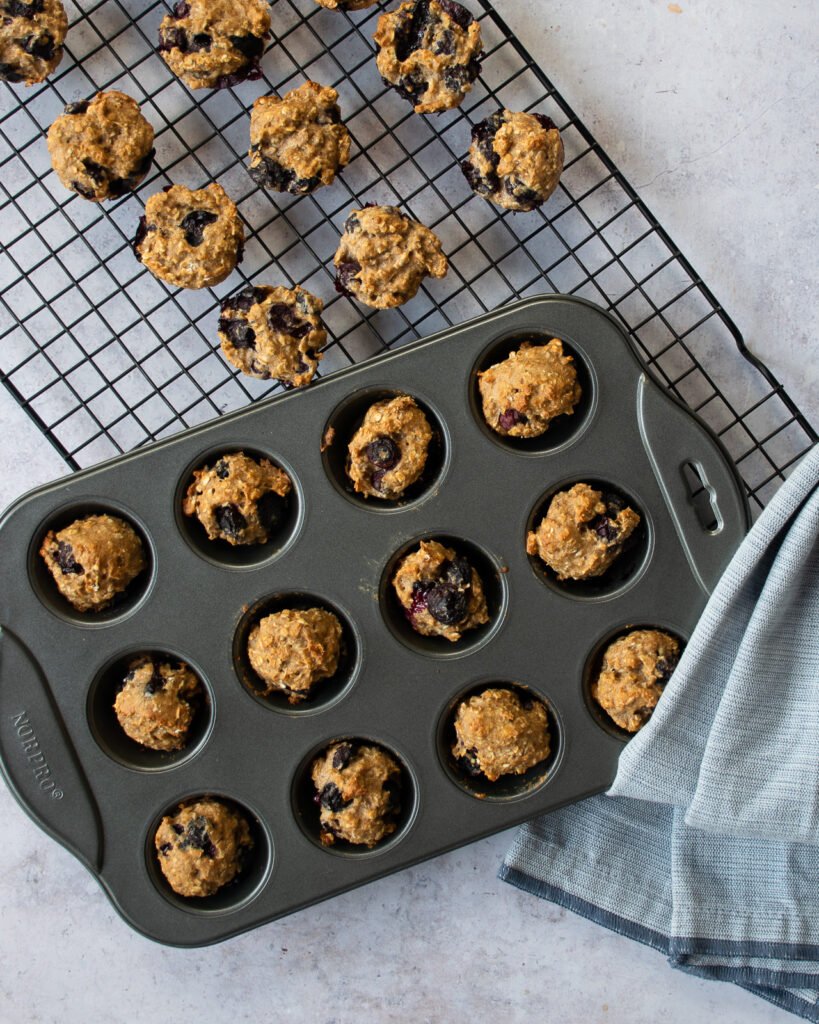 How to store homemade dog treats
These blueberry pup-muffins will keep in an airtight container at room temperature for a week. You can also store them in the refrigerator for 3 weeks and they freeze very well too. Keeping a bag in the freezer is a great idea for an occasional special treat. These treats are 42 calories each, so they should be an occasional indulgence to keep your dog's lean physique.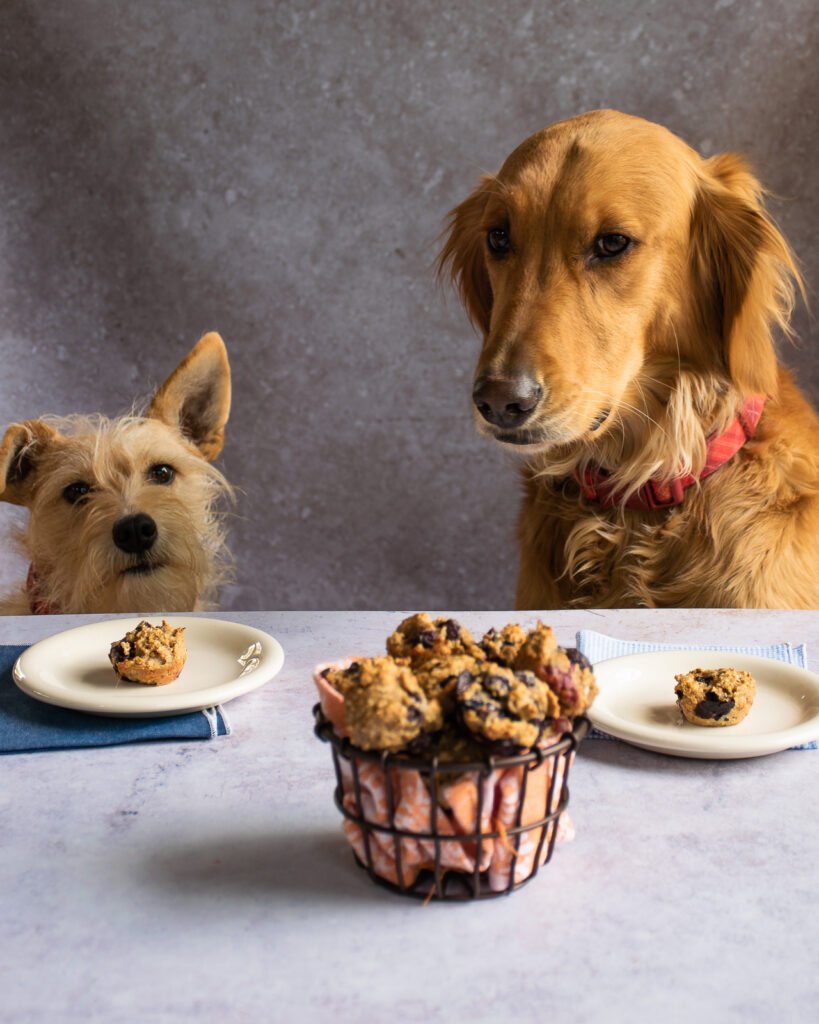 How to serve blueberry pup-muffins
Really? Well, since you asked, pup-muffins should be served simply on a small white plate. A little eau minérale natural non gazeuse would be a lovely accompaniment in a small shallow bowl. 😉