The classic chip dip of all time is the French Onion Soup mix dip. It originated in the 1950's and was whipped up in no time by combining a packet of Lipton® French Onion Soup mix and sour cream. If you were really fancy, you might top it with some caramelized onions and serve it with ruffled potato chips. I loved this chip dip as a kid, but have to confess that I haven't had it in years. 
This recipe for warm French onion dip takes that idea of French onion chip dip and mashes it with a recipe for French onion soup, making a warm oniony dip with lots of Gruyère cheese that is thick and decadent enough to be scooped up on crostini. Sounds perfect for cool weather sport watching, no?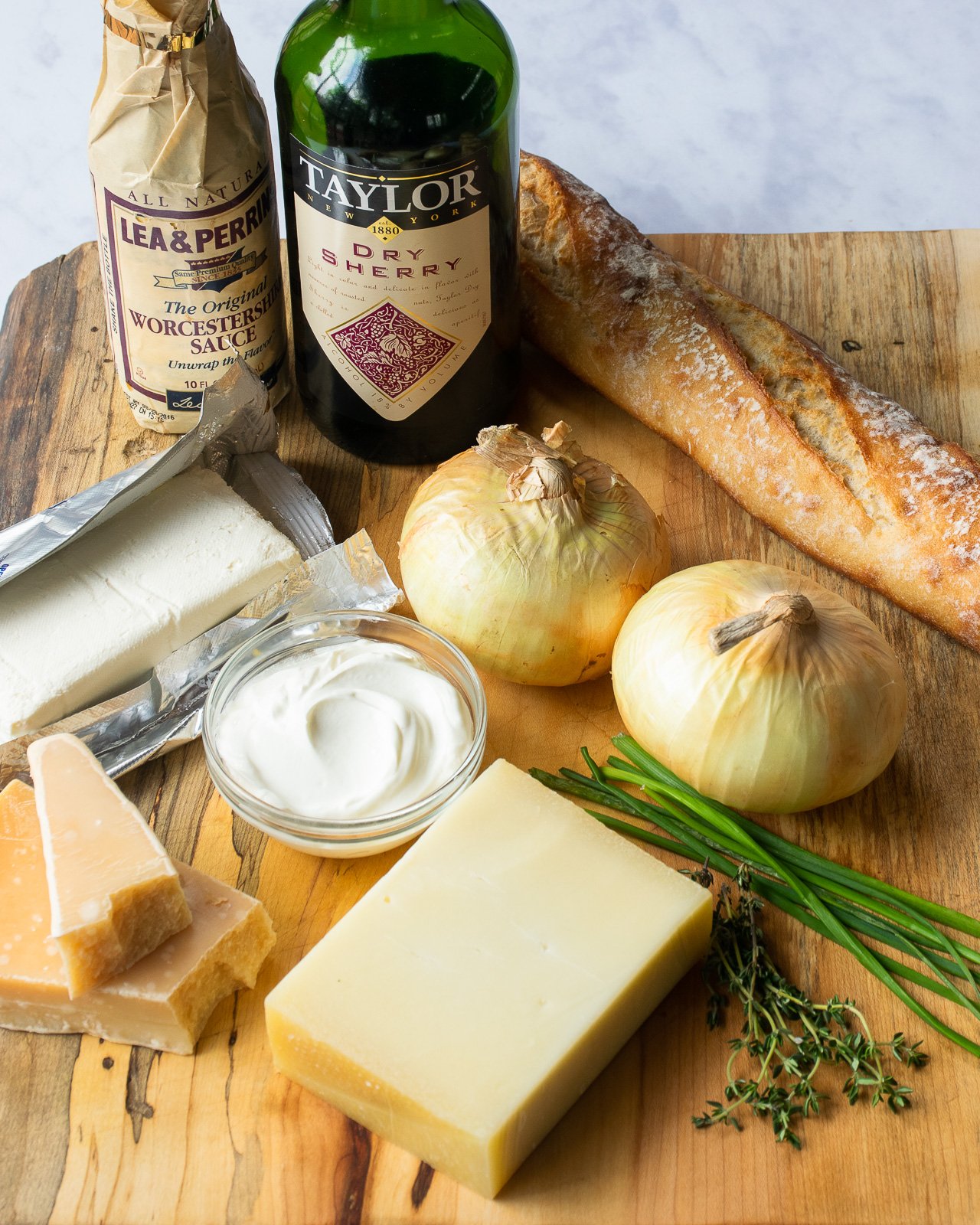 French Onion Dip Ingredients 
The ingredients for the dip are relatively straight-forward. Obviously, we'll start with onions. This recipe calls for Vidalia onions, but any sweet onion will do. Sweet onions become even sweeter as they cook and it's their sweet flavor we're going for. If you're dying to make this dip and don't have any sweet onions, just go with yellow onions and make sure you caramelize them well.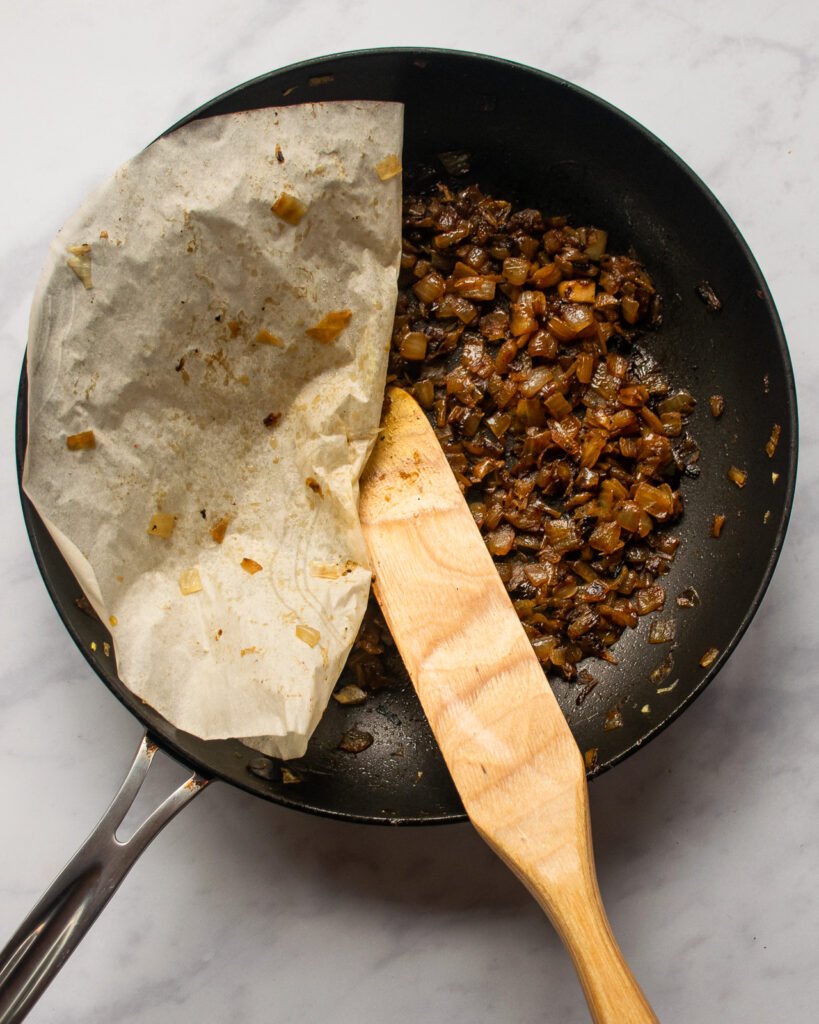 Start with Caramelized Onions
That is the first step in making this warm French onion dip – caramelizing onions. Caramelizing onions takes some time and really can't be rushed. (You can learn more about caramelizing onions here.) Start with butter over medium to medium-low heat, cover the onions with parchment (to retain moisture) and stir them regularly. They will take at least 30 minutes, but you need to let your cream cheese warm up anyway, so take you time and do it right. A splash of Worcestershire sauce and some dry sherry helps to loosen any brown bits on the bottom of the pan and enhance that beautiful brown caramelized color.
Then just stir all the ingredients together – that room temperature cream cheese, sour cream, Parmesan and Gruyère cheeses and the beautiful onions – and transfer the mixture to a broiler-safe casserole.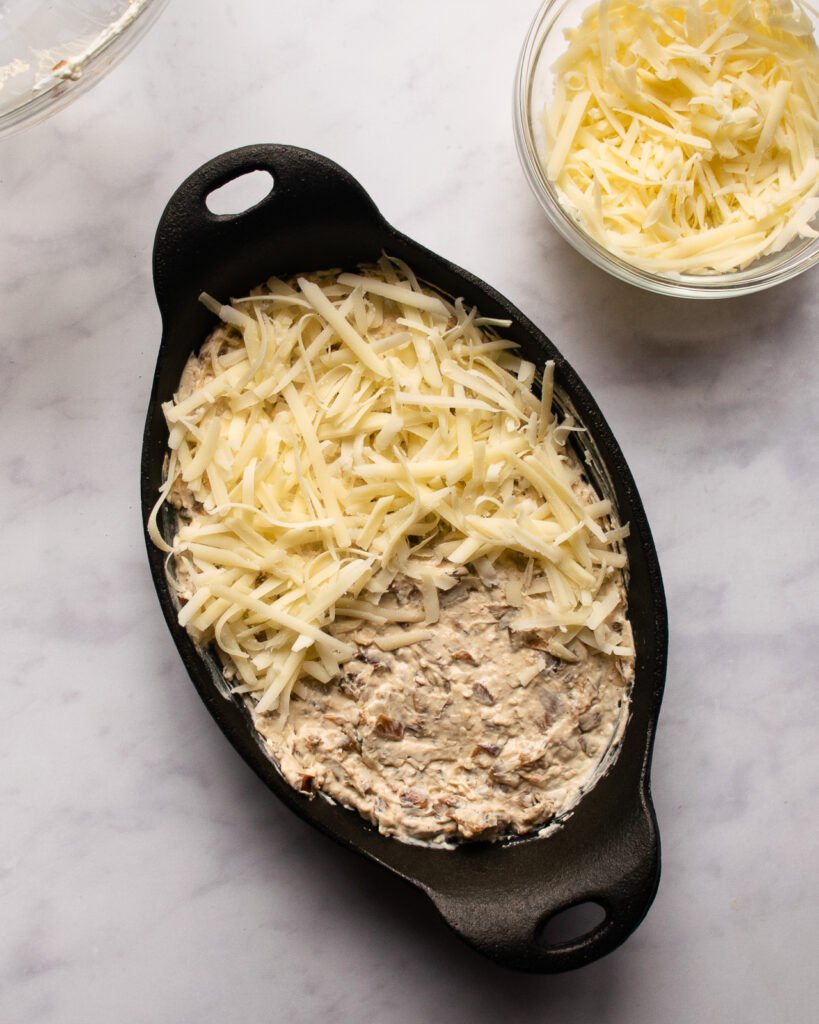 Make-Ahead French Onion Dip
You can do all the steps I've mentioned to this point ahead of time. Assemble everything in the casserole and top with more Gruyère cheese. Then stop. If you're planning on your guests arriving in a few hours, leave the casserole on the countertop. If you're making this way ahead of time, pop it into the refrigerator, but remember to bring it out of the fridge at least an hour before you want to bake it.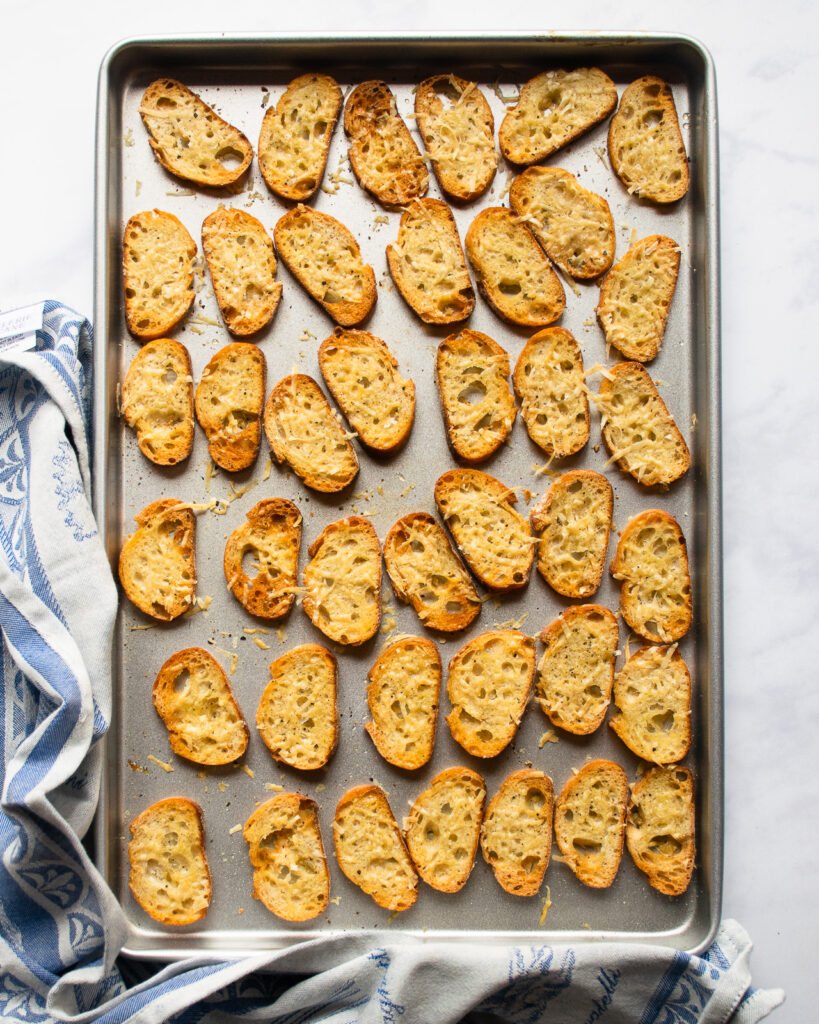 Parmesan Crostini
Unless you have seriously sturdy potato chips, you're going to want to make crostini to serve with this warm French onion dip. It's a weighty dip and needs a strong vessel to scoop through it. Sure you can buy crostini, but you're using your oven anyway so why not slice up a baguette, sprinkle a little black pepper and grated Parmesan cheese on top and make a crostini worthy of this delicious dip?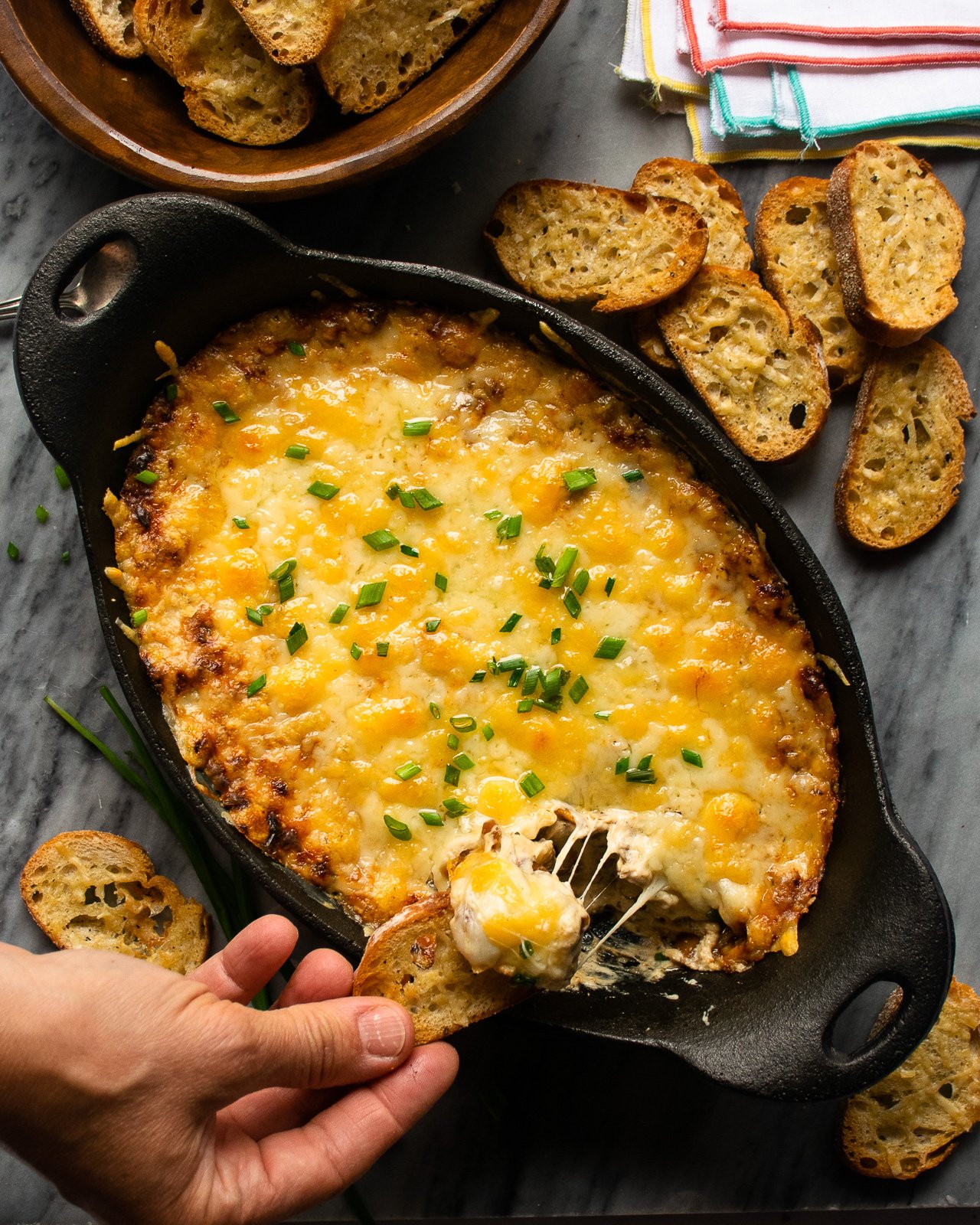 Air Fryer French Onion Dip
If you want to make this dip in your air fryer, can do! Just use a casserole dish that fits into the basket of your air fryer. Cover the dip with foil (tenting it so it doesn't touch the cheese on top) and air fry at 400ºF for 15 minutes. Then, remove the foil and continue to air-fry at 400ºF for about 5 minutes, or until the top is nicely browned and bubbly. You can also make the crostini in the air fryer, toasting the bread at 380ºF for about 6 to 8 minutes, but you'll need to do them in batches so that they air-fry in a single layer. 
Gluten-Free French Onion Dip
If you're a gluten-free eater (or some of your guests are), this is a great dip for you! One caveat: Lea & Perrins Worcestershire sauce is gluten-free, but if you're using a different brand of Worcestershire sauce, do check the label. Of course, if you are trying to make this dip gluten free, you won't be serving it on Parmesan Crostini! Instead, blanch some cauliflower and broccoli florets, cut up some carrots and celery and serve the warm dip with the sturdy crudités.
Both French Onion Chip Dip and French Onion Soup are classic recipes. I see no reason why Warm French Onion Dip shouldn't follow suit!