Quick & Easy Pasta Sauce
Every cook loves a quick and easy sauce that you can pull off on any busy weeknight. This tomato vodka cream sauce just happens to be a quick and easy sauce that is also luxurious and elegant at the same time. 

Crushed or Chopped Tomatoes
Whenever you are making a sauce with canned tomatoes, you have to decide whether to use chopped, crushed or whole tomatoes. I usually stock my pantry with whole tomatoes and then I have the option of all three. I can chop the whole tomatoes if I need chopped tomatoes, or purée the whole tomatoes if I need crushed tomatoes. I like having that versatility, but I also find that canned whole tomatoes tend to taste better than canned chopped tomatoes, so there are two good reasons to stock up with whole tomatoes. For this vodka sauce, you can use crushed or chopped tomatoes – it just depends on whether you want chunks of tomatoes in the sauce or not.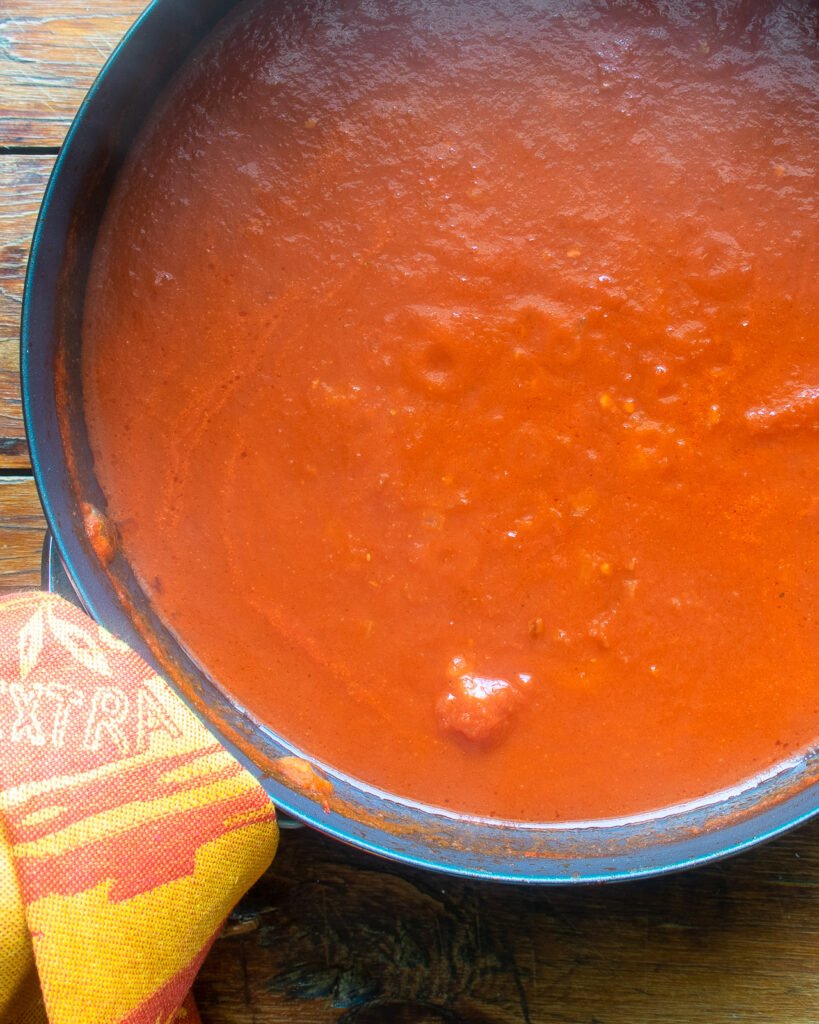 Why Vodka?
Good question! There are stories that tomato vodka sauce originated because vodka producers just wanted another source of demand for vodka, but I think there's more to it. While vodka doesn't have a lot of flavor, it does two things in this sauce. First of all, it brings out a whole new set of flavors that exist naturally in tomatoes – flavors that are only alcohol soluble. Secondly, vodka gives the sauce a little kick in the after taste. It's that little kick that keeps you coming back for more.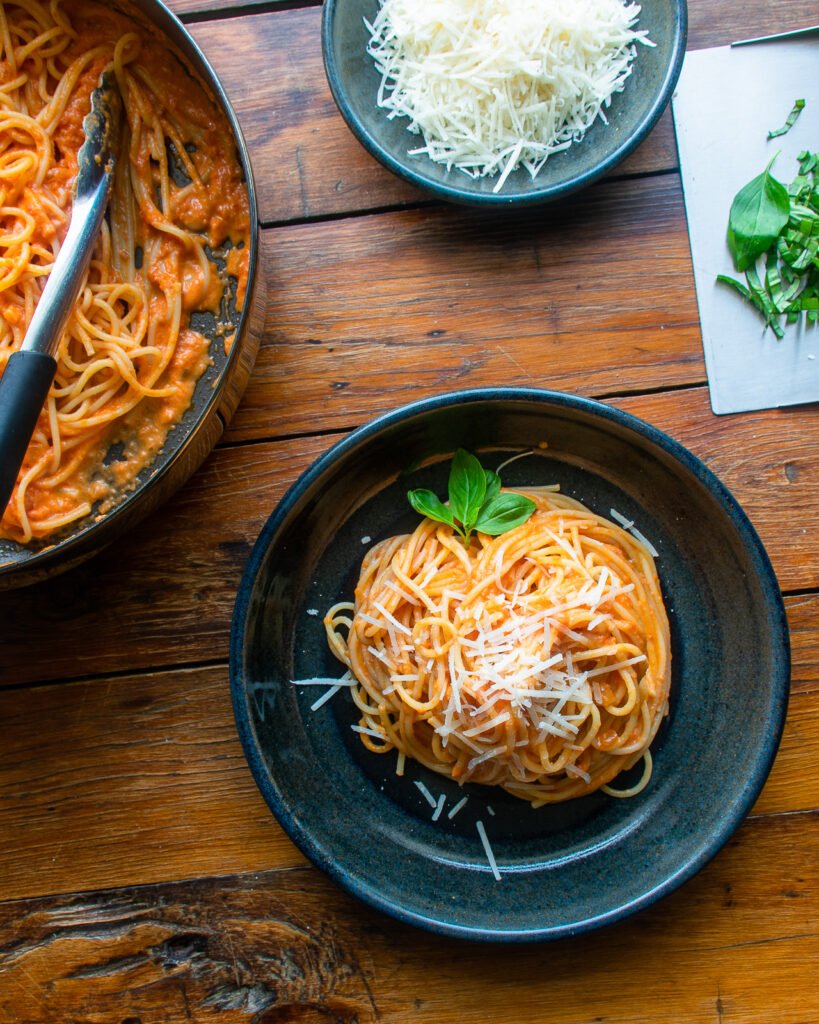 What to Serve with Tomato Vodka Sauce
Of course pasta is the obvious choice to dress with tomato vodka cream sauce. It coats the pasta perfectly making every mouthful delicious. I like it best on long pasta like spaghetti or spaghettini, fettuccine or egg noodles, but if you offered me a bowl of penne alla vodka, I wouldn't say no. You can also serve this luscious sauce over grilled chicken breast or tossed with some sautéed shrimp if you're looking for a low carb way to enjoy it.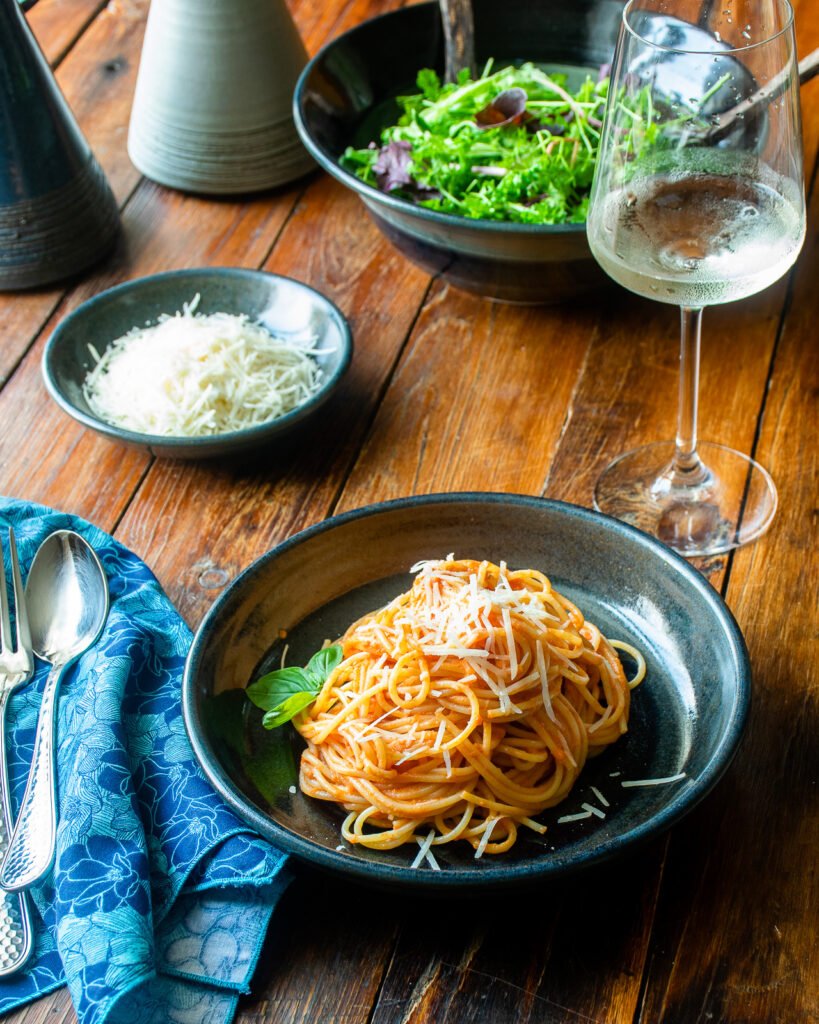 Variations on Tomato Vodka Sauce
Once you've made the base of this sauce – before you add the Parmesan cheese or basil – you can add a little protein to this meal if you like. One of my favorite ingredients to add to tomato vodka cream sauce is salmon or shrimp. You can cook either right in the sauce as you add the cream. You could also add sliced grilled chicken to the sauce, giving it a boost of protein and a little smoky flavor.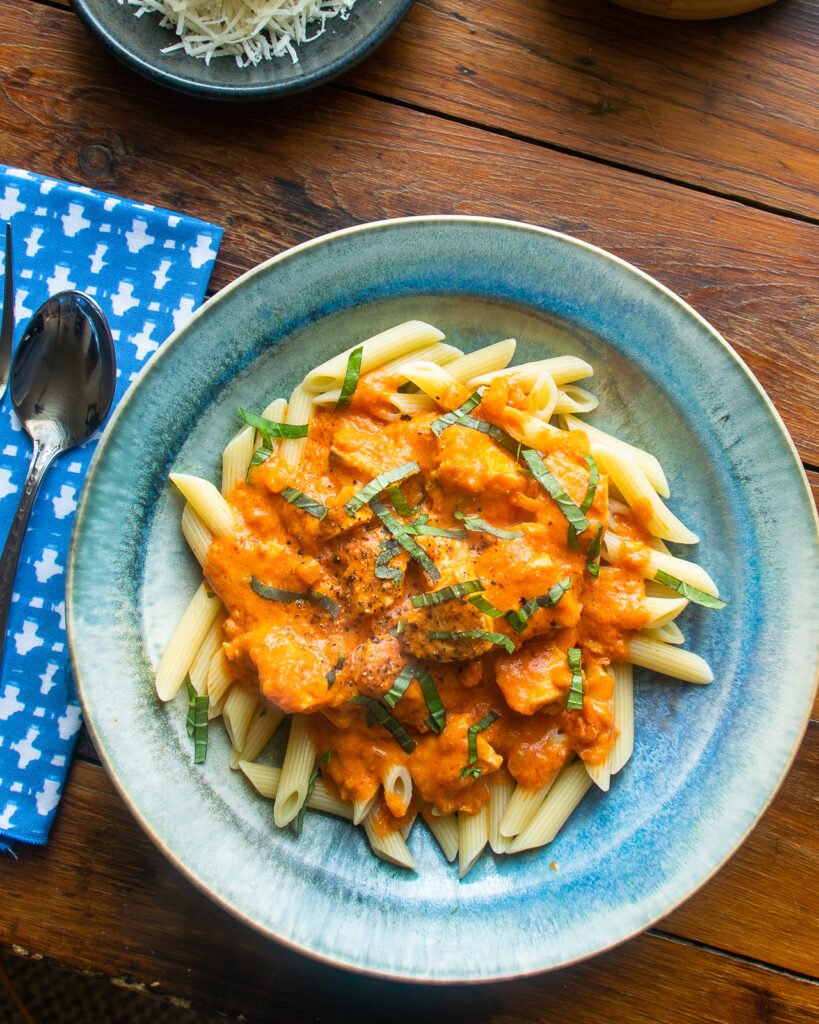 How to Re-heat Tomato Vodka Sauce
You can re-heat tomato vodka cream sauce in a saucepan, bringing it to a simmer. Because it uses heavy cream, you don't have to worry about the cream curdling or separating. You might, however, want to thin the sauce a little. You can do this by adding a little water, but it's a nice idea to add a teaspoon or two of vodka as well to bring back the kick that makes this sauce so delicious.