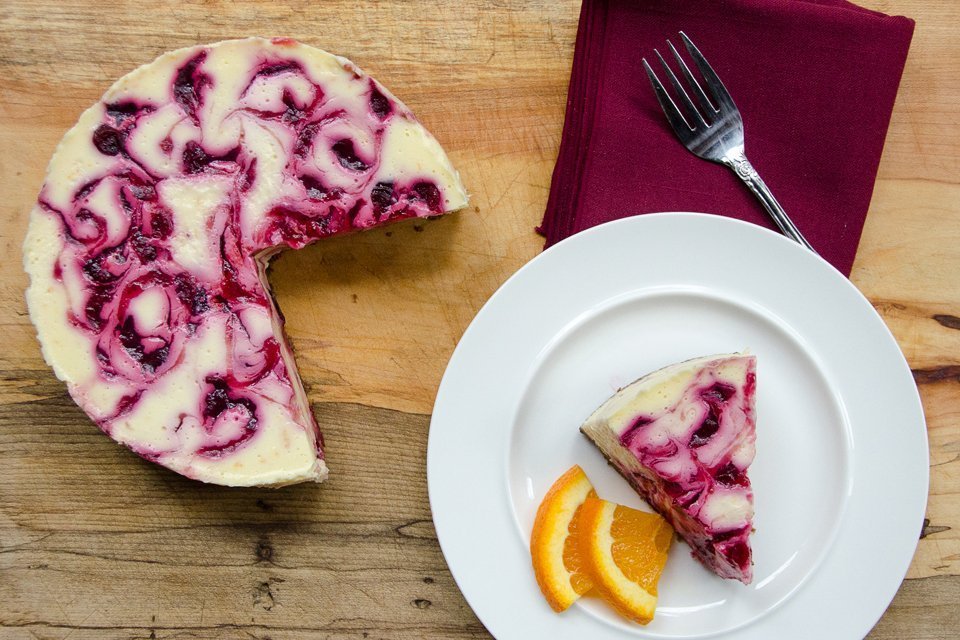 To me, a perfect cheesecake should be moist and luscious but still be able to hold its shape when sliced and the one issue to avoid is a big crack or crevice in the top. Cracks in cheesecakes happen for a couple of reasons. The first is that air gets trapped in the batter, expands when the cheesecake is baked and needs to find a way out. It escapes from the cake by creating the massive gash in the top. You can avoid this by making sure you don't incorporate too much air into the batter as you mix the ingredients together. This can be a challenge, however, because you also want to make sure that there are no lumps left in the batter. So, you need to find the fine line between just beating enough to create a creamy smooth batter, but not so much that air is incorporated. I use a food processor to mix my batter together because it's quick and effective – the faster you can get the batter smooth, the less time there is to incorporate air. If you are using a stand mixer, use a lower speed which crushes and smooths the cream cheese, but doesn't whip air in. The other trick is to add the eggs at the very end of the mixing because it's the egg proteins that will hold air bubbles (think about how you are able to whip air into egg whites). So, once the eggs are added, beat the batter as little as possible. That means you need to make sure there are no lumps in the cream cheese when you add the eggs.
The other way a crevice will form is if the temperature changes drastically and suddenly. This is very easy to avoid. Once the initial baking has happened, leave the cheesecake in the turned off pressure cooker for an hour while the temperature drops slowly. Then transfer it to the counter, but leave it wrapped up for another hour or so to come to room temperature. Then, and only then, wrap in plastic wrap and refrigerate for at least 8 hours. Remember to remove the cheesecake from the refrigerator for at least half an hour before serving though.
Making cheesecakes in the pressure cooker does save you a little time during the baking step (22 minutes instead of 60 minutes), but there's another good reason to use a pressure cooker. They create an incredibly moist environment and bake the cheesecake at a lower temperature than if you were to do so in the oven (pressure cookers reach about 250ºF, whereas most people bake a cheesecake around 325ºF). Moisture is good for preventing any drying or cracking of the surface of the cake, and the lower temperature means less temperature change for the cake to have to go through. So, it's a win-win!