What is a "lush"?
Lush is an interesting word. It can refer to vegetation growing luxuriantly, or it could refer to something that is very rich and providing sensory pleasure, or it can refer to someone who drinks too much.  And then, it also refers to a no-bake dessert made with layers of Graham cracker crust, cheesecake, pie filling, and whipped cream. This version of the dessert made with homemade blueberry pie filling and fresh whipped cream is truly delightful, so I decided to call my version a Blueberry Lemon Delight to avoid all possible confusion!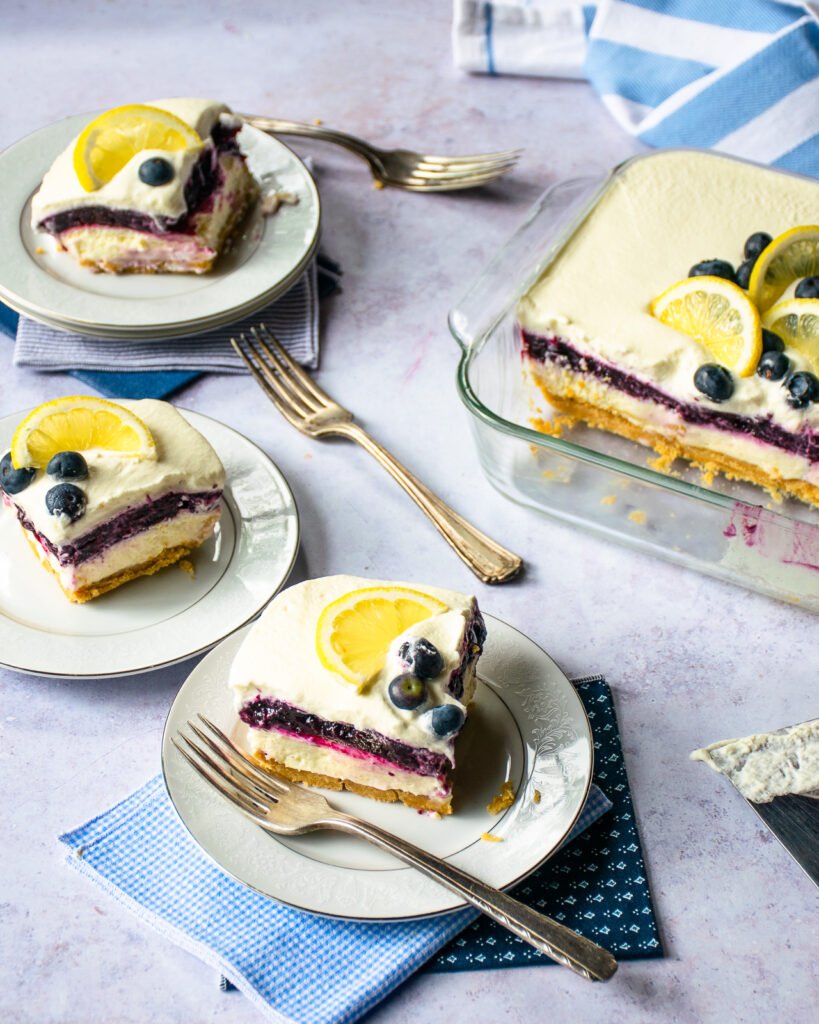 How to Make Blueberry Lemon Delight
I also decided to label this recipe a no bake dessert, although that is cheating just a little. On the whole, the dish does not need baking, but there is a little stovetop work that is required to make the blueberry layer. It only takes about 10 minutes, however, and if you don't have access to a stovetop, you could substitute blueberry pie filling (although it won't be as tasty as making it yourself). Once you've made the blueberry layer, you make the remaining components – whip some cream, beat together a cheesecake batter and make a Graham cracker crust – and then just layer them together and chill. It's super easy and a great make-ahead dessert.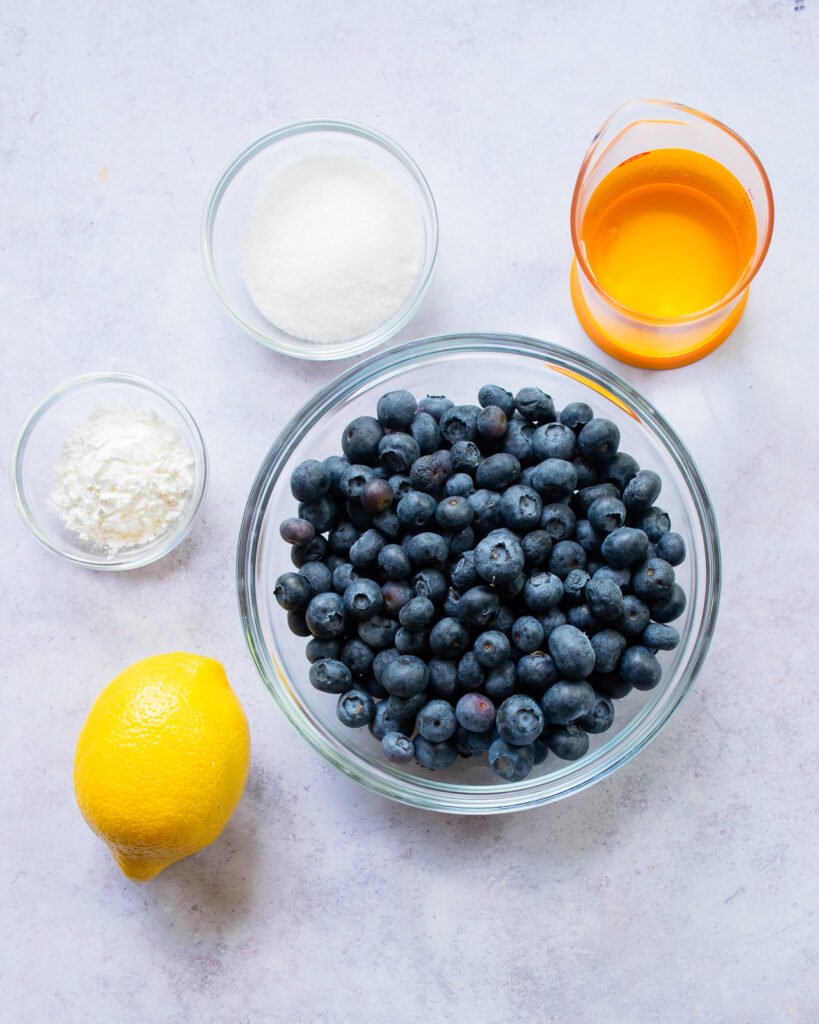 Blueberry Pie Filling
The blueberry pie filling is a quick throw-together. Water, sugar, lemon juice and blueberries get tossed into a saucepan and boiled until the blueberries burst. Then, stir in a cornstarch slurry (just cornstarch and a little water) to thicken the mix and you're done. BUT, do be sure to let the filling cool before assembling the dessert. It doesn't have to be cold, but cool to the touch is best.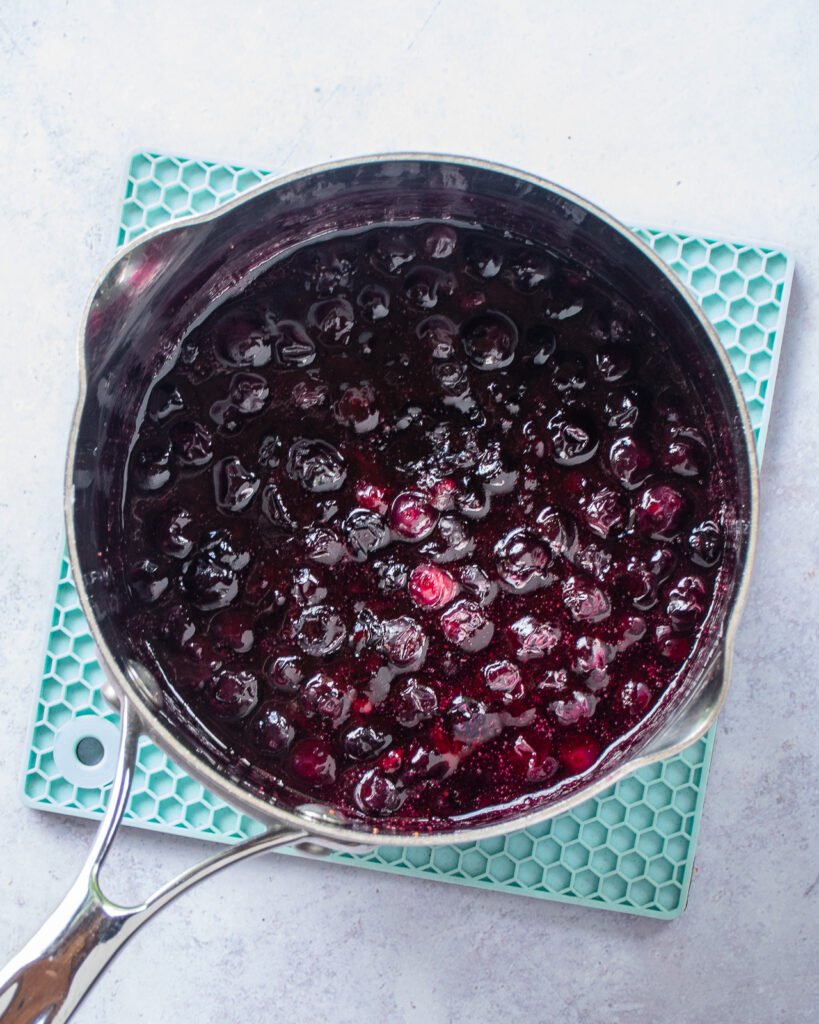 Fresh or Frozen Blueberries
If you can't find fresh blueberries, feel free to use frozen blueberries. No need to defrost them since they'll defrost pretty immediately in the saucepan. Frozen blueberries will produce more liquid than fresh, so you might need to add a little more cornstarch at the end. Start with 2½ tablespoons and be ready to add a little more if needed. The blueberry pie filling should be thick enough that when cooled in a shallow pan, you could draw a pathway through it with a spatula without the blueberry oozing in to fill the path. It should be a little thicker than a blueberry compote.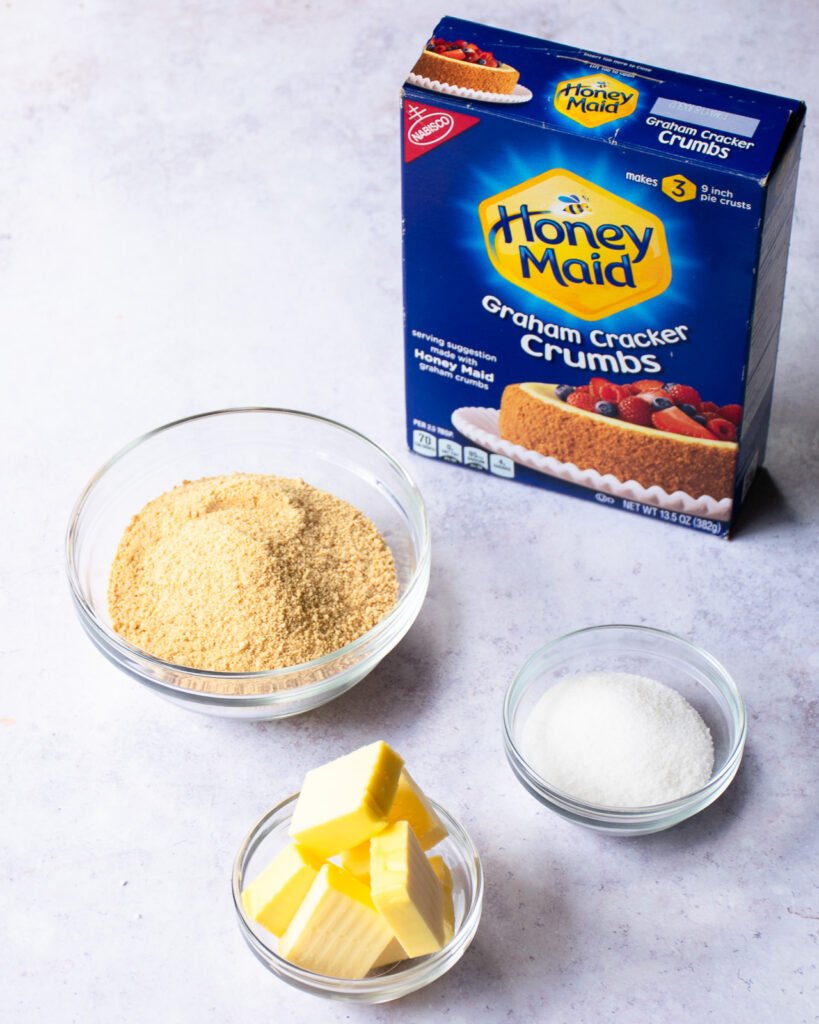 Graham Cracker Crust
The crust layer of the blueberry lemon delight is your basic Graham cracker cheesecake crust. It's easiest made with store-bought graham cracker crumbs, but you could also put whole Graham crackers into a food processor and make your own crumbs. Then, just combine the crumbs with sugar and melted butter and press it into your dessert pan.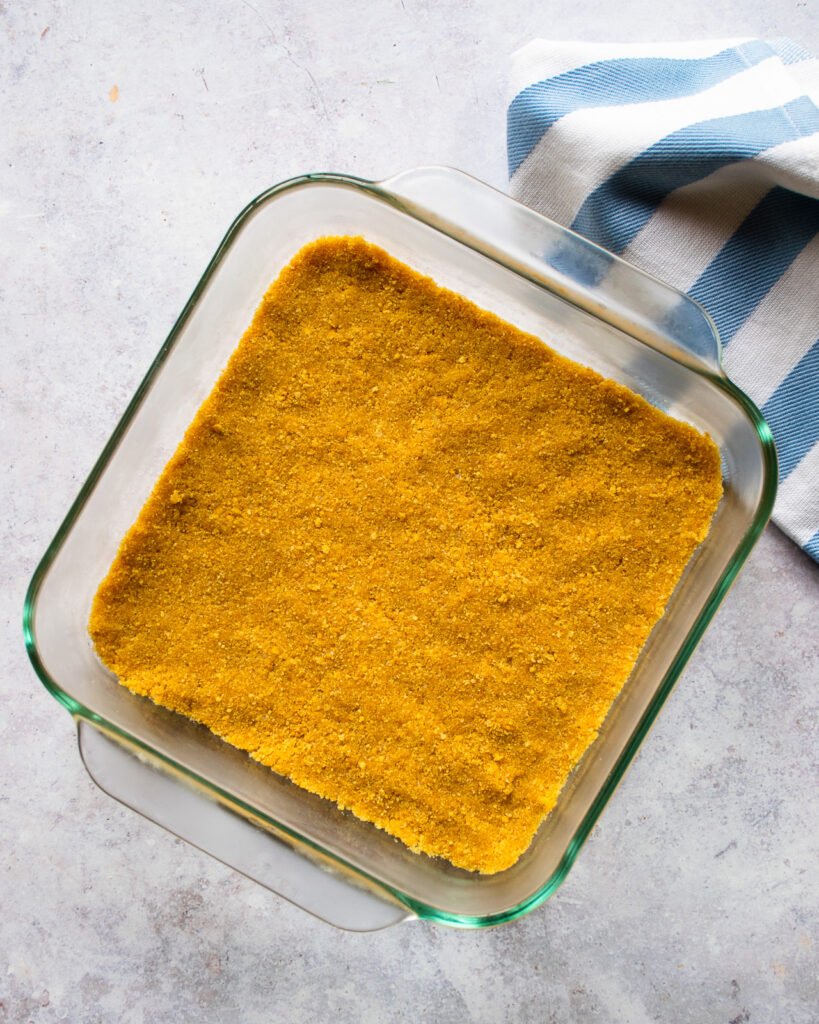 Pick the Right Dish
This recipe calls for an 8-inch square baking dish. You could use any square pan whether it be ceramic or metal, but it's especially nice to use a glass baking dish so that you can see the layers. Blueberry Lemon Delight a fun casual dessert and it doesn't call for your best serving dish. No baking dish? No problem! You can also make individual delights using ramekins or small glass bowls.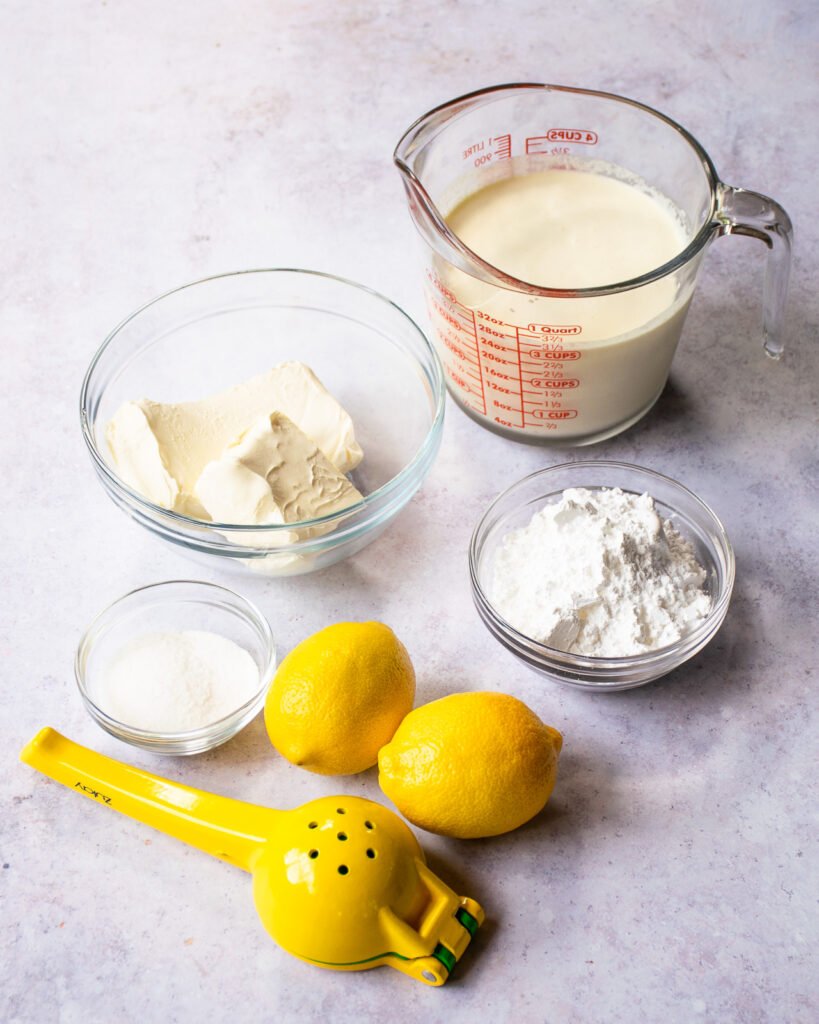 No Bake Cheesecake Layer
The no-bake cheesecake layer is very much like your regular cheesecake batter but it doesn't include eggs. Just beat the cream cheese, sugar, lemon zest and juice together and then fold in one cup of whipped cream to lighten it a little. You'll find this step much easier if you let the cream cheese come to room temperature before you start.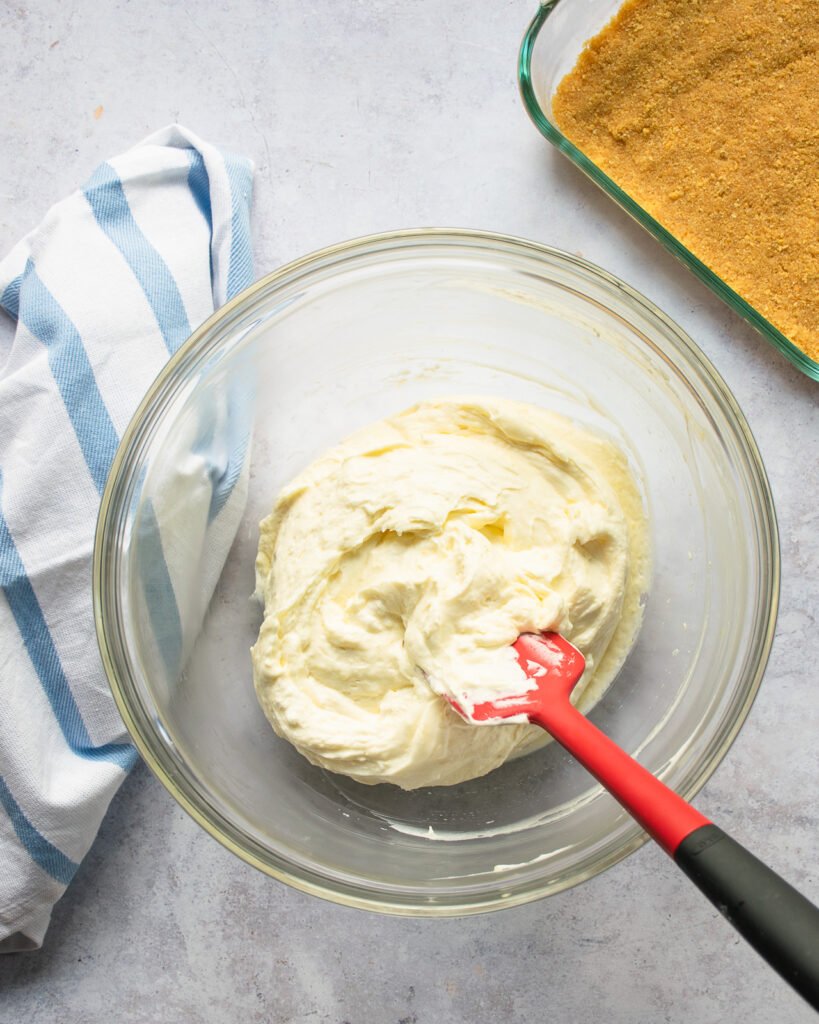 Layering Blueberry Lemon Delight
Before you start layering the dessert together, make sure you have a spot in your refrigerator for the dish. It's a great idea to chill the dessert while you prepare each layer. For example, make the Graham cracker crust and pop it in the refrigerator while you whip the heavy cream and beat the cheesecake layer together. Add the cheesecake layer to the crust, smooth it out and put it back into the refrigerator while you let the blueberry pie filling cool. Spoon the blueberry pie filling onto the cheesecake layer, spread it out carefully, and again, chill the dish before putting the whipped cream on top. And so on. Have that spot for the dessert reserved in the refrigerator right from the start.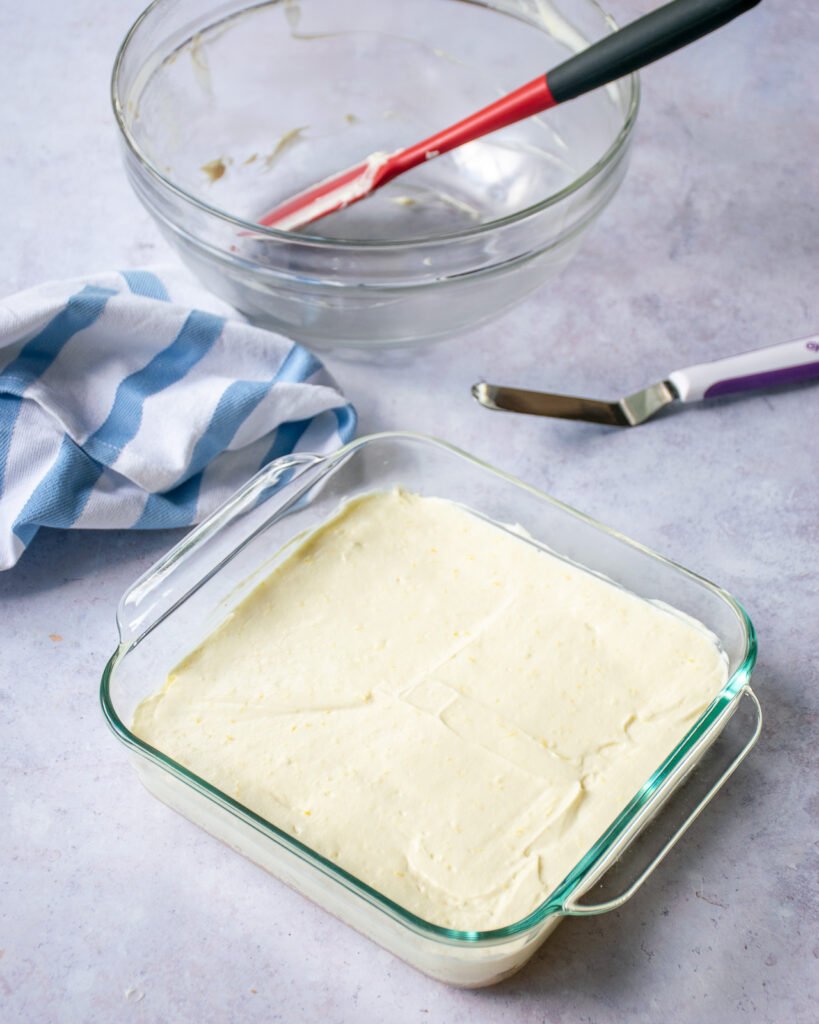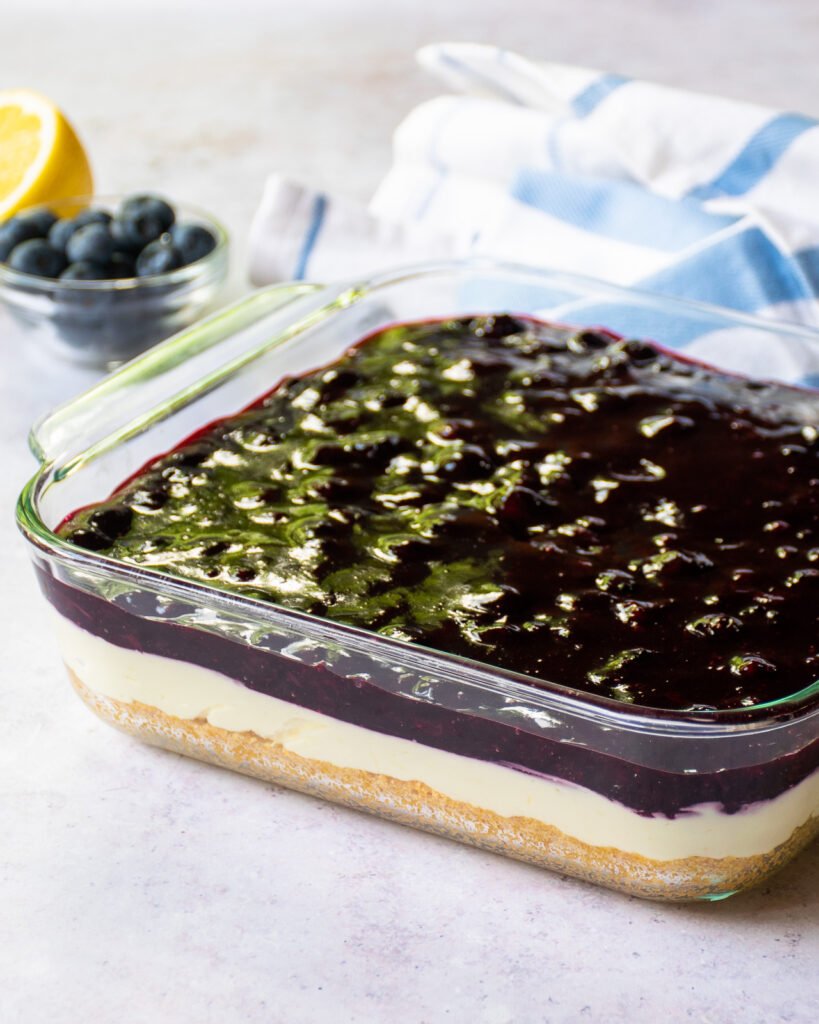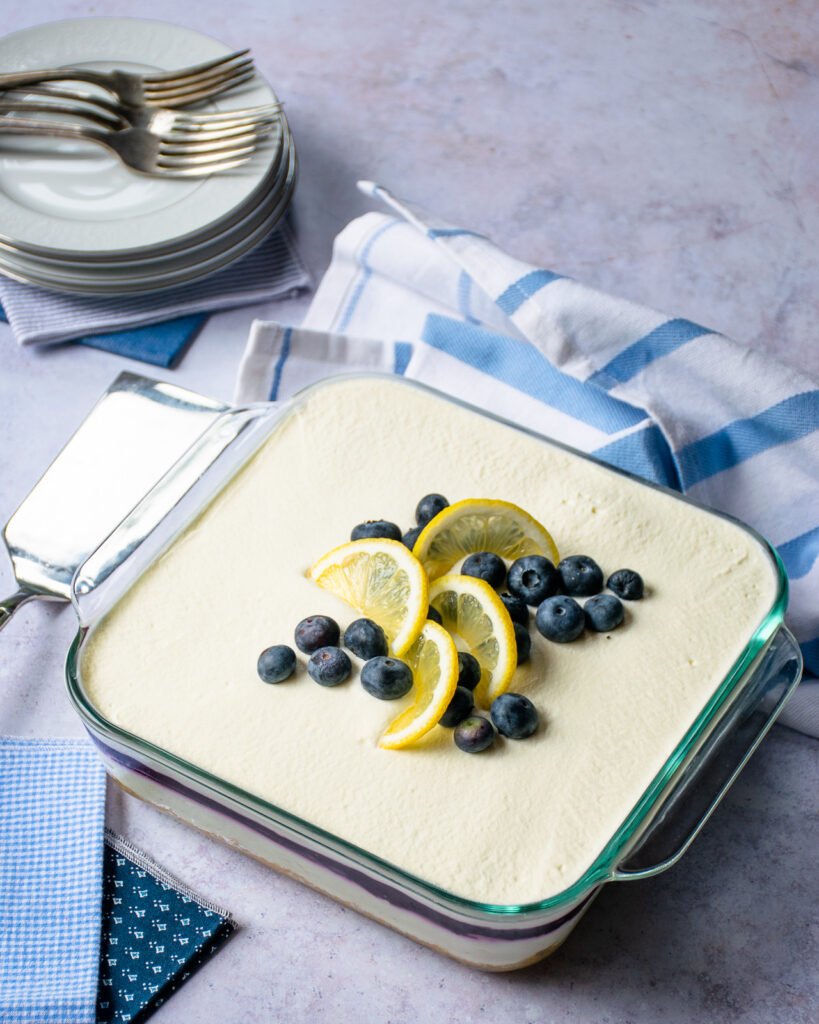 Make Ahead Blueberry Lush
Once all the layers are together, this dessert will need to chill to set together. That will take you at least 6 hours or so, but overnight is perfect. Blueberry Lemon Delight is definitely a make-ahead dessert.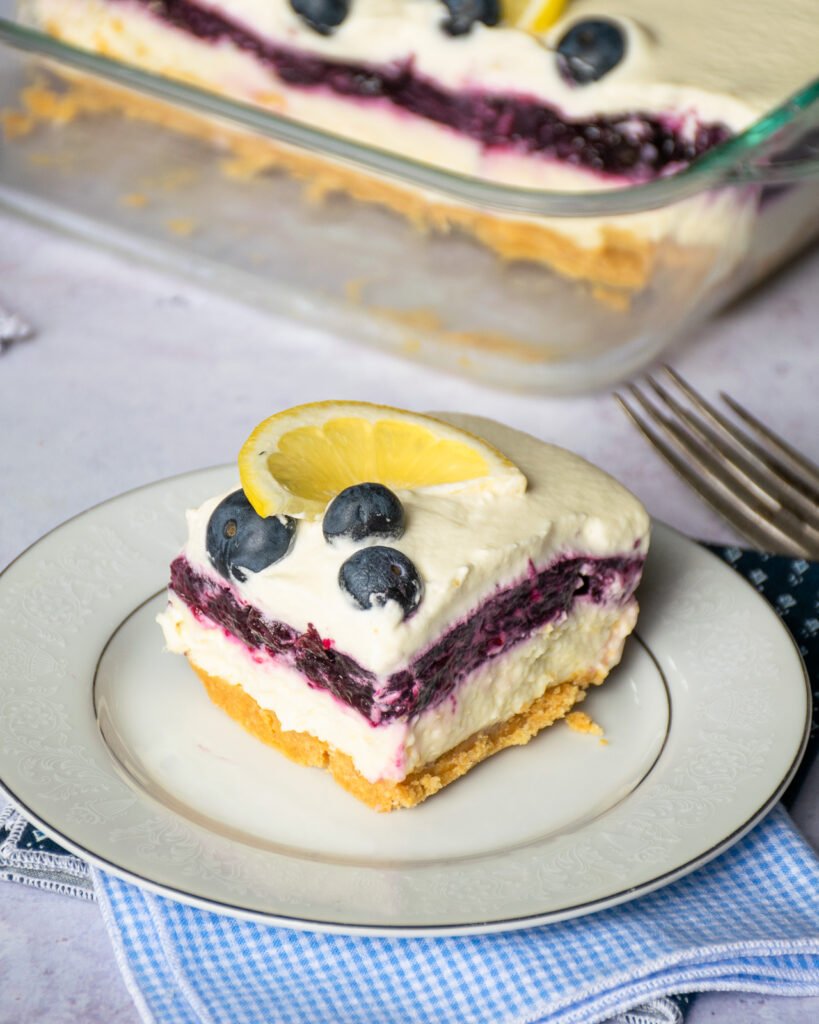 How to Serve Blueberry Delight
The finished Blueberry Lemon Delight does have some structure, but don't expect to cut it into pristine squares. This is the sort of dessert that won't necessarily sit pretty on a plate, but embrace its recklessness. It won't last long on those little plates anyway!