There's a little restaurant cafe in Kingston, Ontario that I love to visit because it has creative and delicious salads (among other things). One of the salads I had there a little while ago was a grain bowl salad with some roasted vegetables. It was so delicious and I felt so good afterwards that I wanted to recreate a similar wheat berry grain bowl at home. Now, I hear what you're muttering… you don't want a salad where you have to cook the ingredients and that's why I'm sending this recipe out to you on a Sunday, when you might have just a little more time – just 30 minutes more, because that's all the extra time you are going to need to cook the wheat berries.
First things first – what is a wheat berry? Simple – wheat berry is the grain of wheat that has had nothing stripped away. It still contains the germ, bran and endosperm and therefore all the nutrients that ever existed in the wheat kernel – it is full of fiber, protein, iron, vitamins and minerals. Once cooked in salted water and drained, it tastes a little nutty, a little chewy and really satisfying.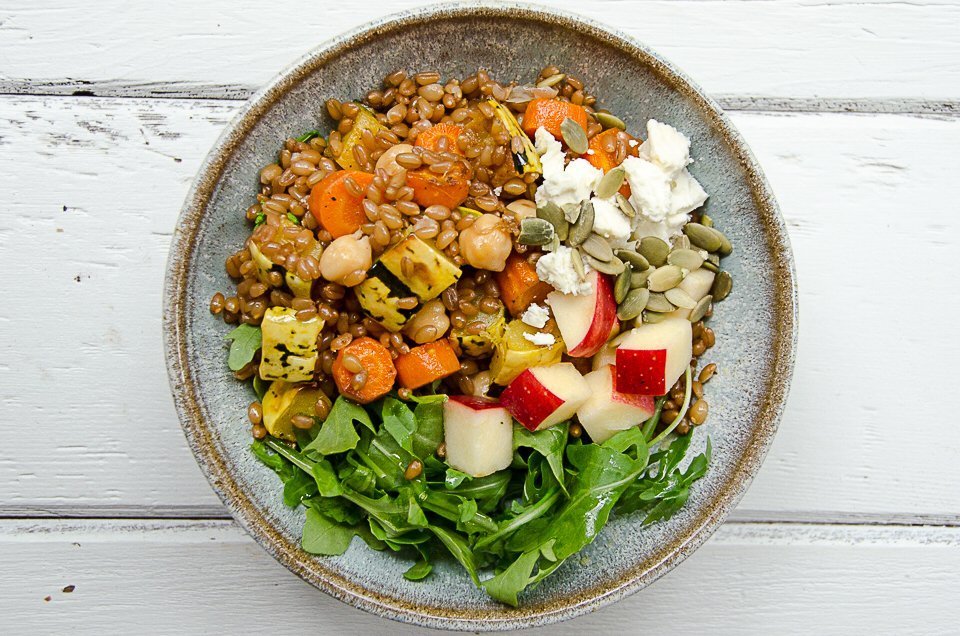 Once you have the wheat berries cooked, you can store them in your refrigerator and make a grain bowl with any number of ingredients later in the week. The recipe below is for making a wheat berry grain bowl from scratch, adding carrots and delicata squash, but these easy, delicious and good for you bowls really are perfect for using up leftovers. For instance, incorporate some leftover vegetables from dinner, a little leftover chicken or steak that isn't enough to make a full meal, some scraps of cheese, a little fruit, any nuts or seeds you have around – all of these are good ingredients to top the wheat berries and make a delicious meal. 
This recipe will give you a start of what to do, but after that anything goes. Just make sure you include the following components:
some greens (lettuce, kale, arugula, etc…)
some protein (tofu, chicken, lentils, quinoa, chopped egg)
some complex carbs (wheat berries, brown rice, barley, etc…)
some vegetables (anything goes!)
something sweet (fruit)
something crunchy (nuts and seeds)
and then throw in something fun if you feel like it (cilantro, coconut, avocado, whatever). 
If you're looking for a way to make this recipe just a little faster, try cooking the wheat berries in your pressure cooker or Instant Pot®. You would cook them exactly the same way you would cook farro (6 cups water, 2 cups wheat berries, salt – 15 minutes in the pressure cooker, natural release for 10 minutes and then quick release) and you can see a video of a similar grain bowl salad below.