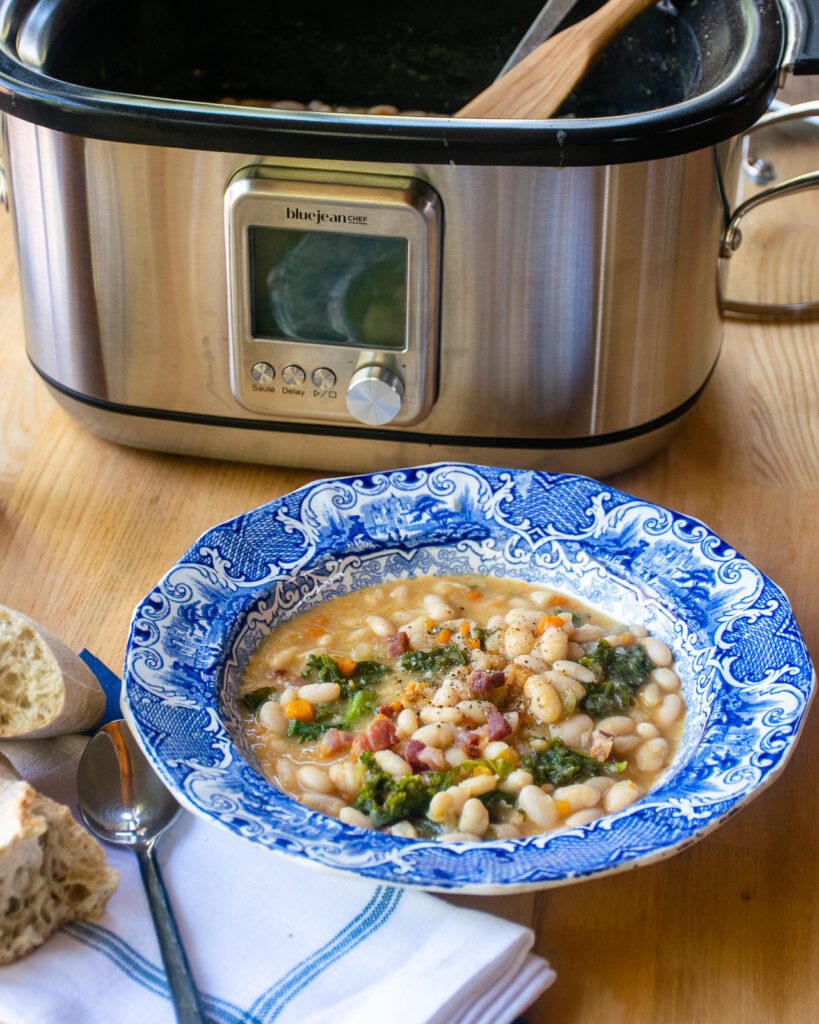 How to Cook Beans in the Slow Cooker
If you're looking for a comforting and flavorful dish that's easy to prepare, look no further than slow cooker creamy white beans with pancetta and greens. This hearty dish combines tender white beans, salty pancetta, and nutritious greens into a satisfying meal that's perfect for any occasion. The best part is that it is cooked entirely in your slow cooker, which might just become your favorite way to cook beans! Cooking beans in a slow cooker is so simple and so convenient. To start, rinse the beans in a colander and remove any debris or stones. I like to sauté onions, celery, carrot and garlic first, then add the beans to the slow cooker and cover them with water or broth. The ratio of water to beans should be about 3 cups of water for every 1 cup of dried beans. Set the slow cooker to high or low heat, depending on how much time you have, and let the beans cook for 3-4 hours (on high) or 6-8 hours (on low) until they're tender.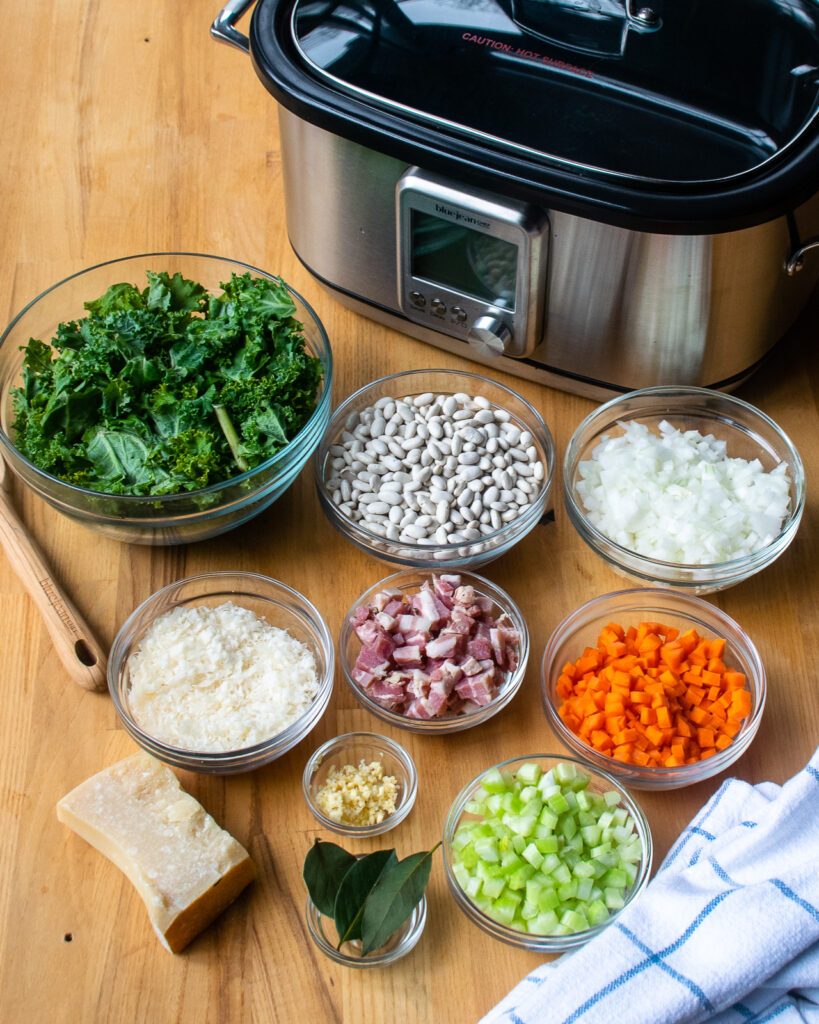 Soaking Beans… or Not!
The topic of whether or not you should soak dried beans before cooking is not without controversy! Some won't cook beans without pre-soaking. Others are just not that well prepared. The bottom line is that it's not necessary to soak beans before cooking them in a slow cooker, BUT it can help to speed up the cooking process. The more important variable to take into consideration before you decide whether or not you need to soak your beans is the age of your beans. The older dried beans get, the longer they take to cook. If I could only give you one tip to the success of this recipe, it would be to buy "fresh" dried beans. Buy a smaller quantity of dried beans more often, and you won't even have to think about soaking them again. If your beans are older, however, cover them with water and let them sit for 2 to 6 hours. Then, drain the soaking water and proceed with cooking the beans in the slow cooker according to the recipe.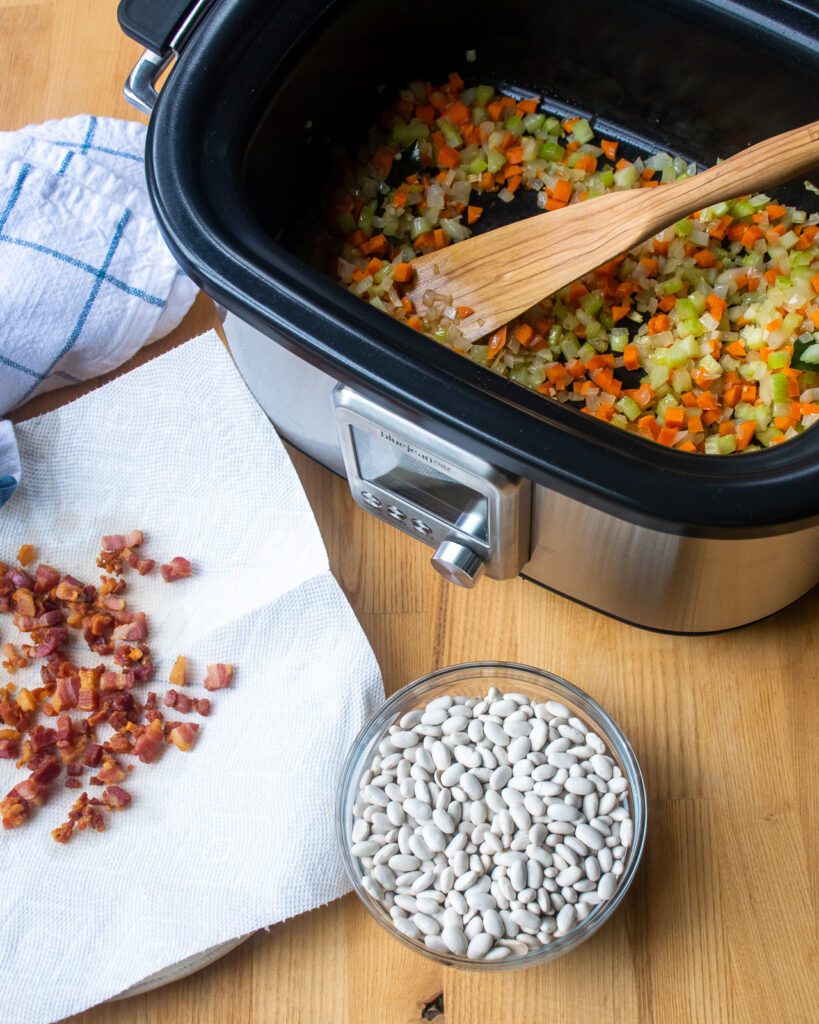 Preliminary Sautéing
This recipe starts with sautéing the pancetta. This renders the pancetta fat into the cooker to give the dish extra flavor. Add the vegetables to the pancetta fat and give them a head start. If your slow cooker doesn't have a browning function, do this in a skillet over medium-high heat and then add that to the cooker with the beans and water.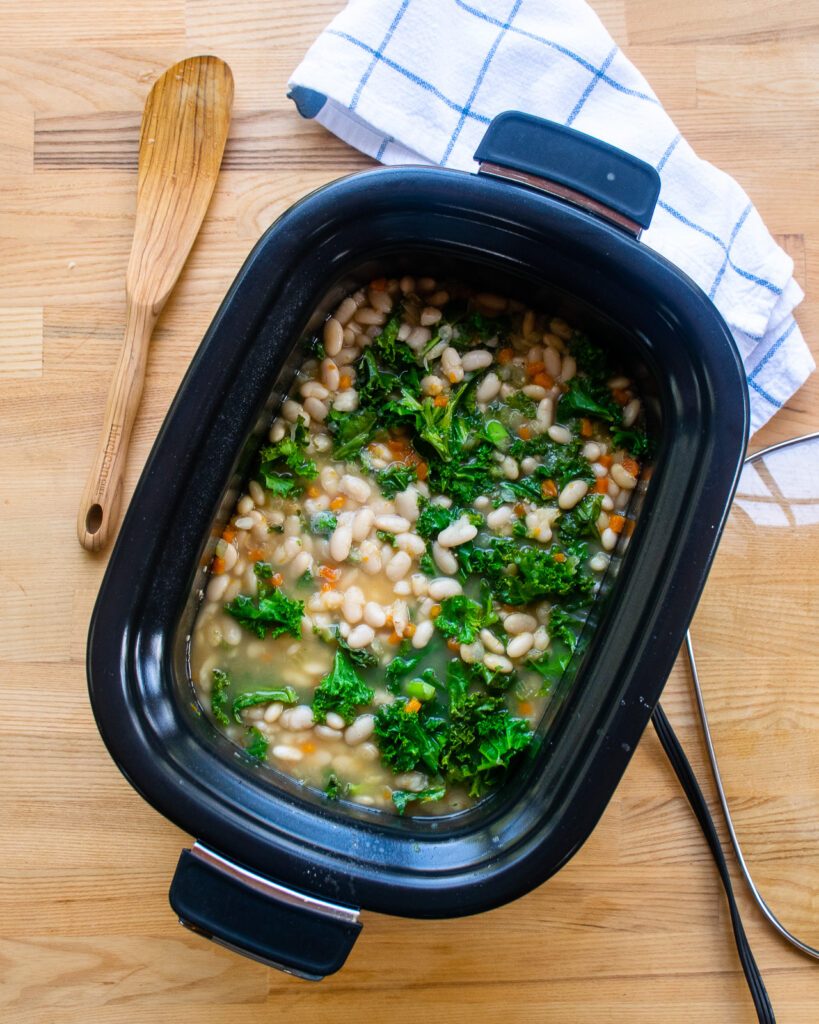 Time for Slow Cooking Beans
The time needed to slow cook beans will depend on a few factors, including the type of beans, how old the beans are, whether or not they were soaked, and how hot your slow cooker is (pre-heating your slow cooker is always a good idea!). As a general rule, most beans will take between 6-8 hours on low heat and 3-4 hours on high heat to become tender. You'll know the beans are done when they're soft but not mushy, and the liquid is creamy and flavorful.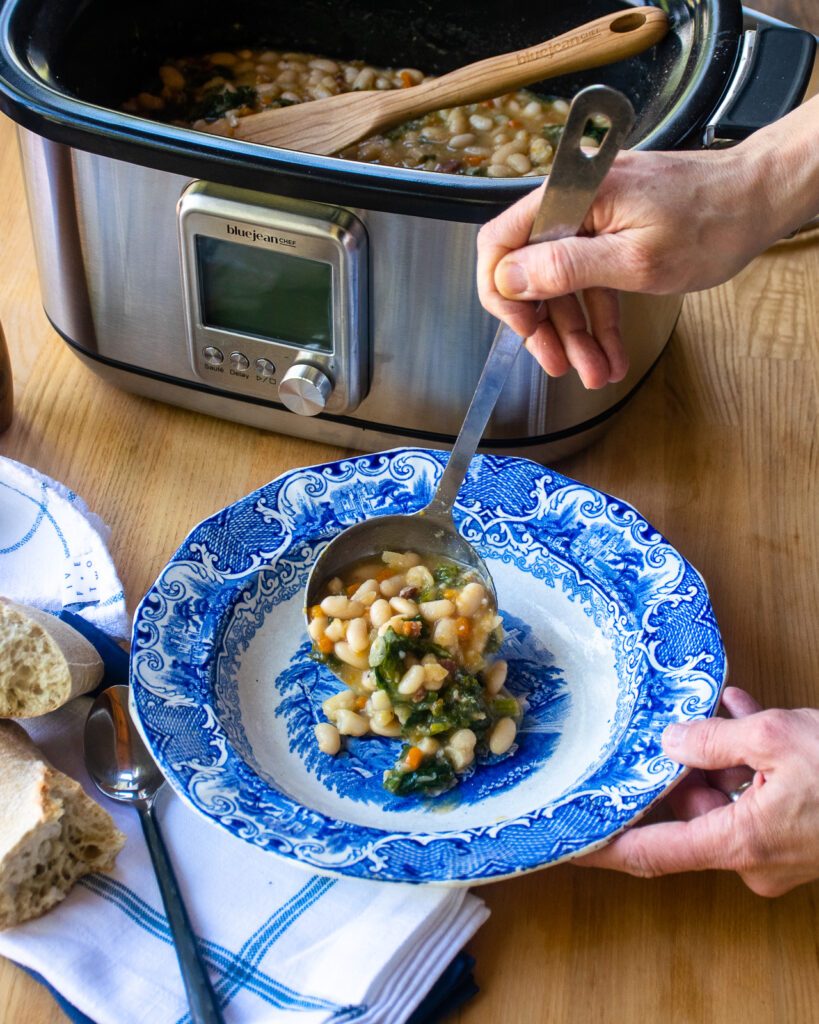 How To Serve Slow Cooker Beans and Greens
Once the beans are cooked to perfection, it's time to make them creamy by vigorously stirring in Parmesan cheese and wilting in the greens! This dish is delicious all by itself. The only thing I need alongside is some crusty bread to soak up the delicious bean liquor and maybe a side salad. Enjoy!