You'll need three things to make this gift: some vinegar, some flavors and a few good looking bottles. Let's talk about the bottles you need first.
It's important to use only glass jars or bottles. Plastic and metals can be reactive with the vinegar and you don't want to have any chemical interaction at any time during the vinegar-making process. Those glass jars or bottles should ideally have corks or plastic lids. Again, metal lids could react with the vinegar with undesired results. If the bottle or jar you want to use does have a metal lid, make sure the vinegar doesn't come into contact with the lid (in other words, only store the vinegar upright and not lying down). Before you make the vinegar and before you store the vinegar you need to sterilize the jars. You can do this by submerging the jars in boiling water for 10 minutes or you can use the sterilizing cycle on your dishwasher. Do this right before you plan on using the jars. It's also a lot easier to make the vinegar in a large jar and then transfer it to a prettier smaller bottle once it's had time to blend the flavors – after two weeks.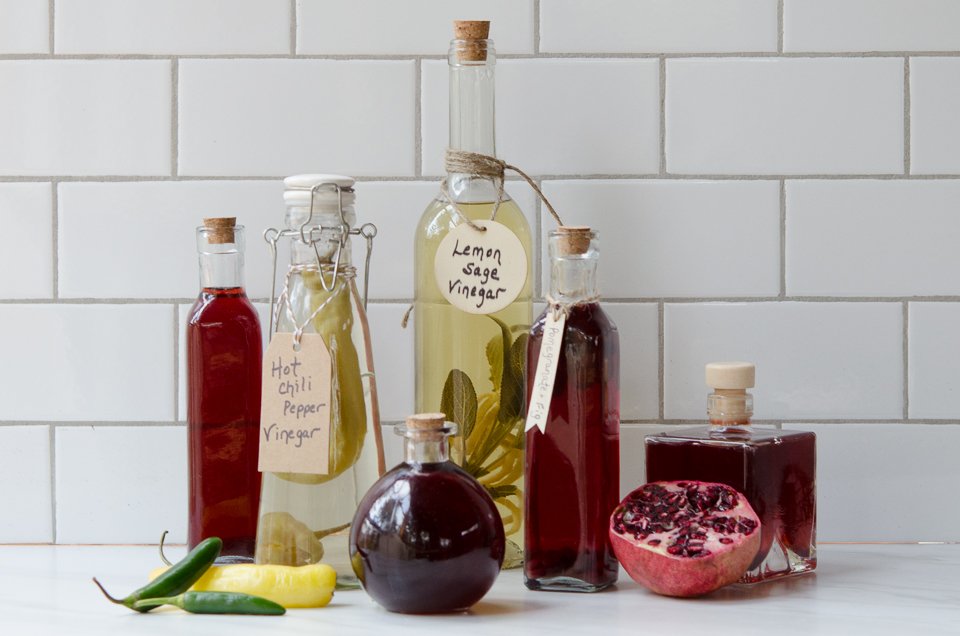 The next thing you will need to decide is what vinegar is going to be your base. There are no limitations here – you can use pretty much any type of vinegar you like. Distilled white vinegar is a good, affordable choice that is best used with delicate herbs or delicate flavors. White wine or champagne vinegar is also good for delicate herbs and fruit, but it is a little more refined and adds some caché to the name of your vinegar. Apple cider vinegar can be a popular choice for fruit-flavored vinegars. Red wine or balsamic vinegars are much stronger flavored and need to be paired with stronger ingredients like spices or fragrant herbs.  The only downside of using balsamic vinegar is that you won't see any color imparted to your vinegar from your other ingredients. There is a solution to this, however – use white balsamic vinegar as the base.