Green Goddess Dressing may sound like an undertaking, but it is actually a very easy dressing to make with either a food processor or blender. The only difference between using one appliance over another is that with a food processor, I add the ingredients in stages, whereas with a blender everything can almost go in at once.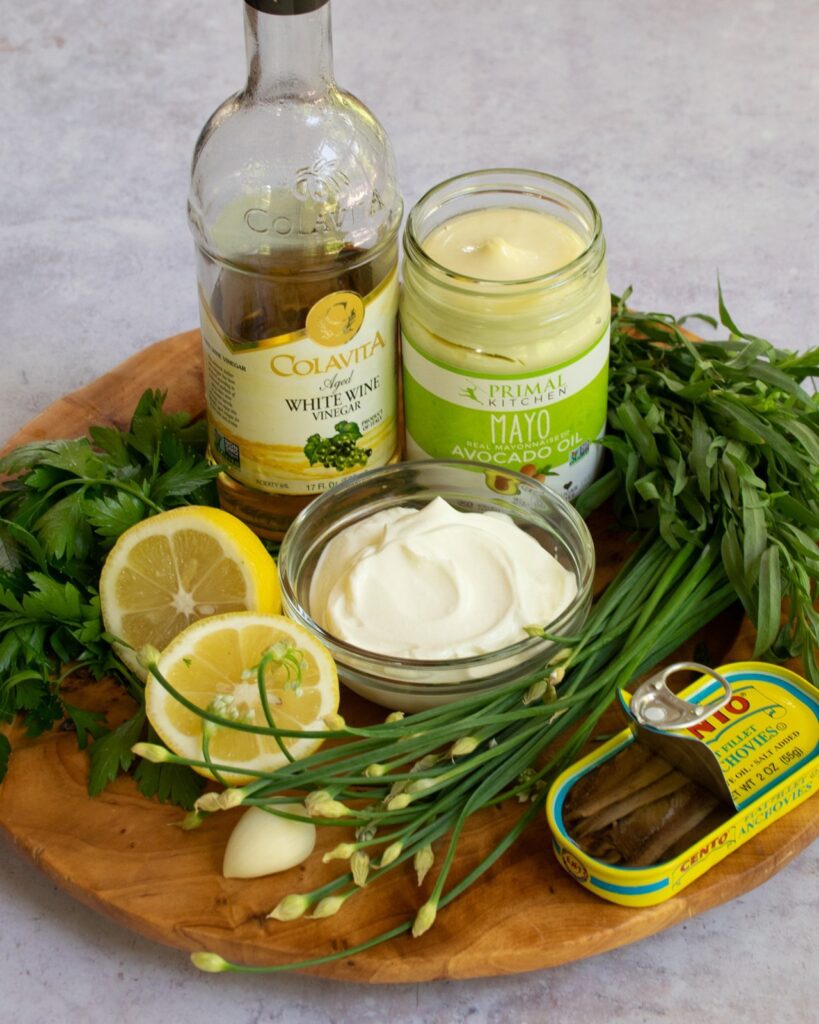 For the food processor method, add the anchovy fillet and clove of garlic down the feed tube with the processor running. That helps to mince the garlic before it gets lost in all the other ingredients. Then, add the fresh herbs and pulse the processor several times to get the herbs chopped up. Finally, add all the wet ingredients except for the sour cream and process until smooth and creamy. The sour cream goes in last and just gets pulsed in the processor to incorporate it gently so that there's no risk of the sour cream breaking (sour cream can break from high heat OR from being mixed with acid, like the lemon juice in this recipe). For the blender, add the anchovy fillet, garlic and herbs through the hole in the lid while the blender blends. Then add all the wet ingredients, leaving the sour cream for last.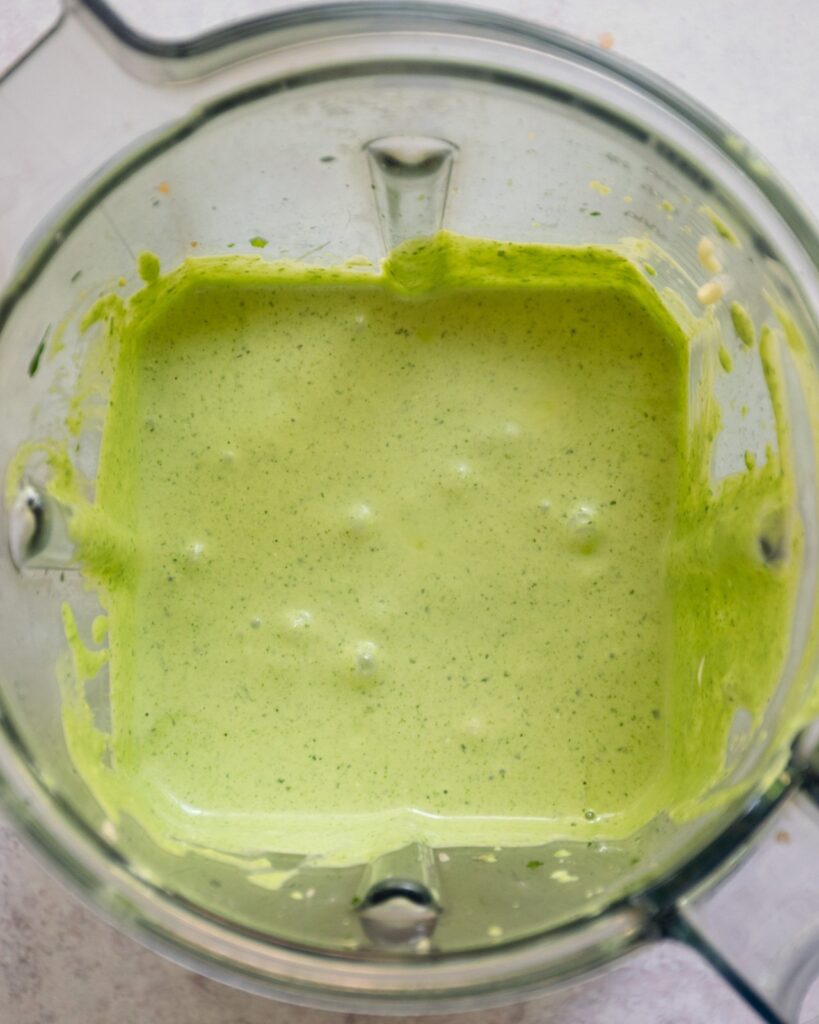 Originally, Green Goddess dressing (allegedly created in San Francisco in 1923 to celebrate the actor George Arliss and the production of a play starring Arliss called The Green Goddess) was made with herbs and watercress or scallions. That leads to a very strong and sharp flavor which might not please everyone, so this recipe uses chives instead for a gentler flavor and I think it works really nicely. The tarragon is a dominant flavor in the dressing and the mild anise flavor is very refreshing. You'll also find there's a significant garlic aroma to this dressing. If you're no fan of garlic (and I really prefer gentler garlic flavor myself), remember that cloves of garlic really vary in size. Make sure you use a small clove or even cut a clove of garlic in half. You could even leave the garlic out if you prefer. It's your dressing. 
As with most creamy dressings, serve Green Goddess dressing on hearty greens that can handle the weight of the sauce or try it as a dip for crudités. It coats the vegetables so nicely and the color is beautiful, especially next to all the bright colors of raw veg.
If it's salad you're going for, use heartier lettuces like Romaine or Bibb lettuces. Whatever green you choose, it needs to be sturdy enough to handle the weight of a creamy dressing. This is not for your delicate mesclun mix or arugula.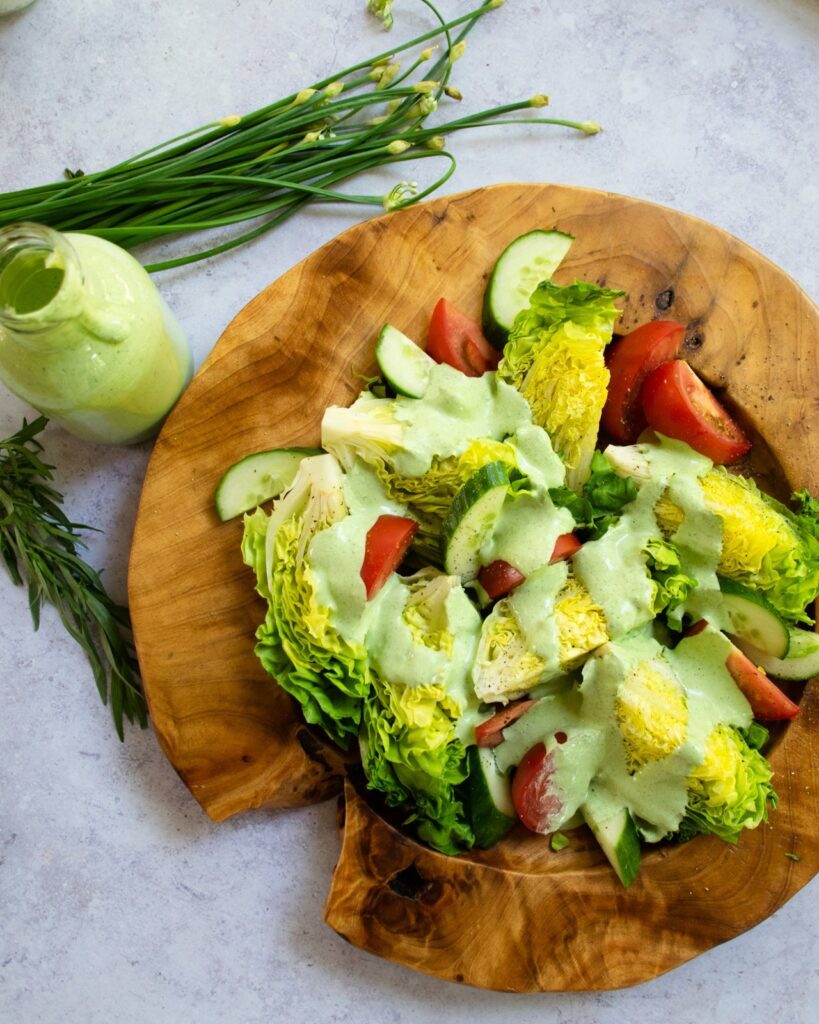 It's hard to make a small quantity of dressing in a food processor or blender – these appliances need enough ingredients in them to properly blend – so find a nice bottle to store any leftover dressing from this recipe. You'll be glad to have it on hand.