This cauliflower Alfredo bake can be served as an entrée or as a side dish. It can be served alone or over pasta. It can be made as is, or without the prosciutto if you want to make it vegetarian. It's a versatile dish based on the classic Fettucine Alfredo (for the classic recipe, click here). Now, traditionally, Alfredo was prepared tableside (which you can read about here), but not this cauliflower version. This Alfredo bake is definitely a dish you prepare ahead of time to serve at the table. So, because it's such a pretty recipe, remember to prepare it in a pretty dish that will look nice and make you proud.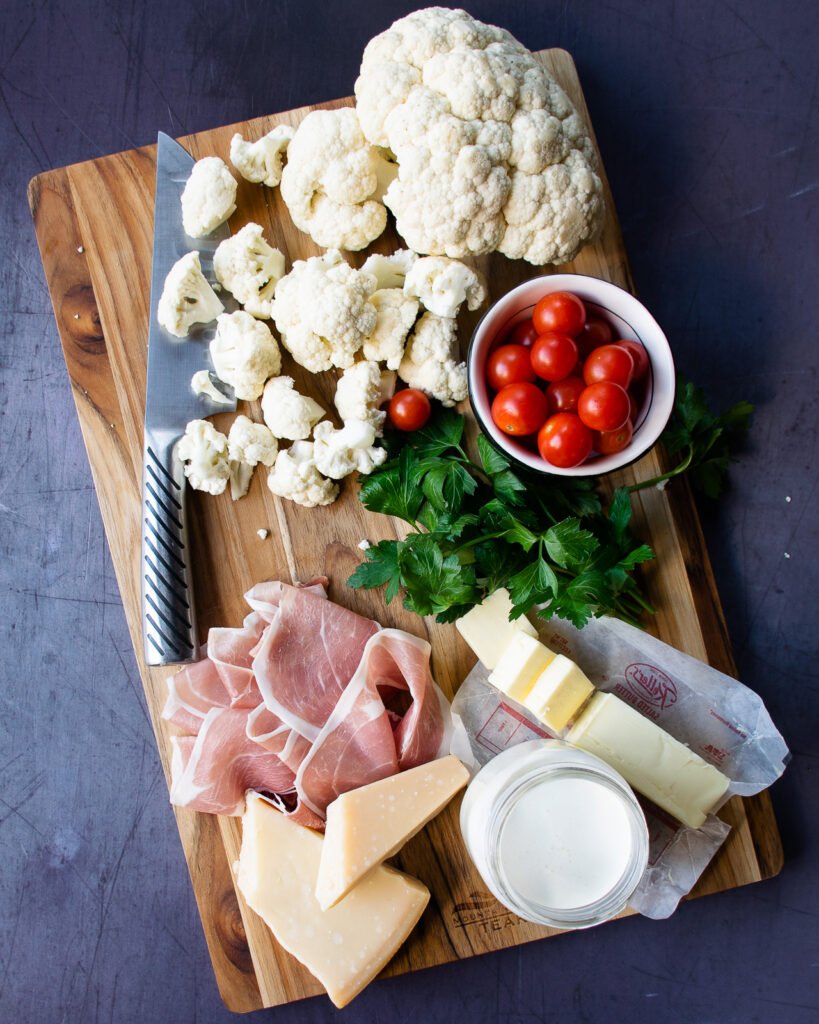 Alfredo Sauce
Alfredo sauce is one of the very easiest pasta sauces to make and at the same time it feels so indulgent and luxurious. It feels that way because it is! The only ingredients in an Alfredo sauce are butter, cream and Parmigiano-Reggiano cheese so the calorie count is not low, making it an occasional indulgent treat. Serving it over pasta is the classic preparation, but if you're trying not to eat wheat for whatever reason, putting Alfredo sauce over cauliflower is a pretty perfect option. Even if you're NOT trying to avoid pasta, however, putting Alfredo sauce over cauliflower is a pretty perfect idea!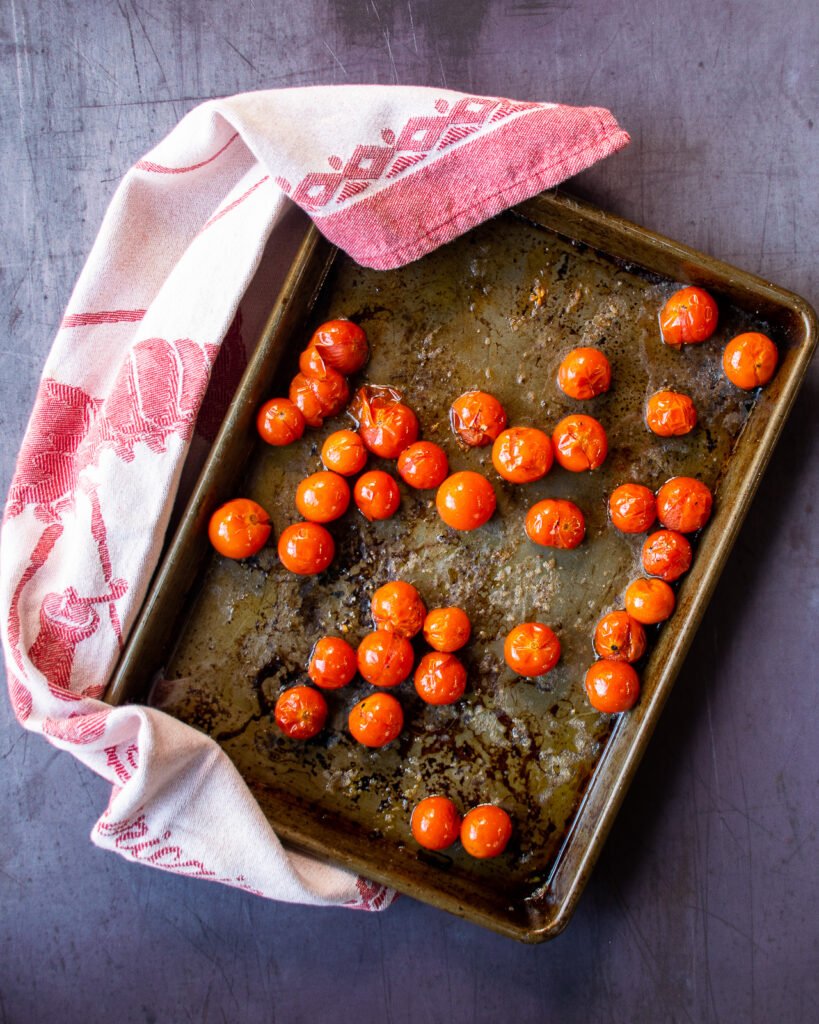 What Goes with Alfredo Sauce?
Honestly, you can put almost anything into this Alfredo bake along with the cauliflower. The two extra ingredients included in this recipe are roasted tomatoes and prosciutto. By roasting the tomatoes before adding them to the casserole pan, you'll intensify their sweet flavor. You can roast them in the oven OR in your air fryer while you blanch the cauliflower florets and make the easy sauce. Prosciutto is an Italian dry-cured ham that is thinly sliced and salty. Remember that because prosciutto and Parmesan cheese are both salty, you want to go easy on adding salt to the casserole on the whole.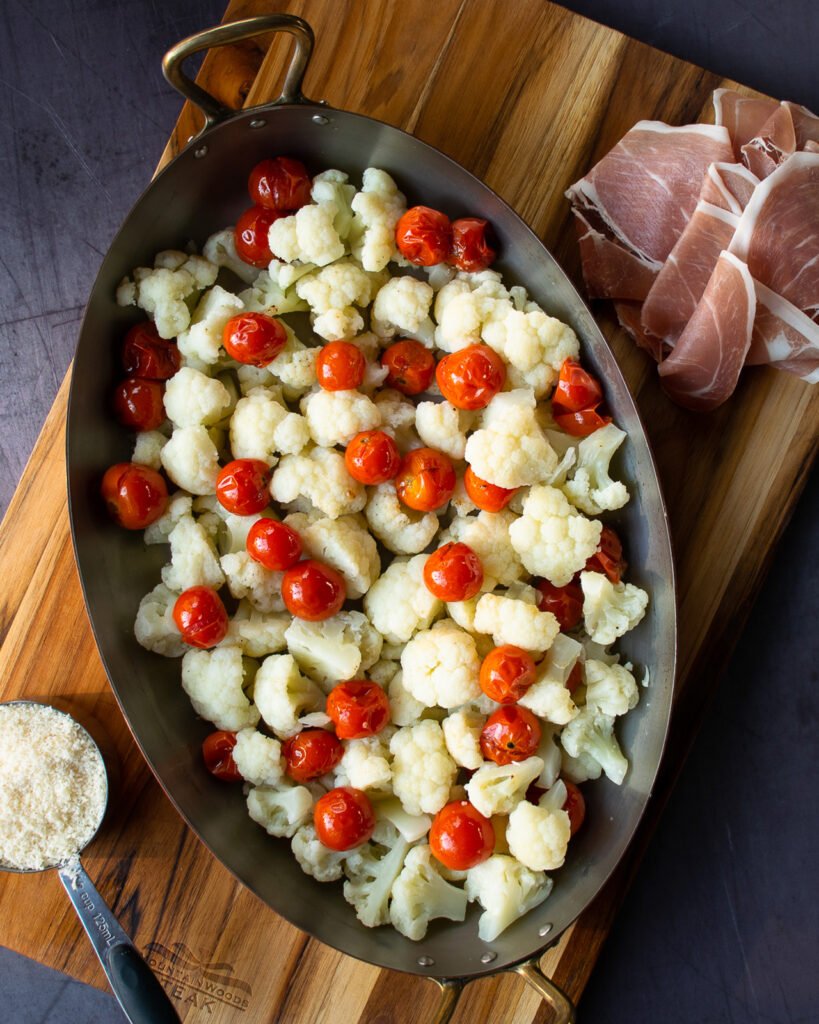 Gluten Free Alfredo
One of the aspects of Alfredo sauce that makes it different from a cheese sauce and very popular these days is that it is naturally gluten free. Cheese sauces tend to be thickened with flour, but Alfredo sauce is a cream sauce that is thickened by reducing it on the stovetop and adding Parmesan cheese. That makes this sauce and this recipe ideal for anyone avoiding gluten.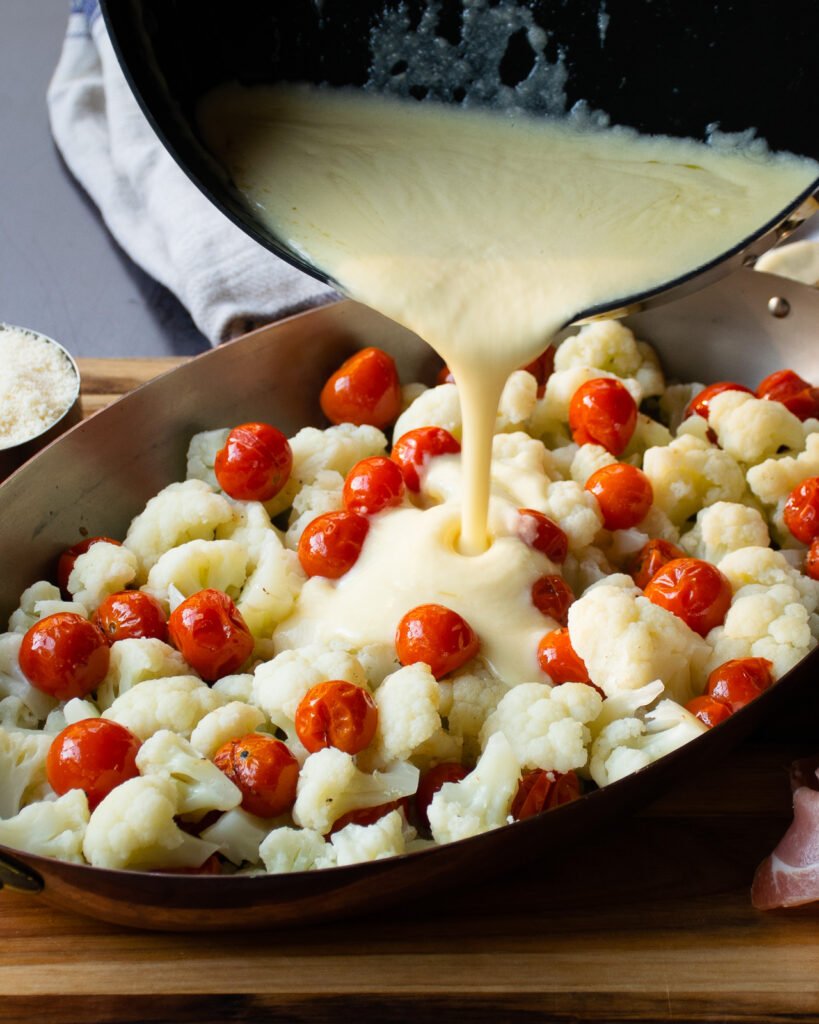 Make Ahead Tips
Once you have the cauliflower blanched, the tomatoes roasted and the Alfredo sauce made, you just need to put all the ingredients together. If you're making this in advance, you can combine the cauliflower and tomatoes, but hold off on adding the other ingredients. The prepared vegetables, prosciutto, cheese and Alfredo sauce can all be kept in the refrigerator. When you are ready to assemble the bake, just re-heat the sauce before pouring it over the top.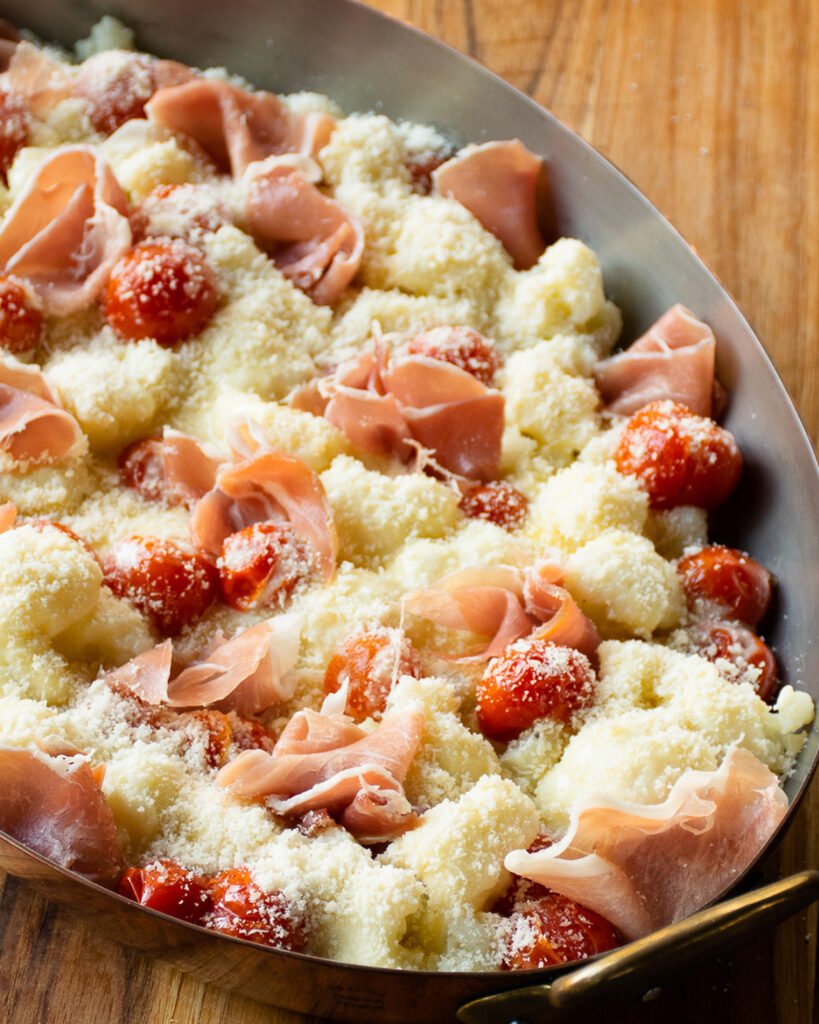 If you're only making the casserole a couple of hours ahead of time, assemble the components and leave the casserole at room temperature. Pop it into the oven 45 minutes before you want to serve it.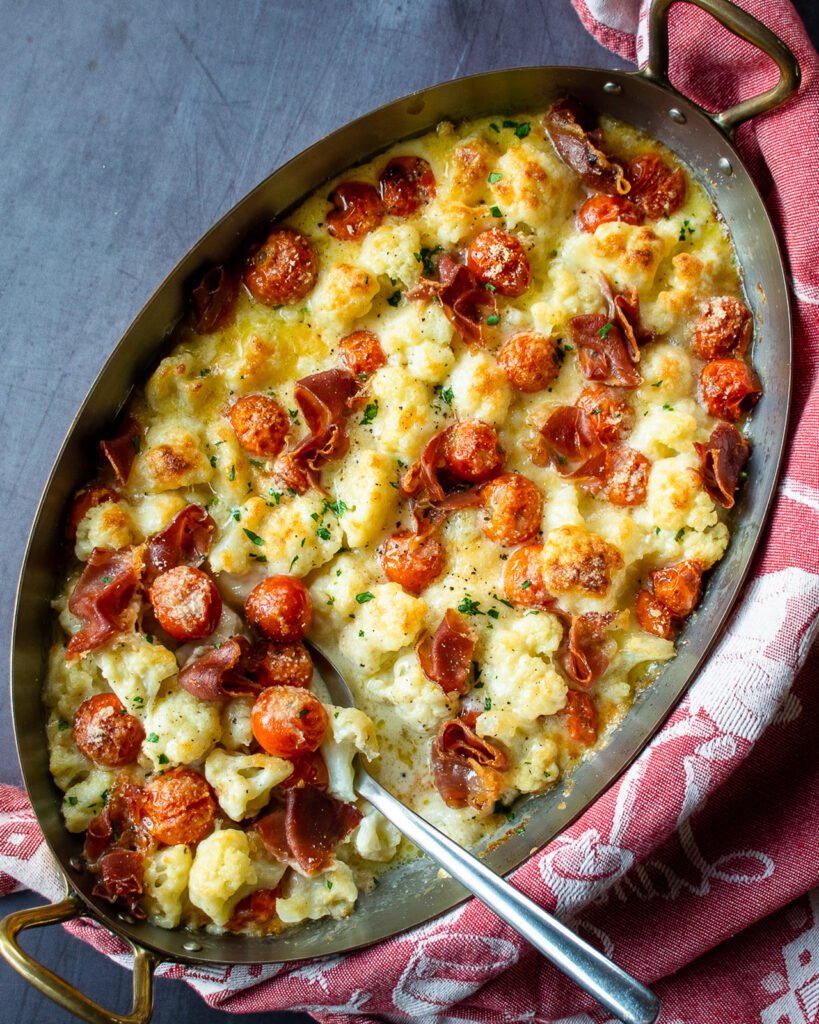 What to do with Leftover Cauliflower Alfredo Bake?
If you have any of this delicious dish left over, lucky you! Just store the leftovers in the refrigerator for up to 3 days. Because it is made with heavy cream, it reheats very easily without breaking and you can even add a little more cream if it needs a little more sauce or thinning out. FYI, if you're not avoiding pasta, the cauliflower Alfredo is delicious over some egg noodles too!