Brown Butter Ice Cream
This ice cream is intensely buttery with the crunch of almonds and just a touch of rum flavor. While there is just a little cooking involved in making the base, it's a quick recipe to put together and the pay off is big.
Jump to Recipe (or scroll for photos...)
Advertisement - Continue Below
Advertisement - Continue Below
Advertisement - Continue Below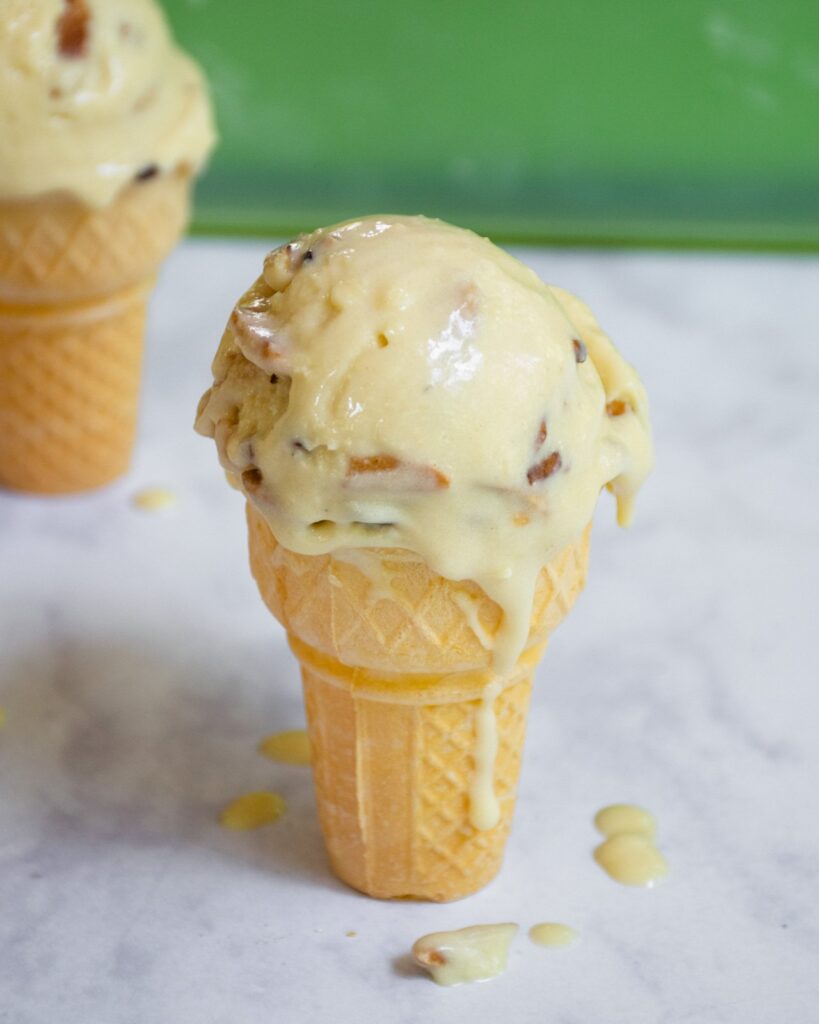 Brown Butter Rum Ice Cream with Toasted Almonds
Ingredients
1 cup unsalted butter
2 cups heavy cream
1 cup whole milk
½ cup sugar
½ cup brown sugar
5 egg yolks
2 to 3 tablespoons dark rum
½ cup slivered almonds
---
Instructions
In a medium saucepan melt the butter over medium high heat. Lower the heat and simmer for about 5 minutes until the butter turns a deep amber color and has a nutty smell. Stir occasionally, making sure the butter does not burn. Pour the butter into a bowl through a fine mesh strainer to remove any dark particles. Set the butter aside and wipe out the saucepan.
Pour the heavy cream, milk, sugar and brown sugar into the saucepan and bring the mixture to a simmer. Simmer for a few minutes until the sugar has dissolved.
Whisk the egg yolks in a small bowl until well beaten. Add 1 cup of the hot cream mixture to the egg yolks, whisking constantly. Continue to whisk and slowly pour the cream and yolks back into the pan. Simmer the mixture for about 5 minutes until it thickens and coats the back of a spoon. Remove the pan from the heat and whisk in the brown butter and dark rum.
Transfer the mixture to a bowl or container and chill for at least 4 hours.
While the mixture is chilling, heat a small skillet over medium-high heat. Add the almonds and tir or toss until toasted and lightly browned. Let the nuts cool.
Once the mixture is completely chilled, pour it into an ice cream maker and churn according to the manufacturer instructions. After the ice cream hasset up, fold in the toasted almond slivers.
Serve the ice cream immediately, soft serve style, or transfer it to a container and freeze for at least 4 hours for a harder, scoopable texture.
Nutrition Facts
Brown Butter Rum Ice Cream with Toasted Almonds
Amount Per Serving
Calories 612 Calories from Fat 468
% Daily Value*
Fat 52g80%
Saturated Fat 30g150%
Cholesterol 268mg89%
Sodium 48mg2%
Potassium 170mg5%
Carbohydrates 31g10%
Fiber 1g4%
Sugar 28g31%
Protein 6g12%
Vitamin A 1795IU36%
Vitamin C 0.3mg0%
Calcium 124mg12%
Iron 0.6mg3%
* Percent Daily Values are based on a 2000 calorie diet.
Close Modal
Advertisement - Continue Below
Advertisement - Continue Below
Advertisement - Continue Below