Beautiful Peaches
This upside down peach cake is so pretty and all the credit goes to the peaches. Peaches truly are a thing of beauty – their fuzzy skin protecting the perfect yellow (or white) flesh that surrounds a jagged pit. I love the touch of crimson that is left in the center of the peach when the pit is removed, contrasting with the yellow flesh and allowing pretty designs to be made in pies, tarts and cakes. It's really that crimson marking that lets us all immediately identify a slice of peach as a peach (and not a piece of mango or other fruit). Stop for a moment to admire the peach.
How to Peel Peaches
Ok, on to the recipe… The first thing you need to do to make this delicious upside down peach cake is to remove that fuzzy skin. While the skin is somewhat adorable when eating a slice of peach, it's not nice to find a fuzzy peach skin in your teeth when you're enjoying a piece of cake. So, to remove this skin without removing too much of the flesh along with it, you score the bottom of the peach, blanch it in boiling water and then shock it in ice water. This procedure is the same as that to remove the peel from a tomato. You can see this step by step process and read more about peaches in the cooking school here. Once you've shocked the peach and the peel has come off nicely, slice around the inner pit with your knife and twist the two halves of the peach in opposite directions. If you have a nice ripe freestone peach, the two halves should come apart easily. (Freestone peaches are available June through August, whereas clingstone peaches are earlier in the season, available from May to June.) Slice the peaches and then arrange them in a pretty design on the bottom of your cake pan, on top of the butter and sugar.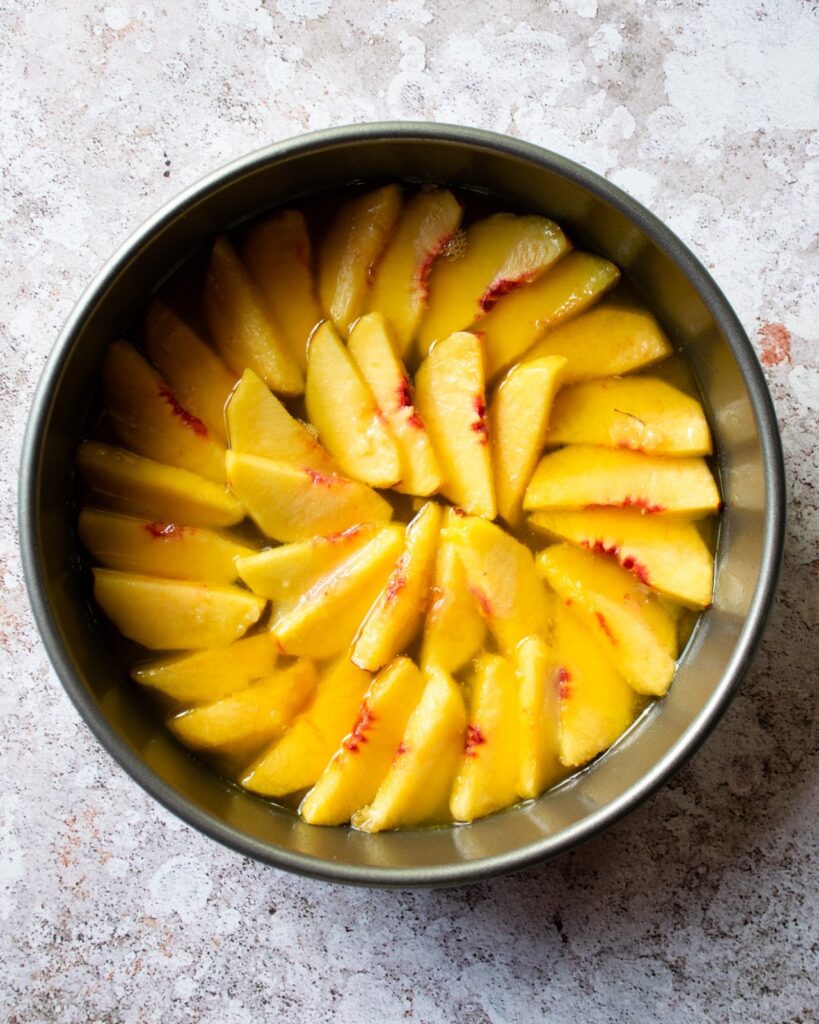 How to Make Upside Down Cake
There is nothing unusual about making this cake batter. Make sure to cream the butter and sugar sufficiently. Creaming is always the most important step in making any cake batter and you can ready why and how to do it here. Don't underestimate how long it will take – it should be at least 5 minutes of electric mixing – and remember that it's much easier to cream room temperature butter. If your butter is rock hard out of the fridge, put it somewhere warm in your kitchen and pour yourself a cup of coffee. Go read a book or magazine article for an hour and only then come back to make this cake. Once the butter and sugar have been creamed, all the wet ingredients get beaten in. The dry ingredients are combined separately and then you marry the dry and wet ingredients, making sure to mix only until everything is incorporated and no more. Over-mixing the cake batter will make it tougher and chewier.