Pull Apart Star Bread
Star bread is really a large cinnamon roll, shaped into a star. It's the sort of baked good that no-one will believe you made it yourself. It looks complicated and intricate and everyone will swear you bought it at a bakery. But you can do this! Making the star shape is actually pretty straight forward and fun to do (especially when you have the photos below to follow), and once you have the technique down, you can vary the fillings to suit your own tastes making customized star breads of all types.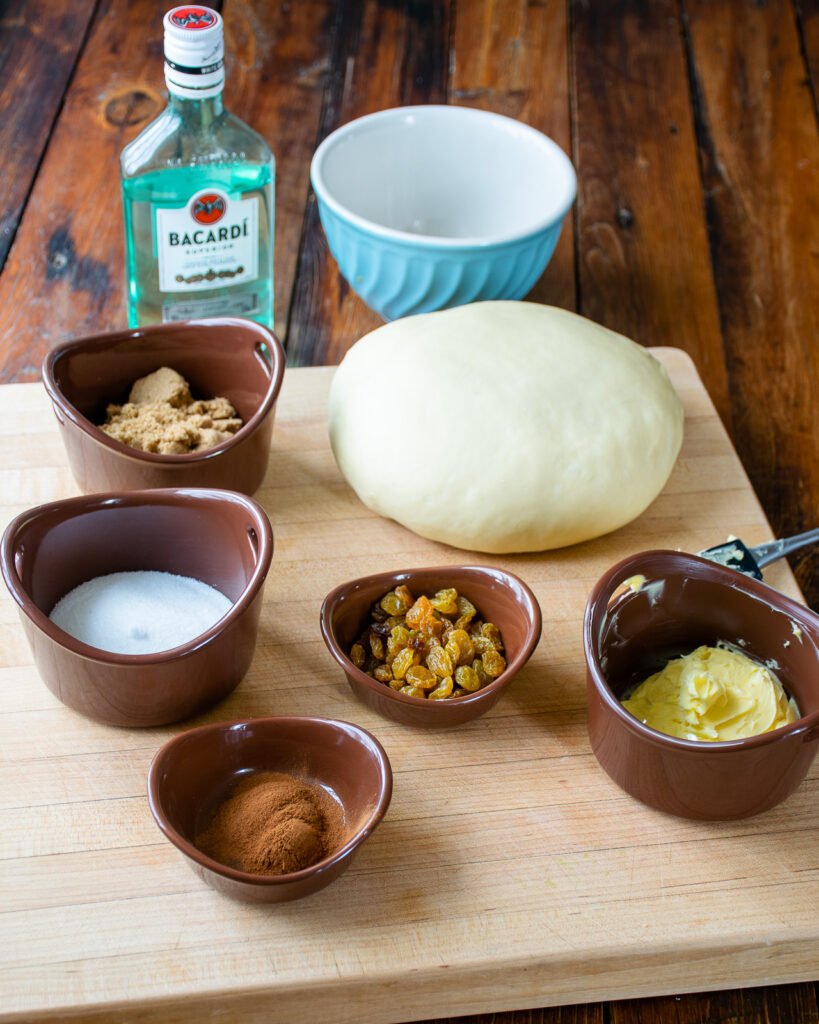 Dough for Star Bread
To start, you need to have the right dough. For this recipe, you can make your own cinnamon roll dough. It's an enriched dough – enriched with egg and butter. That makes the dough tender and soft and perfect to pull apart with your hands. If you're not up for making your own dough, you could use 2 pounds of frozen bread dough instead, although it won't be quite a decadent and delicious. Be sure to defrost frozen dough overnight in the refrigerator and then leave it out on your counter for at least 30 minutes to come to room temperature before you divide it into three portions to roll out.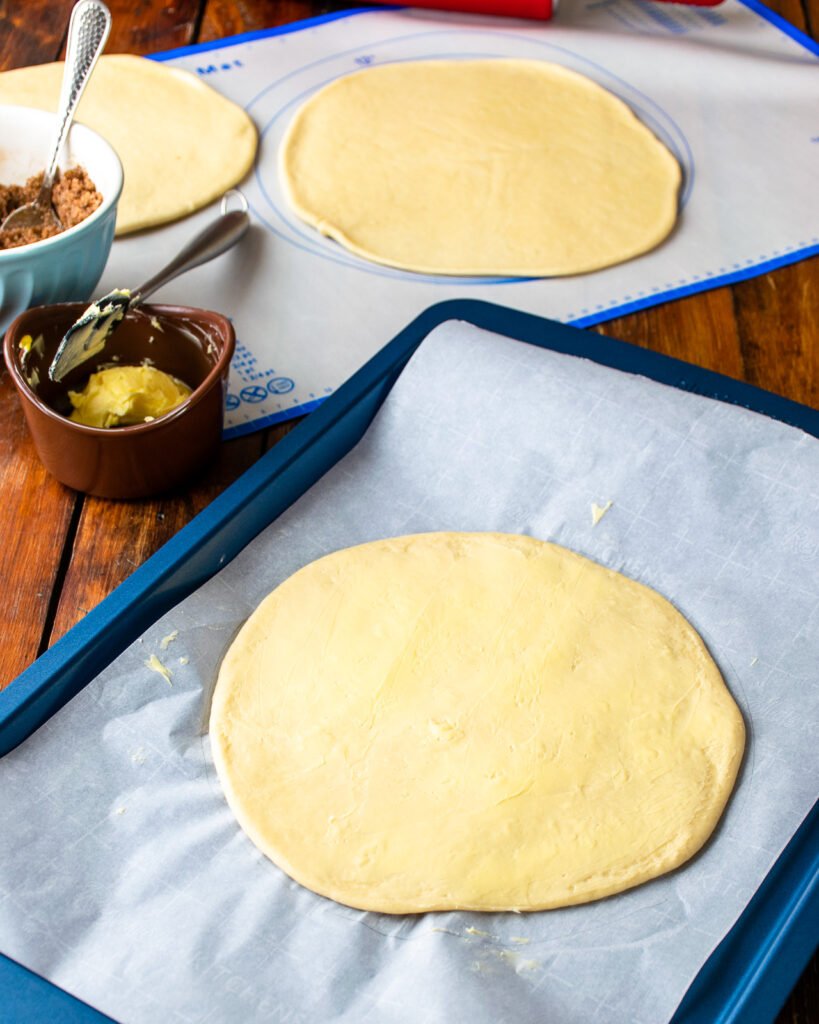 Fillings for Star Bread
The base for the flavor filling of this star bread is your basic cinnamon roll filling – sugar and cinnamon – with a little rum tossed in for good measure. The rum turns the cinnamon sugar into a wet sand consistency that is easy to spread around on the layers of dough with your fingers, sticking well to the softened butter below. You can choose to add raisins to the filling, or not. You could add some finely chopped nuts to the filling, or not. You could even spread some chocolate hazelnut spread on the dough instead of butter if you want a chocolate-y star bread.
How to Shape Star Bread
The shaping of star bread is where you need to know what you're doing. Above are photos showing you all the steps. You'll make a club sandwich of dough-butter-cinnamon sugar (that means three layers of dough and two layers of butter and cinnamon sugar). Then, you need to cut the dough into 16 strands that extend away from the center. This is easy to do if you start by cutting the dough into quarters (3, 6, 9 and 12 o'clock). Then, cut each quarter in half, giving you 8 sections. Cut each of those 8 sections in half again and you'll have 16 strands of dough extending away from the center of the circle.
Then you'll start working with the strands two at a time. Give each strand of dough a half twist, three times. Twist the strand on the left to the left, and twist the strand on the right to the right. Then, pinch the ends of the two strands together forming a point. Do this for all the pairs of strands around the circle. Getting the ends of the strands to stick together is the only tricky part of the process. Use a little egg wash or water to help the dough stick if you need to and pinch hard! Then, let the bread rest for 45 minutes while you pre-heat the oven.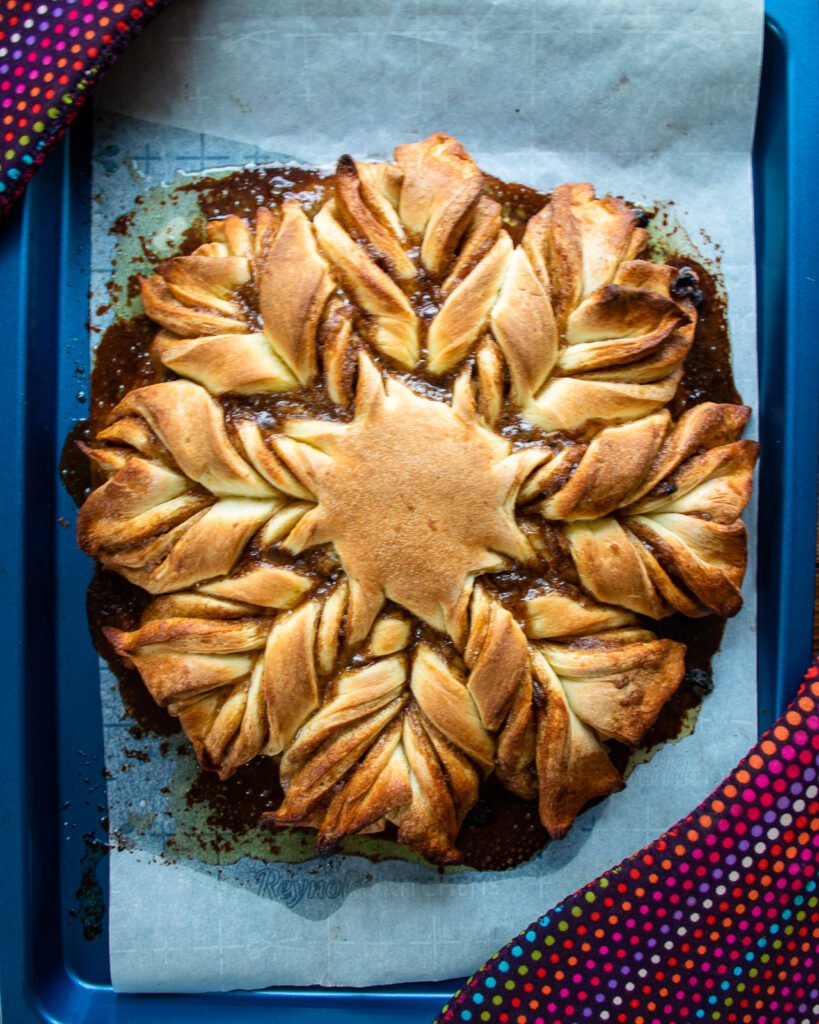 How to Bake Star Bread
There's a good amount of butter in this recipe, so make sure you bake the bread on a half sheet pan with sides so the butter doesn't spill onto the floor of your oven. It only takes just over 20 minutes at 375ºF to bake fully. It will be brown, but it won't be glossy. Because we're glazing the bread, there's no need for a glossy finish. However, if you don't want to put a glaze on the bread, and would prefer it be shiny when it comes out of the oven, simply brush it with a little egg wash before you bake.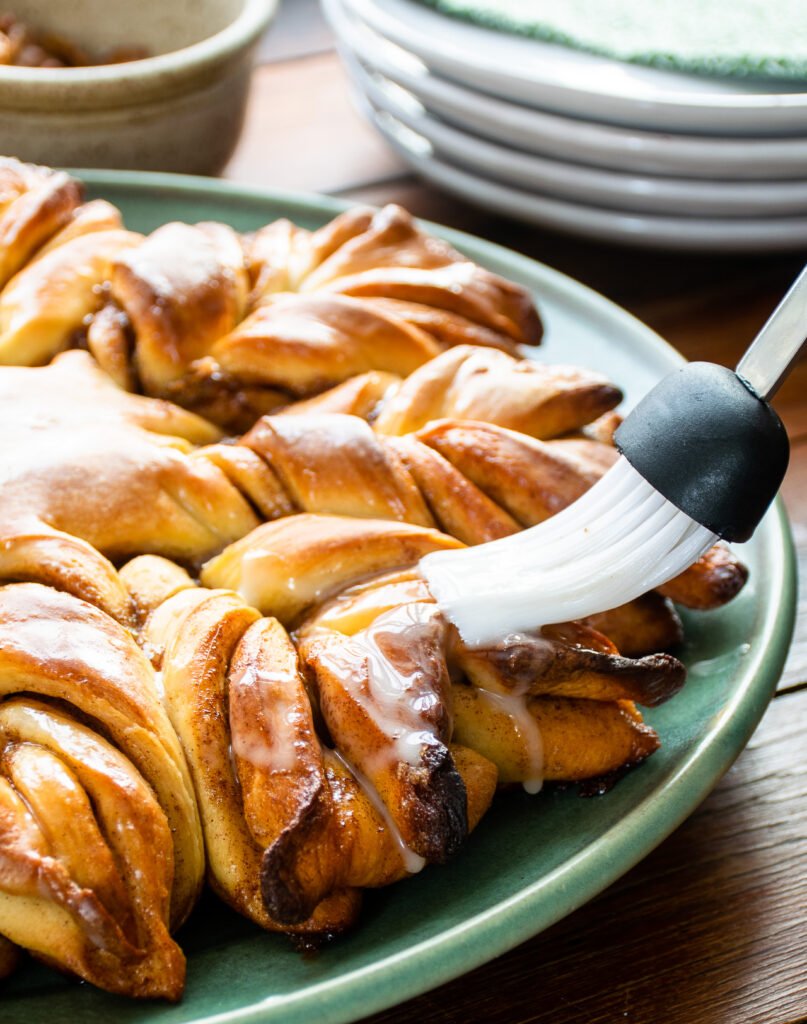 Rum Glaze for Star Bread
The glaze is super simple – powdered sugar, rum and milk. That's it! Just beat it together and get ready to glaze. Let the bread cool for a few minutes before starting to glaze, but do glaze it while it is warm. You can put as much or as little of the glaze on the bread as you like, but make sure it gets into all the nooks and crannies of the dough. Once it's glazed, it's ready to serve and pull apart, unless… you want to take it one step farther and decorate the top of the bread.
Candied Nut Topping
Candied walnuts are one topping that goes nicely on this star bread. They add a nice crunch to what is otherwise a very soft treat. They are extremely easy to make and very difficult not to snack on! (you've been warned) You could also decorate the star bread with candied fruit or lemon or orange zest.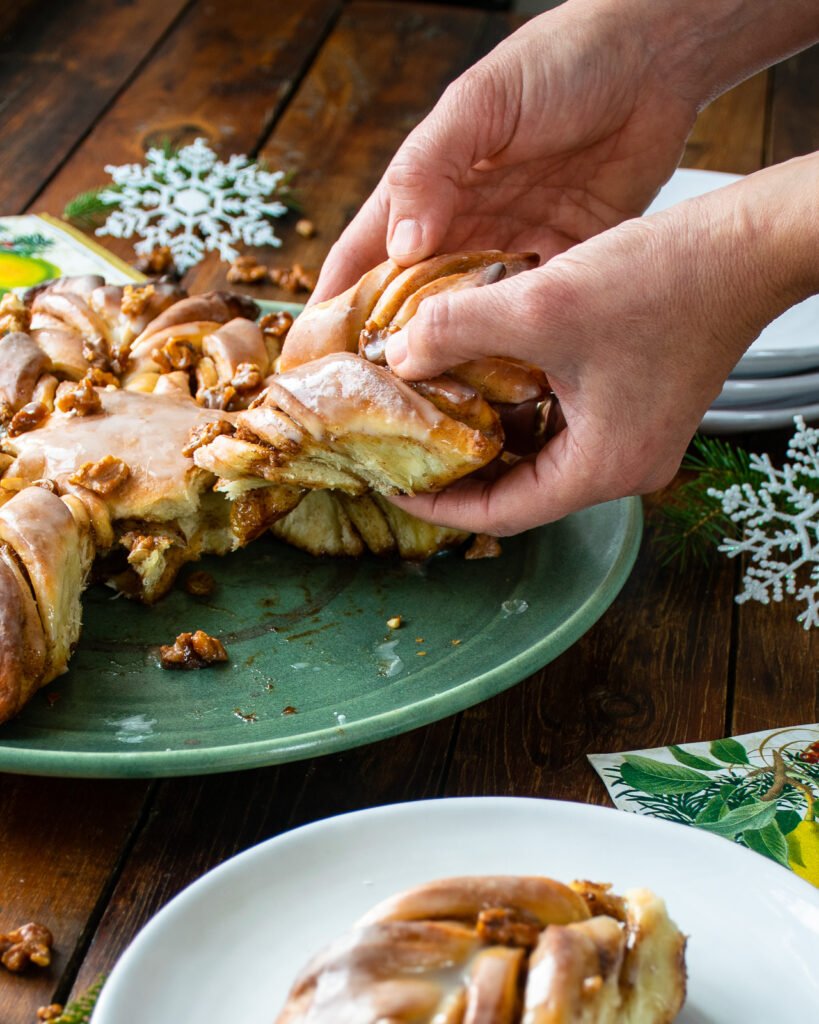 Making a Day Ahead
Star bread is a delicious Christmas morning treat, but it would be a challenge to make it from scratch that morning with everything going on. So, you'll be happy to hear that you can make the star bread a day ahead of time. Bake it completely, but don't glaze it. Wrap it well in aluminum foil. On the morning you plan to enjoy it, pop it into a 350ºF oven, wrapped in foil for about 20 minutes. Then, unwrap it, glaze it and serve. You'll be a hit!