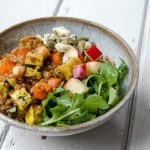 This grain bowl is based on wheat berries. You could, of course, make this grain bowl using farro or barley or brown rice instead if you prefer, but if you haven't tried wheat berries, why not give it a whirl?
Pre-heat the oven to 450°F.

Place 5 cups of water, salt and the wheatberries in a medium sized saucepan. Bring it to a boil and then lower the heat and simmer for 25 to 30 minutes until the wheatberries are tender (depending on the variety and age of the wheatberry, it could take a little longer, so cook until tender). Drain the water and cover the wheat berries to keep warm.

Place the carrots, delicata squash and shallots on a baking sheet. Drizzle a little olive oil on top and season with the sage, salt and freshly ground black pepper. Roast the vegetables at 450° for 20 minutes, tossing halfway through. Add the chickpeas to the baking sheet and roast for an additional 5 minutes until the vegetables are just tender.

Combine the wheat berries and roasted vegetables in a large bowl. Add the arugula and toss everything together. Add the apple cider vinegar, drizzle with a little olive oil and season with salt and freshly ground black pepper. Transfer to individual serving bowls. Top each bowl with the diced apples, pumpkin seeds and feta cheese.
Nutrition Facts
Wheat Berry Grain Bowl with Arugula, Roasted Carrots and Delicata Squash
Amount Per Serving
Calories 383
Calories from Fat 72
% Daily Value*
Fat 8g12%
Cholesterol 17mg6%
Sodium 724mg30%
Potassium 493mg14%
Carbohydrates 66g22%
Protein 16g32%
Vitamin A 7865IU157%
Vitamin C 12mg15%
Calcium 194mg19%
Iron 3.7mg21%
* Percent Daily Values are based on a 2000 calorie diet.