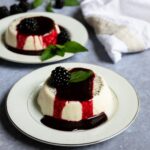 A panna cotta is a basic pudding that is thickened with gelatin. It's a very simple dessert to make and yet gives off such an elegant air that you can make it for any dinner party and look like a genius.
Cuisine:
French, American
Keyword:
Gluten Free, Individual Servings, Make Ahead
2

tablespoons

water

2

teaspoons

unflavored gelatin

1½

cups

heavy cream

1

cup

milk

¼

cup

sugar

1

vanilla bean

1

teaspoon

pure vanilla extract

1

tablespoon

dark rum

optional
Blackberry Brandy Sauce
⅓

cup

sugar

½

cup

blackberry brandy

juice from ½ lemon

3½

cups

blackberries

divided

4

(6- or 8-ouncramekins or molds

fresh mint leaves for garnish
Bloom the gelatin: Pour the water into a small bowl and sprinkle the gelatin evenly on top. Set aside.

Whisk the heavy cream, milk, sugar, vanilla extract and rum together in a saucepan. Slice the vanilla bean in half and scrape the seeds out into the pot with a sharp knife or your thumbnail. Toss the scraped pod into the heavy cream mixture too.

Bring the mixture to a boil over medium-high heat and then remove the pan from the heat and immediately add the bloomed gelatin. Whisk until the gelatin dissolves into the mixture.

Pour the mixture into ramekins or molds, dividing it evenly, and refrigerate. Chill for at least 6 hours.

To make the Blackberry Sauce: Place the sugar, brandy, lemon juice and 3 cups of the blackberries in a medium saucepan. Bring it all to a boil, then lower the heat and simmer for 5 minutes.

Transfer the blackberries to a food processor and process until smooth. Pour the sauce through a fine mesh strainer to remove the seeds and pulp. Push the sauce through the strainer with the back of a small spoon to extract as much as possible. Add the remaining half a cup of blackberries to the strained sauce. (If the blackberries are large, chop them into 2 or 3 pieces.) Refrigerate the sauce until you are ready to serve.

To serve fill a bowl bigger than the ramekins with boiling water. Dip the bottom and sides of the ramekins into the water for just 5 seconds. (Do not submerge the ramekins in the water.) Invert each panna cotta onto a small serving plate and gently lift the ramekins to unmold the desserts.

Spoon some of the sauce onto the plate and on top of the panna cotta, garnish with mint leaves and serve immediately.
Nutrition Facts
Panna Cotta with Blackberry Brandy Sauce
Amount Per Serving
Calories 603
Calories from Fat 324
% Daily Value*
Total Fat 36g 55%
Cholesterol 128mg 43%
Sodium 66mg 3%
Potassium 352mg 10%
Total Carbohydrates 47g 16%
Protein 7g 14%
* Percent Daily Values are based on a 2000 calorie diet.