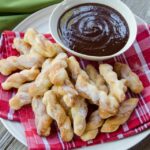 It doesn't get easier than this! If you buy bread or pizza dough, all you have to do is roll and air fry!
Keyword:
Vegetarian, Great Snacks
Roll the dough into two 15-inch logs. Cut each log into 20 slices. Cut each slice in half and twist the dough halves together 3 to 4 times. Place the twisted dough on a cookie sheet, brush with melted butter and sprinkle sugar over the dough twists.

Pre-heat the air fryer to 350ºF.

Brush the bottom of the air fryer basket with melted butter. Air-fry the dough twists in batches. Place 8 to 12 (depending on the size of your air fryer) in the air fryer basket.

Air-fry for 5 minutes. Turn the dough strips over and brush the other side with butter. Air-fry for an additional 3 minutes.

While dough is cooking, make the chocolate amaretto sauce. Bring the heavy cream to a simmer over medium heat. Place the chocolate chips in a large bowl and pour the hot cream over the chocolate chips. Stir until the chocolate starts to melt. Then switch to a wire whisk and whisk until the chocolate is completely melted and the sauce is smooth. Stir in the Amaretto. Transfer to a serving dish.

As the batches of dough twists are complete, place them into a shallow dish. Brush with melted butter and generously coat with sugar, shaking the dish to cover both sides.

Serve the sugared dough dippers with the warm chocolate Amaretto sauce on the side.
Nutrition Facts
Air Fried Sugared Dough Dippers with Chocolate Amaretto Sauce
Amount Per Serving
Calories 469
Calories from Fat 243
% Daily Value*
Fat 27g42%
Cholesterol 49mg16%
Sodium 256mg11%
Potassium 176mg5%
Carbohydrates 51g17%
Protein 4g8%
Vitamin A 540IU11%
Vitamin C 0.1mg0%
Calcium 33mg3%
Iron 1.8mg10%
* Percent Daily Values are based on a 2000 calorie diet.