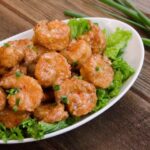 I don't often deep-fry at home for so many reasons, so I wasn't about to make bang bang shrimp in my kitchen. Now that air-frying has come into our lives... there is an answer!
Course:
Appetizers/Snacks
Keyword:
Seafood, Great Snacks
¼

cup

all-purpose flour

1

teaspoon

salt

freshly ground black pepper

2

eggs

beaten

½

cup

cornstarch

½

cup

breadcrumbs

1

pound

extra-large shrimp

peeled and deveined

¼

cup

mayonnaise

¼

cup

sweet Thai chili sauce

2 to 3

teaspoons

sriracha hot sauce

2

scallions

finely chopped

green leaf lettuce leaves for serving
Set up a dredging station for the shrimp. Combine the flour, salt and freshly ground black pepper in a zipper sealable plastic bag; beat the eggs together in a medium bowl; and combine the breadcrumbs and cornstarch in a shallow dish or cake pan. Add the shrimp to the bag of flour, seal the bag and toss the shrimp around to coat them evenly with the flour. Remove the shrimp from the bag, shake off any excess flour and gently toss them with the egg to coat on all sides. Finally, add the shrimp to the breadcrumbs in small batches and gently press the crumbs onto all sides of the shrimp.

Pre-heat the air fryer to 400°F.

Spritz the shrimp with canola oil and air-fry in batches at 400ºF for 6 minutes. Turn them over, spritz with oil again and air-fry an additional 2 minutes.

While the shrimp is air-frying, combine the mayonnaise, sweet Thai chili sauce and 2 tablespoons sriracha sauce in a large bowl, whisking until smooth. Season to taste, adding more sriracha sauce to suit your spice level.

Before serving, load all the air-fried shrimp into the air fryer and air-fry at 370°F for 1 to 2 minutes just to heat everything.

Transfer the hot air-fried shrimp to the bowl with the bang bang sauce. Gently toss with a rubber spatula to evenly coat the shrimp and then transfer to a serving platter lined with lettuce leaves. Top with chopped scallions and serve immediately.
Nutrition Facts
Air-Fried Bang Bang Shrimp
Amount Per Serving
Calories 418
Calories from Fat 135
% Daily Value*
Fat 15g23%
Cholesterol 373mg124%
Sodium 1896mg79%
Potassium 164mg5%
Carbohydrates 39g13%
Protein 29g58%
Vitamin A 180IU4%
Vitamin C 7.3mg9%
Calcium 206mg21%
Iron 4mg22%
* Percent Daily Values are based on a 2000 calorie diet.