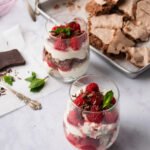 With a name like Chocolate Eton Mess, no one should ever feel intimidated to make this dessert. You can't really "mess" it up... at least not more than it is intended to be messed up!
Keyword:
Gluten Free, Easter, Holiday Favorites, Individual Servings
Pre-heat the oven to 350ºF.

Finely chop or grate one ounce of the dark chocolate.

Using a stand mixer with the whisk attachment or a hand mixer, beat the egg whites until fluffy. Add the sugar one tablespoon at a time and continue to beat the egg whites until they are glossy and stiff. Sift the cocoa powder and cornstarch over the bowl of beaten egg whites. Add the vinegar, vanilla and one ounce of chopped chocolate and gently fold the ingredients into the egg whites.

Line a baking sheet with parchment paper and spread the egg white mixture on top, creating a layer that is about 1-inch thick. Transfer the pan to the oven and immediately lower the heat to 275ºF for 1 hour. When the meringue has finished baking, let it sit in a turned off oven for at least an hour. Then remove from the oven and let it cool completely on a wire rack.

While the meringue is cooling, macerate the raspberries by combining the raspberries, lemon juice and sugar in a small bowl. Let the berries sit for at least 20 minutes – long enough for the berries to release some liquid and become syrupy.

When you are ready to serve, beat the heavy cream until soft peaks form. Break the chocolate meringue into pieces. Shave or grate the remaining chocolate into curls. Build the chocolate Eton mess by layering meringue pieces, whipped cream and macerated berries into glasses or dessert bowls. You can create as many layers as you like, but two sets of layers should be enough. Alternatively, you can serve Eton mess on a plate. Top with the chocolate curls and garnish with mint leaves.
Nutrition Facts
Chocolate Eton Mess
Amount Per Serving
Calories 542
Calories from Fat 297
% Daily Value*
Total Fat 33g 51%
Cholesterol 109mg 36%
Sodium 67mg 3%
Potassium 402mg 11%
Total Carbohydrates 61g 20%
Protein 7g 14%
* Percent Daily Values are based on a 2000 calorie diet.