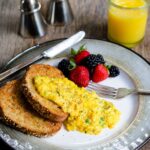 It might surprise you to learn that scrambled eggs should be cooked slowly on a very low heat. It's tempting to fire up a batch of scrambled eggs quickly in the morning, but it really should take about 5 minutes of slow stirring to get the most moist, tender eggs.
Keyword:
Breakfast/Brunch, Vegetarian, Paleo Friendly, Gluten Free
Beat the eggs in a small bowl with a fork. Place a non-stick skillet over medium-low to low heat. Add the eggs and the butter to the pan. Stir constantly to allow the eggs to set up evenly. A silicone spatula is perfect for this. Keep the heat on low or medium-low, but no higher. A higher heat will cause the curds to harden and dry. It should take at least 5 minutes for the eggs to properly scramble. If they start to set up too quickly, remove the pan from the heat for a few seconds and continue to stir. If they are taking too long to set up, add just a little more heat to the pan, but be patient and resist the temptation to cook over too high a heat.

When the eggs are cooked to your liking, stir in the herbs and season with salt and pepper.

Serve over a nice thick slice of toasted rustic bread. Heaven.
Nutrition Facts
Scrambled Eggs with Herbs
Amount Per Serving
Calories 160
Calories from Fat 108
% Daily Value*
Fat 12g18%
Cholesterol 337mg112%
Sodium 158mg7%
Potassium 121mg3%
Carbohydrates 1g0%
Protein 11g22%
Vitamin A 620IU12%
Vitamin C 0.4mg0%
Calcium 49mg5%
Iron 1.5mg8%
* Percent Daily Values are based on a 2000 calorie diet.