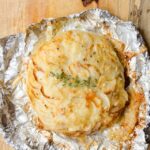 This recipe for a classic potato galette uses aluminum foil in the air fryer, which not only makes it easy to lift the potatoes into and out of the air fryer, but also helps prevent over-browning the potatoes on top.  While it's not glamorous, it has a rustic charm and is very practical. 
Keyword:
Vegetarian, Air Fryer, Entertaining, Air Fried Potatoes
Use a mandolin slicer to thinly slice the potatoes. Place the potato slices in a large bowl and add the melted butter, shallot, fresh thyme, salt and pepper. Toss to coat well.

Place a 12-inch long piece of aluminum foil on the counter top. Arrange one third of the potatoes on the foil in a 7-inch circle overlapping each other. Make sure the circle is the same size or smaller than the air fryer basket. Sprinkle one third of the cheese over the potatoes. Repeat with 2 more layers of potato slices and cheese.

Pre-heat the air fryer to 380°F.

Lower the foil packet into the air fryer basket and fold the foil loosely over the potatoes. Air-fry at 380ºF for 30 minutes. Reduce the temperature of the air fryer to 340°F. Open the aluminum foil and poke some holes in the bottom of the foil for the fat to drain away. Air-fry for an additional 5 minutes to brown the top layer of the potatoes.

Garnish with sprigs of fresh thyme.
Nutrition Facts
Potato Galette
Amount Per Serving
Calories 290
Calories from Fat 189
% Daily Value*
Fat 21g32%
Cholesterol 62mg21%
Sodium 209mg9%
Potassium 523mg15%
Carbohydrates 16g5%
Protein 12g24%
Vitamin A 790IU16%
Vitamin C 18.8mg23%
Calcium 338mg34%
Iron 4.3mg24%
* Percent Daily Values are based on a 2000 calorie diet.