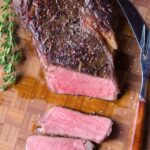 If you've spent good money on a rib eye steak, it would be a crying shame to overcook it. That's why it's a great idea to cook that steak in a sous vide water bath. The herb rub in this recipe is simple and classic, but gives the steak a step up in the flavor department, enhancing, but not overpowering.
Keyword:
Beef, Steak, Classic Dishes, Cooking Methods, Sous Vide
Pre-heat the sous vide water bath to the temperature according to your desired degree of doneness (see below).
125ºF for rare
130ºF for medium rare
140ºF for medium
150F for medium well
155ºF for well done

Combine all the herbs and spices in a small bowl and then season the steaks well with the mix, rubbing it into the steaks well. Place the steaks in a zipper seal bag. If the steaks are very large, put them each in their own bag. Never stack the steaks on top of each other. Remove as much of the air as possible from the bag using a vacuum pump or by submerging the bag in the water up to the zipper seal (don't let any water into the bag), and allowing the water to displace the air in the bag. Seal the bag and drop it into the water bath.

Cook in the sous vide bath for at least 1 hour, or for as long as 6 hours.

When you are ready to eat, remove the steaks from the bag and dry them well with a clean paper towel. Pre-heat a skillet on the stovetop over high heat for at least 2 minutes. Add the olive oil and when the pan and oil are very hot, season the steaks with salt and sear them for one minute per side.

Remove and serve.
Nutrition Facts
Herb and Spice-Rubbed Rib Eye Steaks
Amount Per Serving
Calories 490
Calories from Fat 288
% Daily Value*
Fat 32g49%
Cholesterol 138mg46%
Sodium 120mg5%
Potassium 650mg19%
Carbohydrates 5g2%
Protein 46g92%
Vitamin A 280IU6%
Calcium 50mg5%
Iron 5.2mg29%
* Percent Daily Values are based on a 2000 calorie diet.